Designers are always perturbed to perform well at their workplace because when the pressure is being injected on you, when there are tons of projects to be delivered, when all eyes are on you, when clients expect from you, and when you are the only one who is managing the major tasks then obviously showing grace under pressure takes a lot of courage and persistence. "Design works if it's authentic, inspired, and has a clear point of view. It can't be a collection of input."
Creativity and innovation is a lethal combination for a graphic designer. It should always be remembered that when you have to perform, you get to be focused, don't get your nerves fuelled up, and stay calm & composed because it helps you breathe in peace and when you are peaceful you can achieve your tasks to come out as flying colors. Well lately I have been putting together tech posts for you all, and the feedback tells me that you all have been enjoying the aura of gadgets and devices.
Today I am putting forward free Apple watch Ai (male / female) hand mock-ups. 'Good design is good business.' It is not always mandatory that you use real life objects you can always give the same impression by using prototypes, they too look stunning if they are communicative and not ambiguous. If you have designed a piece for a smart watch, or you have to sell Apple smart watch, then this mock-up will help you with this.
Also you can place your user interface into this mockup and make a presentation out of it for your clients. "Design is a funny word. Some people think design means how it looks. But of course, if you dig deeper, it's really how it works."
Just keep a check on us, and we will keep celebrating the art and tech posts for you all.
Subscribe us and let us know what possible things are you looking up, our best efforts shall be done to accumulate the stuff for you. Our blog is designed to cater the audience like you who has a craving for design world and who want to keep a hold on to trends in the world of tech, gadgets, art and design.
Free Vector Apple Watch Male / Female Hand Mockup in Ai Format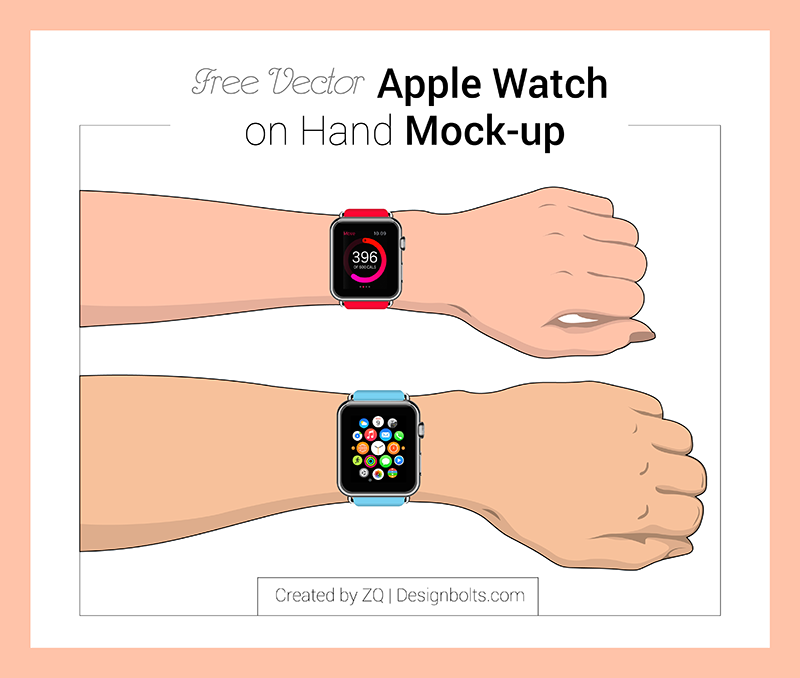 Apple Watch Mockup Free for personal & Commercial use
Designed by Zee Que | Designbolts.com
Linkback if using online for sharing
Both Hands are included along with small and large Apple watch vector
Apple Watch Mock-up 
More High Quality Vectors You would love to download: