Creativity is the key to success, no matter what profession you are having, your conviction, focus and determination pays off a great deal. You might be taking some baby steps in the beginning but later on your will be stronger and firmer on your slot. Gradually one gets experience in the field, and this also gives one an idea to grow better and bigger.
No wonder, we all have to go through hardships but there is always a better side of the picture. There are mighty things that are considered and being looked upon by the designers; they pay special attention to hues, colors, tints, fonts and textures that they are using therefore they keep on experimenting with new look and feel of the compositions. Inspirational designs are always remembered, so do not do hanky-panky, rather put a thought behind your piece of art so people too can relate to this.
The more the design is vibrant, colorful and meaningful the more it will give an aesthetic effect. The design has to be vocal, beautiful and precise with detailing so the idea gets across easily. "Design is not just what it looks like and feels like. Design is how it works."
Now here I am providing you a post of free vector shampoo bottle packaging design & mock-up, you can change the color of the shampoo bottle as well as put your own design element as you want. This mockup of bottle consists of all green, orange, blue, yellow and other colors to fit your needs. It depends on you which one you choose. The design is refined, clearer and unambiguous. I am sure you will like it.
This mockup is a way to show your client that how his product—shampoo will look in the real form. Stick around for more design dose in coming days. Subscribe us and get all the latest design info, trends and design happenings of the cyber world. Do give us your words on the post, your feedback makes us know about your interest and we then follow up for all the coolest stuff for you all. Here we go!
Free Vector Shampoo Bottle Packaging Design & Mock-up Ai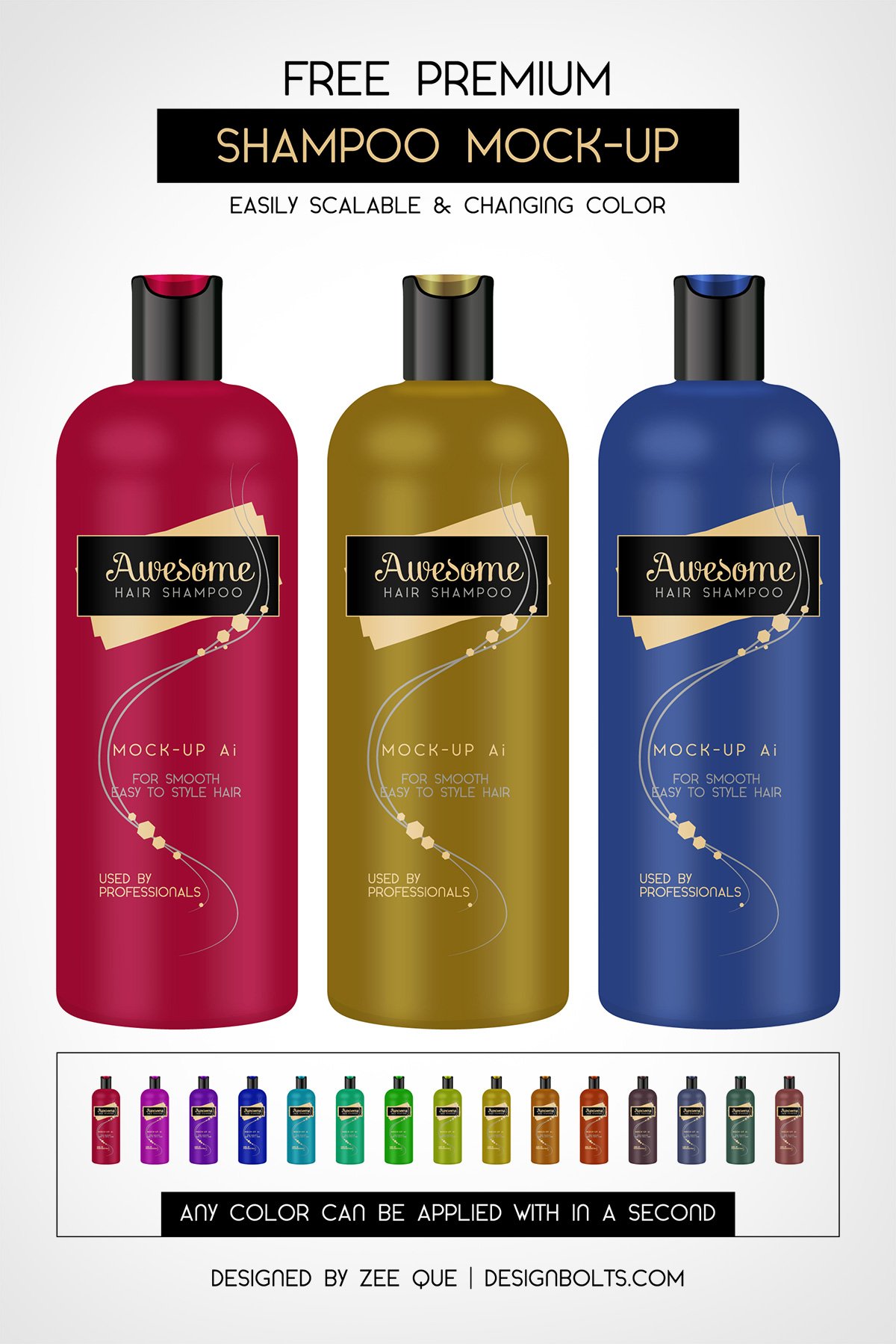 Designed by Zee Que | Credit: www.designbolts.com or link to this page if using online
License: Free for personal & commercial use. So ENJOYYY.. 🙂
Don't forget to say thanks in comment. It really means a lot to me. It makes me giggle.
Free Shampoo Bottle Design & Mockup
More Freebies and Premium Files you would love to download:
Tags: packaging mockup, shampoo bottle, shampoo design, shampoo packaging