Nobody is interested what you are up to, because everyone of us is living a life for the survival, we are working hard to meet the desire end, we have a family to feed, we have people to nourish, we have responsibilities to fulfill, we have tons and tons of duties and rules to abide by. Therefore people don't pay heed what do you do, how's your life going on as they are living their own, doing their own things and engaged in their own tasks.
Well life is this way now, there was a time in the past when people were concerned about you. Now they are either dying of hunger, jealousy, greed or poverty. Make your day and your life with your hard work. Don't work for yourself but work for the people who are there to be catered by you. All work and no play, this is the life of professionals nowadays. Artists, photographers, designers, writers, doctors and person of every profession is seen doing his task and performing as much as he can.
Well designers can never go and relax on the back seat because they are themselves captain of the ship, setting sails, looking for the corner of success. They are intrigued by new ideas, pushed by new hopes and stirred by workload. They are carefree for their own lives but are indulged in their own shell of work, their own lifestyles and work environment.
Now here my post is to provide you a little help if you want to make a presentation for your client and have all the elements to put in the mockups. Check out this post of free vector outdoor advertising mockups for presentation which includes, hoarding mockup, shop wall signage mockup, flag mockup, Pole sign mockup, standing banner mockup and direction sign mockup. Satisfy your client with all these mockups if you are dealing with advertising projects.
Isn't it providing you a great help today and in the long run as well? Stay tuned for the awesome design feed every day. We are working hard and are happy with your motivating feedback. Here we go!
Free Vector Outdoor Advertising Mock-ups Ai for Presentation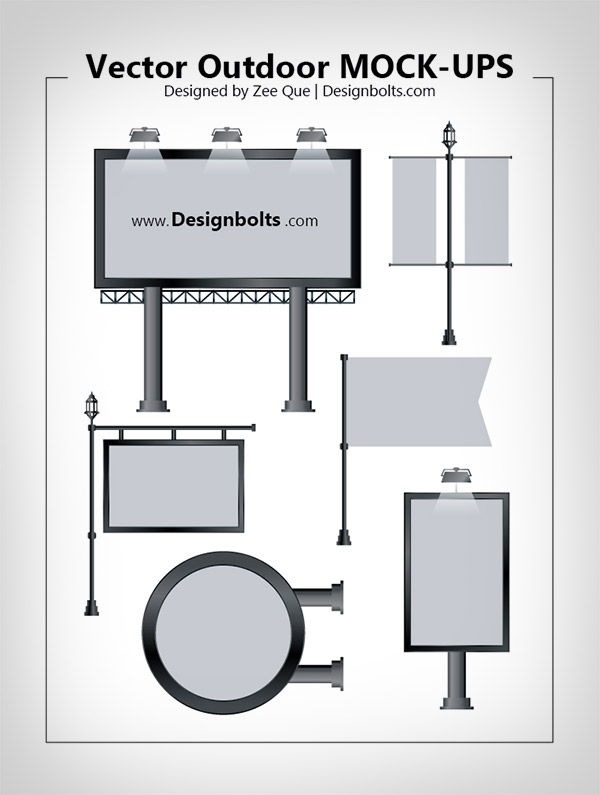 Available Format: Illustrator Ai
License: Free for personal presentational & Commercial use
Zip File Includes: Vector Ai Only
File Format: zip
Note:
1. Vector Mockup is allowed to share online (A Must Linkback to this page)
2. Say thanks if you like or share/tweet with your friends
Vector Outdoor Advertising Mock-ups
More Free Mockups & awesome premium files you would love to download:
Tags: outdoor advertising mockups, vector mockup, free mockup, vector mockups