Every day we get up with a mind that is constantly thinking about to-do-list and all the pursuits & pending tasks that we get to gear up for. Whether it is Monday or weekend we have tons of quests to be done. And not always we like to stay home to have our homemade meals, sometimes we like to treat ourselves, for the meals we love to dine out and have a cozy ambiance to have peaceful time out of the job routine and life's hassle.
Who does not like stress free life and moments of quiet corner with coffee in hand or lasagna steaming up before the eyes? We have a deep craving for food and hunger pangs blow up when we get to see the menu in the restaurant/café. Dining out is not easy, because prices of the food items and dishes are way too high; one cannot afford to have some lavish lunching out. But wait up; if you know the charges of all the dishes and food menu, it will be a lot easier to pick out the feasible and economical meal that does not bother your pocket.
Therefore a menu chalkboard placed on wall on the entrance or on the walls of the hotel/café/restaurant so people pay a look at it to get the clues what menu is being offered in the dining room, what is their costing, how they serve and all such information. Well designers often are asked to make the brochures and flyers of the cafes etc. They are asked to depict the menu in a fancy way so to make it look scrumptious and appetizing.
Now here I am providing you a post of free shop price chalkboard menu mock-up PSD. Designers can use it freely to put the elements into it and make a presentation out of it so to show to the clients how the menu is going to look in the real tangible form. Stick around for more design dose, we aim to please you and bombard you with design feed that you have been craving for, I am sure you will find this best for yourself. Here we go!
Free Shop Price Chalkboard Menu Mock-up PSD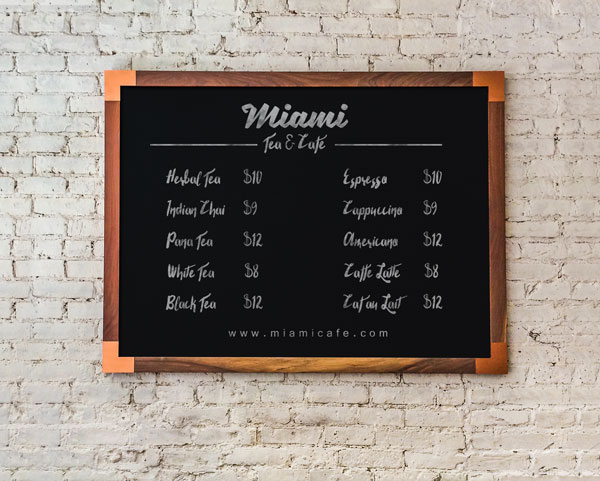 Available Format: Layered PSD with smart object insertion
License: Free for personal and commercial use
7-Zip File Includes: Chalkboard Mockup PSD
File Format: 7-zip (only extract with 7-zip software)
Note:
1. PSD Shop Board Mockup is allowed to share online (Linkback if using online)
2. Layers are hidden to decrease the size of file kindly unhide and place your design on red colored layer.
3. Say thanks if you like or share/tweet with your friends.
Chalkboard Menu Mockup PSD
More Free Mockup PSD files & awesome premium files you would love to download: