You should never give up on your dreams because if the 'reason' of life is lost, we are left with 'hopelessness' and when pessimism takes the lead nothing fruitful shall come out. Without motivation and having the 'will' to work, no one had ever done anything productive. Naturally when a person meets a failure in his life, he becomes low in his morale and the lack of energy makes him more inactive for the future projects. But one must know that no matter what happens we should always believe in ourselves, and we should not fret over the failures that befall on us.
There is always a bright end of the tunnel. So keep going ahead and do not look back to be stoned. On the professional front, one must be ready to face the turmoil and mess of the workplace. Nothing comes to the platter itself, it is you who have to get up and get yourself served by your own hands. It is 'you' who can make the difference. Here is a tip: burn midnight's oil and do your best to have the adequate result in the long run. You can always cut yourself some slack if persistently you have been doing well previously. Of course we need a respite and a break in life too from all the hodgepodge of the world.
Also, it is to be noted that, the moment you are quitting on yourself, just take a pause and think why you held for so long before. The 'reason' and 'meaning' should not get lost. For the designers, inspiration is the key to compose something flawlessly good, they must seek the guidelines of experts to enhance their own skill & expertise. As the corporate world demands a lot of potential public acceptance and advertisements, every business owner gets himself made a good looking business card that plays a good role in building his stance.
Check out this post of 25 business card bundle mock-up PSD File, you can insert your business card designs and sell them as a bundle or even use this beautiful mockup for presentation. Stick around for more design articles we are all charged up to put forward the best design assortment daily in the coming weeks. Here we go!
25 Business Card Bundle Mock-up PSD File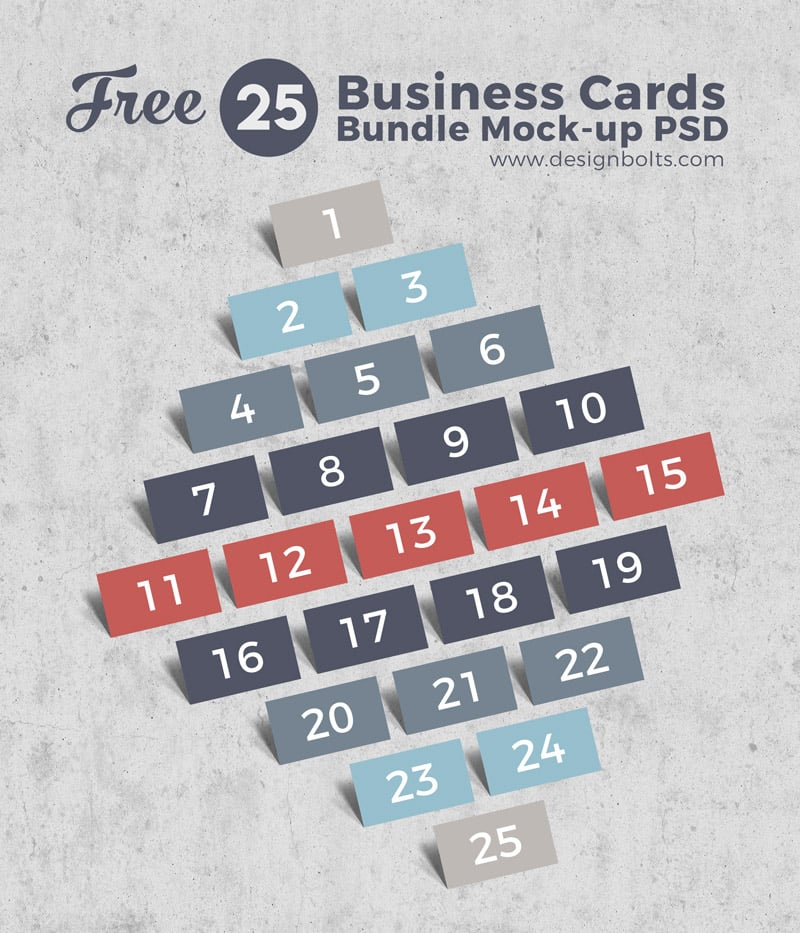 Available Format: Business card mockup bundle PSD
License: Free for personal and commercial usage
7-Zip File Includes: Mock-up PSD, Background & Preview file
File Format: 7-zip (only extract with 7-zip software)
Mock-up Resolution: 3000 x 3500 px
Note:
1. Free PSD Mockup is allowed to share online (A Must Linkback to this page)
2. Layers are hidden to decrease the size of file kindly ungroup.
3. Say thanks if you like or share/tweet with your friends. That means a lot to me.
4. And don't forget to follow or subscribe to receive for more high quality premium freebies & awesome articles only.
Free Business Cards Bundle 
More High Quality Mock-up PSD Files