In the world of tech geeks and scientists, doctors and professionals, you cannot choose to be a couch potato, yes, you also need to bear the brunt and get started someday, isn't it? Of course earning is equally important to you and for me as well. From the student life, guys and girls also start to wonder what their career will feel like, what possibilities of profession will come about, how they will earn and such millions of questions.
Well the best answer to them is to rise up, try, step up and start. Once you are done with your academic career that's the time when you have to be really very serious about the job or profession you wish to adopt. It may either be teaching, photography medicine, law, calculations, banking or maybe blogging. But what is the key element to get the success in any field you choose to adopt? It is your passion_ a passion can take you anywhere, it drives out creativity from you, it shakes your spirit up, it motivates you and gives you sportsman's spirit, it gives you courage and also gives you strength to bear the failure as well. And you try and try unless you get to the top of your domain. This is all what a person is in dire need of.
So if you are a blogger, my assortment of today is for you. Yes, I understand, being a blogger myself that there are tons of intricacies in the profession of blogging. It demands your sleep, mind, focus and it needs a lot of struggle till your blog is noticed. So the best way is to have a good know-how that how your blog will work better. Ask yourself, whether your blog has all those key and salient features that can win over the surprise and make it rise and float? Does the blog have those social media icons through which audience will get connected to the blog? Here I am putting forward a collection of 300 flat long shadow social media icons of 2017, paste them over your blog and they will help you to grow and expand with the power of audience/traffic. Some of them are free & others are premium to buy. Check them out and let us know about your blogging experiences, we will love to know about them. Here we go!
Free Flat Long Shadow Social Media Icons 2017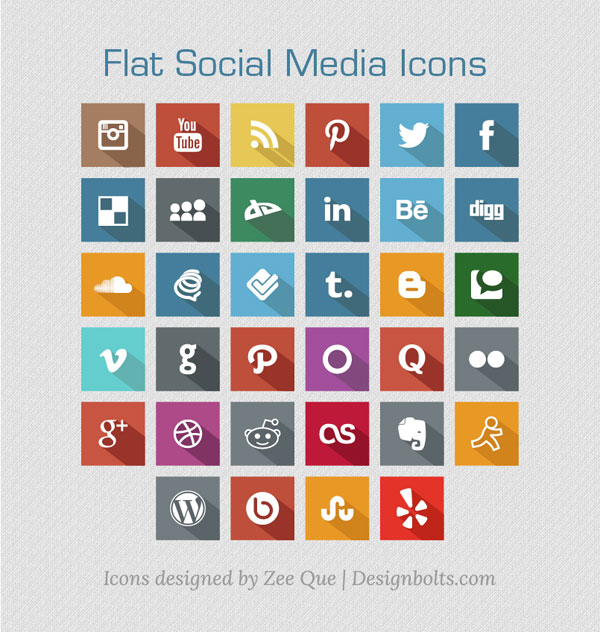 Available Format: PNG
License: Free for personal usage
Zip File Includes: PNG Social Icons (32, 48, 72, 128, 256 px (White /Dark Backgrounds)
Note:
1. Free Flat Social Media Icons are allowed to share online (A Must Linkback to this page)
2. Say thanks if you like or share/tweet with your friends. That means a lot to me.
3. And don't forget to follow or subscribe to receive for more high quality premium freebies & awesome articles only.

300 Premium Flat Long Shadow Social Media Icons 2017
Buy This Icons Set > Premium Social Icons

More Social Icons 2017 Download: