Life is never simpler, it has hard and fast rules, it has ebb and flow of intricacies, it has challenges which one has to confront, it provides opportunities, it gives us chances, there are mishaps, there is happiness, there is mess and chaos, there are calamities, and this is how we get to set sails to make the survival possible no matter what. There are many things that we get to do and outdo just to prove ourselves; at first, the very beginning of the academics and then comes the major part of life–professional career.
Choosing a career is a tough nut to crack, we get to face tantrums of people, we come across people from divergences, we also get to meet clients of cross culture, we get to encounter and greet people whom we never thought we could meet, we get to invest, we get to be different and unique hence different stages of one's job are surpassed. Some experiences leave us bewildered while other involvements make us fall apart, some experiences make us a better person on professional front while other incidences make us more steadfast and perseverant.
Since blogging is a whole different field of art and design, it has different accountabilities and work modules. Bloggers are keen to put up the latest and trendy stuff on the blog so people don't get carried away rather stick to the platform and pay it a regular visit. Therefore up-to-the-minute and prominent features should be hemmed in to the blog that not only help in making the deportment and impression of the blog but that also help in gaining a massive amount of traffic as well as revenue.
Since social media icons have become quite a sensation, they are to be put on the blog through which people may join the blog using social media sites. Down here I am presenting 300 retro social icons that are phenomenally good and are relevant for both textured and light themed/backgrounds of the blog. Check them out and feel free to contact us for any query, our team provides a nonstop design aid to the visitors. Here we go!
Free Version of Hand Stitch Social Media Icons | Vector Ai + PNGs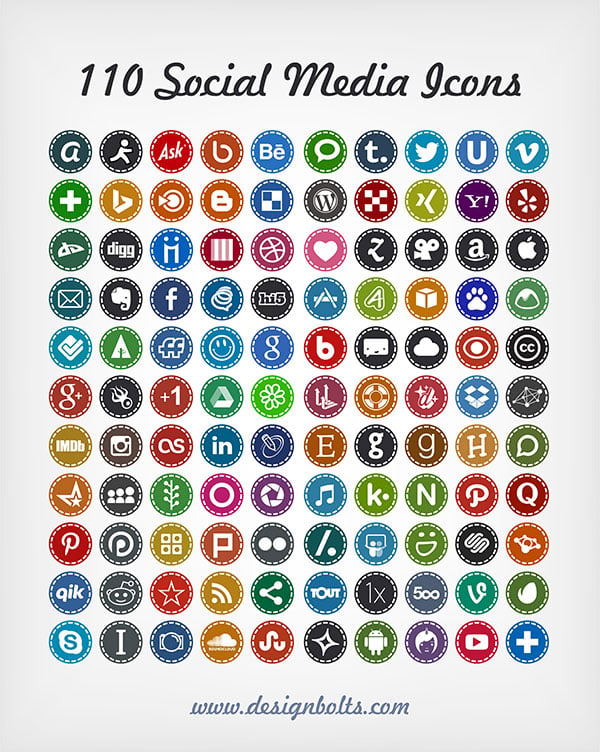 Available Format: PNG
License: Free for personal usage
Zip File Includes: PNG Social Icons (256 White / Light backgrounds)
Note:
1. Free Social Media Icons are allowed to share online (A Must Linkback to this page)
2. Say thanks if you like or share/tweet with your friends. That means a lot to me.
3. And don't forget to follow or subscribe to receive for more high quality premium freebies & awesome articles only.

300 Largest Hand-Stitched Social Media Icons 2018 Vector Ai + PNGs Free & Premium


Looking for more Social Media Icons styles: