Ever wondered what life would be if nothing was close to creativity, what life would be without all those imaginable colors? What life would be if we got no resources? Well yes, it would be colorless, meaningless and not appreciable. We all are born with the natural instinct to admire and praise beauty and it is related to everybody's aesthetics.
Anything that looks captivating naturally wins over hearts so no matter what an artist makes, it looks good because he in-depth composes it with an ideology and a whole lot imagination behind it. Designers make communicative piece of artworks as well so the beholder could very well look through the insightfulness of the image and creation. Without an idea there is no existence of a masterpiece, at first it is always a rough draft, a sketch and to be precisely an outline from which the artwork comes about later on.
It is always a step by step process and every designer goes through a great deal of challenges to fulfill the demands and requirements of his task. Here I am presenting before you a free outdoor advertising 3D billboard to display an ad of a product, company or brand. This mockup is perfect for all those who have been looking up to make a cooler presentation of an advertisement before a client. Just put in all those elements made by you and showcase them right before the client through this billboard mockup.
This also gives out a 3D feel to the billboard so the people standing at a distance or the ones closed to it, can see the display properly. The brighter and blatantly unique ads are made, the better outcome can be produced easily. This mockup of billboard is big enough, vivid and can display all ins and outs of an ad very aptly. What do you think about this creative mockup? Let us know. Feel free for more tech, design and art collection, we are here to help you out with your design queries.
Here we go with a promise to bring more interesting and fascinating stuff for you all.
Free Outdoor Advertising 3D Billboard Mockup PSD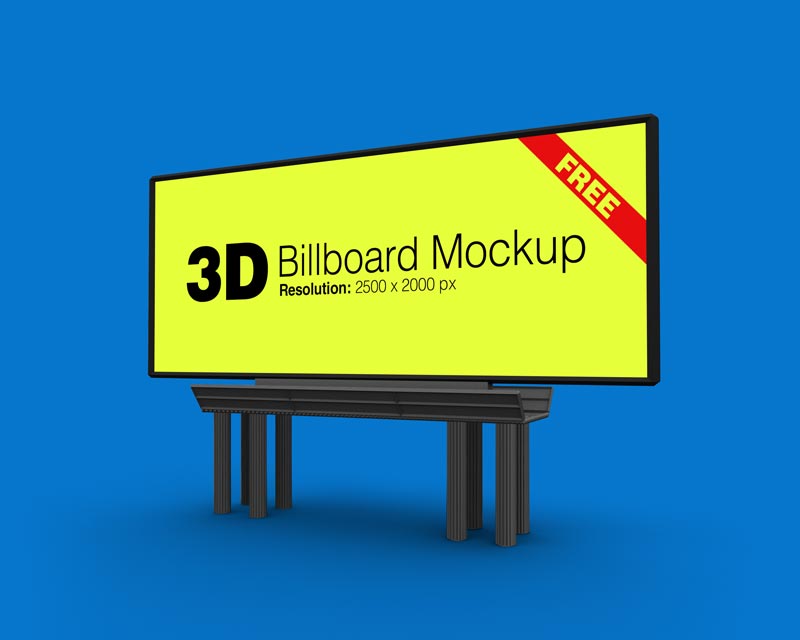 Available Format: Layered PSD with smart object insertion
License: Free for personal presentational use only
Zip File Includes: Outdoor Billboard Mockup PSD
Note:
1. PSD Outdoor Mockup is allowed for sharing online (A Must Linkback to this page)
2. Layers are hidden to decrease the size of file kindly unhide and place your design on red colored layer.
3. Say thanks if you like or share/tweet with your friends.
Free Hoarding Mockup PSD
More Free High Quality Outdoor Mockup PSD Files: