Nobody is ever spare to just relax the nerves having no workload on his head, because we all live to work and to earn, besides pursuing passion and dreams should not be put aside; it is the spirit which makes us go stronger. So be a fighter and not a submissive human being who gets tired in the midway or shaken by the winds of pressure. Well that was just a pro tip let just get back to our today's post.
An advertisement can be done in so many different ways, it may either roll up to the print media side or come out professionally through billboards etc., it entirely is the matter of budget that how much a brand or organization likes to spend on it. Basically what advertisements do is that they familiarize people with the brand and product, owners like to make a best assimilation and connection to hit the market this way. Therefore they like to make them flashy, bolder and fancy to click the eyes.
Even if they are not much deviating they probably hold something so strong that move hearts. What advertisement you recently watched that blew your mind? Let us know. As long as designers are concerned they always use sharper and bolder fonts as well as colors to make the billboard advertisements stand out. There is no point of making them dull and boring ever since their significance lies in their stance and presentation.
Being a designer myself I like to play with different techniques ranging from subtle to sharper depending on the requirement of the design and the pattern a client wants. Down here my post will highlight to you free fully customizable outdoor advertising billboard mockup that you can use both for commercial or personal projects.
For some amazing design feed do check out our blog on daily basis, our team loves to put together awesome stuff to entertain as well as accommodate our subscribers. Stay tuned for the best art/design collection. Here we go.
Free Outdoor Advertising Billboard Mockup PSD | Ratio 3 : 1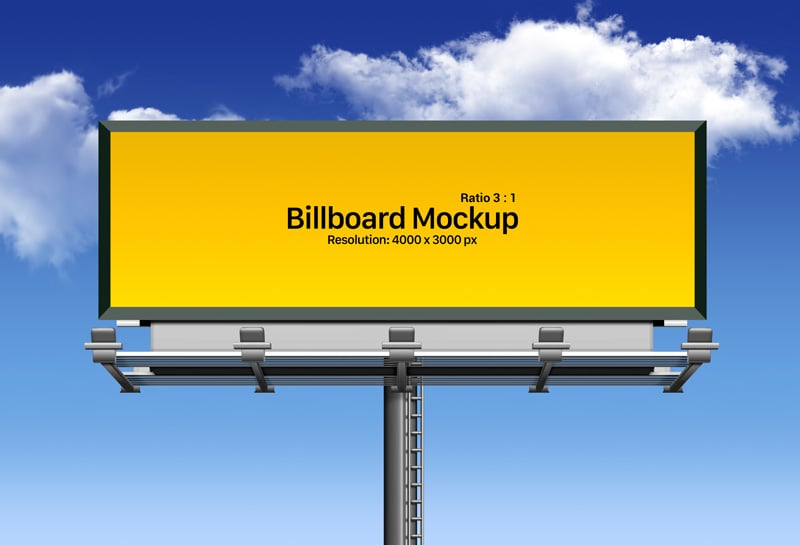 Available Format: Layered PSD with smart object insertion
License: Free for personal presentational use only
Zip File Includes: Outdoor Hoarding Mockup PSD
Note:
1. PSD Outdoor Mockup is allowed for sharing online (A Must Linkback to this page)
2. Layers are hidden to decrease the size of file kindly unhide and place your design on red colored layer.
3. Say thanks if you like or share/tweet with your friends.
Free Hoarding Mockup PSD
More High Quality Outdoor Advertising Billboard Mockup PSD