Back in the day, we would just sit in front of our TV sets to watch our favorite Disney princesses and would spend the weekends reading about their stories. We still remember collecting notebooks, coloring books, mini diaries, color pencils, geometry boxes and everything else that would have our very own princesses' prints. That was in the past and now times have changed. In this article, we will take you to a virtual trip where Disney princesses can be seen using the luxury brands of modern times. Oh, are you wondering how did it happen? Well, a Russian artist Anastasia Kosyanova spent her time and invested her imagination to create these beautiful illustrations of the princesses using the brands. The best you can take from this article is that the Disney princesses can inspire you for fashion tips and styles. So, just sit back and keep on reading.
19 Beautiful Illustrations of Disney Princess using Luxury Brands
1. Aurora
Who doesn't know Princess Aurora from Sleeping Beauty? And what Anastasia does in the illustration is amazingly beautiful. She associated Aurora with the brand Valentino which sells apparels and accessories. In the illustration, we can see Aurora dressed up wearing Valentino heels and looks more than beautiful.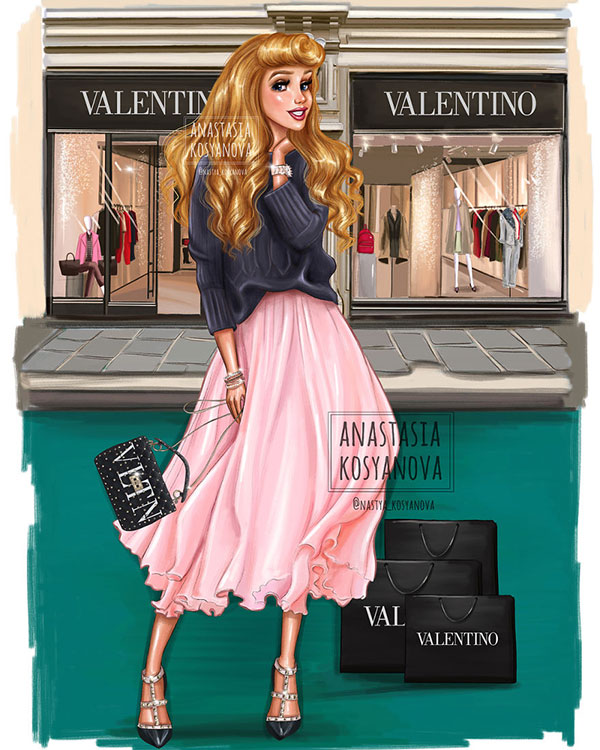 2. Ariel
Luxury, uniqueness and delicacy are the characteristics of both Ariel and Dior.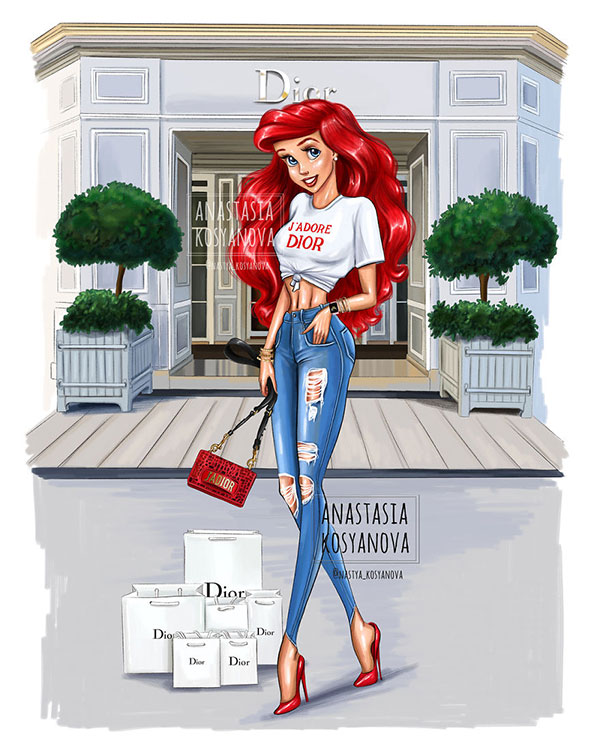 3. Elsa
Elsa is one of our favorite princesses. Her hairstyle is so beautiful that you can't look away. In Anastasia's illustration we can see Elsa wearing the Ralph Lauren and rocking the outfit as if it was designed just for her.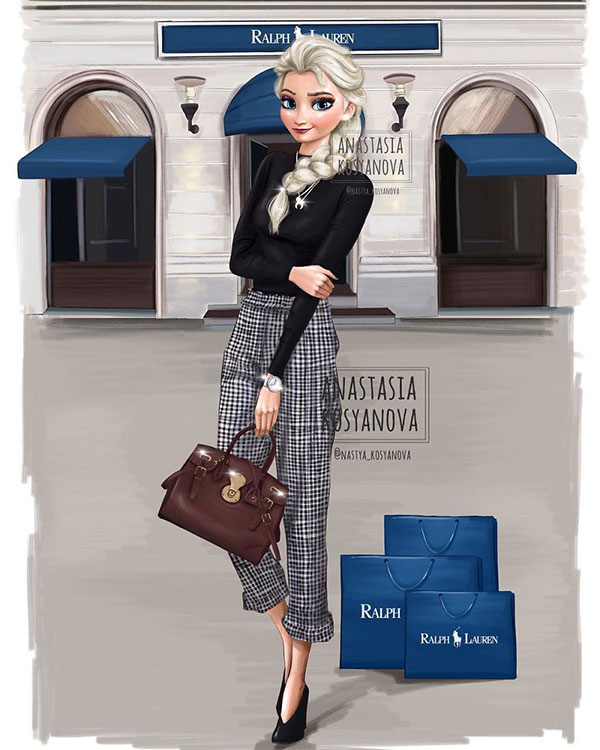 4. Anna
On the other hand, we have got Anna too and the brand she would go for it Dsquared2. In the illustration we can see Anna wearing a free size long denim top and an undershirt with a pair of white sneakers.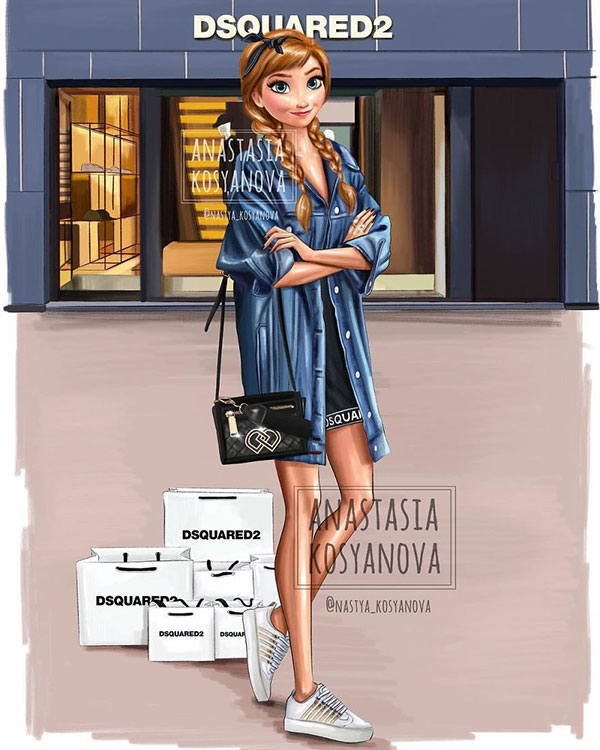 5. Vanellope
Vanellope gets to feature Hermes as a brand of class which is also steeped in tradition & history.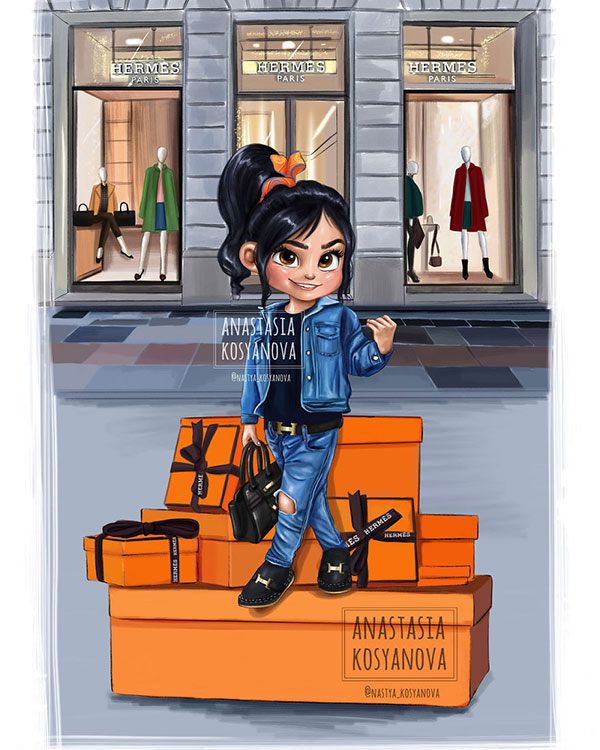 6. Tinkerbell
Tinker Bell is a sassy and feisty Disney character and would definitely go to Givenchy as the brand has the persona of casual chic, elegance and femininity.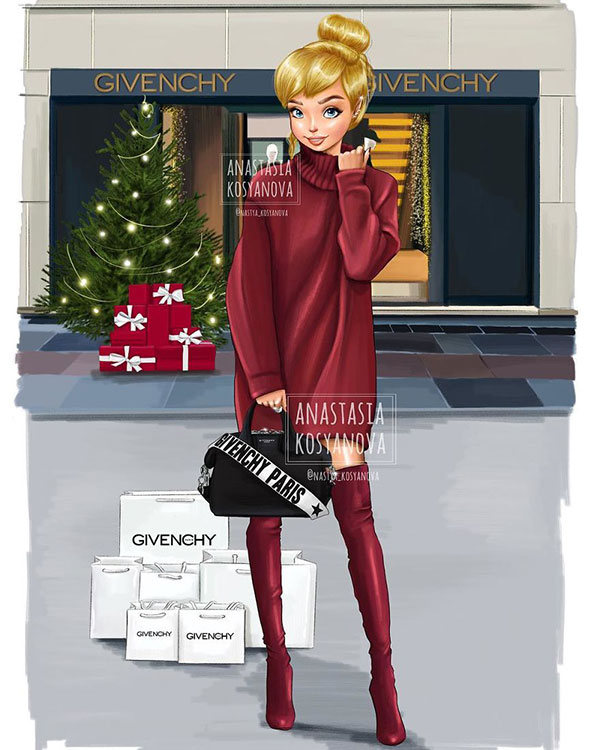 7. Tiana
Princess Tiana, on the other hand is a hardworking and realistic character of Disney so she gets to be associated with Louis Vuitton in the illustration as the brand portrays itself as a daring yet sophisticated brand.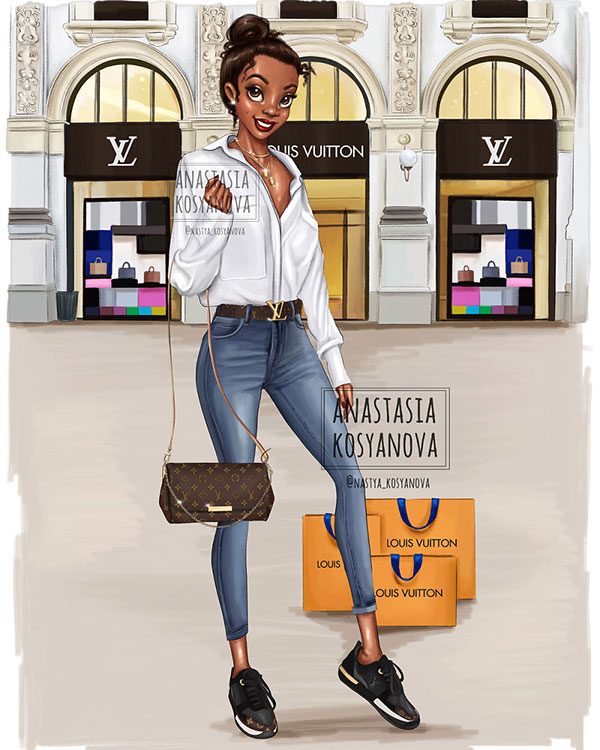 8. Snow White
Snow White is an unprejudiced character and that's what Tiffany & Co. also depicts as a simple & sophisticated brand.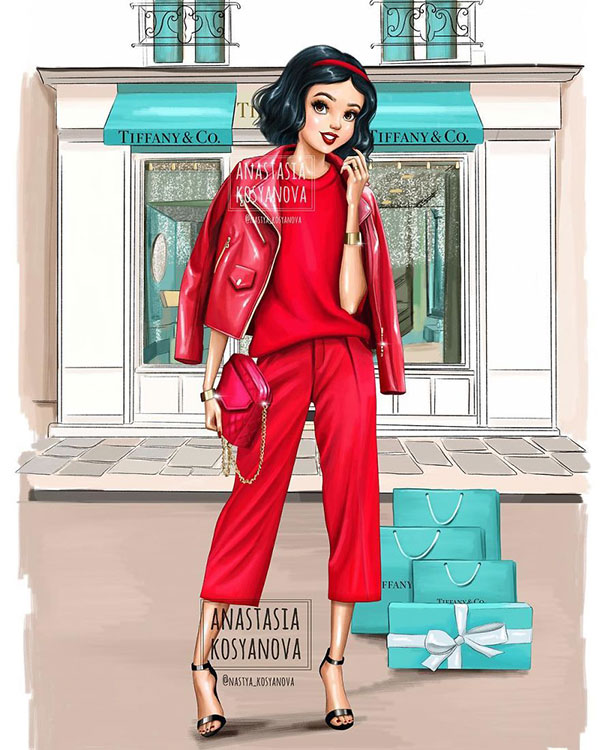 9. Rapunzel
If Prada does not complement Rapunzel's style then we don't know what will because Aurora very efficiently created the illustration and she knew she won't go wrong with this association of the brand and the princess.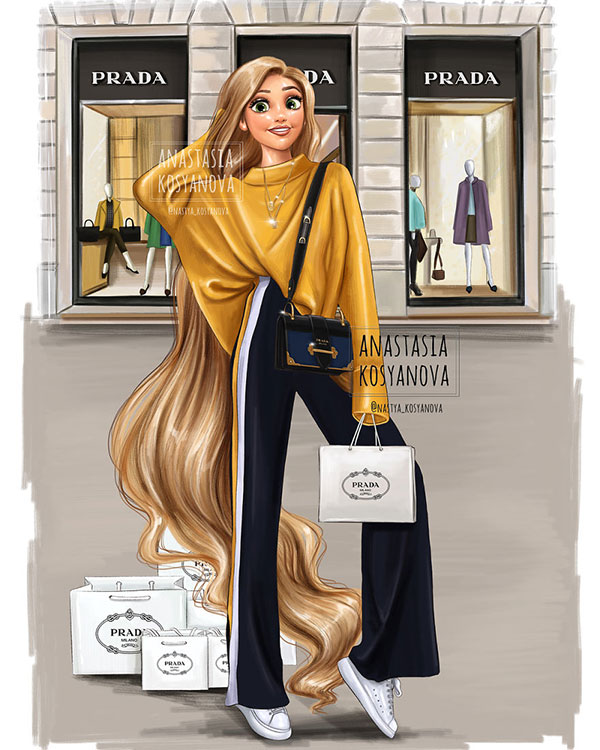 10. Pocahontas
Pocahontas is a responsible & adventurous Disney princess and she would definitely choose FENDI for herself because of the strong identity this brand portrays.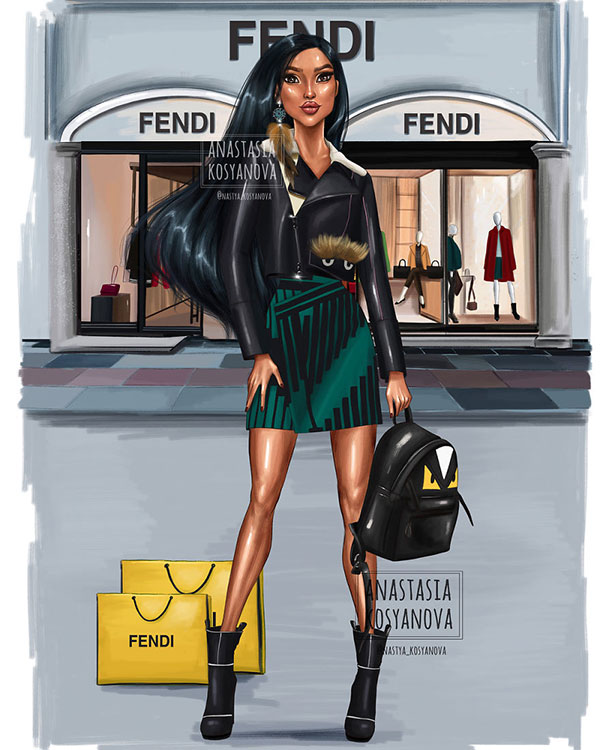 11. Mulan
We all loved the character of Mulan and got impressed to see her impersonify a man to serve in the Chinese military. What we love even more is that how Anastasia intelligently chose Tom Ford for Mulan. The connection between the brand and the princess is so strong we are still in awe.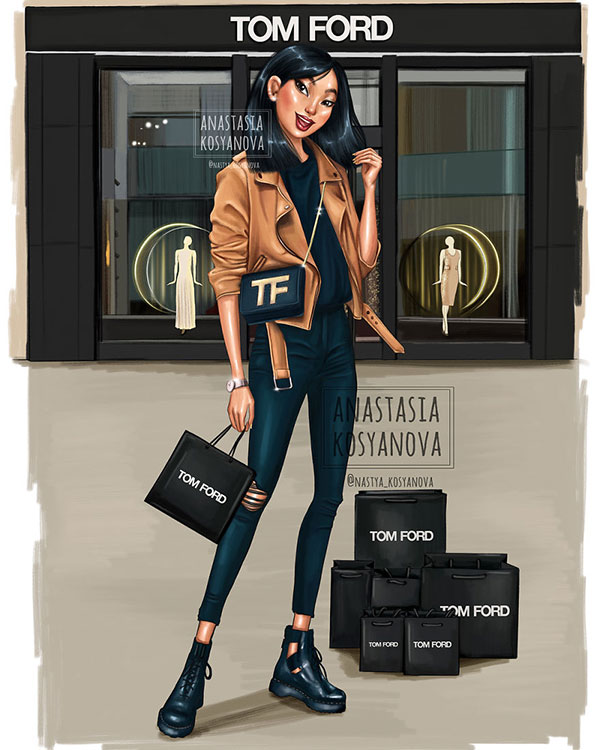 12. Moana
Versace is an upmarket, strong brand  and Moana would go for this brand as being the princess with a muscular body other than our petite and delicate princesses.
13. Merida
Merida takes charge of her own life and it is very evident in the illustration as well because the Moschino t-shirt she is wearing has a saying "Couture is an attitude' written on it while she stands in style in her ankle high boots.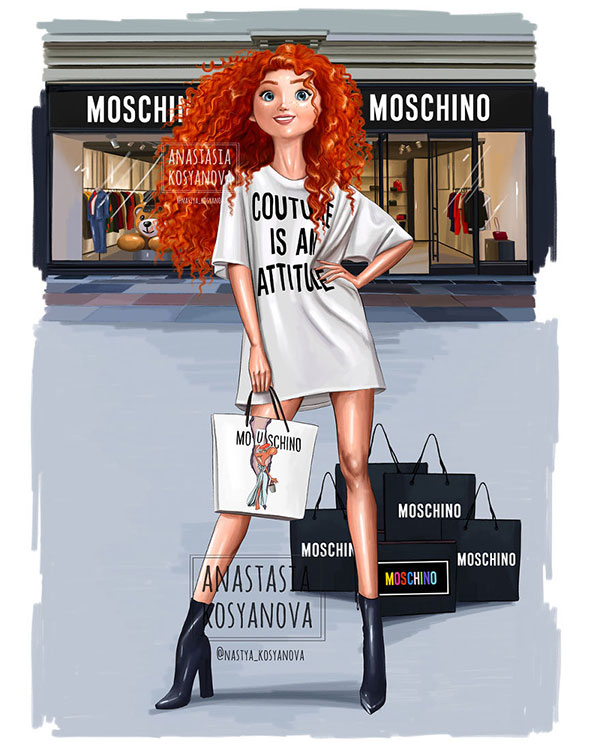 14. Megara
Megara would go for the Alexander McQueen because of how carelessly confident she is but also has a strong personality exactly similar to the brand.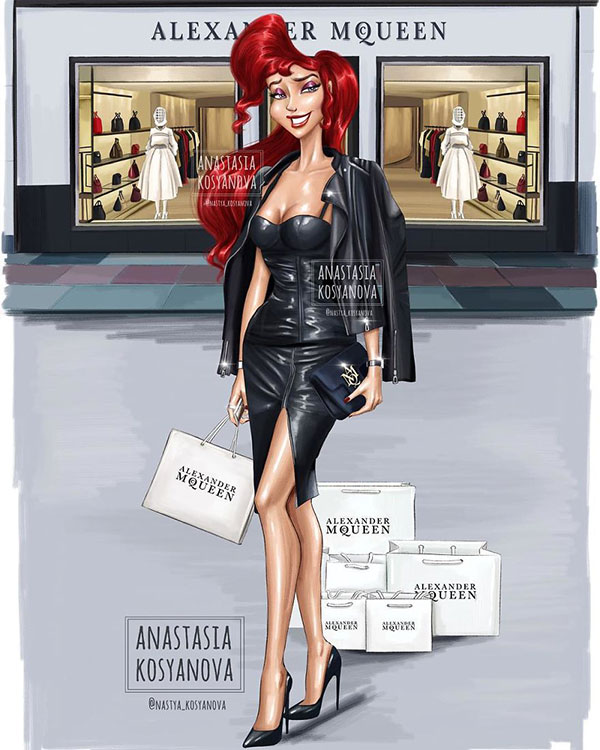 15. Kida
Our warrior princess Kida gets to feature Burberry and we all know this is one of the oldest brands which is still standing tall after so many decades.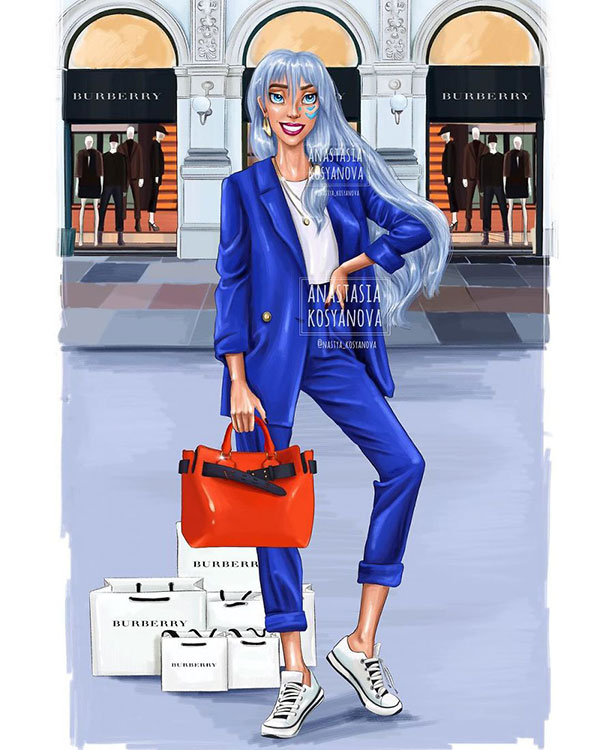 16. Jasmine
We absolutely love how Jasmine gets to feature Cartier – the elegance, sophistication and class this brand has are also defining characteristics of Jasmine's personality.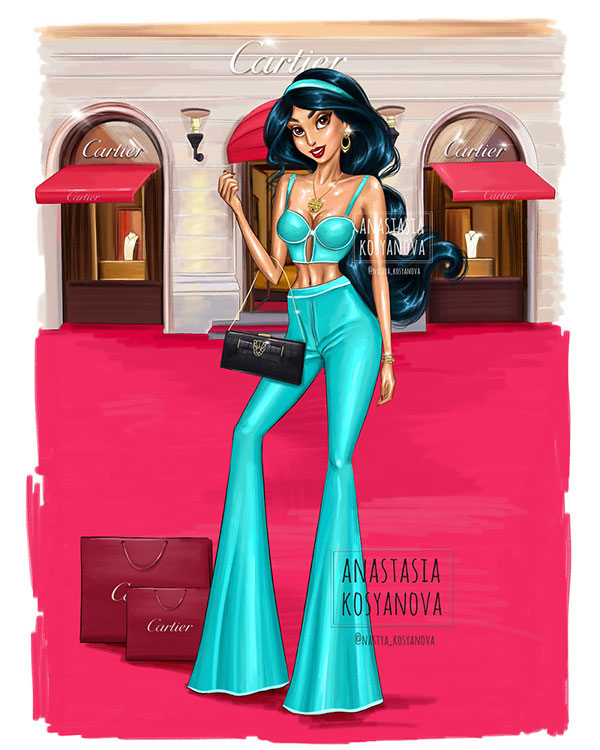 17. Esmeralda
Esmeralda is known for her seductive style and attracting men and what brand could better define her style other than Dolce&Gabbana? The illustrator draws Esmeralda in a black net dress that also has big and beautiful red roses.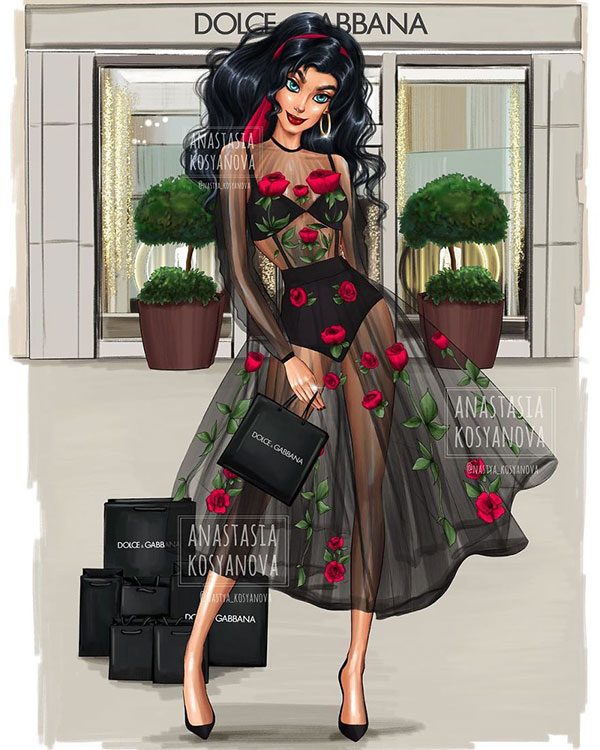 18. Cinderella
C for Cinderella, C for Chanel – coincidence? We think not! Anastasia carefully designated all the luxurious brands to the princesses as Cinderella comfortably sit on Chanel boxes in her royal blue dress & pencil heels.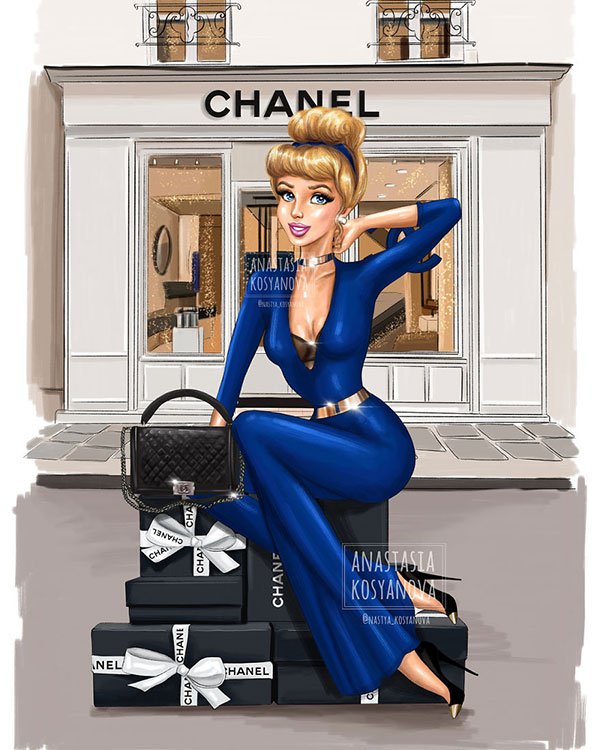 19. Belle
Belle happens to be someone who ditches her regular village life for an adventure and Anastasia makes sure to associate her with Gucci as the brand defines itself as a cool but responsible brand.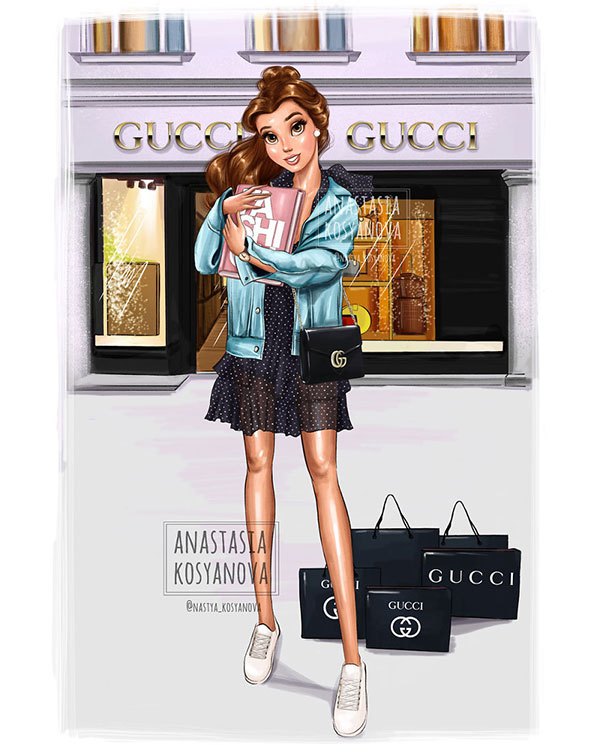 Instagram | nastyakosyanova.com
– – – – – – –
Recommended Illustrations Articles: