While we are working on new projects and blogs, our minds unconsciously make us revisit the old memories – like how we started working, what challenges did we face, how we grew up to be creative and things like that. In order to help people who are just starting their career in the field of graphic design or anyone who is interested in learning Photoshop, we will share with you A to Z logo marks samples. Feel free to get inspiration and ideas from the samples!
Logo artists Alex Tass, Deividas Bielskis and Dalius Stuoka have designed these brilliant alphabet logo design symbols, logo marks and monograms. Alphabetical symbols etc. can help you a lot to design logos for any brand.
Explore category for 1000s of Logo design ideas
Now allow us to share some easy to follow tips on creating successful logos and logo marks:
First things first, understand why you need a logo. Have discussions with the Brand Team and request them to share the timelines in which the logos will be used. Do ask the team if they are planning to keep the logos for short term projects.
Once that's done, choose the colors for the logo. Keep in mind the significance of colors and ensure harmony between the brand and the color palette. If the logo is for a brand that is about to get launched then know that you will be defining the brand identity as well.
Sketching it all out on a piece of paper first is the best thing you can do. Draw as many sketches as you can to explore the possibilities with different colors, design elements, typography etc.
Make sure that whatever you design is easy to remember yet unique to stand out from the crowd.
Don't forget to share which sample sets did you like the most. And we are positive that with these logo marks, you will be able to design impressive logos for your personal and professional projects – so, in the meanwhile, share this blog with your friends and favorite colleagues as well. And we'll see you next time!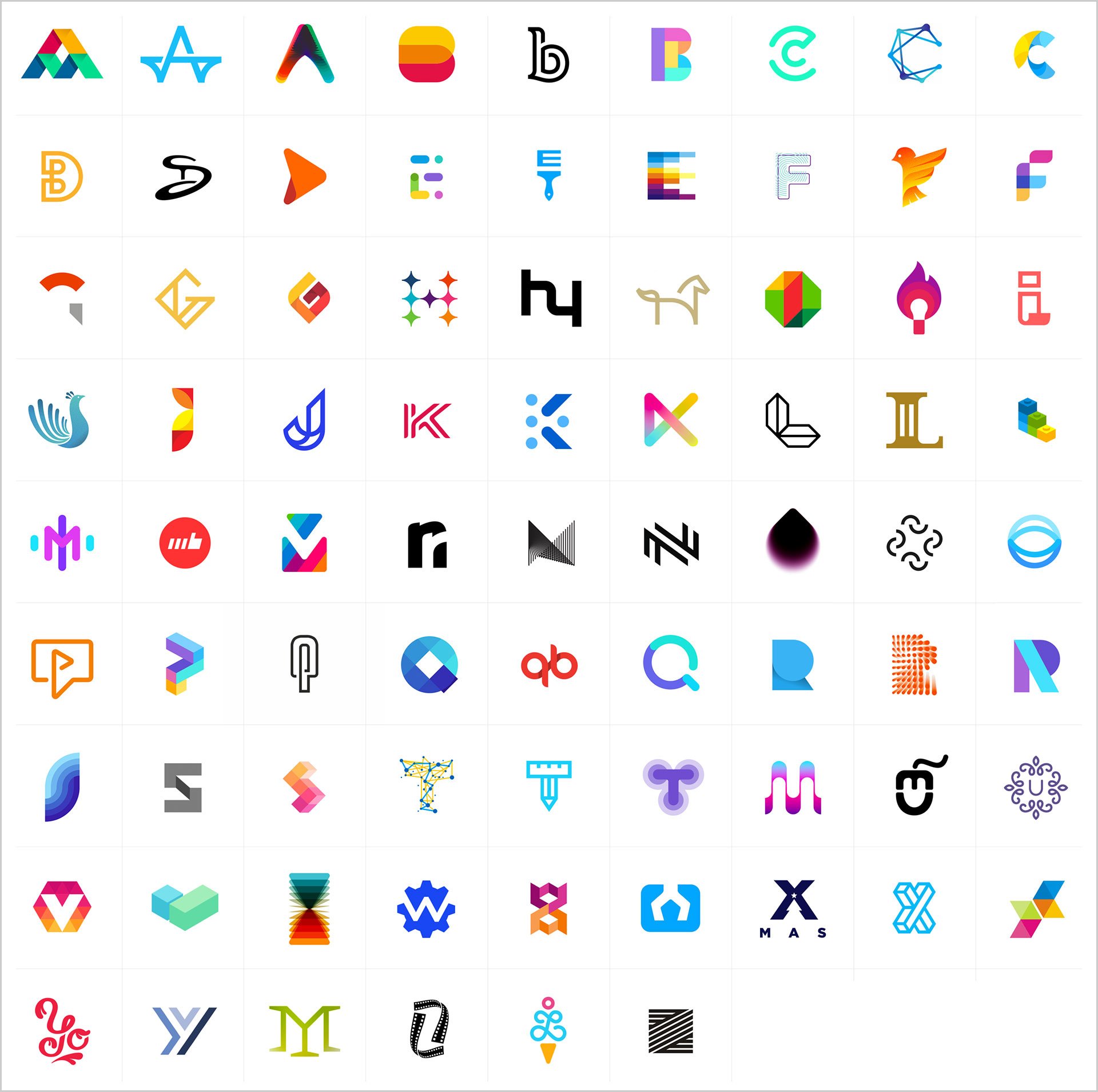 Letter A to Z Logo Design, Marks, Symbols, Monograms, Samples for Inspiration
1. A letter mark logo by Alex Tass ●​​​​​​​ A + bridge by Deividas Bielskis ● Architecture blog, a cardhouse logo symbol by Dalius Stuoka

2. B logo design by Deivias Bielskis ● B logo design by Dalius Stuoka ●​​​​​​​ B / DB monogram logo design symbol by Alex Tass

3. C for Constellation logo symbol by Alex Tass ● C letter by Deividas Bielskis ●​​​​​​​ C monogram by Dalius Stuoka

4. Personal DB monogram of Deividas Bielskis ● DS monogram, personal brand of Dalius Stuoka ●​​​​​​​ D + arrow, mark by Alex Tass

5.  E events schedule calendar by Alex Tass ● Paintbrush, E letter by Dalius Stuoka ● E data event information by Deividas Bielskis

6. F + Bird by Dalius Stuoka ● F logo symbol by Deividas Bielskis ● F letter, fidelity hearing center, sound waves by Alex Tass

7. G for Gladiator, logo design by Alex Tass ● G logo symbol by Deividas Bielskis ● G monogram by Dalius Stuoka

8. HY monogram by Dalius Stuoka ● H / horse logo design by Deividas Bielskis ● H letter mark + stars by Alex Tass

9. i/o analog / 1+0 monogram by Alex Tass ● I + Light bulb + Fire by Dalius Stuoka ●​​​​​​​ I folded by Deividas Bielskis

10. J / Paper / logo design by Deividas Bielskis ● J for Joy, letter mark by Alex Tass ●​​​​​ J + peacock logo symbol by Dalius Stuoka

11. K, colorful letter mark symbol by Alex Tass ● K monogram logo design by Dalius Stuoka ● K digital agency by Deividas Bielskis

12. L logo symbol by Deividas Bielskis ● L letter mark by Alex Tass ● L for lego + data by Dalius Stuoka
13. M V monogram by Alex Tass ● M B + thumbs up logo by Dalius Stuoka ● Music + artificial intelligence logo by Deividas Bielskis

14. N, architecture logo by Deividas Bielskis ● Negative reality logo by Dalius Stuoka ● N for New Black letter mark by Alex Tass

15. O / oil drop logo symbol by Alex Tass ● Optical square by Dalius Stuoka ● O + orbits by Deividas Bielskis

16. P, geometric letter mark by Deividas Bielskis ● P for popsicle by Dalius Stuoka ● Video play + chat bubble by Alex Tass

17. Q letter mark: circle + squares / logo by Alex Tass ● Q B Monogram Logo Design ●​​​​​​​ Q logo symbol by Deividas Bielskis

18. R letter by Deividas Bielskis ● Water drop + R logo by Dalius Stuoka ● R letter: dots / points / circles, industrial logo by Alex Tass

19. S, sea, waves, logo design mark by Alex Tass ● S / stairs logo design by Dalius Stuoka ● S logo symbol by Deividas Bielskis

20. T / touch monogram by Dalius Stuoka ● T + ruler + pencil by Deividas Bielskis ●​​​​​​​ Traveling T by Alex Tass

21. Unica logo by Deividas Bielskis ● Mouse Universe symbol by Dalius Stuoka ●​​​​​​​ UM / MU monogram by Alex Tass

22. V + box + checkmark by Dalius Stuoka ● VA monogram symbol by Alex Tass ● V logo by Deividas Bielskis

23. WA monogram by Alex Tass ● W + technic wheel by Deividas Bielskis ● W + wrench by Dalius Stuoka

24. X-MAS by Dalius Stuoka ● X letter mark by Deividas Bielskis ● X letter + coding brackets + arrows, logo symbol by Alex Tass

25. Y letter by Deividas Bielskis ●​​​​​​​ Yo by Dalius Stuoka ● M+Y+glass shape by Alex Tass

26. Z Films logo by Dalius Stuoka ● Z ice cream logo by Deividas Bielskis ● Z letter mark by Alex Tass

More Logo Design Inspiration: