Hi guys! We were just sitting together with our friends the other day and one of them mentioned the wayfinding signage. And we had a discussion regarding their designs and other related stuff – which also helped us with our blog's new topic. So, to make things more interesting, in today's blog, we will talk about wayfinding signage. But that's not it – we have also worked on a wayfinding signage mockup. You know what that means? A highly editable and free mockup PSD file.
But before you start working on your new project of creating a wayfinding signage, allow us to share why they are significant. In addition to that, we will also share how to make effective wayfinding signage. Since moving from one place to another is like a must for everyone, signage are created to help people locate themselves, get directions and to move with less hassle.
Signage are displayed at a certain height, position and distance so that anyone who is in the road can see them. The fonts used for wayfinding signage are extremely readable and the copy is brief – only what that is needed and can be read in a glance. It is important to not add any information that is excessive or can confuse the drivers while driving.
Wayfinding signage are put up after strategizing the entire idea. Putting a signage keeping in mind the plant growth, buildings and structures like polls etc. is very important. You won't want to place a signage at a point where it can't be seen.
Recommended: 90+ Outdoor Advertising Mockups
There are 4 types of wayfinding signage:
Directional signs: For directions in a build environment
Information signs: Sign poles to locate destinations etc.
Identification signs: For individual locations, buildings and public facilities
Warning signs: To indicate danger & safety procedures like no smoking areas, fire escape routes, work under construction warnings
That's all for today! We hope that this blog will help you create functional wayfinding signage using our mockup PSD file. Once you are done with the design, have it run through your client before you give a final call for the printing process.
Free Highway Wayfinding Signage Board Mockup PSD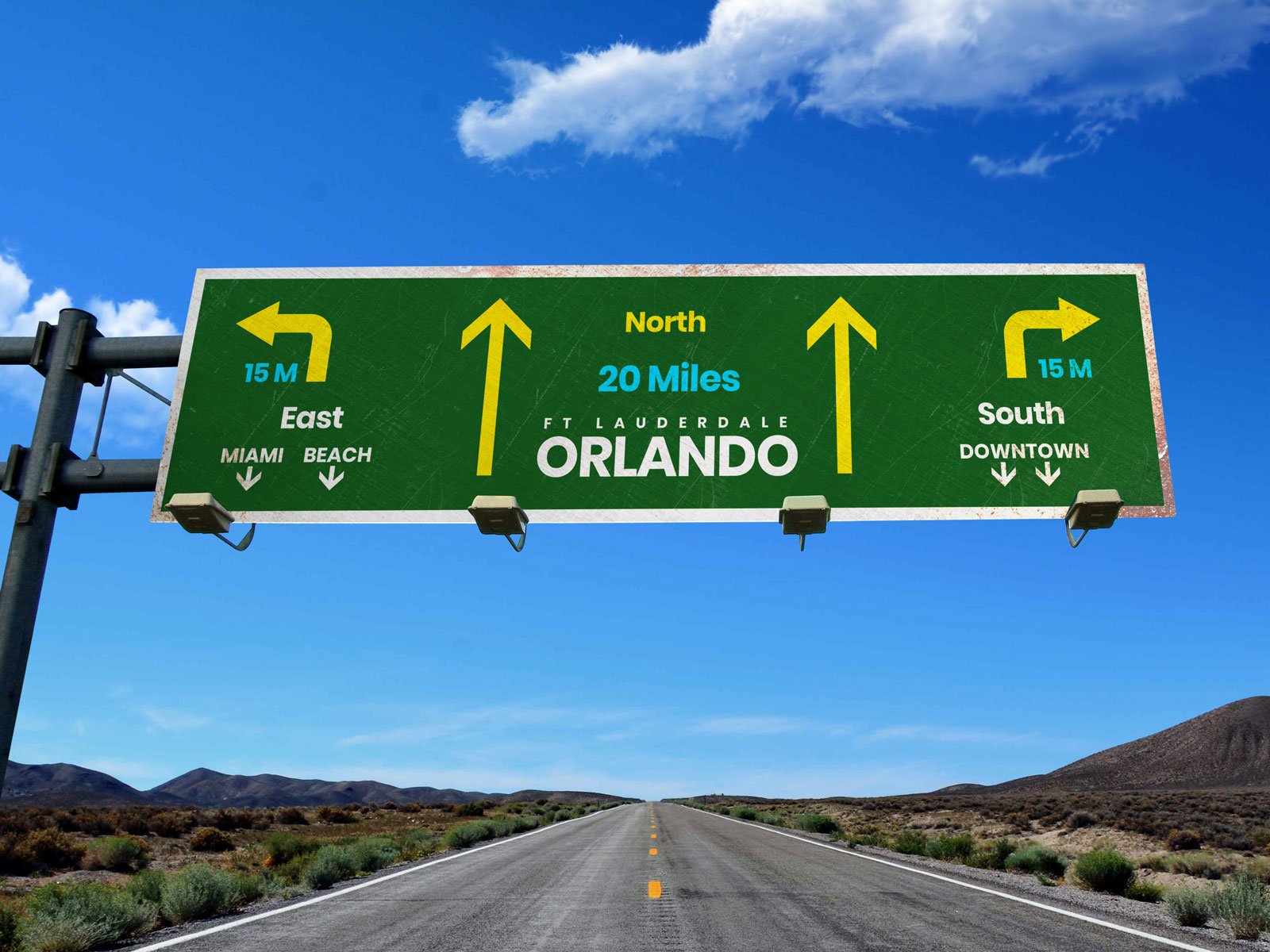 Available Format: Photoshop PSD
License: Free for personal and commercial usage
File Format: WinRAR
Mock-up Resolution: 3600 x 2700 px
Note:
1. Free Highway Wayfinding Board Mockup is allowed to share online (A Must Linkback to this page)
2. Say thanks if you like or share/tweet with your friends. That means a lot to me.
3. And don't forget to follow or subscribe to receive more high quality premium freebies & awesome articles only.
Download Wayfinding sign Mockup
More Latest Free High Quality Mockups: