Are banner ads the bane of your life? Do client demands for yet more banners drive you demented?
Enter Bannersnack, the banner design tool that allows designers and clients create banners with zero coding.
If you are used to thinking in terms of Photoshop® and other professional tools, relax: Bannersnack is a design tool for non-designers.
What Does Bannersnack Do?
Bannersnack lets anyone design their own banner ads in just a few minutes. Literally; a few minutes.
Templates
Users might struggle to create banners from a blank screen, so Bannersnack has hundreds of professionally designed templates a user can adapt to their own needs.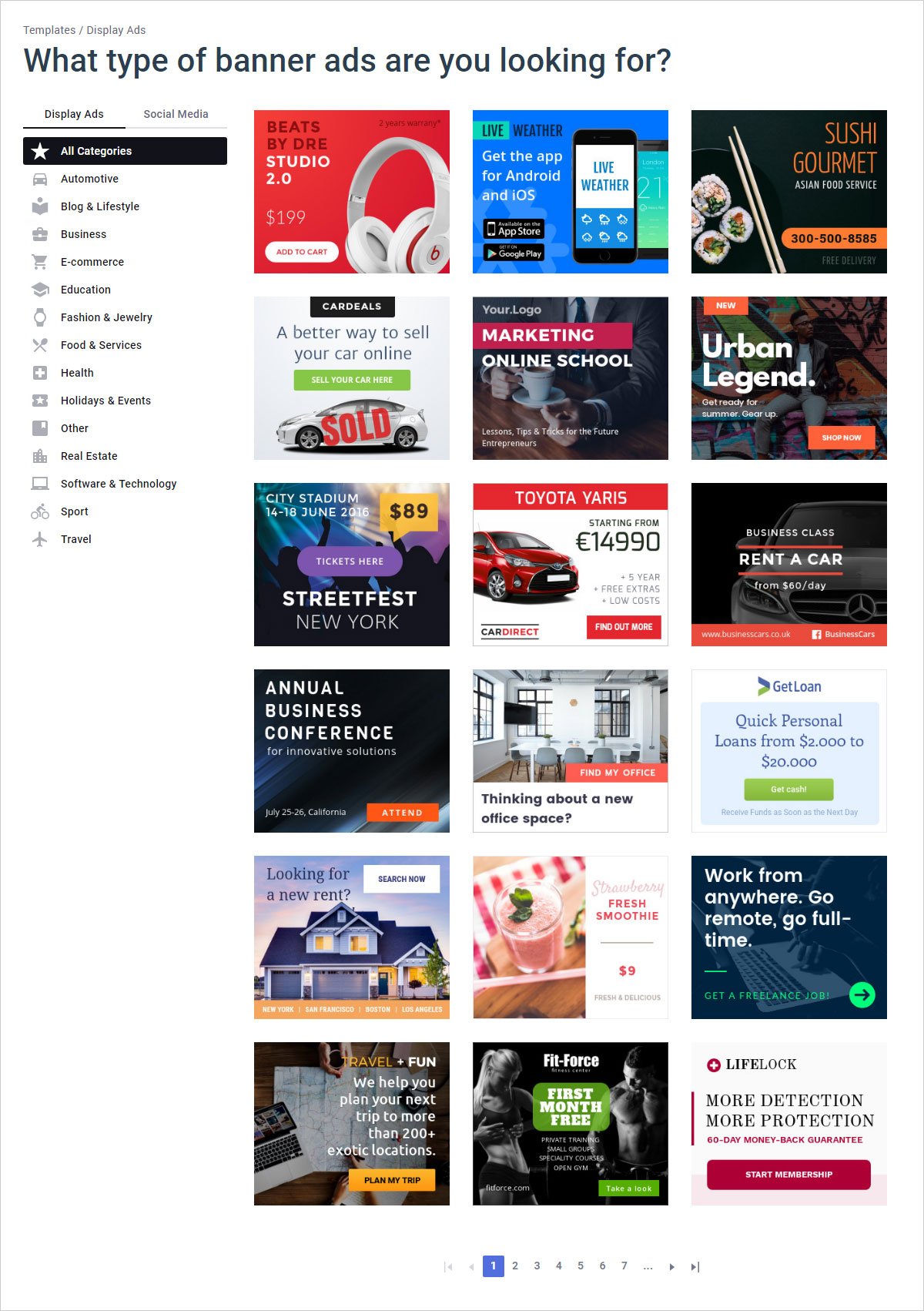 Even a first-time user can quickly edit their chosen template. You can replace fonts, images, and backgrounds; using a template just makes the design process faster because you have somewhere to start from.
Sets of Banner Ads
Nobody ever wants one banner ad, they need multiple variants of the same ad in different sizes.
Bannersnack lets you do that in just a few clicks. Thirty different ad variations in two minutes? Yes, just check out this Youtube presentation to see how you can do it.
Select a template
Adapt template
Click Resize
Set 3 reference layouts (square, horizontal, and vertical)
Preview Set
Save all
Every ad is responsive, you can export them in multiple formats, including AMP HTML if you have a Pro or Plus subscription. AMP HTML will allow your ads to load faster than a phone user can scroll away, and Google loves web pages that load quickly, so you rank higher in search results.
Banner Analytics
Split testing is crucial to maximizing the ROI on your paid ads, so you need data and heatmaps rather than relying on your gut feeling. Your client can use the Bannersnack analytics feature to improve their banner ad designs gradually, getter and better response rates.
Animated Banner Ads
Animated banners are sometimes more effective than static ones. Many clients will want to be able to experiment to see what works for them. Bannersnack allows banner animations if you have a Pro or Plus subscription.
There is an even simpler single click Magic Animator if your client is in a hurry, or feeling particularly challenged.
You can experiment with the Magic Animator by visiting the page below.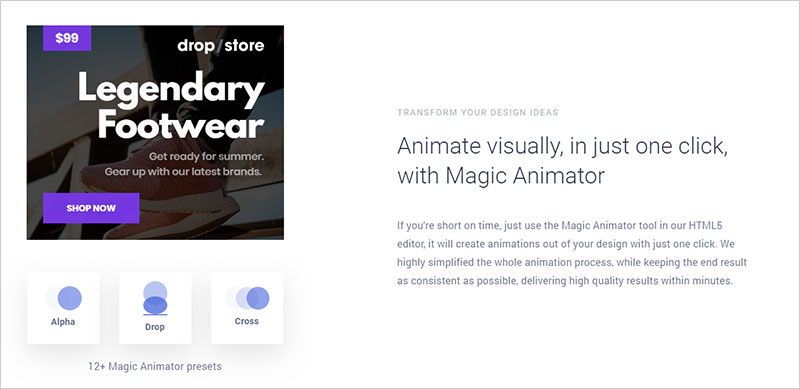 You get to choose from many standard transitions to get the animation effect you are looking for. As you gain more experience with the platform you can set up custom slide-in and other transitions. Combine these with your split testing regime to find the perfect ads for your target market.
Every user will be able to see your HTML5 animations, even iOS, and Mac users.
Good Reasons to Teach Clients to Design Their Own Banners
Showing clients how to do their own banner ads has advantages for you and your clients.
You can start other projects rather than constantly doing small 'finishing off' tasks for a demanding client. Maybe you loathe banner ad design or find it does not challenge your design skills; this is your chance to opt out of this work without losing the main design job.
Clients get the ads when they want them, rather than having to communicate their exact requirements to you, wait for an opening in your work calendar, and then ask for revision upon revision to the frustration of both parties.
Teaching clients is as simple as sending a few links to the Bannersnack website and Youtube demo. The cost to the client is much lower than your fees would be, the work is done sooner, and revisions are instant. Clients can access their analytics and make ongoing changes for split testing purposes very easily, so they are more likely to use A/B testing to the full.
Summing Up
Bannersnack lets you, or your client, design whole sets of animated banner ads that are responsive. You can have 30+ ads in less than 30 minutes, including personalizing a template.
If you love banner ad design, then do the work yourself, if you loathe the frequent interruptions to your workflow and endless revisions, then show clients how to use Bannersnack themselves. Clients will be happy because they get their ads in less time, and you are happy to avoid tasks you dislike.
Recommended Articles: