"Thud thud thud!" – do you recognize the sound? It could be anything but when you are at an office or a bank, you must have heard this sound. Yes, that's correct – it's a rubber stamp being in action. Though there are many offices around the world which have almost abandoned rubber stamps but we know our today's blog and free rectangle rubber stamp mock-up PSD file are going to help many of you, right? So, let's get started!
As we know that rubber stamps were used for official documentation where important documents would get attested or approved manually. But then needs and demands of the buyers changed. Creative people started to explore more uses of a rubber stamp and we saw teachers grading their students with the help of cute rubber stamps which encouraged them to do even better. We absolutely loved how our teachers would motivate us by stamping on our report cards.
We also remember that there was a time when we would spend our pocket money on buying rubber stamps to decorate cards and drawings during our art class in school. Those days were literally the best days and if this made you revisit the memory lane then we are happy to be the reason of that.
Coming back to the topic, we have seen people who use rubber stamps to mark bills in shopping malls and belongings for instance hence, textile stamps were also created. And while the list is long we would like to share the uses of a rubber stamp one by one:
Custom made wedding and party stamps for invitation cards
Rubber gift tags and labels for Christmas presents and parties
Identity Protection rubber stamp to avoid theft of valuable documents
Themed rubber stamp for restaurants and other eateries
Food rubber stamp to mention the manufacturing and expiry dates on packages
In addition to that, if you own an organic shop or make stuff by hands then you can also remind your customers the efforts you put in while preparing their orders by stamping the packets with your customized stamps. In our opinion that will look so cool, honestly!
Now that it has been established that rubber stamps can be used almost everywhere depending on the job, we just wanted to tell you guys that our rectangle rubber stamp mock-up PSD is waiting to be downloaded and used for your personal and professional projects.
But before you get your hands on the PSD file and start working on your own design(s), we want to share some tips which will help you in ensuring that not only your designs get approved (almost instantly) but the entire practice will be beneficial for your professional growth too. Let's have a look at the tips first:
We have made sure that our rectangle rubber stamp has neat dimensions for you to work with and you can easily get an idea about the size as well. Since you won't have a lot of space to work on, you will have to have to the point 'copy' for the stamp. And if adding design elements is also a requirement then choose what matters. Do not overdo the design by using a lot of supporting elements.
We chose to have a wooden stamp handle for the PSD file but if you want to change the color of the handle, you can.
Your next step should be to decide how you would want to see the rubber 'plate'. Will you go for a carved plate or do you want an engraved plate to serve the purpose? It depends on the budget as well so we will suggest you to create multiple rubber stamp options, prepare a mock-up presentation and call a review meeting to finalize things.
During the meeting, you can demonstrate your ideas on which you and your team worked to meet the brief requirements and you can also suggest different directions colors and styles to your client. You might have to incorporate some revisions in the designs but that's okay because only a mock-up presentation can minimize the chances of sending in wrong designs to the printer or manufacturers.
After you have successfully checked out all the task boxes, have the vendors contacted and explained the job as well so that the required stuff can be produced.
Now that we have shared some super awesome design tips with you guys we are sure that you will create beautiful rubber stamps with the help of our mock-up PSD file. And while you do that, we would really love it if you could share the blog with your designer friends and colleagues. Also, feel free to let us know if you want us to work on other PSDs as well!
Free Rectangle Rubber Stamp Mockup PSD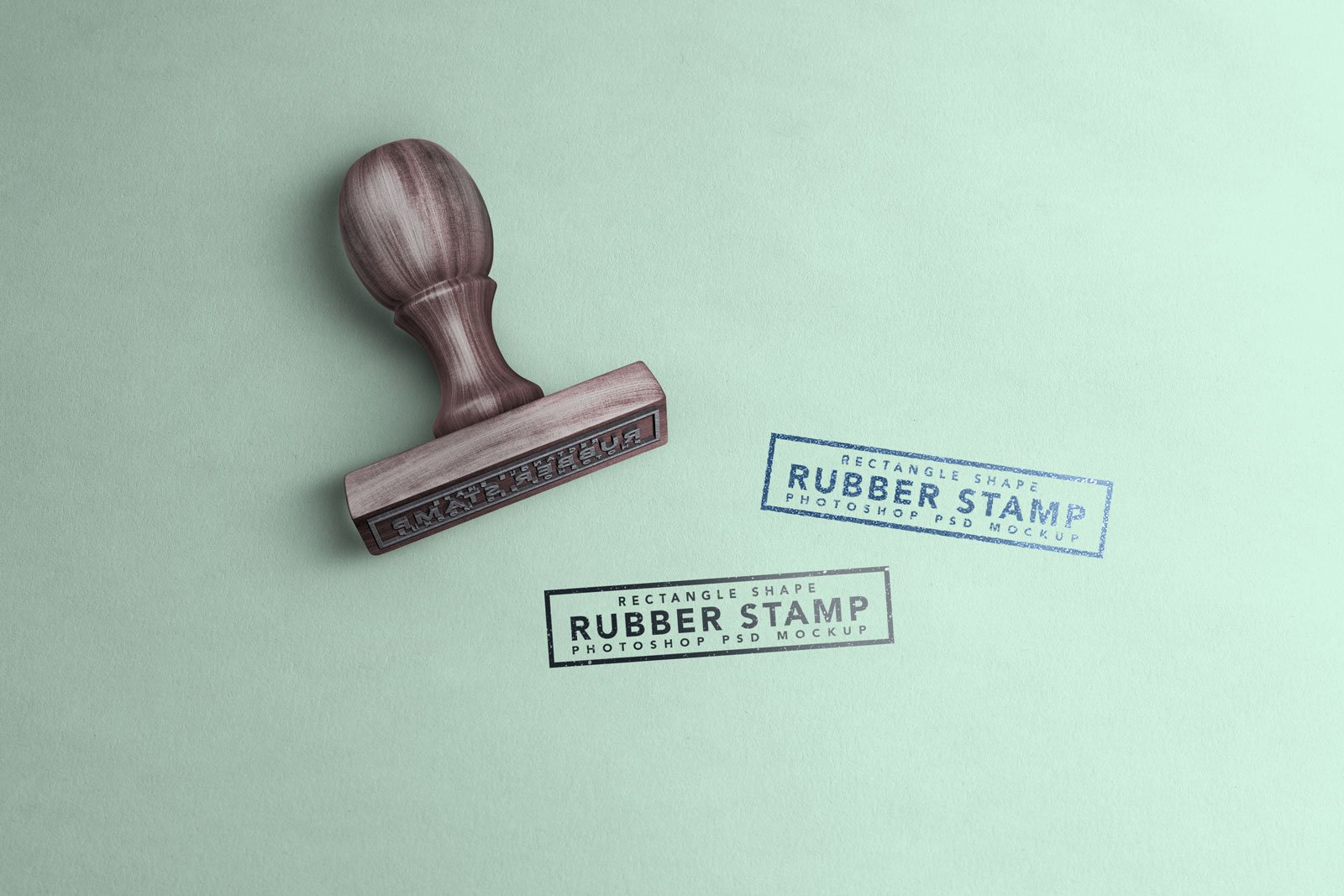 Available Format: Photoshop PSD
License: Free for personal and commercial usage
File Format: WinRAR
Mockup Resolution: 3000 x 2000 px
Note:
1. Free Rectangle Stamp Mockup is allowed to share online (A Must Linkback to this page)
2. Say thanks if you like or share/tweet with your friends. That means a lot to me.
3. And don't forget to follow or subscribe to receive more high quality premium freebies & awesome articles only.
Download Stamp Mockup
More High Quality Free Mockup PSD Files