Hi guys! We hope you are well and producing amazing designs and art works from your magical desks. Today we are here with our yet another super interesting blog and we want all of you to stop whatever you are doing and continue reading this piece that has tips, insights and some more tips.
So, what actually motivated us for this blog was a poorly designed menu card which we happened to look at last weekend. Now we want to be very clear, we are not here to criticize the eatery but what we do want is that all of you need to pay attention to whatever designs you are working on. It is important for your portfolio, job & repute but it is also very important in context of the relationship your agency has with your clients. And even if you are working as a freelance graphic designer, sending in correct art works for printing must be your thing.
That being said, we would like y'all to know that we have worked on an awesome menu mock-up PSD for you guys. It's uniquely different (we'll explain why!), highly editable and absolutely free to download. And we would also like to dive right in without any further delays.
Okay so what makes our mock-up PSD uniquely different? The answer is simple but we would want you to think of all the places you have been to – lately and try to recall the menu cards which were presented to you. Did you like the menu cards? Were you tempted to try at least 3 to 4 items from the place you were at? And on a scale of 1 to 10 how would you rate the imagery which was incorporated to create the menu?
If this seems like a lot to respond to then we are here to help you with the pointers with which you can ensure that you will design the perfect menu cards for your client. First things first; like everything a menu card has to be designed by keeping in mind certain rules – which are:
A basic menu card is designed by considering the eye scanning pattern. Since a number of places have a lot of items on their menu and they want all the items to get equal and proper attention. There were times when designers would create menu cards keeping in mind the fact that a random customer would want to check out the dessert menu first before anything. But now customers settle down and then read the menu like a book.
To cater that, all you have to do is to start from the top left corner of the menu and then give a considerable amount of attention to everything else that is a part of the process.
Categorize each item very carefully as you will have to create headings and subheadings in the later stages. To spice things up a little, your creative copywriter can help you with writing witty names and copy for the menu. But make sure that copy is interesting enough to lure a hungry customer.
Then comes the imagery. You need to make sure that all the images which you will use to design the menu card have mouth watering images. Every food item picture must be so good the customer would want to try it. And never use pixelated images for a menu card, it can be a turn off for several foodies.
Although this point strictly comes under the heading of copy but you need to make your menu card a little more special than the regular menus. Since consumers keep educating themselves about themselves, it is important to mention if any of your food items can cause allergies of any kind. Similarly, you can also inform your customers that you serve vegan, gluten-free, organic or handmade food items as well.
We'd also like to mention it here that prices must be clearly mentioned on the menu. Don't forget to mention if they are inclusive or exclusive of taxes.
Now that you have worked on the basic sketch, it is time to work according to the eatery's theme. Anything and everything which will be used to create a menu card design will have to complement the theme which has already been decided – as it will be easier for you to choose colors, fonts as well as styling and typography.
As far as the design elements are concerned, the most effective way to design a menu is to organize it in such a way that the categories, etc. are divided with aesthetically beautiful lines.
Now that we have shared a few easy to follow tips with you guys to help you design pretty menu, all you have to do is to get your hands on our menu mockup PSD, customize it as per the design brief and share it with your team and client so that you can receive feedback or approval to keep things going!
Free Hotel / Restaurant Menu Card Mockup PSD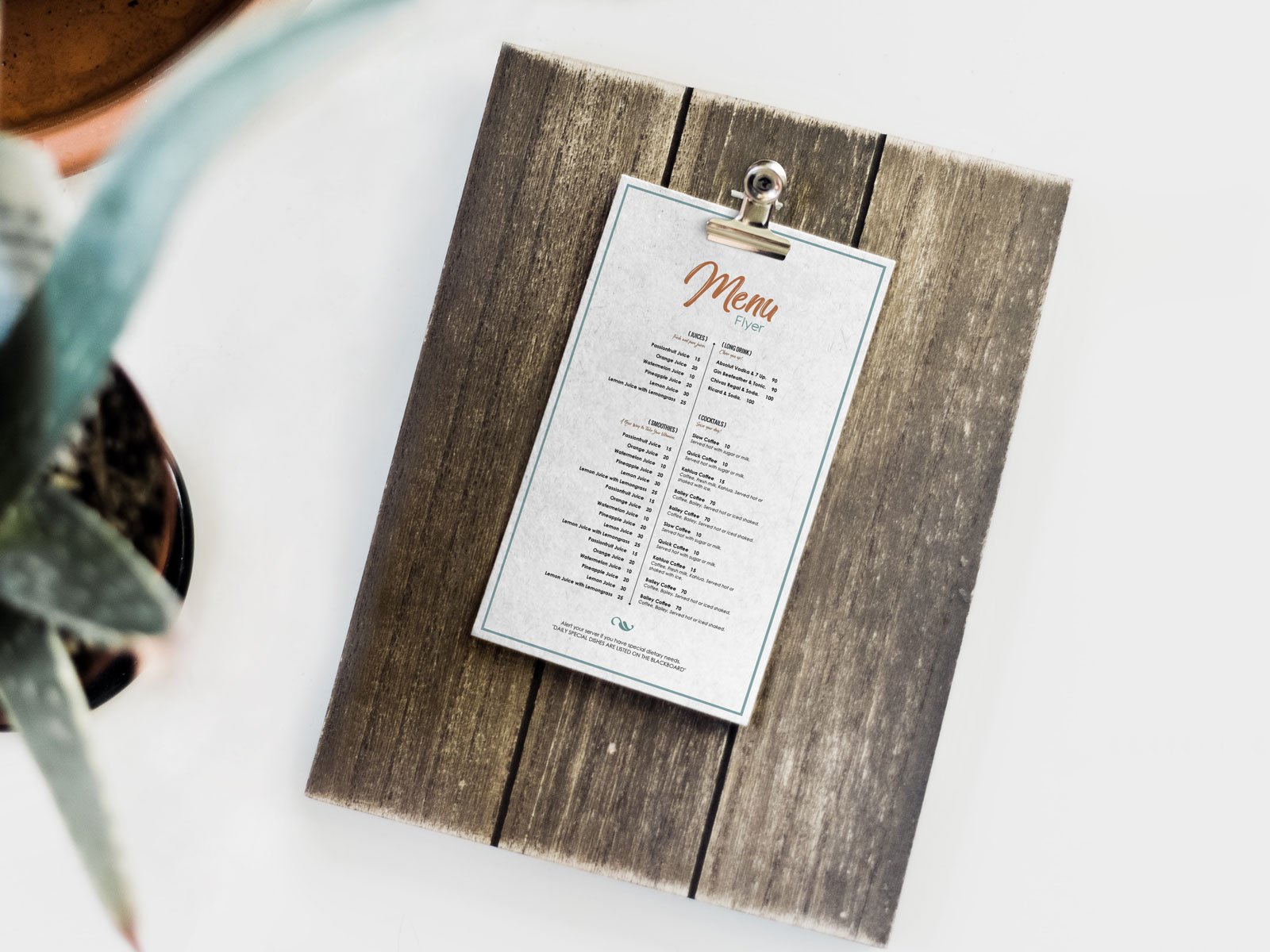 Available Format: Photoshop PSD
License: Free for personal and commercial usage
File Format: WinRAR
Mockup Resolution: 4000 x 3000 px
Note:
1. Free Restaurant Menu Mockup is allowed to share online (A Must Linkback to this page)
2. Say thanks if you like or share/tweet with your friends. That means a lot to me.
3. And don't forget to follow or subscribe to receive more high quality premium freebies & awesome articles only.
Download Menu Mockup
More Latest Free High Quality Mockups: