Hi there guys! We hope that you enjoyed reading our previous blog. Our today's blog is not about Halloween but it is going to be an interesting one – as we will talk about billboard advertising in general as well as its effectiveness. We will also discuss wall mounted billboards in detail but that's not it because we have also created a street wall mounted billboard mockup PSD for you guys. You can easily download it for free and can create your very own billboards by editing the PSD file as per your requirements.
So, what exactly is a billboard? To explain it by using easy to understand words, we would say that a billboard is a brand's huge advertising space which is utilized to promote a message. Billboards are set up in public places for people to look at, get the message within seconds and then take an action – which could be anything for example; availing discounts, attending a food event, checking out a new shoe collection etc.
And what, in your opinion makes billboard advertising an effective mode of communication for the brands? Well, researches are always being done and compiled in order to get data so that appropriate actions can be taken. Below mentioned are some of the insights which we have regarding billboard advertisements:
As per some recent "in-car" surveys and data analysis, it was found out that more than 70 percent of the viewers remember the message / ad they see on a billboard. In addition to that, almost 24 percent viewers take an action on the same day by visiting the store or checking out the website / social media platforms whereas, 31 percent of the people take an action within 1 week of seeing a new billboard.
We are sure that these stats. are enough to convince advertisers to include OOH or billboard advertising in their advertising plans.
Recommended: 100+ Outdoor Mockups
There are many different types of billboards and brands & advertising agencies pick and choose them after chalking out the objectives as well as the budget. There are static and mobile billboards for example; roadside billboards, street furniture and cars, buses, motorbikes respectively. And since innovation was brought into static billboards as well so now we can also see digital billboards alongside the roads and traffic signals. Some of the most effective billboards which you can see around the globe are:
Static billboards (conventional ones)
Mobile billboards (buses, taxis, motorbikes etc.)
Street furniture (kiosks, bus stops, telephone booths etc.)
Digital billboards (such as LED billboards which are used to display adapts of a TV commercial or short animations)
In addition to the types of billboards that we have mentioned above, there are more ways to advertise your business & services effectively. Like you can have the transits advertised and you can also have lamp posts designed and put up in popular streets and parking lots. In case you were wondering, these lamp posts become noticeable with the help of street lights. Moreover, your brands can also consider letting front and back lit LEDs do the work for them.
So, that's that! Now let's have a look at some easy to follow and super effective tips to design billboards:
Keep the layout of your billboard as simple as you can!
It's a billboard and it must be treated like one which means you don't have to go too wordy when it comes to the copy.
An average time to view and comprehend a billboard from a moving vehicle is 5 to 10 seconds, make sure that everything on your billboard has the collective viewing time of that duration ONLY.
Go big and loud by keeping the font size visible enough that it can be seen from a distance too! Also, do not hesitate to incorporate life size images. They make the billboards more impactful as people enjoy viewing stories that are told through big fonts and imagery.
Colors play a crucial role when it comes to advertising. Choose bright colors so that they can attract more eyes.
Make sure that background colors are not-so-bright so that the foreground remains prominent.
If your brand is a fun brand then you need to strategize the entire plan of putting up your billboards at places where clever and witty messages can be seen easily.
And as long as the street wall mounted billboards are concerned, we have done half of the work for you. To get done with your design task, you will have to see what works better for your brand(s) in terms of communication as well as placements. With the help of our mockup PSD, you will be able to demonstrate how your own wall mounted billboards will look like after being mounted. This will be an easier process for your clients to get a clear idea and provide you with the final go-ahead.
Free Street Wall Mounted Billboard Mockup PSD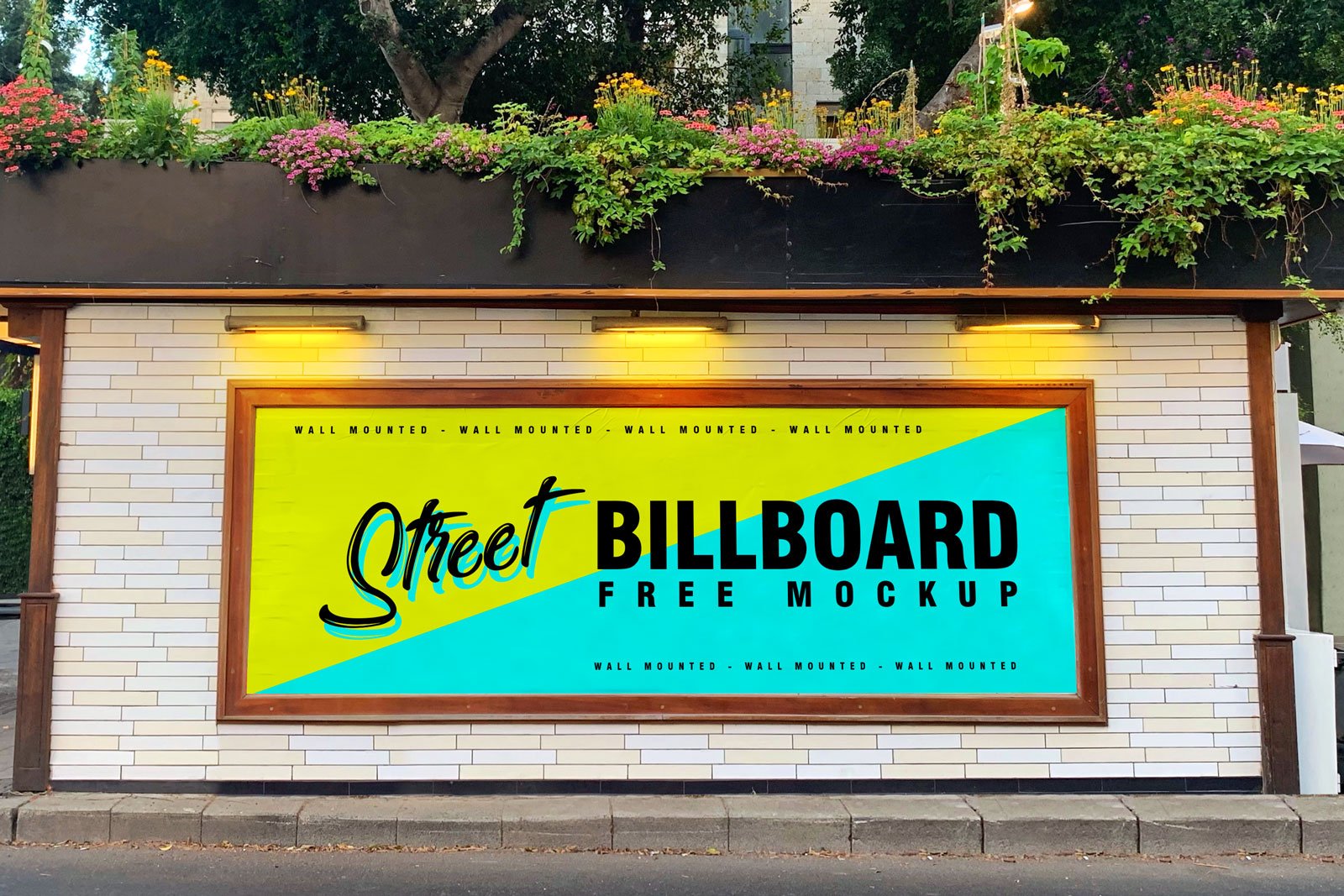 Available Format: Layered PSD with smart object insertion
License: Free for personal presentational use only
WinRAR File Includes: Street Billboard Mockup PSD
Note:
1. PSD Outdoor Billboard Mockup is allowed for sharing online (A Must Linkback to this page)
2. Say thanks if you like or share/tweet with your friends.
Download Billboard Mockup PSD
More Free PSD Hoarding Mock-ups you would love to download: