We remember that when we were graduating, a friend of ours gifted us a pair of socks. We got so excited to receive an unusual gift that we took different photos of those socks and posted them on our social media accounts. Oh, and just by the way we still have that pair with us because it is too adorable to discard. And we still wonder if it was the pair of socks or the gesture that made us so happy. You tell us have you ever bought socks as a gift for someone? Did you have anything specific in mind while you were purchasing those pairs of socks? Feel free to talk to us in the comments section at the end of this blog.
Anyways, socks shopping is a serious business and not a lot of people go to shops and purchase their pairs just like that. There are many factors involved which determine that you are spending your money on the right stuff like the quality, design etc. and if you are a brand conscious person then it's a given that you would not mind paying a little more than 'normal' prices.
'Fashion' is not a constant thing these days – it's not like it was constant before this year but it is being changed on a daily basis depending on how influencers are making their style statements a trend. Their fans & followers pick those very statements right away and start living their life in that style for like a week or so. In times like these, one has to act fast. And how does one do that? When they have the right material as well as the necessary information with them, right? But they also need to stay up to date with the latest trends and news too.
Do you guys know how a picture or a statement said by a political person or a dialogue gets viral? That happens because social media junkies are constantly making and uploading content on their Twitter, Facebook and Instagram. They literally pick up an image from say a live match, insert a commentator's remark and post it right away on their Facebook Page. Other people see it, they get the gist and share that thing and then it becomes unstoppable. Reacts, shares, and what not!
And we are sure you must have also seen t-shirts, backpacks, mobile covers and almost everything that can be designed and printed easily – having a trending meme or may be a sentence printed on them. That can be and is being done in the context of socks as well. You pick up your favorite character from a trending season, design your idea and voila you have created a cool and unique pair of socks!
It does sound like a little magic-y at this point, right? Don't worry because that's where we come in! In order to be your partners in fashion we decided to create a mock-up of a pair of socks today. As you know all our mockups PSDs are free of cost and can be customized very easily, it's time for you to just get your hands on the file immediately after you're done reading our blog.
But before we move to the next step, we would like y'all to know that our free pair of socks mock-up PSD can be beneficial for the individuals:
Who have an online shopping store of selling funky and not-so-common designs and articles
Who are working for a clothing brand that manufactures socks
Who are working for a PR agency and want to design a different PR box for a brand this time around
Who are tired of wearing boring black, blue and brown pairs of socks and want to do something unique and different for their feet
Who have a quirky sense of style and wouldn't mind asking their designer friends to create something special for them
Now that we have your attention, let's have a look at the design tips which will help you in creating some of the best pairs of socks:
General information to help you decide colors, patterns and ideas wisely: A standard pair of socks has 56 or 60 stitches in total. For a design that has colors and patterns or tiny drawings, it can go up to 168 stitches in total.
We know that you know that a pair of socks is created when the threads are woven together but what's more important to know is that your designs or patterns don't have to have intricate details otherwise the actual thing won't ever come out on the surface neatly.
While you are choosing your designs etc. make sure that color palettes have 6 or less than 6 colors. Anything more than that will result in 'chaotic' designs.
Choose a plain color for the heel flap because; a) it isn't visible & b) there are chances that your design won't look as neat as it will look on the other parts of the socks.
Once you have created multiple design options, don't forget to create a mockup presentation and have the designs reviewed by your client(s). This will help your clients know how the socks will look like in real life and it will become easier for them to give you the final go ahead for the manufacturing process.
Free Pair of Socks Mockup PSD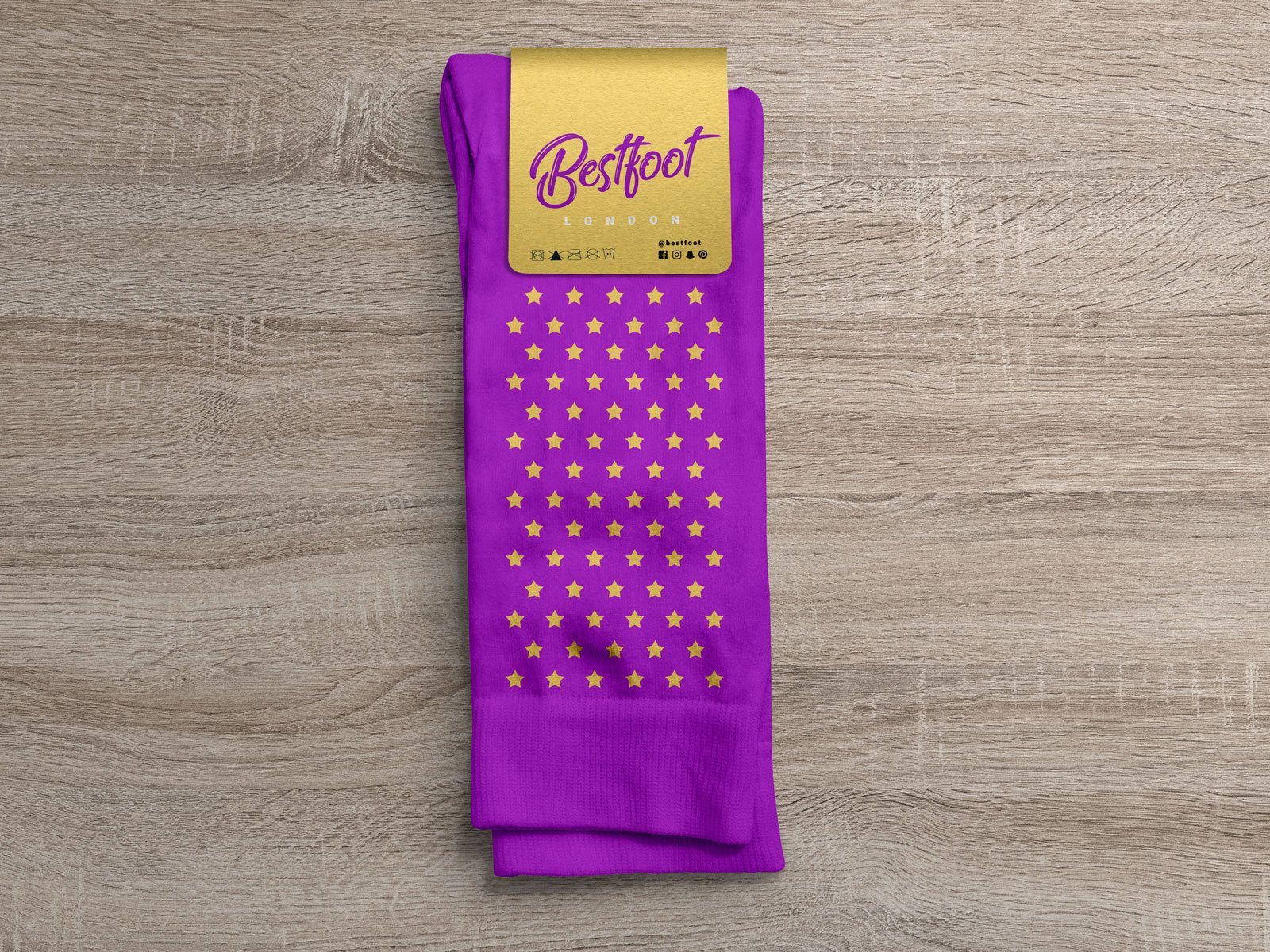 Available Format: Layered PSD with smart object insertion
License: Free for personal presentational use only
WinRAR File Includes: Socks Mockup PSD
Note:
1. PSD Socks Mockup is allowed for sharing online (A Must Linkback to this page)
2. Say thanks if you like or share/tweet with your friends.
Download Socks Mockup
More Free Apparel Mockup PSD Files: