Hey there guys! We wanted to thank all of you for your constant support and valuable feedback. Many of you dropped in comments and requested to create a wall mounted company logo signage when we shared our wall mounted billboard and we are glad to share that with all of you today. Our wall mounted company signage board on building mockup PSD is free to download and easy to edit. And you can play with it as much as you want to create the designs as per the brief. So, let's get started!
We have divided our blog into different sections today from sharing the benefits of having a wall mounted signage for your company to the design tips that can help you in creating marvelous company logo signage using our free mockup PSD file. In latter part of the blog, we would also love to share how crucial a mock-up is when it comes to advertising agencies and production using a huge amount of money – not to scare you though, but to tell you that creating a mock-up can save you a lot of time, money & embarrassment in some cases.
But first let's revisit the topic of signage and how it can help a business grow and stand out and apart from the crowd. As per the definition by Google, signage is the design or use of signs & symbols to communicate a message to a specific group. In easier words, it can be said that a signage is designed and put up for display so that your potential audience can know that you exist as a brand or an organization and have the ability to fulfill their needs and demands.
And how do you create a signage that can work best for your business? Are there any tricks? Do we have to follow some hand and fast rules? Has anyone written a self-help book to guide people better? Well, to be honest – there are no hard and fast rules to a success of any brand whatsoever and sure, a lot of authors have written a lot of self-help books to guide businesses but the tips which we are going to share with you are not only easy to follow but they are super effective and can definitely help you in getting recognized among the masses.
Here are some of the design tips to create brilliant wall mounted signage for companies you are associated with:
Pay extra attention to three things while designing your signage; colors, fonts and readability. Everything else will fall into place if you have carefully chosen attractive colors, interesting and readable fonts.
Allow us to simplify the process for you. When it comes to colors of a signage, you need to create a contrasting visual. Now when we say contrast, we do not mean a design clash but what we do mean is that you need to pick colors (for the background and foreground) that complement each other and result in a harmonious design.
Spacing is another important and deciding factor which determines the success of a signage. Ensure that all the letters are well spaced and organized. Your best bet in creating a well-organized signage is to have it sketched first.
Legible. Fonts. for your signage – we cannot stress this enough so you gotta make sure that the fonts are elegant yet easy to read even from a distance. Bonus tip: No matter what you deal in, never choose Comic Sans for your signage EVER!
There is one more thing you need to pay attention to and it's the material that you choose for the signage to be displayed. Now the company signage that we have created for you is definitely going to be mounted outdoors, you need to keep weather conditions in mind. And choose materials which are weather resistant so that you don't have to pay for any maintenance.
Analyze the location well before you put up your signage. For tall buildings, you might want to observe the sunlight as well as the shadows.
In addition to everything that we have said, you must hire a professional copywriter to write the copy for you. Have the copy proofread again and again to be sure that everything is perfect.
Now is the time when we encourage you to create impactful mockup presentation to demonstrate your art works in front of your internal team as well as your clients. Creating a mock-up presentation allows you to revise changes in design files which can be done easily because that's what you are pro at (creating beautiful designs and tweaking them a little to make things work), right? Imagine your design life without mock-ups, even the thought can be pretty expensive.
To avoid money losses, stressful sessions and heated arguments, the best you can do is to create mock-up presentations for every design that you create, share it with the concerned individuals and once you have the final approvals on the design and everything, get the art works released for printing and publishing!
Free Wall Mounted Company Logo Signage Board on Building Mockup PSD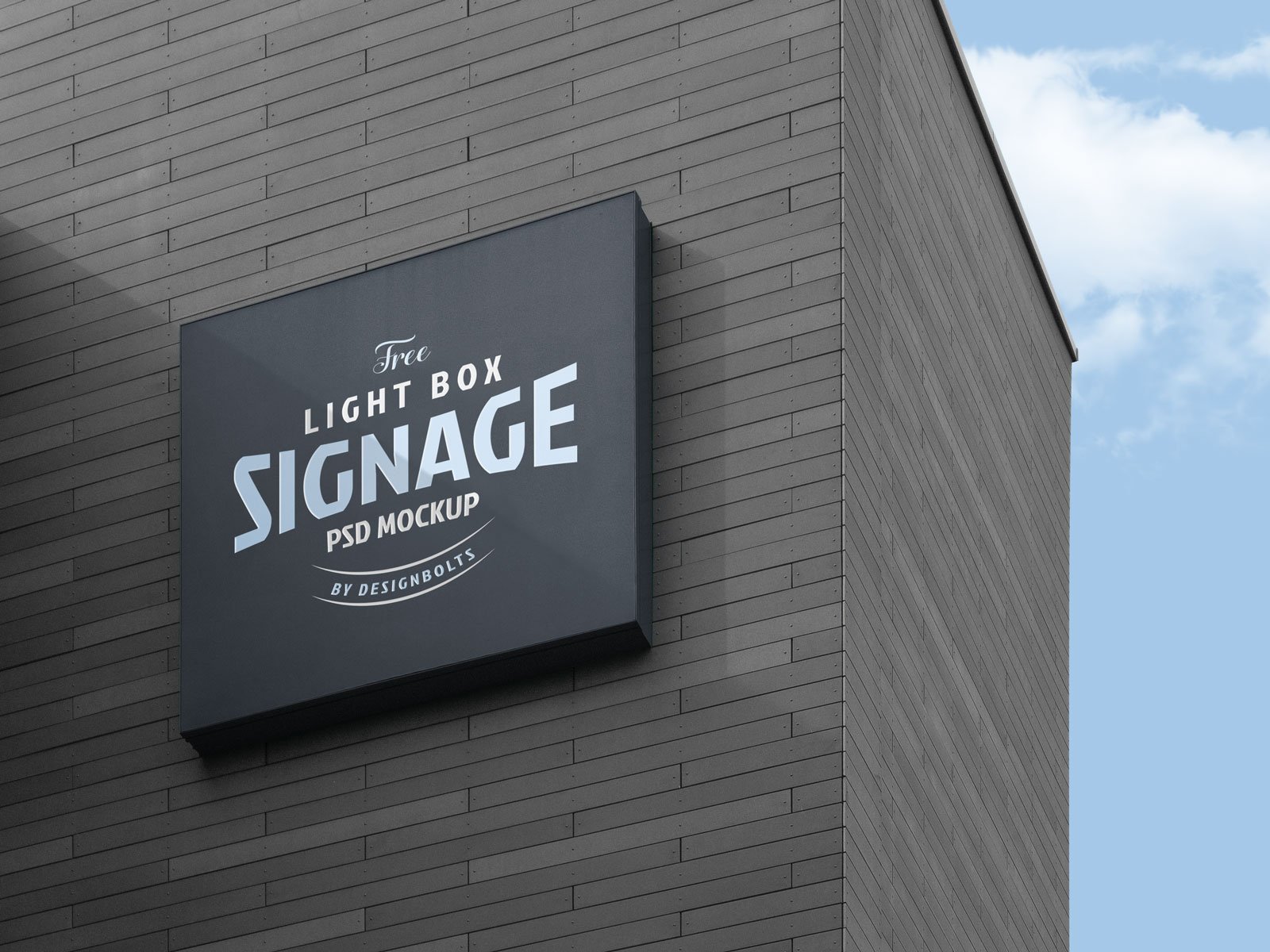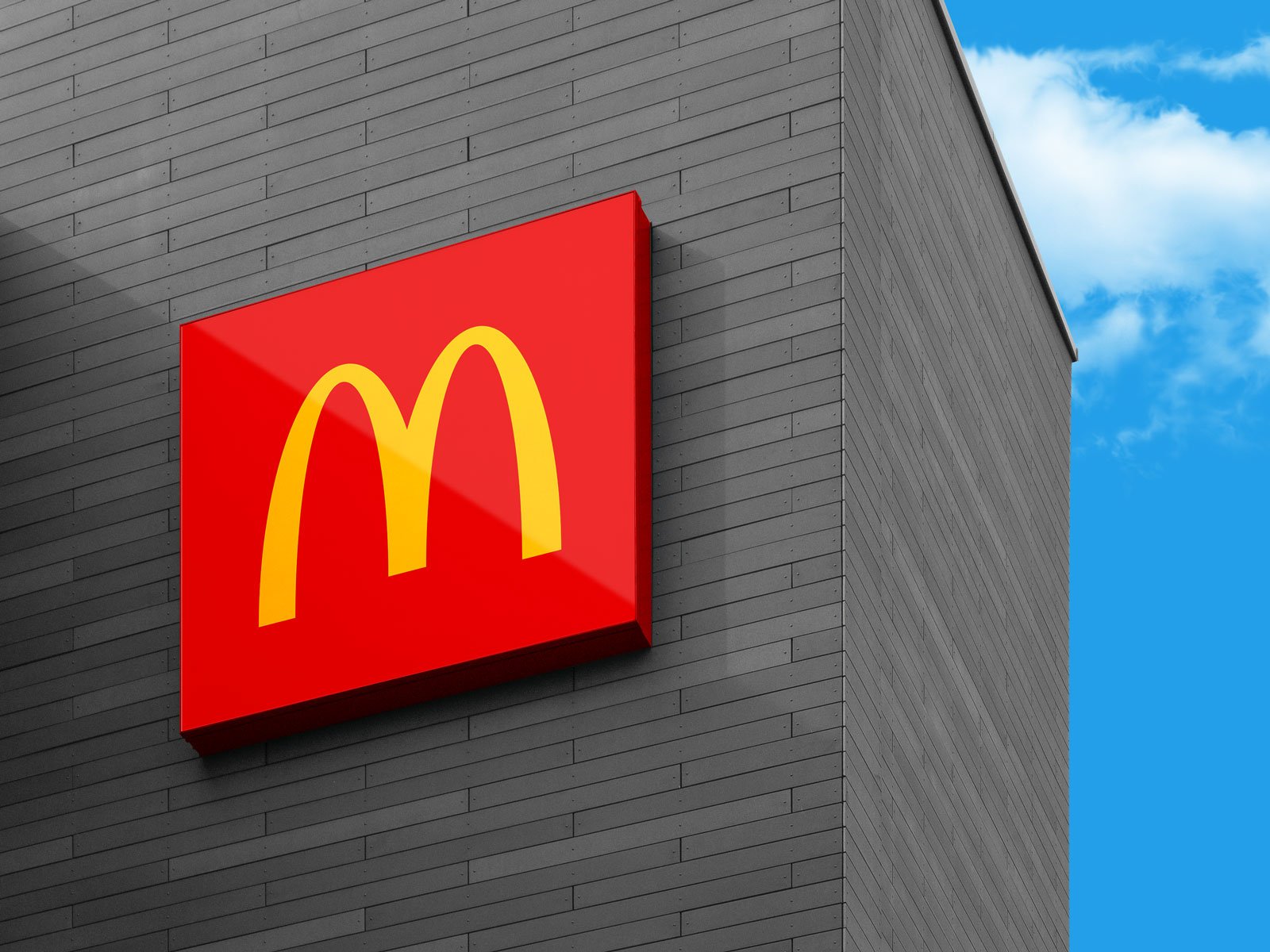 Available Format: Photoshop PSD
License: Free for personal and commercial usage
File Format: WinRAR
Mock-up Resolution: 3200 x 2400 px
Artwork Size: 1200 x 1200 px
Note:
1. Free Light Box Signage Mockup is allowed to share online (A Must Linkback to this page)
2. Say thanks if you like or share/tweet with your friends. That means a lot to me.
3. And don't forget to follow or subscribe to receive more high quality premium freebies & awesome articles only.
Download Signage Mockup
More Free High Quality Outdoor Mockups: