Is there a food item you think you cannot exist without? It could be anything, something famous from your culture, a 'round the world' savory item, a dessert or maybe a snack pack. Many people around the world eat comfort too whenever they are not feeling the happy or energetic feels. If you ask us, our comfort food is burger – that can contain any filling.
From making our own burgers to having them delivered to our place when it's dark and when we are not accompanied by any friends / relatives are the things which we love doing. We don't believe in the idea of having a super lavish comfort food but we do want our burgers to be as nice & fresh as they can be.
We often notice that even some really popular eateries do not pay attention to the packaging of their burgers. Now we would like to clarify one thing here: we are not complaining and this should be taken as a positive criticism remark. A lot of things about a brand / organization are judged by how seriously they take their packaging. And if you are one of those brands which do not spend a lot on the packaging then should know that you might lose some of your customers in the longer run – and that doesn't sound a good idea.
So to help you retain all your customers who love to order burgers from you, we have created this super amazing burger packaging mock-up PSD. There are many good things about our mock-up PSD but we would like to mention two of them here for starters; it is free and it is also highly editable which will allow to customize it as per the requirements of your design brief.
To create an outstanding packaging design for your customers, you must know the purpose of your packaging. Do you plan to create campaign based packaging as well or do you want to keep one design for a year or say six months? It is also important to evaluate the kind of communication you want to have through your burger packaging. For example; the main reason of almost every product / item getting sold is that it was packed in an attractive packaging which convinced a customer to pay money for it – but that's not the case with burgers because they are packed *after* they are assembled.
This goes for every packaging design though but keep in mind that you have to have a theme to work on before you get ready to open Photoshop on your screen. Having worked on concepts and ideation is one thing but your theme is something that will ensure a smooth creative thinking & design process. So, to create eye catchy burger packaging design, we have gathered some points which we would like to share with all of you:
If you have a theme to incorporate to create your burger packaging and if you don't have one (as of yet) then keep it easy to understand for your target audience. For kids, keep the theme children centric so that they find it fun to eat the burgers from your eatery.
Food packaging has to make a person drool. Period. If you cannot make someone drool by just looking at the packaging of your burger then you are not doing it right. Use sensual food images to be included in the design and let them do the work for you.
Pop art is one of those quirky communication ideas which brings nice results both in making the brand likeable and also is spreading word of mouth. You can definitely try creating your own pop art characters to stand out from the crowd.
Don't write a lot on the packaging of your burger but make sure whatever goes in words is subtle and witty. A lot of eateries make good use of food puns so that they can keep the consumer engaged even with the packaging in one way or the other.
In addition to the copy, there are other certain things that go up on a burger packing design like the contact number / delivery service number as well as food seals and icons. Don't forget to add them and be a responsible brand that cares for its consumers.
You can also add different boxes on one side of packaging which will help the consumers differentiate their order instantly – when a group of people with different burger choices place an order with you.
Create multiple mock-up designs with a variety of ideas incorporated in them so that your client(s) can make an informed decision regarding the packaging. With our easy to edit and customize mock-up PSD file, you will be able to create many mock-ups without getting bored. So, what are you waiting for? Get your hands on our free burger packaging mock-up PSD today and start making aesthetically pleasing designs.
Free Burger Packaging Mockup PSD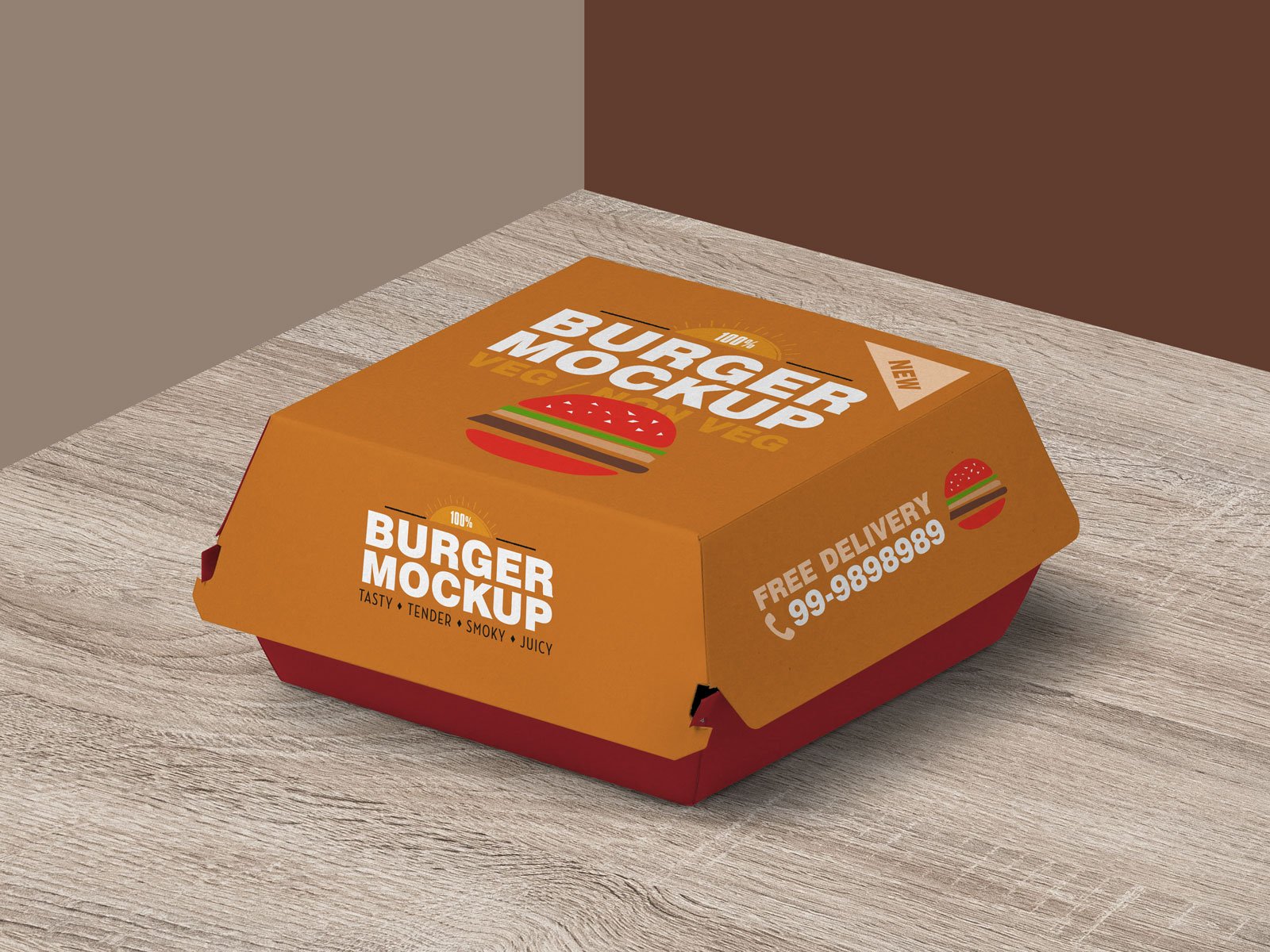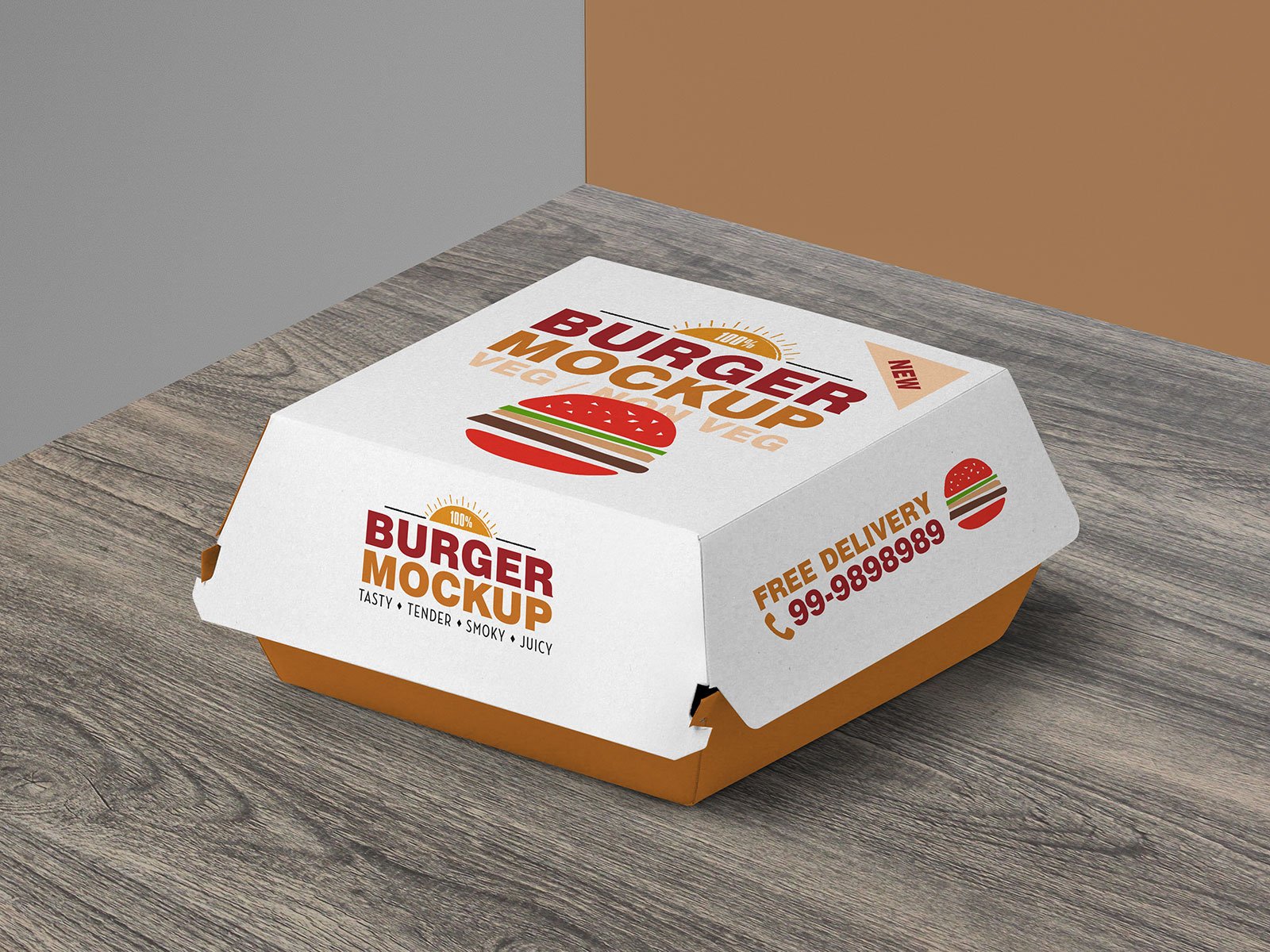 Available Format: Photoshop PSD
License: Free for personal and commercial usage
File Format: WinRAR
Mock-up Resolution: 4000 x 3000 px
Note:
1. Free Burger Packaging Mockup is allowed to share online (A Must Linkback to this page)
2. Say thanks if you like or share/tweet with your friends. That means a lot to me.
3. And don't forget to follow or subscribe to receive more high quality premium freebies & awesome articles only.
Download Burger Mockup
More High Quality Free Packaging Mockups: