Did you know that there are many countries in the world which still use plastic shopping bags for their day to day buying & selling? Plastic is becoming a threat to almost everything that breathes and also to the environment and our planet. What we are seeing in the beginning of an end and it is our responsibility to provide a safe place to live in to ourselves as well as to the future generations. Kudos to all the responsible brands around the globe which took a sensible step and abandoned plastic shopping bags altogether – because at times we do need to take aggressive actions.
There are multiple alternates of a plastic shopping bag like tote and paper bags. We are glad that now graphic designers have also started creating customized tote bags to keep everyone motivated to prefer a non-threatening option over plastic bags. In our today's blog however, we have decided to talk about paper shopping bags – and we'll talk about them in detail. Continue reading the blog to know more!
Paper shopping bags are not just for picking up the items you have just shopped because brands can still promote a business message through a paper shopping bag after the purchase – which definitely means that you have to think of appropriate messages that can go on the bag itself.
We know that a promotional message will vary as per the brand but to help you in thinking of some of the stuff for example; you can promote an ongoing sale by simply mentioning the discounts you are offering or announce an upcoming event for the ones who have already shopped with you as well as for the ones who will see that bag roaming around in the city. We have seen many bags which don't direct a person to a website or contact information so, to avoid leaving your potential customer in the middle of nowhere, always mention at least one Call to Action (CTA).
Let's now have a look at how you can create beautiful shopping bags for your personal ventures and professional projects. Wait, you don't know where to start from? You can literally start by downloading our free shopping bag mock-up PSD. It is highly editable and layered and you can change colors, add in some design elements to meet the requirements of your design task.
Creating designs for a paper shopping bag seems like an easy job but it involves as much thinking as any other design. And if you are planning to accessorize it then that's an added job which also requires a proper brain storming session. Anyways, following are some of the easy to follow tips that can help you in creating brilliant paper shopping bags:
First things first, you need to know your brand like a mother knows her child. Because that will help you in implementing the brand guidelines well. How does your target audience behave? Does it cover all the age groups? If yes, do you plan on catering to them with age appropriate paper shopping bags? These are some of the questions which you can ask yourself or the concerned team members before you start working on the designs. (Do not spend your creating designs of things you don't know very well!).
"What colors are you looking at?" must be your second question. Like you can totally go for one color for the entire shopping bag and have the logo embossed on it in a striking colors to grab the attention. Or you can play around with different colors which complement your brand – this will also help you in staying relevant to the brand too.
Copy is one of the most crucial things for any design and marketing material. It should be crisp yet self-explanatory.
When we talk about accessorizing a paper shopping bag, we explicitly want you to explore your options. The one that we have created for you has an alluring ribbon now that is adding more to the aesthetics of the bag but for the extra bling you can totally try pearls and beads too.
Shopping bag handles need proper attention too for example; the colors. You can decide to keep the tones similar or you can choose a contrasting tone to make the bag stand out.
Then comes the point where you decide the material as well as the finish. You must have seen shopping bags which you wanted to throw right away because of their rough texture and finish. So, make sure that when you design anything that has to be printed and used by people physically in one or the other it is so pretty people wouldn't want to get rid of it.
Once you are done creating various design options, prepare a mock-up presentation through which you'd be able to give a run down to your team lead or your client. You must also mention the rationale of choosing the colors you thought to choose and the ideas you intended to follow. This will help the members take an informed decision regarding printing etc.
Free Grocery Paper Shopping Bag Mockup PSD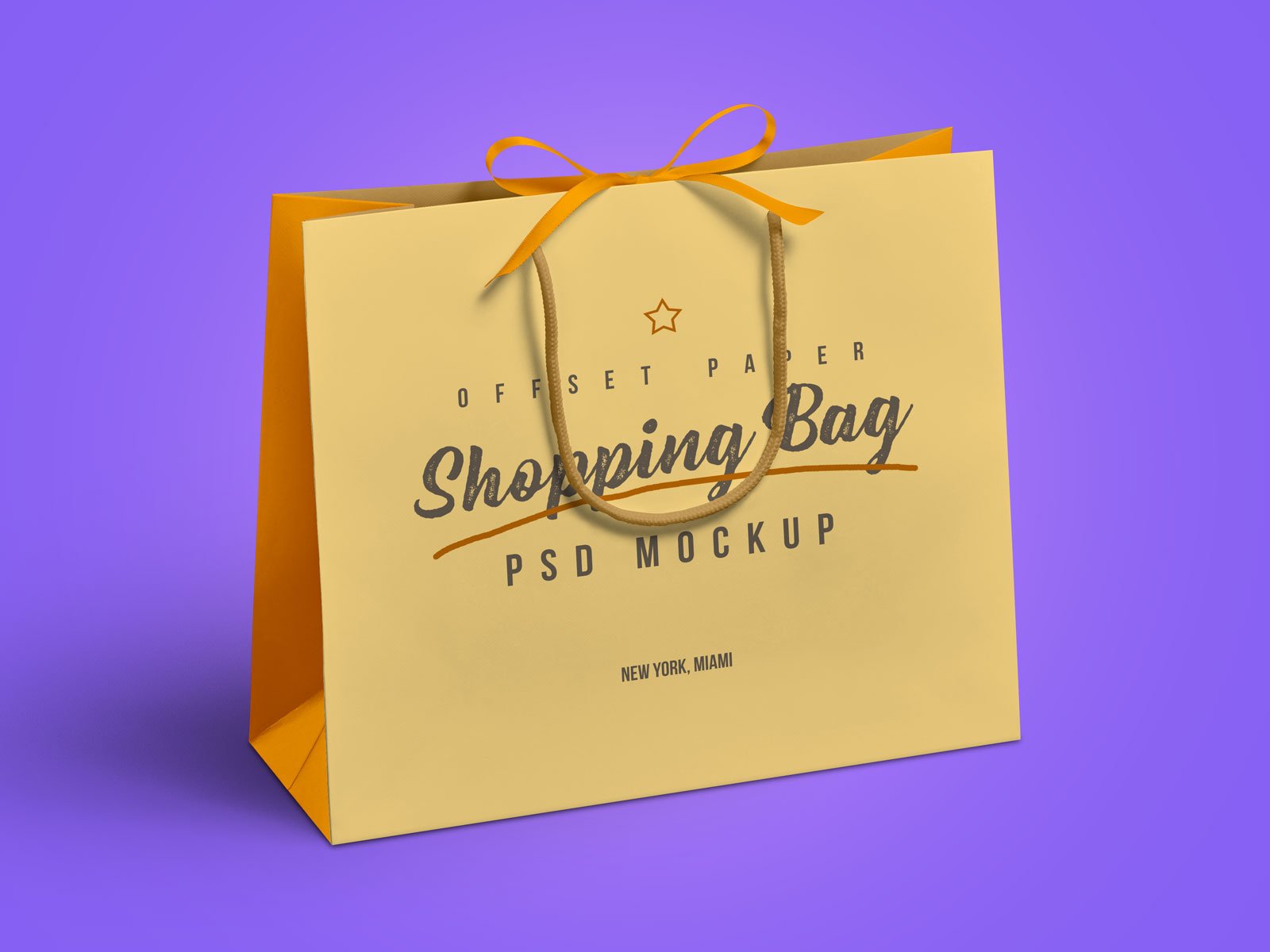 Available Format: Layered PSD with smart object insertion
License: Free for personal and commercial usage
WinRAR File Includes: Free Shopping Bag Mockup PSD
Mock-up Resolution: 4000 x 3000 px 

Note:
1. Free Grocery Shopping Mockup PSD is allowed to share online (A Must Linkback to designbolts.com)
2. Say thanks if you like or share/tweet with your friends. That means a lot to me.
3. And don't forget to subscribe to receive for more high quality premium freebies & awesome articles only.
Download Shopping Bag Mockup
More Free Shopping Bag Mockup PSD Files: