Have you ever left a restaurant because you did not like their menu? Not the items that they serve but literally because the menu card, as in how bad it looked? We cannot speak for anyone else in this context but if we were to answer the question, we would say yes. Because that is exactly how powerful a menu card can be. It can make or break your 'brand' and we know that you won't want that to happen – like ever!
We are all set to share some very important factors with you which can help you in ensuring that absolutely no one leaves your eatery without eating anything. Your selection of the eatables is one thing but menu card is equally important and it cannot be ignored.
So, if you are one of those people who are struggling with their eatery business but you don't know the reasons as of yet or if you are someone who is about to open a hotel or a restaurant and cannot seem to find an attractive menu design then our dear friends, you have come to the right place as we will not only share some insightful design tips and suggestions but we would also like you all to know that we have created this beautiful hotel and restaurant menu design mockup PSD file. It is free and it is easy to edit too so, you design project is going to be nothing but a fun and creative experience!
Recommended: Beautiful Food Menu Ideas
Let's have a look the factors (menu only) that just do not let your customers place an order or even consider coming to your eatery:
Wrong spellings
Poorly designed menu
Pixelated food images
Lack of exotic / sensual food images
No mentions of food risks / allergies
Wrong pricing
And anything and everything that is not pleasing enough to make someone feel hungry by looking at the menu. We have tried this many times before we share any thought or design idea with a client or a friend and we think you should too – when you have created a design or when you are about to share any concept / ideation with someone, ask yourself this question: Would I like this if I had seen it somewhere? If you are sure that you'll love it only then share it otherwise the wise say that you should reconsider, review or come up with something slightly different to see if things can work for you.
Recommended: Restaurant Menu Design Ideas
Among all the things that we work on, menu designs are something that we absolutely love because of how interesting things can go. In this part of our blog, we will share some easy to follow design tips which will help you in creating an effective menu design:
Keep the reading / viewing order of a menu in mind that is top left to bottom right. Although previously graphic designers and creatives were of the view that in a menu card, almost everyone goes to the dessert menu first and then checks out the other categories. It doesn't happen anymore, really.
While designing a menu card, respect the order of how a random customer would pick it up to view it till the point they place an order with the eatery.
No matter how low budget the eatery is or how 'careful' the brand manager / owner wants to be regarding spending money on the content (both in print form and digital assets), make sure that you have high res. Images taken by an actual photographer, (strictly) no stock images – no matter how pretty they are. Make your own content so that you can own it as well. Convince your client(s) share the importance of having a personalized photo shoot done only for the food items they are going to serve.
There has to be a theme set for your hotel / restaurant and if you don't have one then you seriously need to work on at least two separate and independent themes which will also help you in building a connection and harmony between the place and the communication.
Printing and finishing of the menu design is also of great importance and it is one of your responsibilities to suggest different options (without having to worry about the budget) to the client so that an informed decision can be taken.
That being said, we would like to encourage all of you to create a mock-up presentation to share your designs. Help your team leads and clients understand better by giving them a run through of your ideas. This is a healthy practice and it will also help you in saving efforts, time and money so that you can invest on all the mentioned fronts in a more effective way.
So, what are you waiting for? Get your hands on our free hotel and restaurant menu design right now and start creating some stylish menus for your clients today!
Free Hotel / Restaurant Menu Design Mockup PSD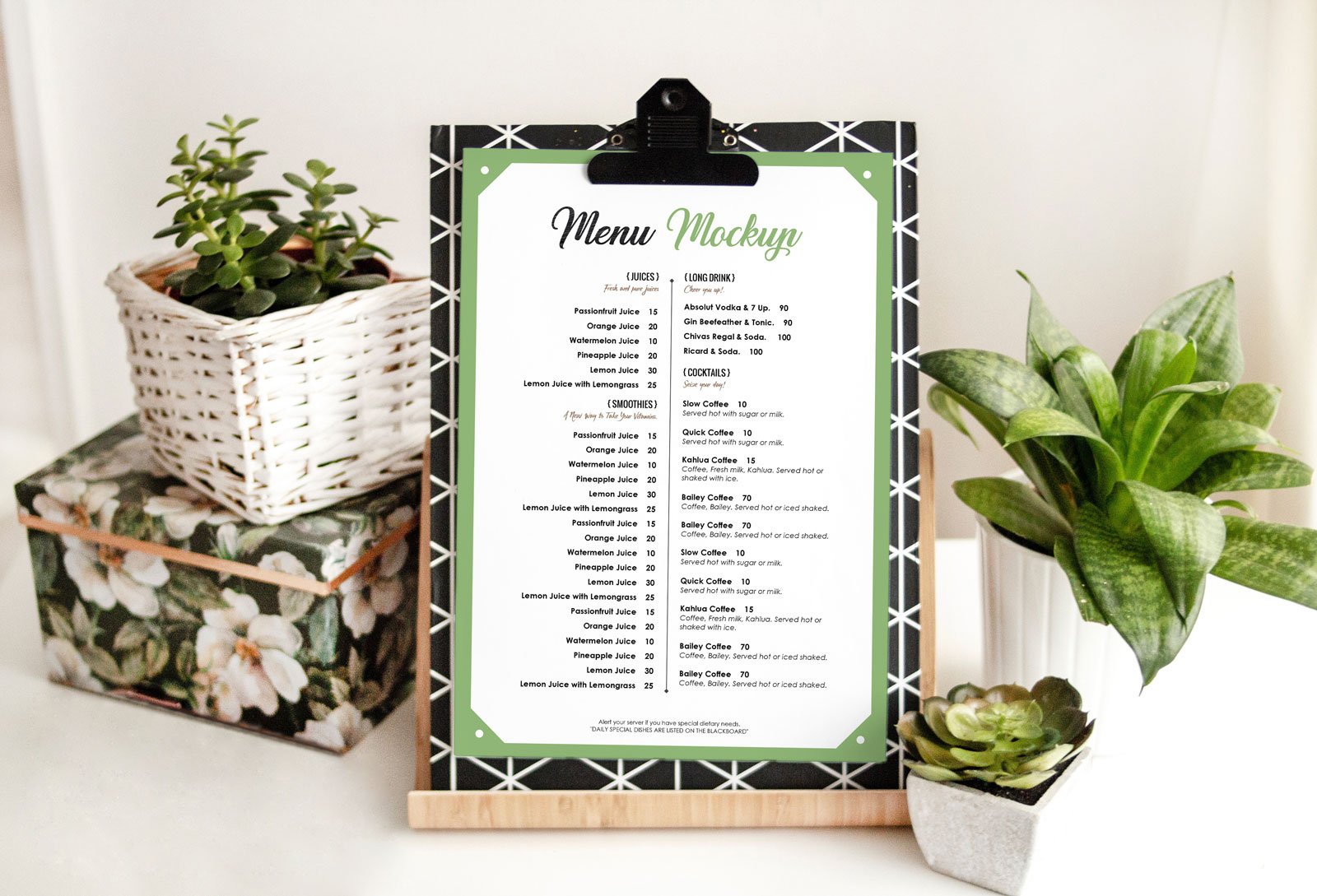 Available Format: Photoshop PSD
License: Free for personal and commercial usage
File Format: WinRAR
Mockup Resolution: 4500 x 3000 px
Note:
1. Free Restaurant Menu Mockup is allowed to share online (A Must Linkback to this page)
2. Say thanks if you like or share/tweet with your friends. That means a lot to me.
3. And don't forget to follow or subscribe to receive more high quality premium freebies & awesome articles only.
Download Menu Mockup PSD
More Free High Quality Menu Mockups: