Hey there guys! We are sure that you must have live streamed Apple's event that came on YouTube on 11th of September and lasted for more than an hour. It was a fun event to attend virtually and up till now the video has been watched by more than 4 million people living around the world. This was the first time that Apple has launched any of their new series through a live video and we were very excited to watch the entire the live session and honestly it was worth all our time.
Along with the announcement of the iPhone 11 series, Apple made sure that they don't reveal just the phones so they talked about the Apple Watch (Series 5) and Apple Arcade as well and made sure they cover the needs of their users. Like everything else, Apple Watch Series 5 also got big in the sense of technology and latest features and those who are the users of this watch are truly happy – most of them must be planning to upgrade their Apple Watch in 2019.
Apple claims that 'You have never seen a watch like this.' – we believe them and we would want you all to stay hooked too so that we can talk about the new series Apple Watch because after we are done talking about the product, you will be able to get your hands on our free Apple Watch Series 5 mock-up PSD file for free. Let's discuss that after we have seen the magical product first!
You must have seen smart watches whose displays sleep when they are not in use, right? And Apple had to come up with something innovative this time around so they came up with the Apple Watch Series 5 whose display never sleeps and the 'Always-On' Retina will always let you see the time and your watch face.
We thought to mention this option by the end of the 'introduction to the latest Apple Watch' but it is so very interesting that we cannot wait to share it: you can customize your Apple Watch with a band of your choice and that seems like a fun thing to do. You can also pick a material of your liking from the options that are; aluminum, titanium, stainless steel and ceramic.
Almost everyone we know is trying their best to watch out for their health and fitness and we love that but we guess, Apple wanted to be there for their users in all the right ways so they have included in apps like the ECG app which can quickly check your heart rate, its rhythm etc. And the Noise app can literally alert you if 'things are getting loud' which can have a bad influence on your hearing. Not only that but with this watch, you can literally stay fit too so there is that!
As far as your entertainment is concerned, we are happy to announce that you can live stream 50 million songs with your Apple Watch Series 5 – along with podcasts and audio books. Well, well, well, if this wasn't enough, we would love to mention that this watch also has the ability to keep you on track with its brilliant sense of direction.
And if you want to get an app on the Watch, you can have that done through the watch too literally by just tapping into the world of App Store. Oh, and this is something you are going to love the most: Apple Watch Series 5 will let you go phoneless too and that's ah-mazing because of how brilliantly smart this watch is.
Now that we have mentioned possibly everything that the new Apple Watch Series 5 has to offer, where are our creative and passionate app developers, game and graphic designers at? Yes, we are talking to you because we want all of you to start thinking of things that can be designed and created and become a part of the watch. Not just that but we know that all of you have the potential of dealing with clients who are planning to do brand collabs with Apple itself for their upcoming projects when you will be assigned the task to creating customized apps, games and even straps etc.
With every new product or technology, there comes a lot of opportunities that can be explored and worked upon. Don't think about the budget or resources at the moment. Just take some time off from your busy work schedule, find a quiet corner, sit there and think of all the ideas and imaginations that can come to your head instantly. Jot them down and work on them till you have a solid plan to share with your team lead, team members or with your client.
Also, when you are all set put what you have thought to create / design or develop, make the most of our highly editable free Apple Watch Series 5 mock-up PSD file and share your creative ideas through a mock-up presentation. We wish you all the best!
Free Apple Watch Series 5 Mockup PSD With 10 Different Bands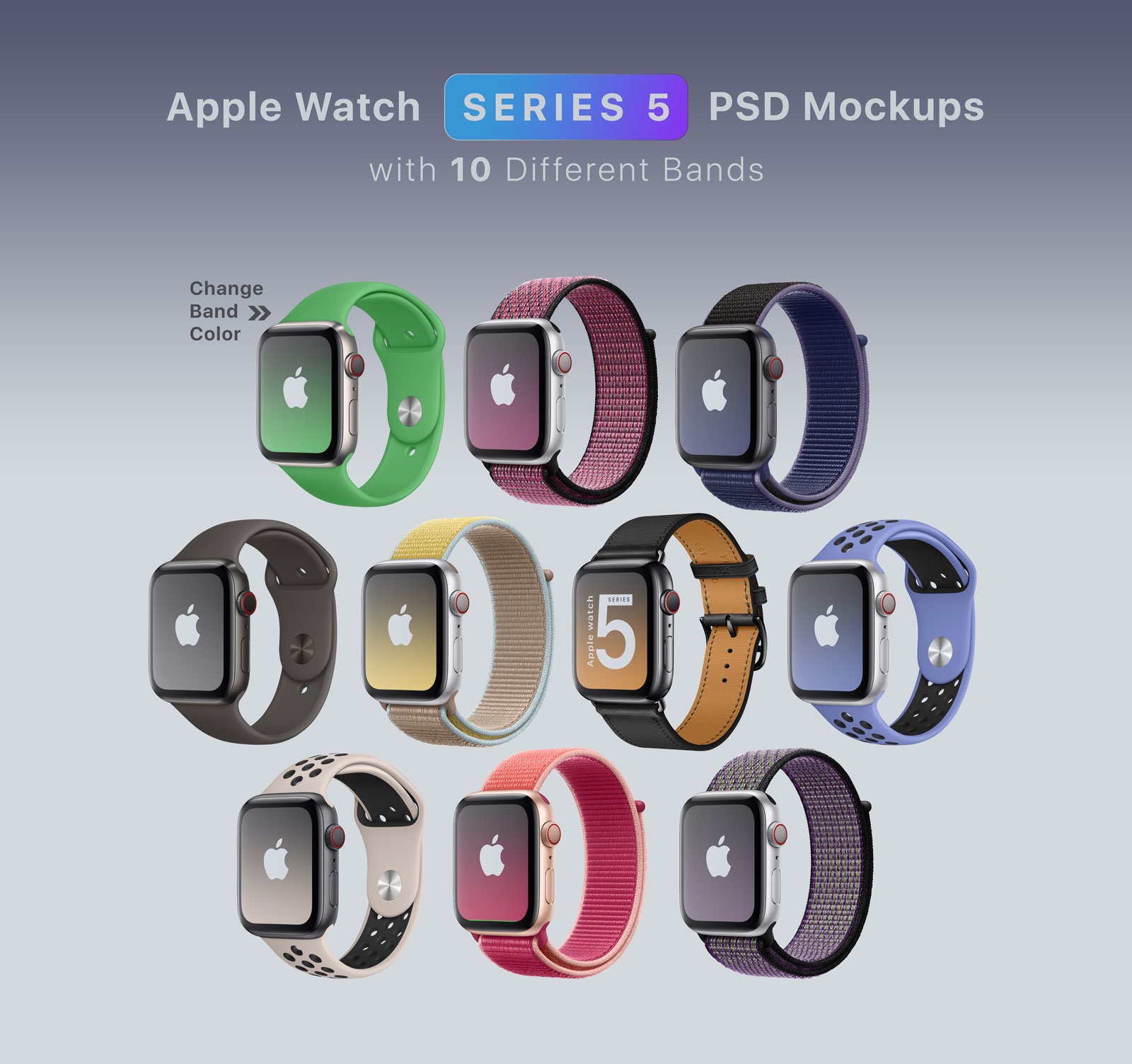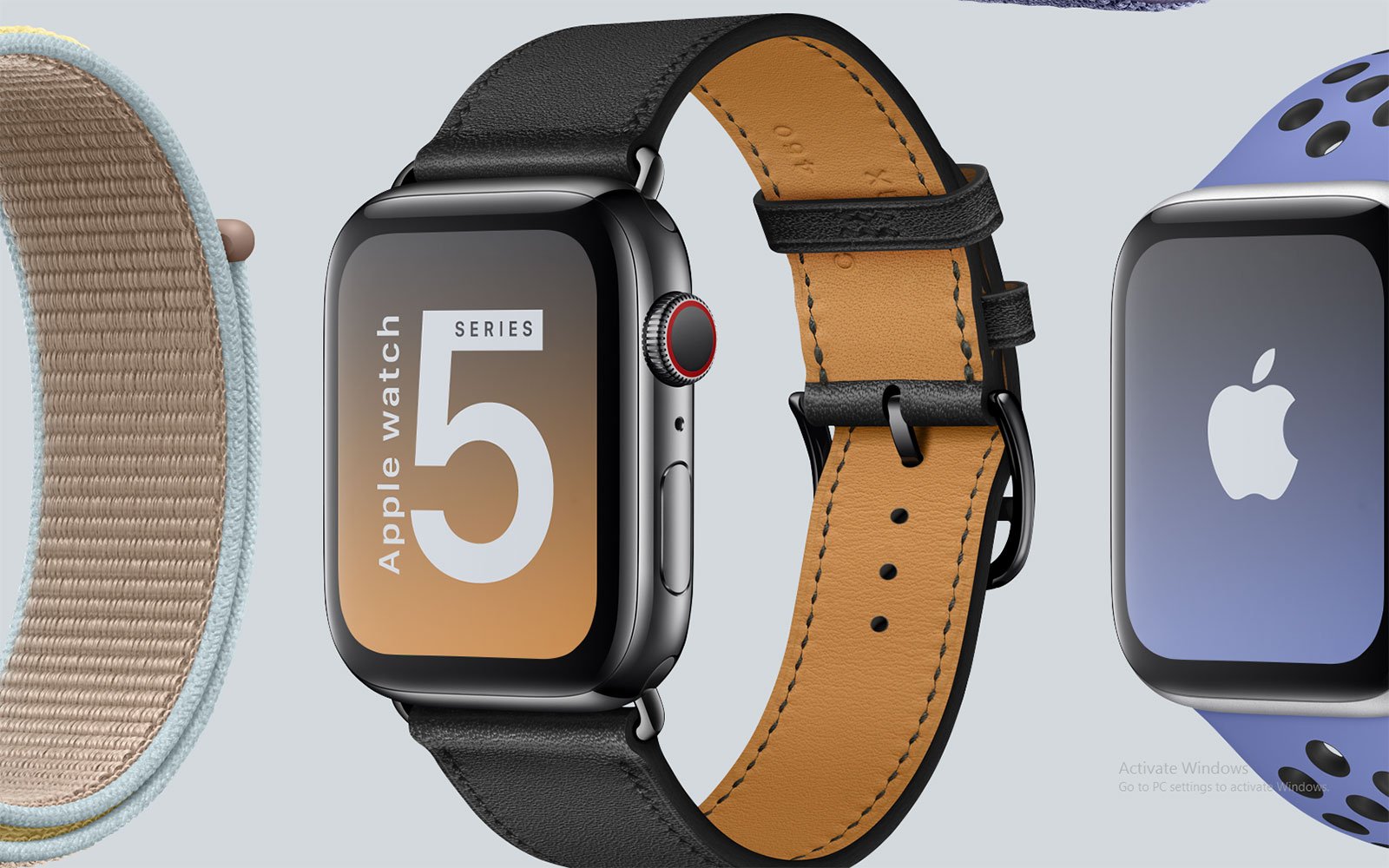 Available Format: Photoshop PSD
License: Free for personal and commercial usage
File Format: WinRAR
Mockup Resolution: 5000 x 4700 px
Apple Watch® and Apple Logo® are all registered trademarks of Apple Inc
Note:
1. Free Apple Watch Series 5 Mockup is allowed to share online (A Must Linkback to this page)
2. Say thanks if you like or share/tweet with your friends. That means a lot to me.
3. And don't forget to follow or subscribe to receive more high quality premium freebies & awesome articles only.
Download Apple Watch Mockup
More High Quality Mockups Posted Recently: