Hey there guys! We would like to thank all of you for being supportive and for leaving positive feedback in our comments section. Know that we pay special attention to what is being expected of our blog and we make sure that we provide you with the best and the most creative solutions for your design and other projects.
We have covered multiple promotional and marketing materials ever since we started writing this blog for you guys but today's blog is unique in its own way and we are sure that it will help many of you in achieving your design goals.
As we all know that advertising and marketing keeps on changing and at times, the changes are so frequent that many advertisers and marketers cannot seem to get a hold of them. Reasons could vary from country to country, individual to individual and in terms of the budgets and costing as well. So, to deal with sudden changes like a pro, all you have to do is to keep yourself updated both on the conventional and digital fronts. See what your competition is doing, don't be very creepy or nosy and do not even think of getting 'inspired' from the business rivals but keep a check on them – as this will help you in self evaluation and of course in taking appropriate measures too.
Recommended: 100+ Outdoor Advertisement Mockups
To stay ahead in the game and to make sure that your brands stand apart from the crowd, you have to take the risks. It is said that a great brand manager is someone who is willing to take the right decisions without being afraid of the risks because that is when they brilliant campaigns see light if the day and that is when creative agencies can take the credit of bringing the change everyone talks to bring but cannot because they don't really want to lose their customers.
There are thousands of brands in the world that are operating their business and providing services to their target audiences. Some of the brands are the ones which try something new frequently which helps them in achieving novelty and uniqueness every time they come up with a campaign idea or tap into a mode of communication that it catches the attention of almost everyone be it a local advertiser, a marketer sitting in another country, a researcher who has to submit a competitive analysis and of course the person who is being targeted.
Recommended: 60+ Best Signage Mockups
Outdoor advertising modern pole banner is not something new and many brands have been promoting their business messages using these signs. All the poles are already fixed on the perfect spots such as petrol pumps, overhead bridges, near the restaurants etc. so that the signs get their proper mileage – that literally means the more eyeballs, the better.
We wanted to come up with something different for this blog so we picked up the outdoor advertising modern pole banner and created a mock-up PSD file out of it. It is super easy to edit and of course, free. All you have to do is to implement the edits as per your design brief to make the mock-up design relevant to your concepts and ideation.
Start off your design project by dissecting and understanding the brief and the expectations of your client(s) and then after having discussions over the color themes, copy, design elements and everything else, you must take the seat and start working on the actual designs. We know that we don't have to mention this but don't consider anything as final until you have your client's approval. Because we have seen multiple brand custodians who stop taking the responsibility as soon as the art works are released. You have to be there till the time the banners are printed, signage is displayed (the way it is supposed to be) and maybe even after that too, for some time but yeah!
Also, make it a task that every team members will create a mock-up presentation for every design task. Don't leave that as a choice, you can discuss it internally and ensure that no thoughts, concepts etc. are shared with the client in a text based email or a visual based meeting. Encourage your colleagues to create an impactful mock-up presentation that is capable of explaining the rationales as well as the entirety of your creative thought process.
Mock-up presentations also help the concerned parties take an informed decision because they help them understand and visualize how their products, packaging and branding is going to look like in real life. That also encourages them to spend appropriate budgets on the materials that are supposed to achieve the marketing objectives.
That being said, we would love it if you guys share the blog and our carefully designed free outdoor advertising modern pole banner mockup PSD with your colleagues and graphic designer friends. Until next time!
Free Outdoor Advertising Modern Street Pole Banner Mockup PSD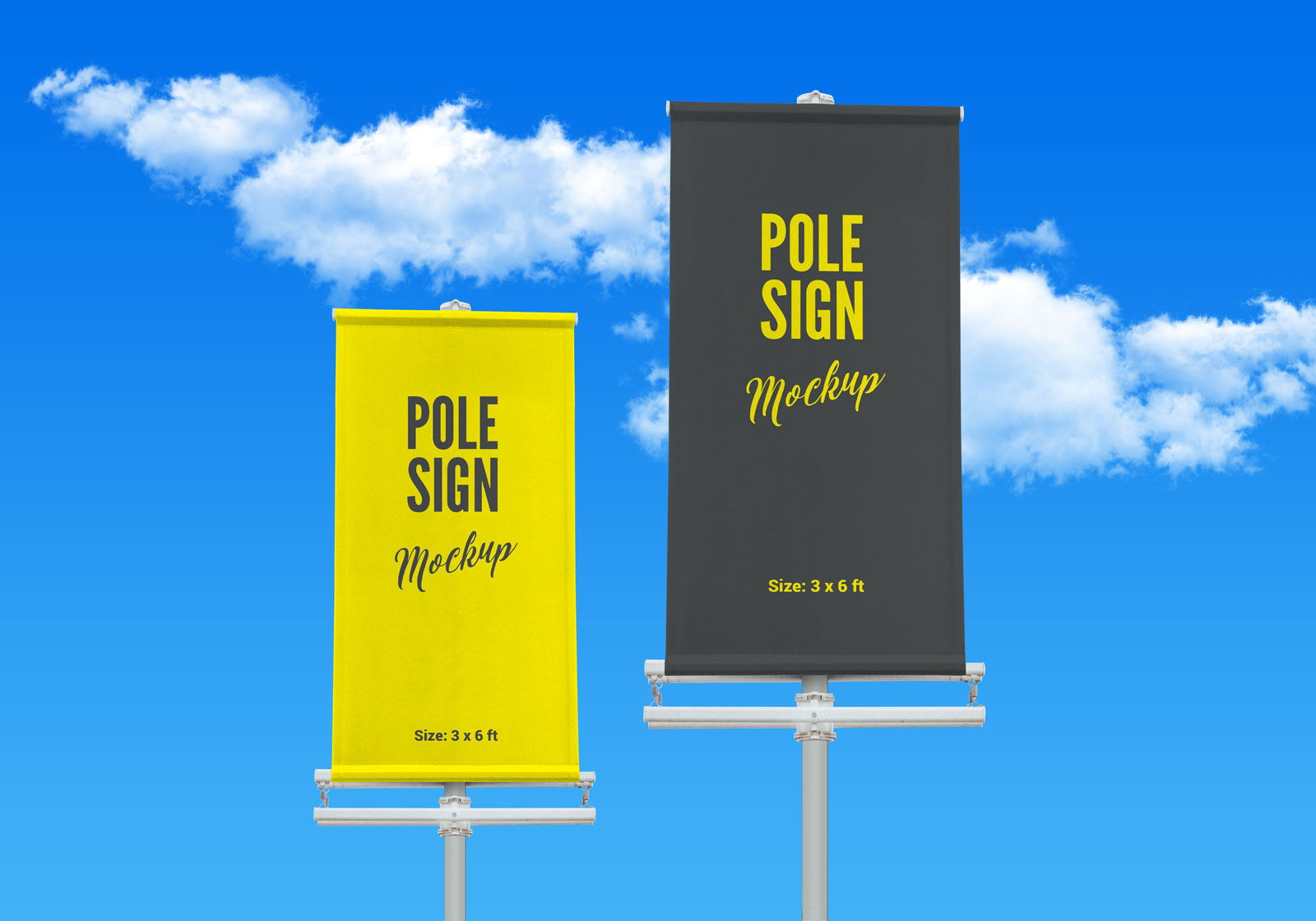 Available Format: Layered PSD with smart object insertion
License: Free for personal & Commercial use
Zip File Includes: Mockup PSD
Note:
1. PSD Pole Banner Mockup is allowed for sharing online (A Must Linkback to this page)
2. Layers are hidden to decrease the size of file kindly unhide and place your design on red colored layer.
3. Say thanks if you like or share/tweet with your friends.
Download Pole Banner Mockup
More high quality outdoor mockup psd files: