Hey there fans & readers! We hope that you are creating amazing designs and producing out of the box work for your personal and work related projects and we would also like to thank you all for your positive feedback and words of encouragement because that's what keeps us going and working on the stuff that you guys really want to see here.
Ever since Apple did their first ever launch Live YouTube video, we have started to follow them more religiously and today's blog is also something that we wanted to cover for some time now. So, if you are someone who uses MacBook Pro screens at work or at home and you love reading about the all stuff techy then know that you have come to the right place – as this blog has everything that can help you in designing brilliant mock-ups in no time.
As you all know that whatever mockup PSD that we share here are absolutely free to download and also very easy to edit and fun to work on too so, all you have to do is to get done with this blog and then download our free ultra wide screen monitor MacBook Pro & Frame mock-up PSD file. There are multiple ways to make the best use of our mock-up, allow us to mention some of them down below:
Recommended: Best Dual Arm Monitor Mount
If you are a game artist who happens to design video games then this is the most appropriate mock-up PSD file you could ever get your hands on as you will be able to make changes to the layers and use them to display your game ideas and concepts in a better and self explanatory way. Always know that development has to be done in the later stages so, don't rush into things and carry out the procedures in a more systematic way.
Similarly, if you are a website creator and designer who loves to spend their time in making ah-mazing websites then this free ultra wide screen monitor MacBook Pro & frame mock-up PSD file is for you as well as you can demonstrate what you and your team has worked on. You can literally create a page by page road map for a better understanding of anyone who is concerned with the brand and who wants to know each and every step that will help them in taking a decision regarding the design and development of the websites.
Recommended: Best Video Project for Games
And of course, if you are a graphic designer then you would also be needing our carefully designed mock-up PSD file that will let you share your design related concepts and ideas to be shown on an ultra wide screen.
We have been sharing tips and tricks with many creatives and people are directly and indirectly linked with the design and development teams at their work places or as freelancers and we want to share those tips with you guys too that:
Whenever you start designing anything be it; a game, app or a website, a book cover or a template for new year wish card, always make sure that you have a theme to work on and follow otherwise you will be in circles trying to decode the briefs and running after your team lead to give you clarity on how to actually start working on a particular project.
Always work on at least 3 options with a different idea so that you have variations to present to your team or to your clients – never (and we cannot stress that enough!) go to a review meeting with just one idea or concept to share with the clients etc. because there are 100 percent chances that you will be requested to share more options so why not put a game face on and go well prepared in the first go!?
We also encourage every professional that we know that you must always create a mock-up presentation that has the rationale mentioned in it slide by slide, no rationale means you would have to explain the idea by yourself by setting a tone and frankly – ain't no body got time for that!
You might receive negative feedback and there are chances that one of the clients would criticize you for an idea you spent hours working on – don't get discouraged as only you know what your aesthetic sense and creative capabilities are.
Take the feedback, engage in a healthy and constructive discussion with the client and explain why you would that idea to see light of the day. Convince them if need be and we are sure that your confidence in the thought will help you in achieving your goals.
Recommended 50 Free Premium Mockups
That is all for today guys! We hope that you will be able to create great mock-ups using our free ultra wide screen monitor MacBook Pro and Frame Mock-up PSD. Don't forget to share with your colleagues too and we will see you next time!
Free Ultra Wide Screen Monitor, MacBook Pro & Frame Mockup PSD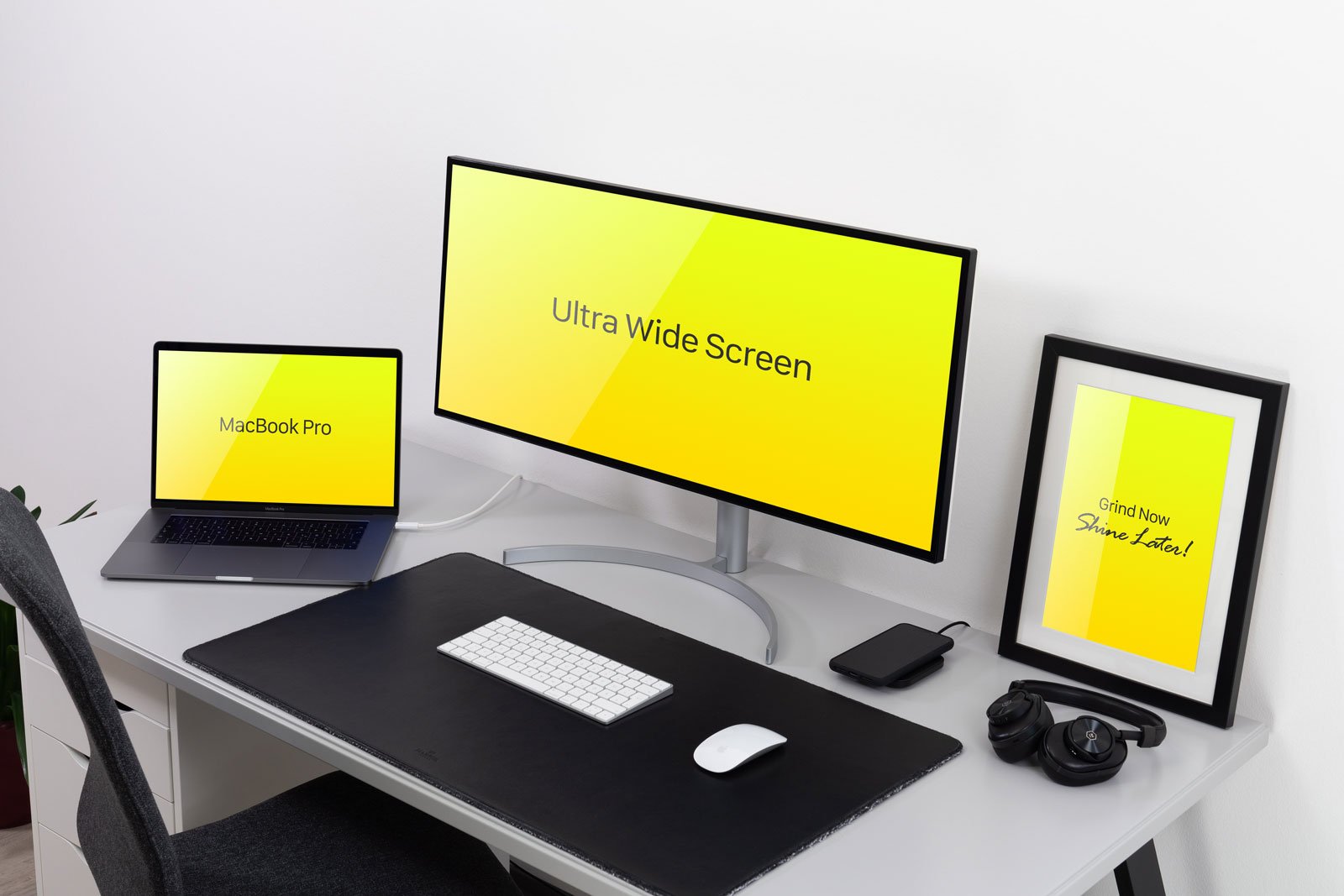 Available Format: Layered PSD with smart object insertion
License: Free for personal presentational use only
WinRAR File Includes: Ultra Wide Monitor & MacBook Pro Mockup PSD
Note:
1. Ultra Wide Monitor & Macbook Pro Mockup is allowed for sharing online (A Must Linkback to this page)
2. Say thanks if you like or share/tweet with your friends.
Download Monitor & MacBook Mockup
More Awesome Latest Free Mockups: