Hey there guys! Since many of you wanted us to cover the 4K iMac screen as our blogs and mock-up PSD files are helping you achieve what you want to achieve, we are here with our yet another amazing blog and free 4K iMac screen mockup PSD file. In this blog, we will not only share the technical specs. with you guys but we will also share how you can make the most of our mock-up PSD file. So, let's get started!
iMac comes in two different screen sizes; 21.5 inch and 27 inch diagonal and Retina 4K display with a screen resolution of 4096 by 2304 which support one billion colors, 500 nits brightness. This model can be bought in 3 different processors and 3 different memory sizes ranging from 8GB of 2133MHz DDR4 memory, 8GB of 2400MHz DDR4 memory and 8GB of 2666MHz DDR4 memory. The storage which you can get ranges from 1TB hard drive and goes up to fusion drive too.
The graphics are just perfect too; Intel Iris Plus Graphics 640, Radeon Pro 555X with 2GB of GDDR5 memory, Radeon Pro 560X with 4GB of GDDR5 memory. In addition to that, you also get an HD camera for FaceTime that supports videos as well and of course, the audio speakers, microphone and a 3.5 mm headphone jack are some of the many great things that are offered in an iMac screen.
Recommended: Ultra Wide Monitor & MacBook Mockup
It also connects you with the WiFi as well as the Bluetooth for a very smooth usage and data transferring as well so that you don't need the feel to purchase extra stuff to transfer your files etc. but you also get 4 connecting ports too for USBs, card slot, display port as well as Thunderbolt 2, HDMI, DVI, and VGA supported using adapters which just by the way, are sold separately.
Now, that you know what comes in an iMac screen you must be thinking of creating things as per the screen resolution and all, right? Allow us to give you some ideas so that you know how to take a fresh start and make magical things using your creativity and imagination.
Any screen that is launched in the market has certain objectives to fulfill and whenever a new screen is out, all the people who are directly and indirectly linked to it start working on ideas to feature their work on that very screen. For instance; if you are a game designer, you will think of a new game or series of game that can be introduced for a certain screen model. If you are a developer, you would want your website to be up there on the screen for every user to look at and to use without having to feel left out.
In fact, movies, cartoons and TV shows are being made by keeping in mind the cinema experience and of course, the viewers want that too so you can literally have program or web series or anything launched specially for the screen that is going to be present in the market. But before you share that epic idea with your team or boss or even with your client(s), you will have to check the features first. Multiple things will go wrong in the process and in order to save yourself from the embarrassing results, you will need some good people in your life who work on creating mockup PSD files for you guys. Uh yes, we are definitely talking about ourselves!
So, we have created this highly editable and free 4K iMac screen mock-up PSD file that will help you feature your own games, websites, web applications and anything and everything before you launch it for the world to play, view and use. Our mockup PSD file will let you put whatever you want to display and share with the client but designing is not the only thing that you have to do to have something approved.
You also have to create a nice & detailed mockup presentation as well. We know that this is something most of you find tiring and it is understandable too keeping in mind the work load and time constraints we all have to experience but if you want to succeeds then succeed like a person who not only takes their job seriously but they also know what it means to be a really good graphic designer.
You must have seen us almost always talking about creating impactful presentations and how they can help you in voicing your ideas and we do that because we want you all to make smart moves in every sense of the word. Don't hesitate to impress while you can through your creative concepts, brilliant ideas and powerful mockup presentations.
We wish you success and we would love to see you all sharing our free 4K iMac screen mockup PSD with your friends and colleagues. Until next time!
Free Retina 4K iMac Screen Website Mockup PSD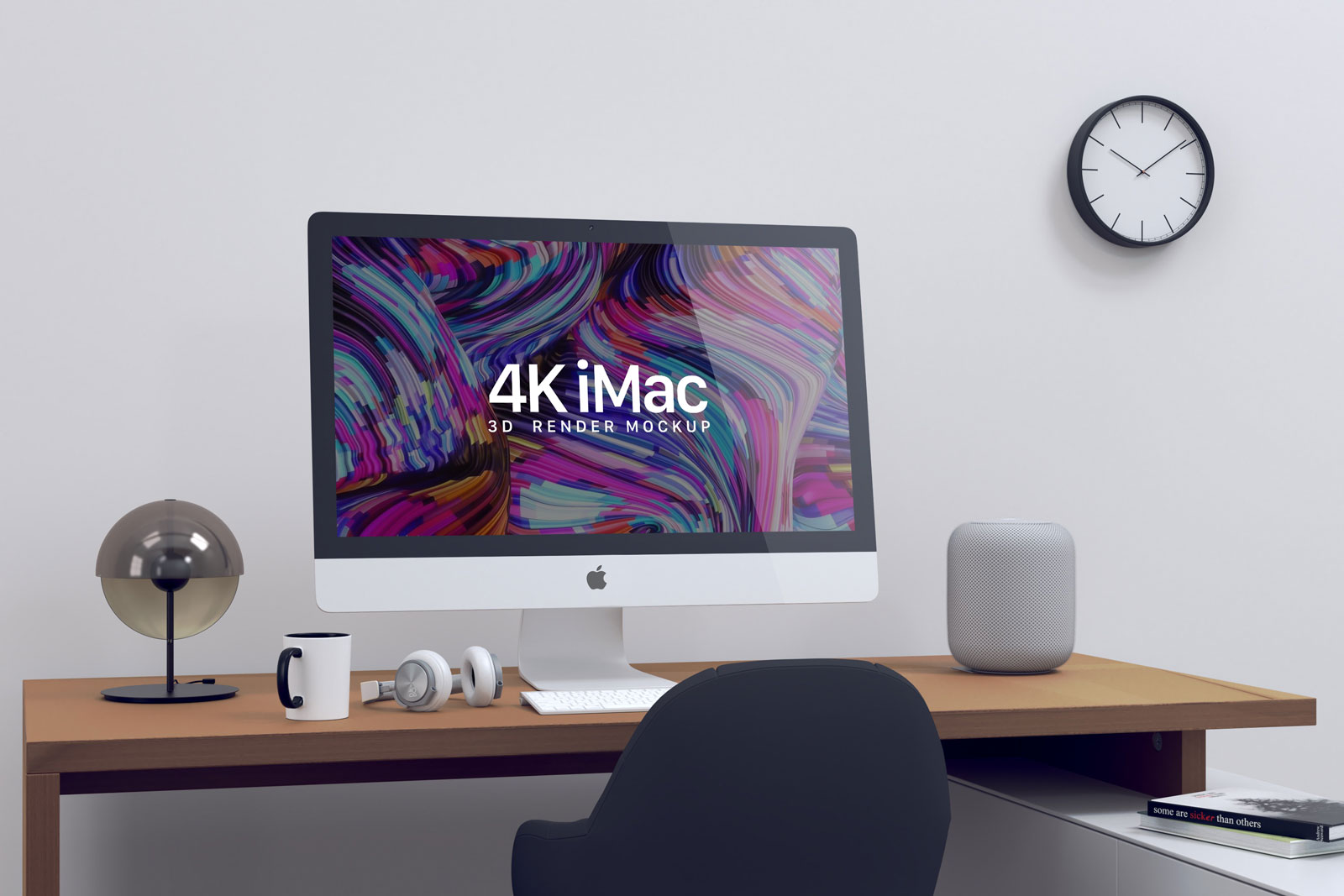 Available Format: Photoshop PSD
License: Free for personal and commercial usage
File Format: WinRAR
Mockup Resolution: 3000 x 2000 px
Note:
1. Free iMac Website Mockup is allowed to share online (A Must Linkback to this page)
2. Say thanks if you like or share/tweet with your friends. That means a lot to me.
3. And don't forget to follow or subscribe to receive more high quality premium freebies & awesome articles only.
Download iMac Website Mockup
More Awesome Free Website Mockups: