Hi there guys! We have been waiting to cover Christmas related blogs for the longest time ever and we are so happy & excited that the holiday season is just around the corner. It is time to get in the mood and do whatever it takes to be the happiest person who celebrates to the fullest. In our today's blog, we wanted to start off with the Christmas wreaths as that's the first thing your beloved family members and other guests will happen to see while coming to your place.
We know that you must be planning out your holiday season in such a way that you get to do almost everything with the people you love, from spending some quality time together to having your favorite cooked meals to decorating the houses and reuniting over hot chocolate – everything is going to be exciting as well as tiring. And we don't want you to feel exhausted, really. So before we move to the actual topic of our blog, we had decided to help you all plan your holiday season in such a way that it doesn't feel like yet another task to you.
To make sure that you do anything and everything without having to feel tired or not there "emotionally", all you have to do is to do your stuff systematically. We know that this is wrong in a way that we have to take some time out for ourselves now because of our hectic work routines but it is what it is and we have got to do whatever it takes to be doing things.
Recommended: Best Christmas Decorations
If you don't want to be patient for too long and also want us to share the amazing tips which will help you celebrate Christmas and the days to come to the fullest, continue reading our blog because the easiest of all tips are right here:
People and things start to seem like a little too overwhelmed whenever there is an occasion – your first step should be to remain calm, no matter what! Secondly, always do things according to a plan because planning is what makes the people sane. Thirdly, spend wisely on the presents so that you have enough money left to be spent on the after parties. Also, do meet people for spreading love and happiness is one of the basic 'objectives' of Christmas.
Cook food for the people you love and invite them over to your place or leave for a mini vacation with them and make memories – memories which you will cherish forever. You must get some tiny cute presents for them as well to surprise and shower them with love and affection because those are some of the things humans are craving for these days.
Recommended: Free Christmas Flyer
Let's come to the décor and party celebrations now! Like everyone else around the globe, we know that you must be really excited to purchase pretty Christmas decoration items for your personal spaces as well as for your restaurants and cafes. But like have you created the list of items that you want to buy? Or are you being one of our lazy readers who love to procrastinate? Well, don't answer that but yes, you are free to grab a note pad tight away and create shopping lists already!
Okay so, there are multiple other things that are bought and used to decorate the houses, offices and even streets before the Christmas eve but some of the stuff has been in use since the beginning of time like the bells, wreaths, stockings and even the tree décor but if you are one of those people who know that wreaths are being hung on the doors etc. before the Christmas eve but don't know as to why we do that, this one is for you:
The wreath basically represents the thorns that were worn by Christ on the cross whereas, the red berries depict the blood of the Christ and the color green represents the eternal life. Wreaths are hung up outside the houses, on doors and windows to invite Christ.
Christmas wreaths come in multiple sizes and you can pick the ones which you feel will complement the outside of your houses etc. And to help you get the most beautiful Christmas wreaths 2019, all you have to do is to go through our collection and shortlist the ones that you really want to buy – although we know that you are going to fall in love with the entire collection so much that it will become a little too difficult for you to get some of the wreaths. But you do what you gotta do!
Don't forget to share which Christmas wreaths did you like the most in the comments section down below and also share our blog with the people that you care for!
50+ Most Beautiful Christmas Wreath to Buy on Xmas 2019
1. National Tree 24 Inch Wintry Pine Wreath with Cones
Red Berries, Snowflakes and 50 Battery Operated White LED Lights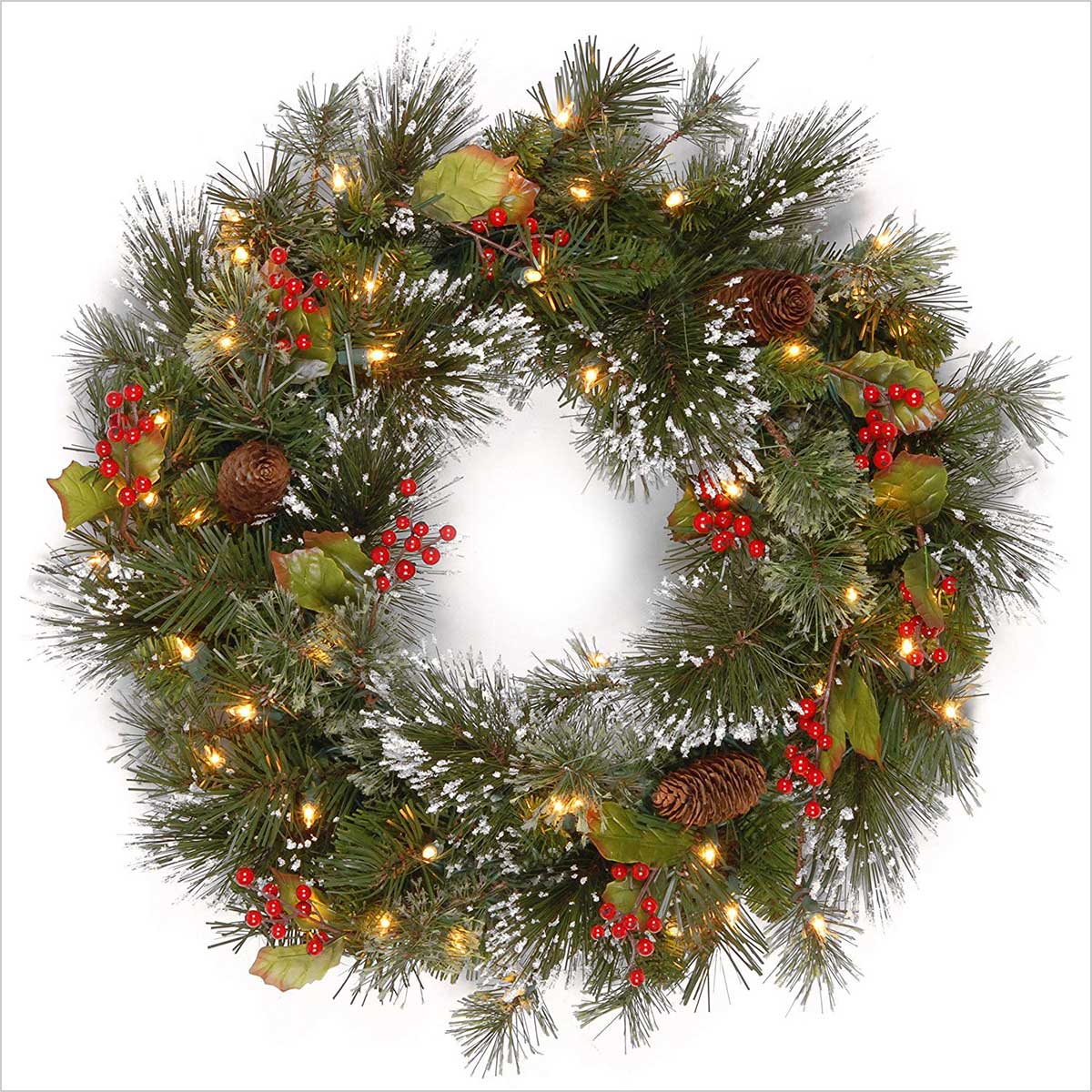 2. The Wreath Depot Jasper Winter Wreath, 22 Inches
Stunning Full Winter Wreath Design, Gift Box Included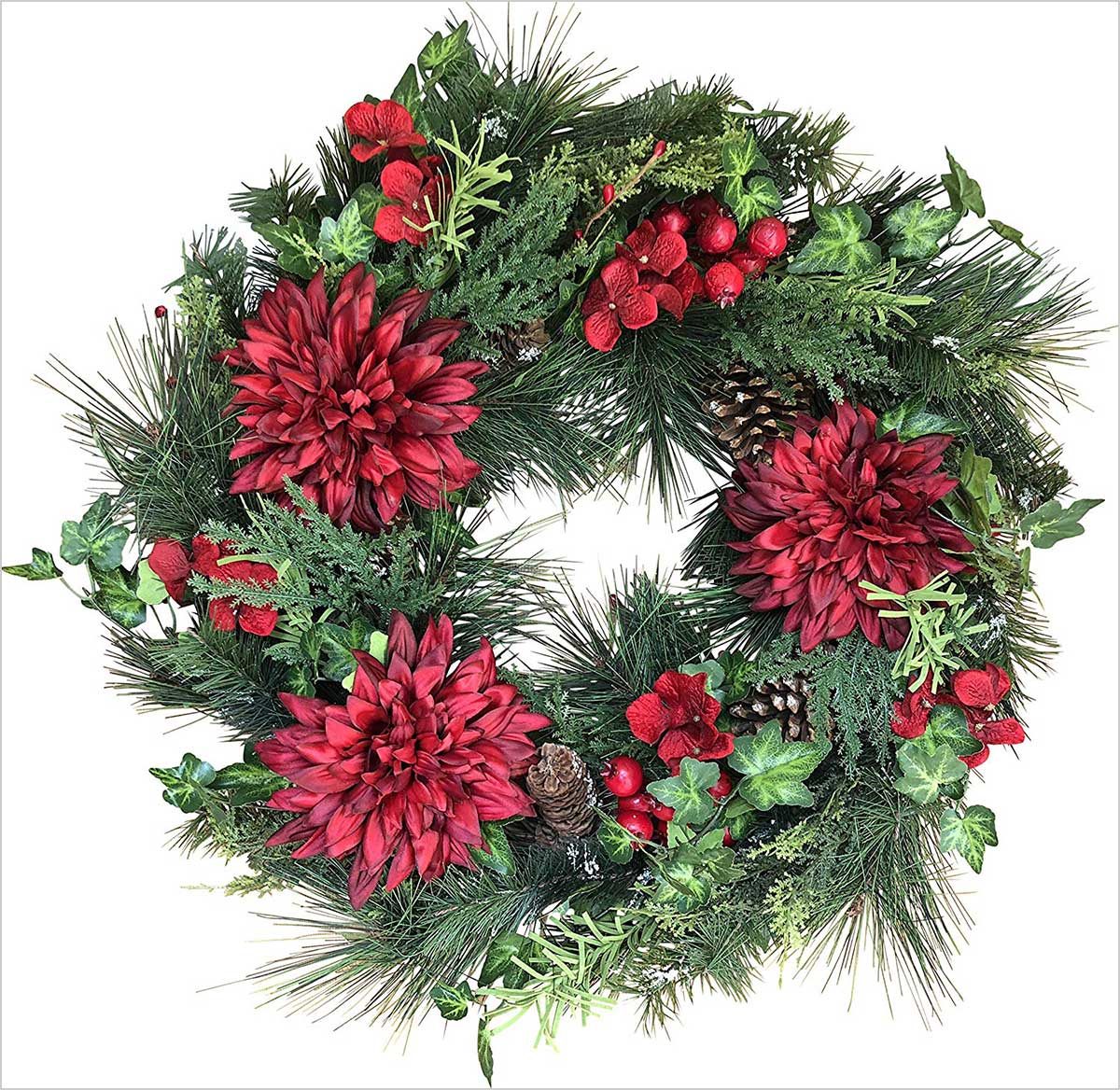 3. The Wreath Depot Whitehall Decorated Christmas Wreath 2019 
22 Inch, Full Christmas Wreath Design, Beautiful White Gift Box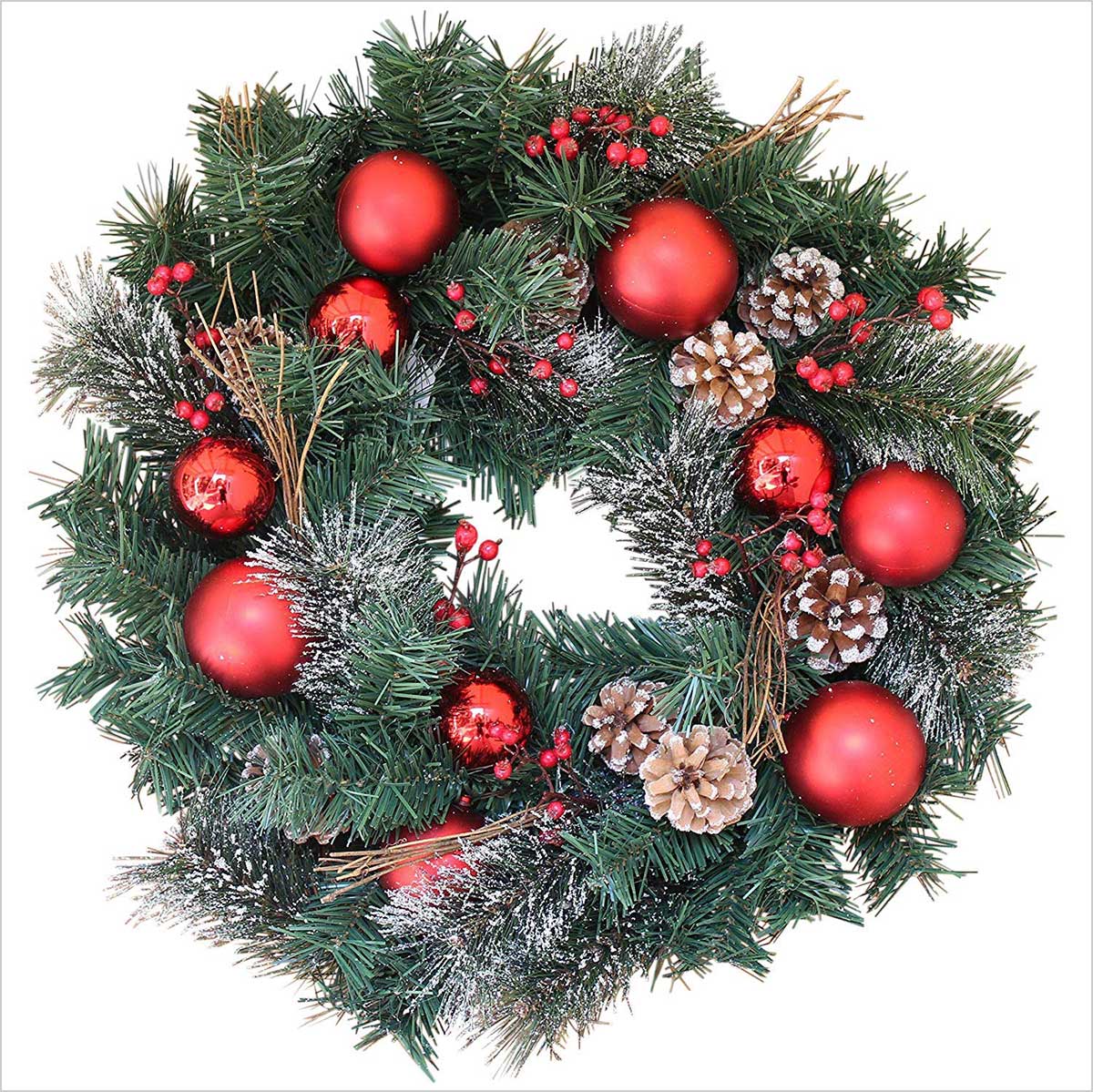 4. 26″ Juniper Pine Wreath
Accurately Mimics Texture and Color of Natural, Freshly Cut Pine Needles – Adorned with Select Cones & Cedar Springs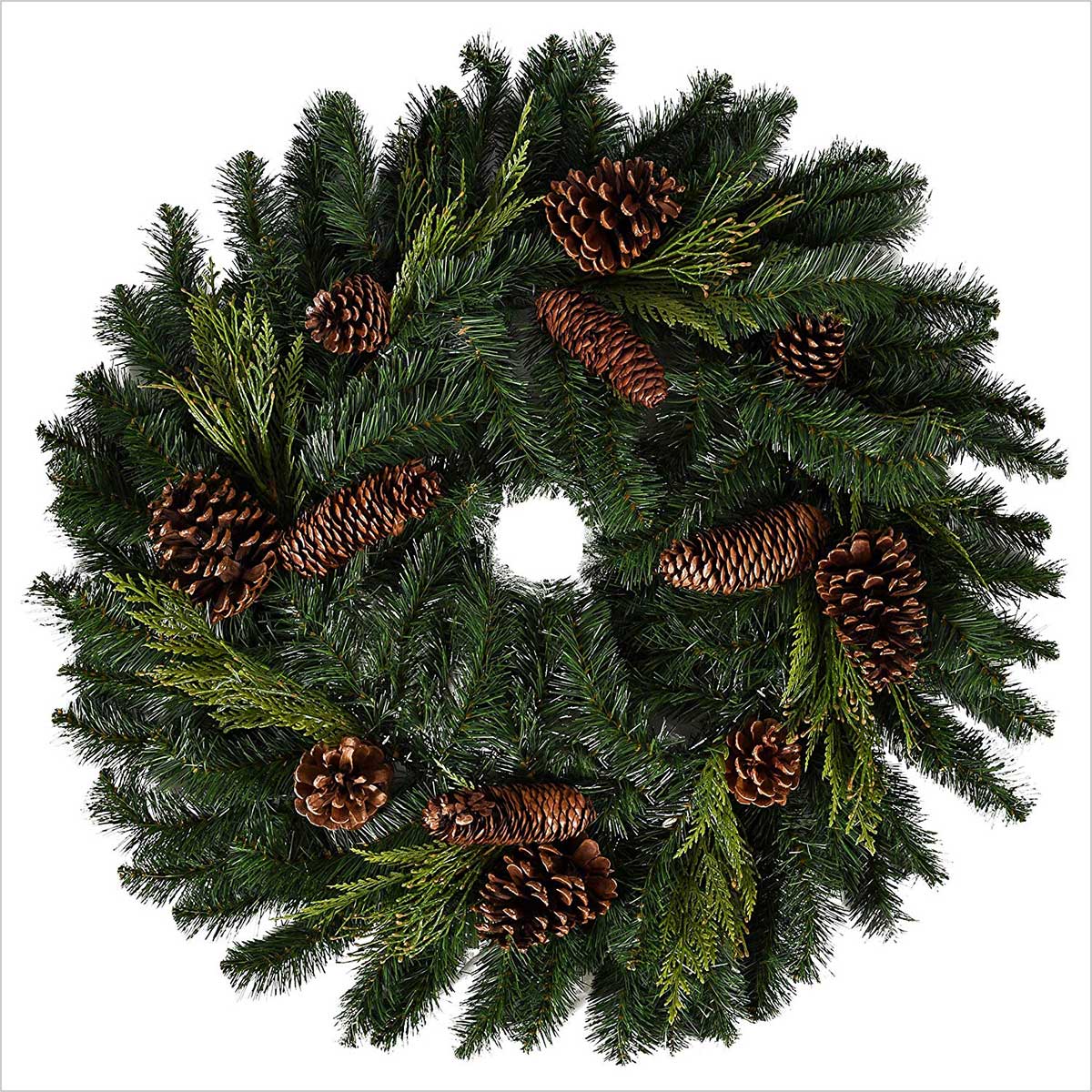 5. Clever Creations Christmas Ornament Wreath Bright Red Green & Silver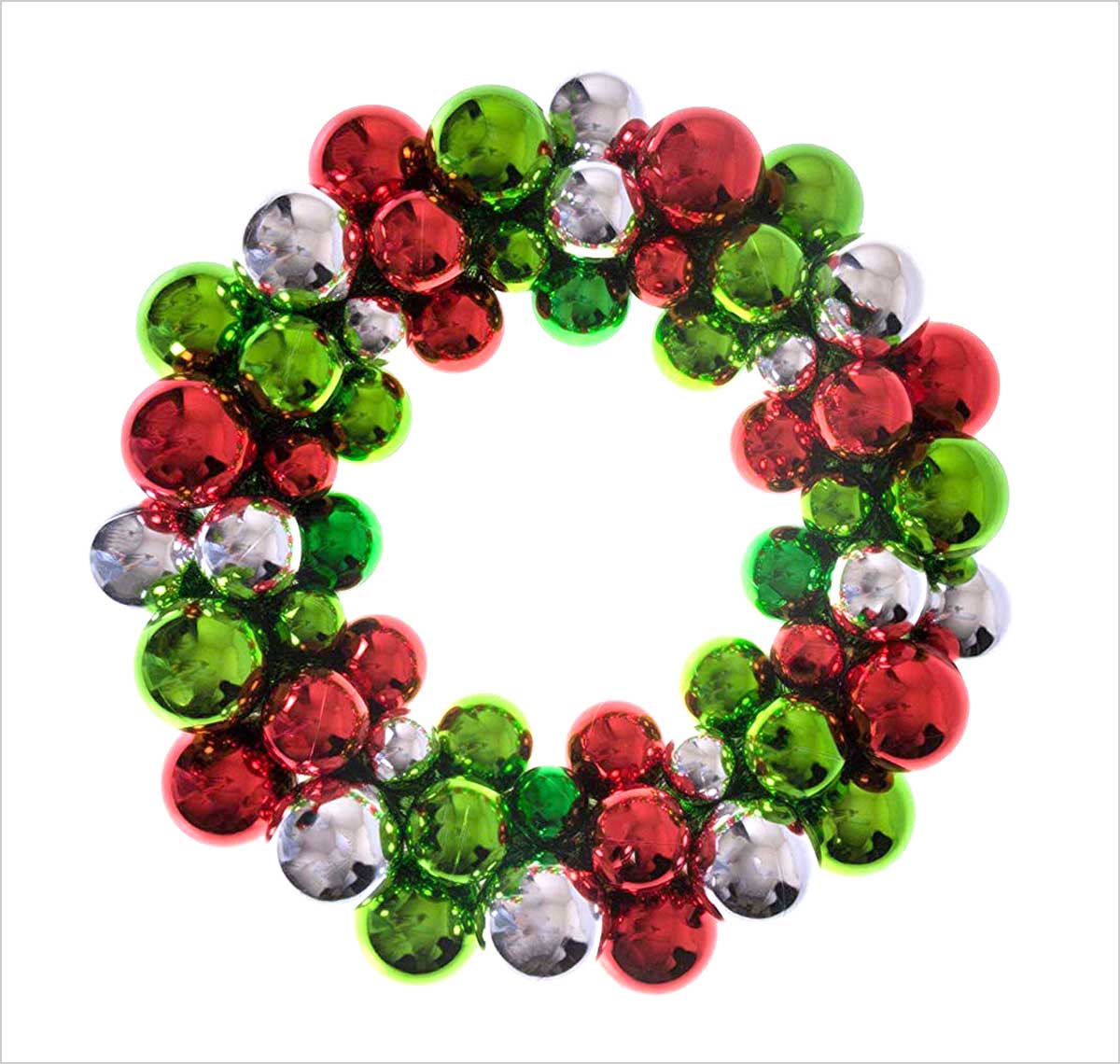 6. The Wreath Depot Northville Red Pip Berry Wreath
22 Inches, Designer Quality Full Berry Wreath Enhances Front Door for Christmas and Winter Seasons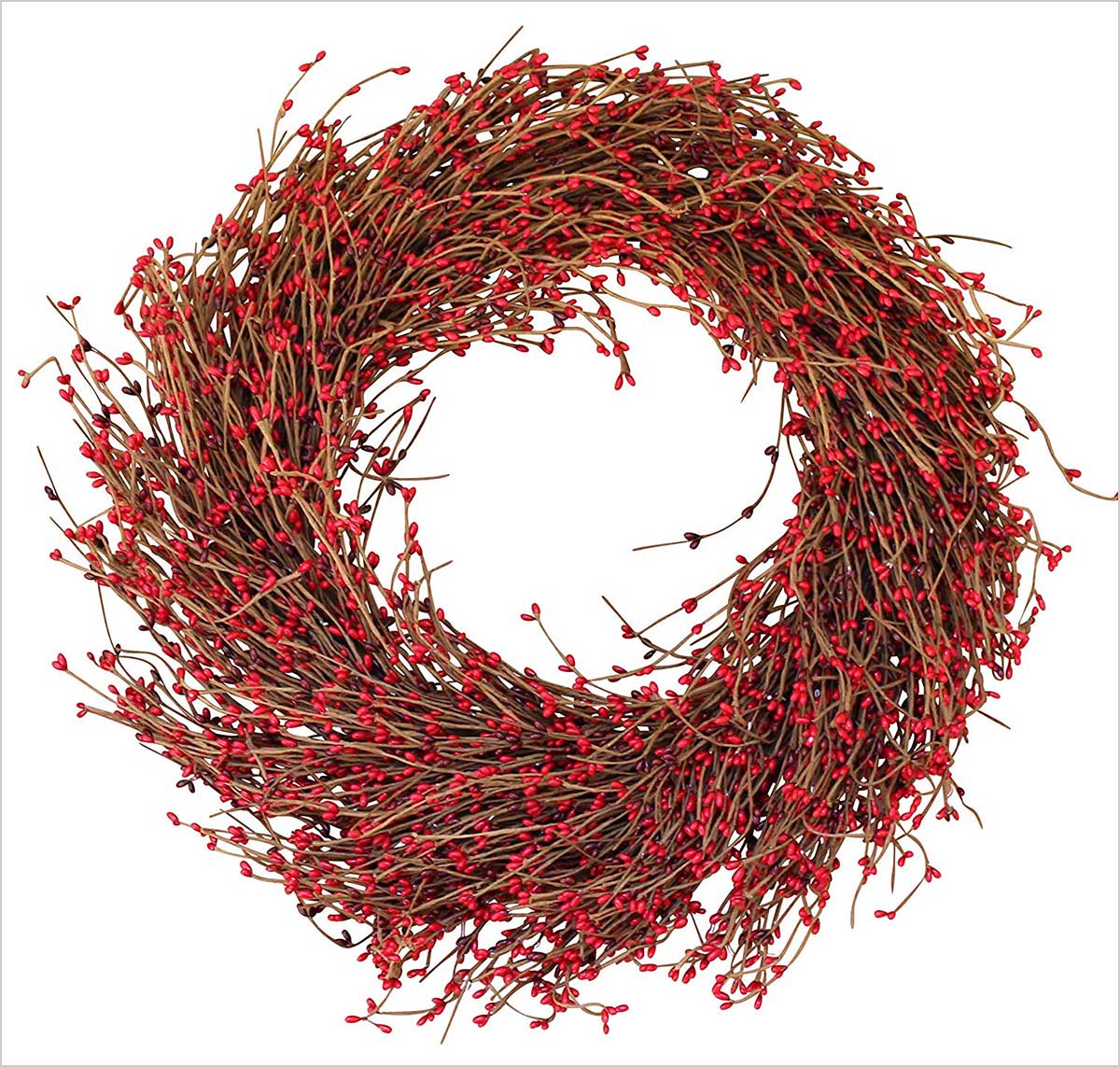 7. The Wreath Depot Marion Winter Berry Wreath
22 Inch Enhances Winter Decor, White Gift Box Included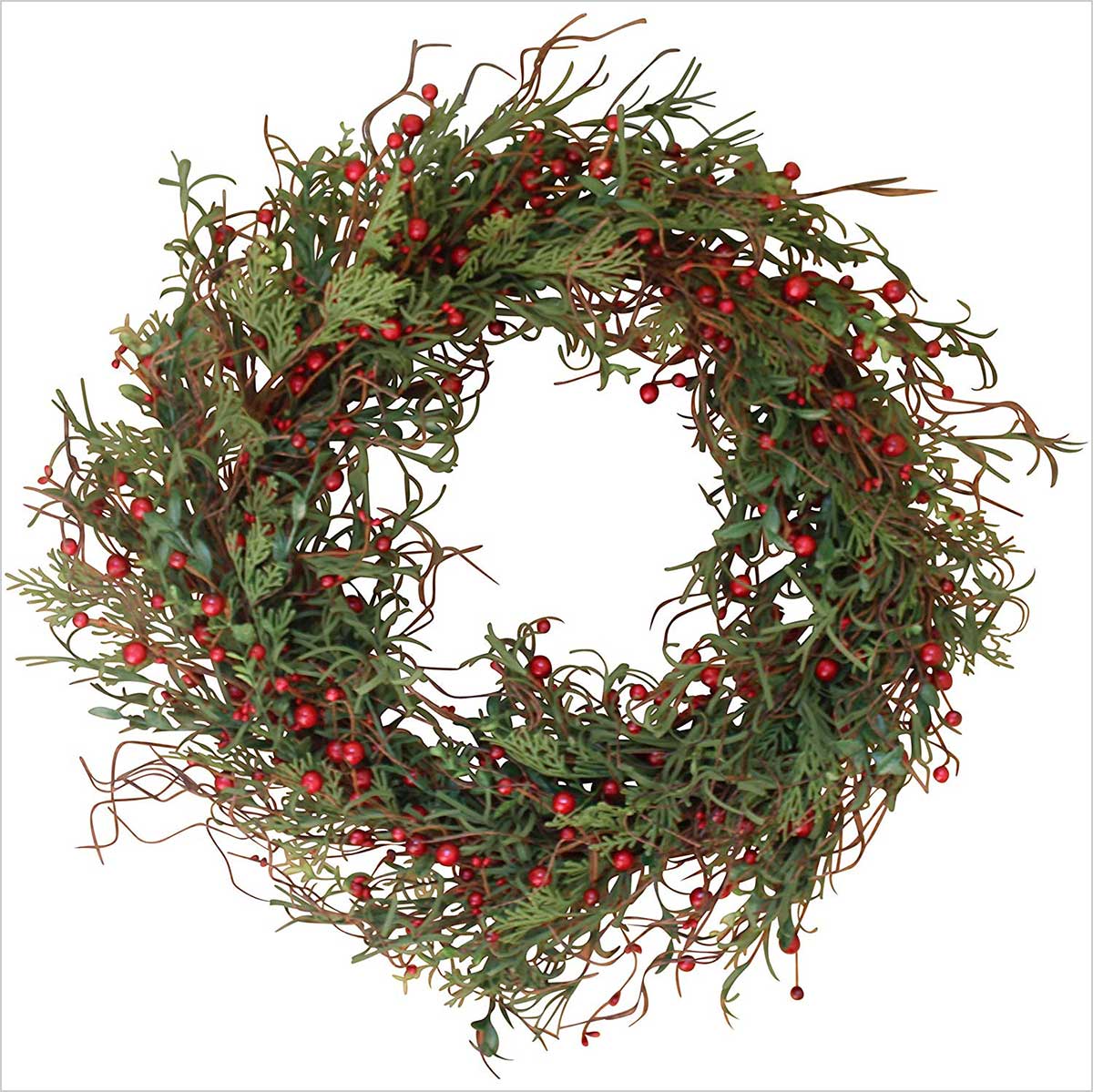 8. 3 Foot Multi-Color L.E.D. Christmas Wreath with Pre-lit Red Bow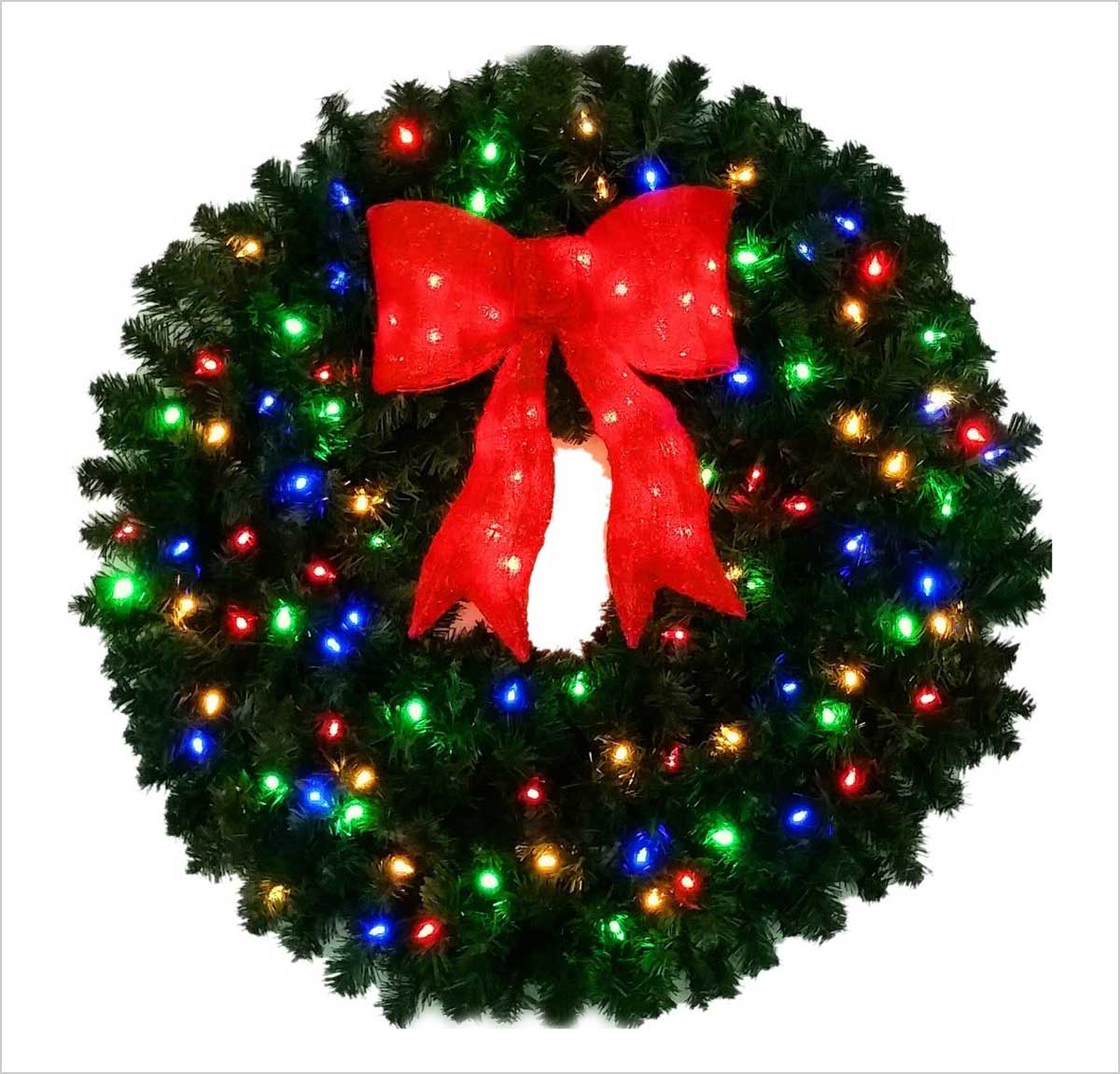 9. 4 Foot L.E.D. Christmas Wreath with Pre-lit Red Bow – 48 inch – 200 LED Lights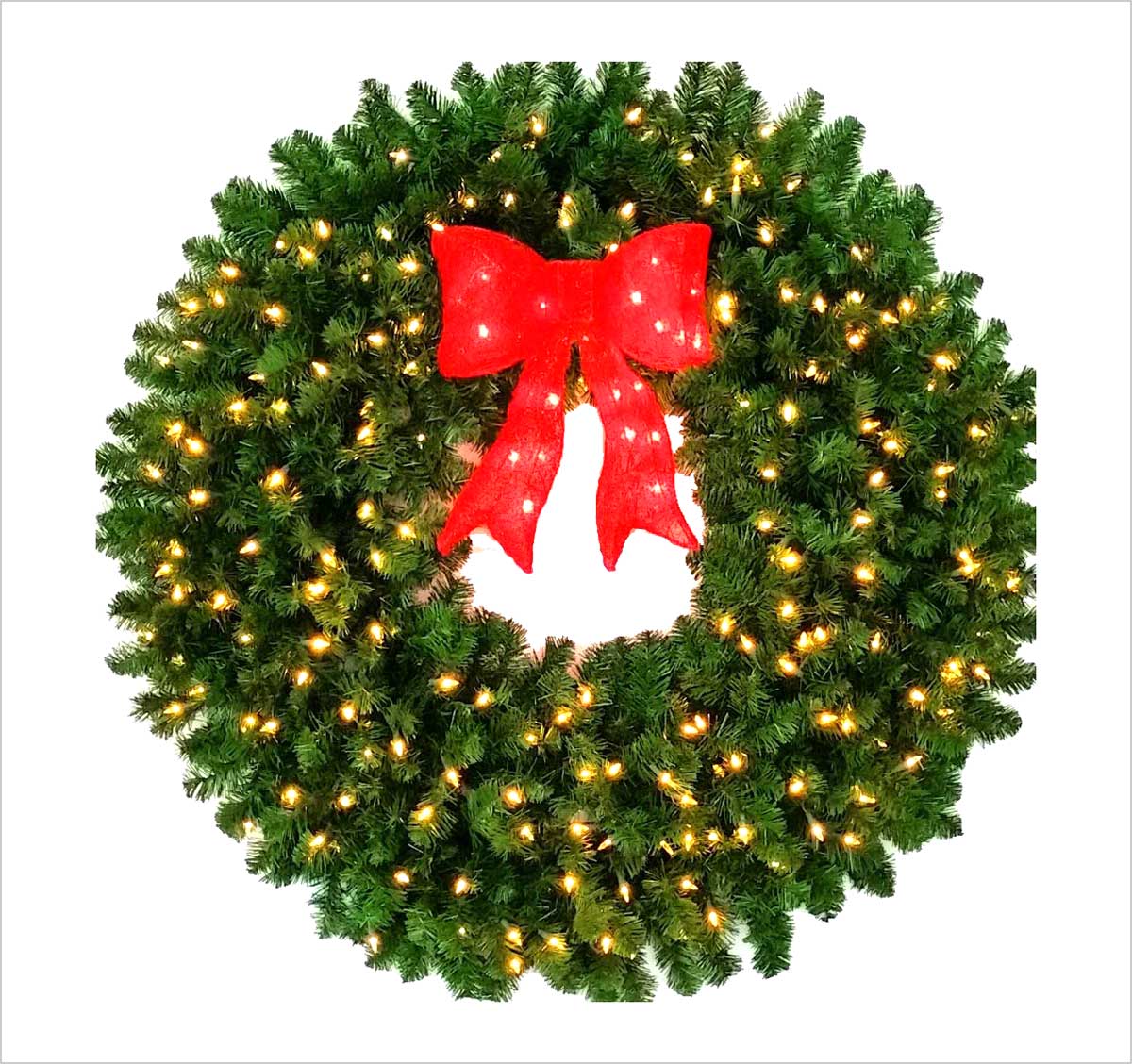 10. Commercial-Grade Traditional Christmas Wreath and Matching Christmas Garland Greenery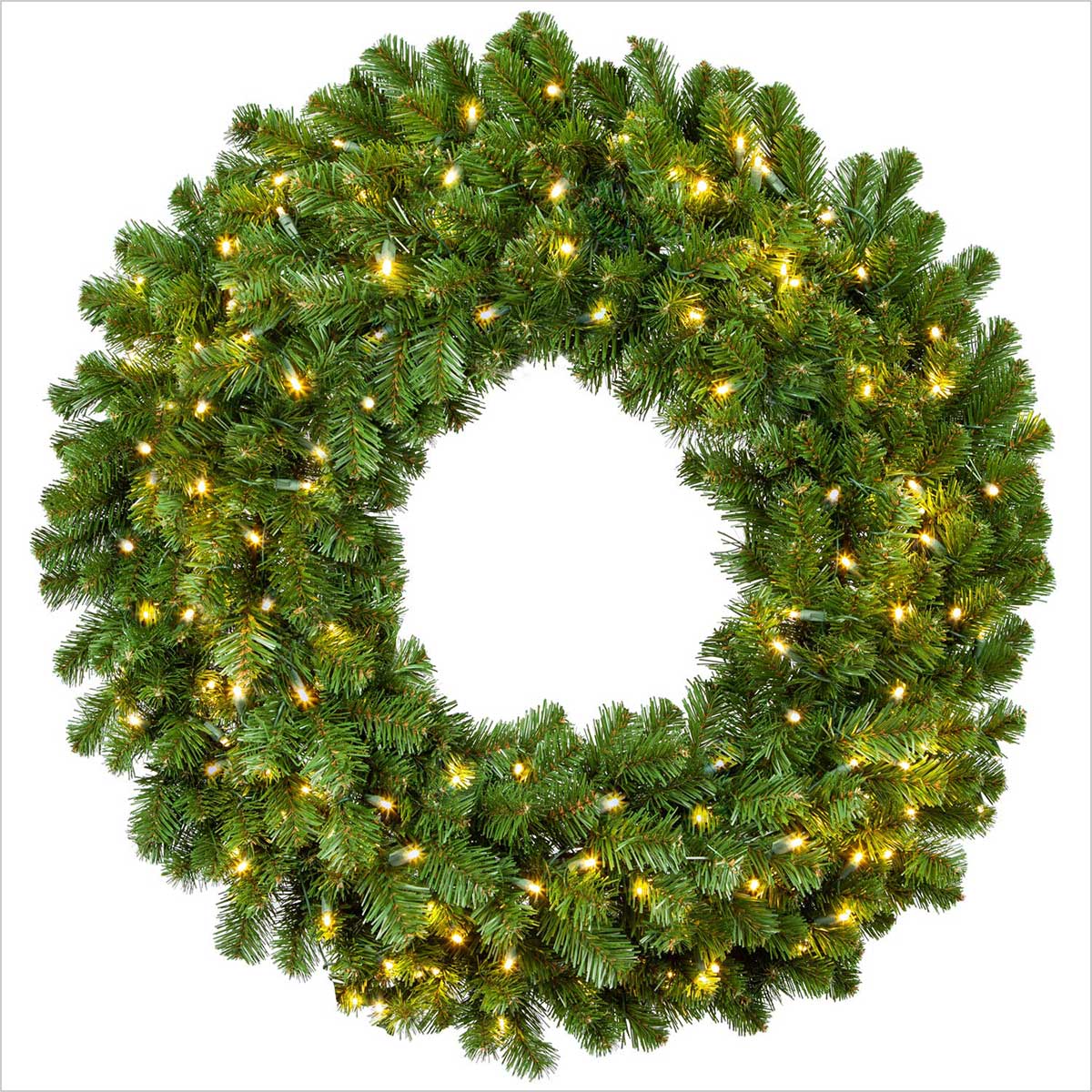 11. Beautiful Christmas Wreath 2019 for Front Door with Pine Cone, LED Lights, Red Berries and Winter Snow Garland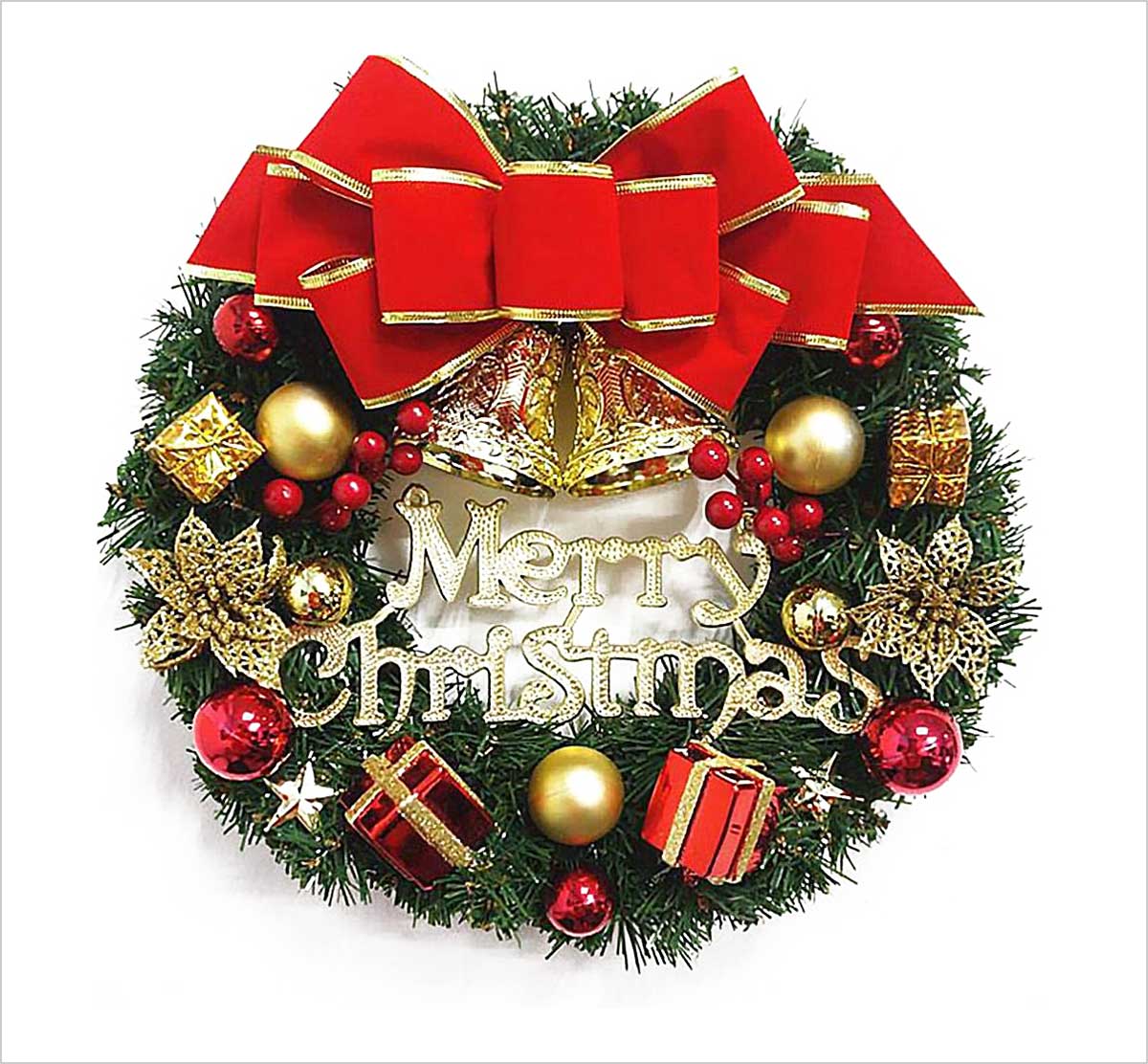 12. Goplus Pre-Lit Cordless Christmas Wreath, Built-in 6-Hour Timer, with 50 Warm LED Lights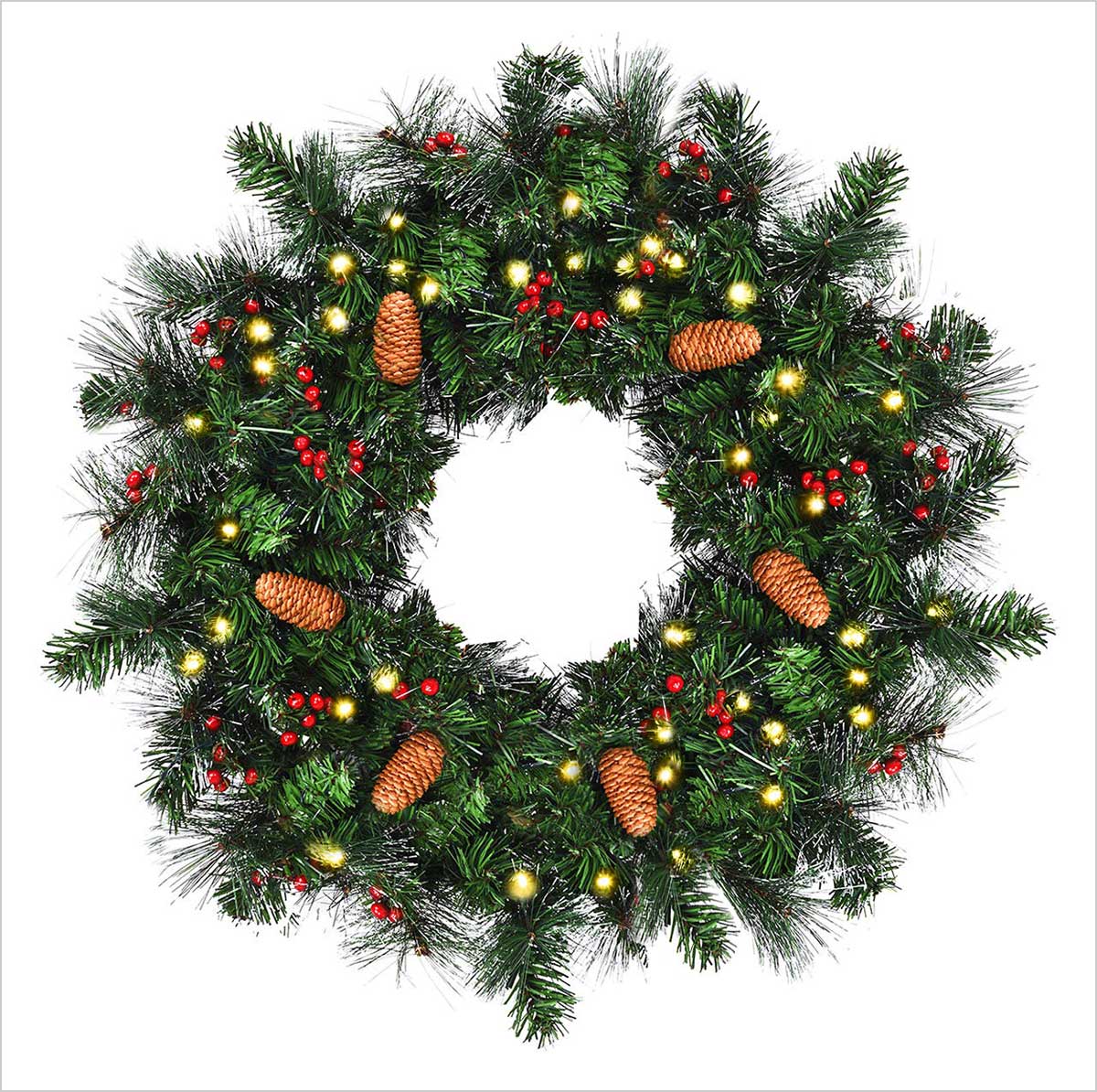 13. BrylaneHome Large Pre-Lit Double-Sided Wreath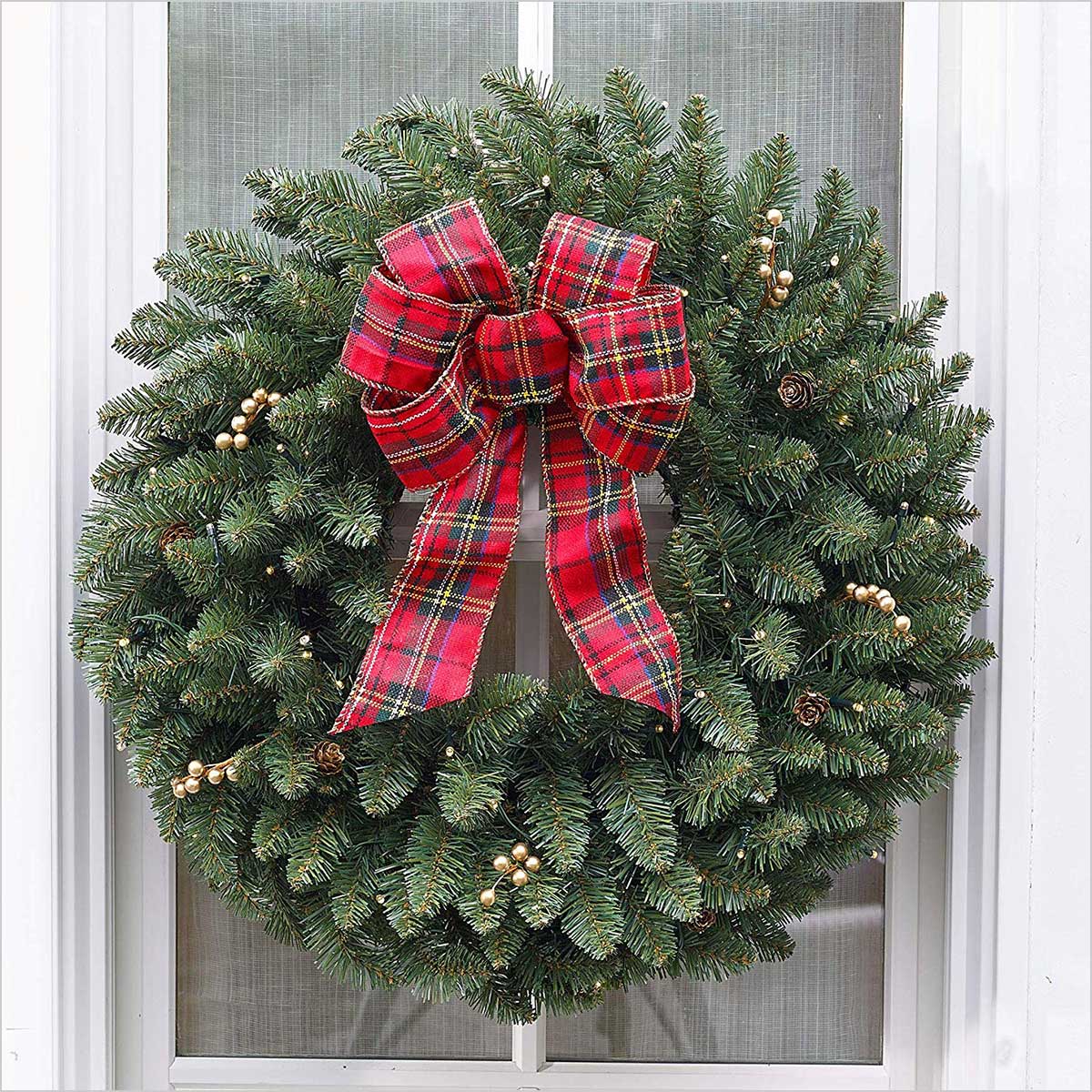 14. Best Choice Products 24-inch Pre-Lit Indoor Cordless Artificial Snow Flocked Christmas Pine Wreath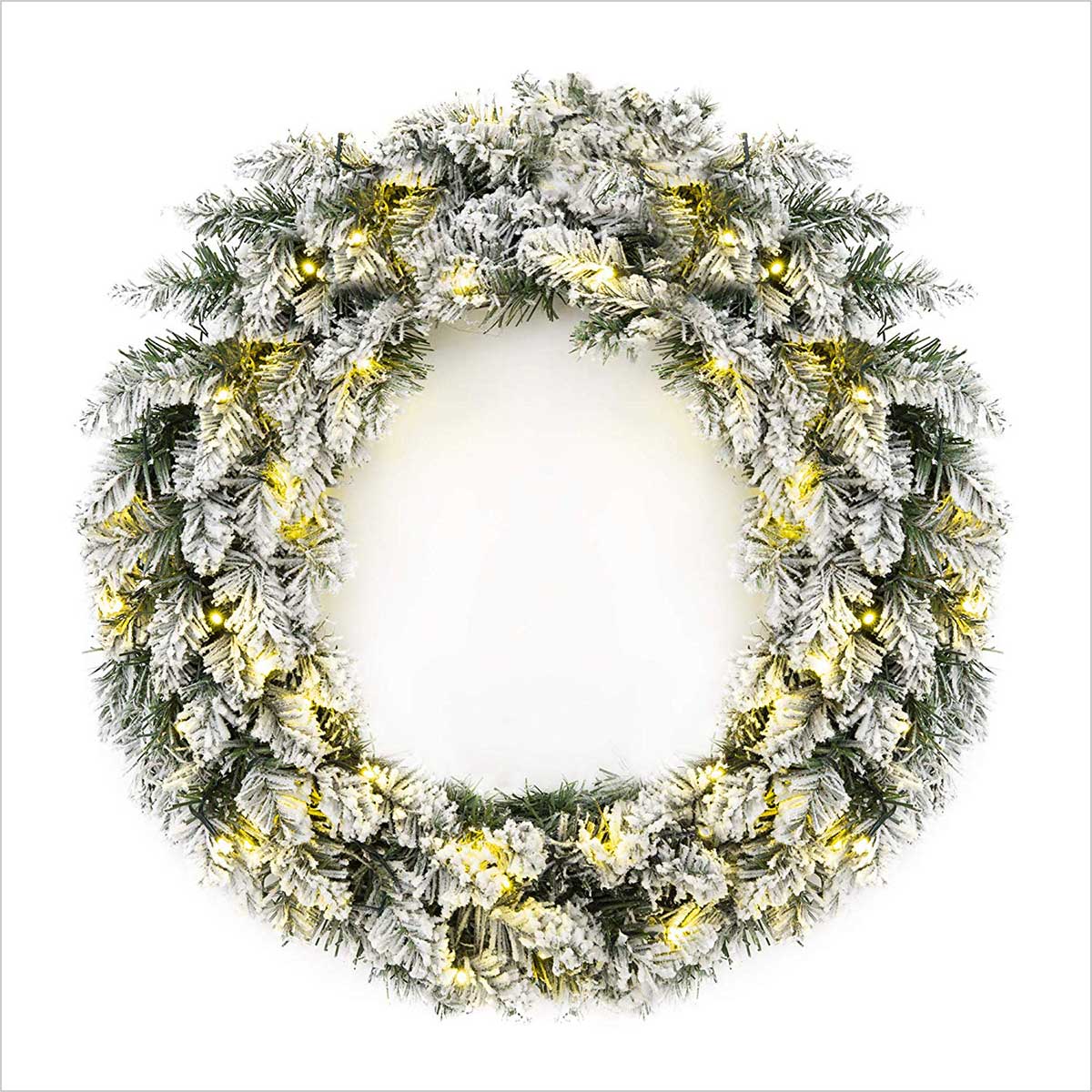 15. 16 inch Artificial Fall Wreath for Christmas
Front Door with Pine Cone, Red Berry, Autumn Door Wreath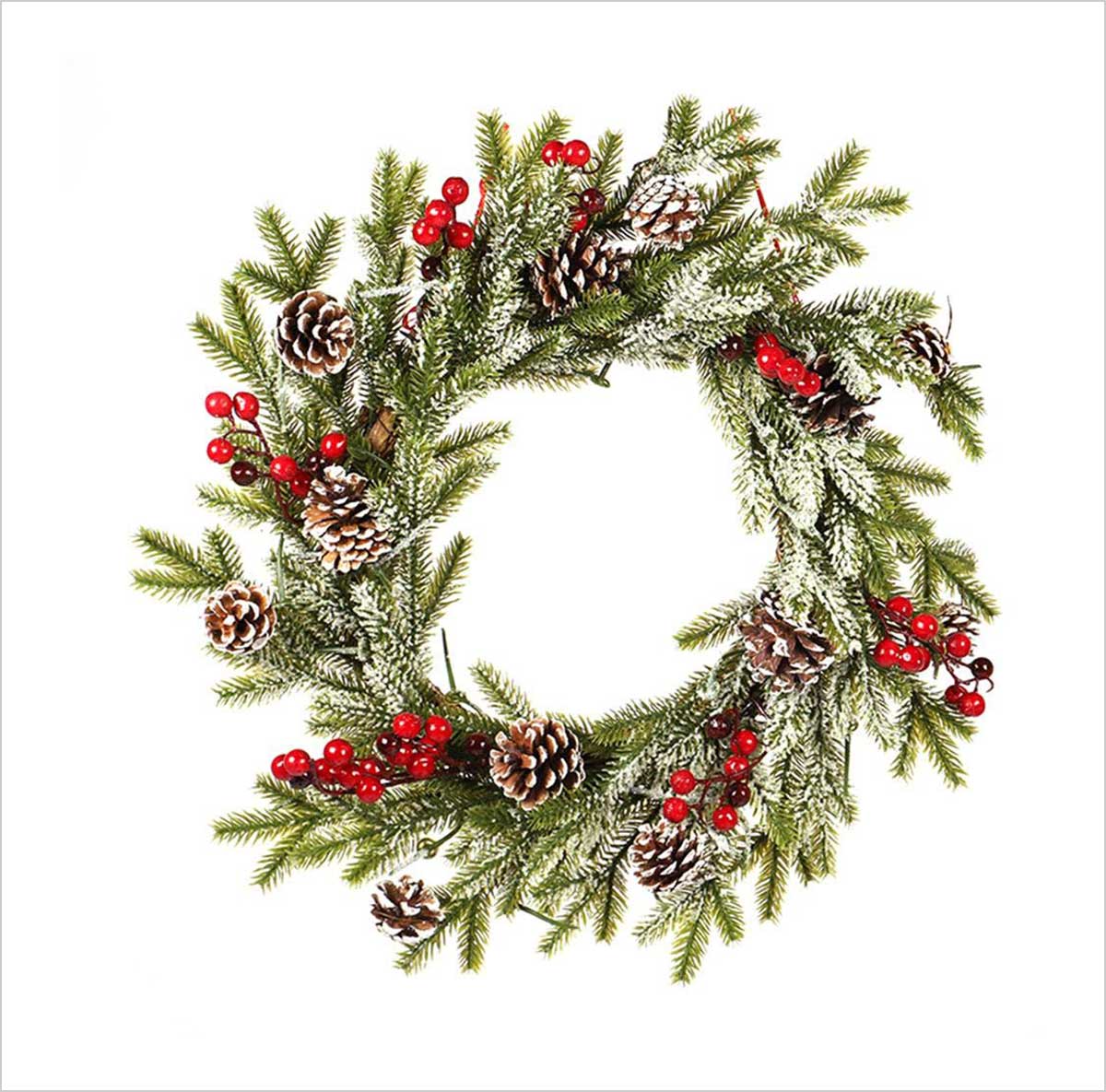 16. Marbled Hydrangea Christmas Wreath for Holiday Front Door Decor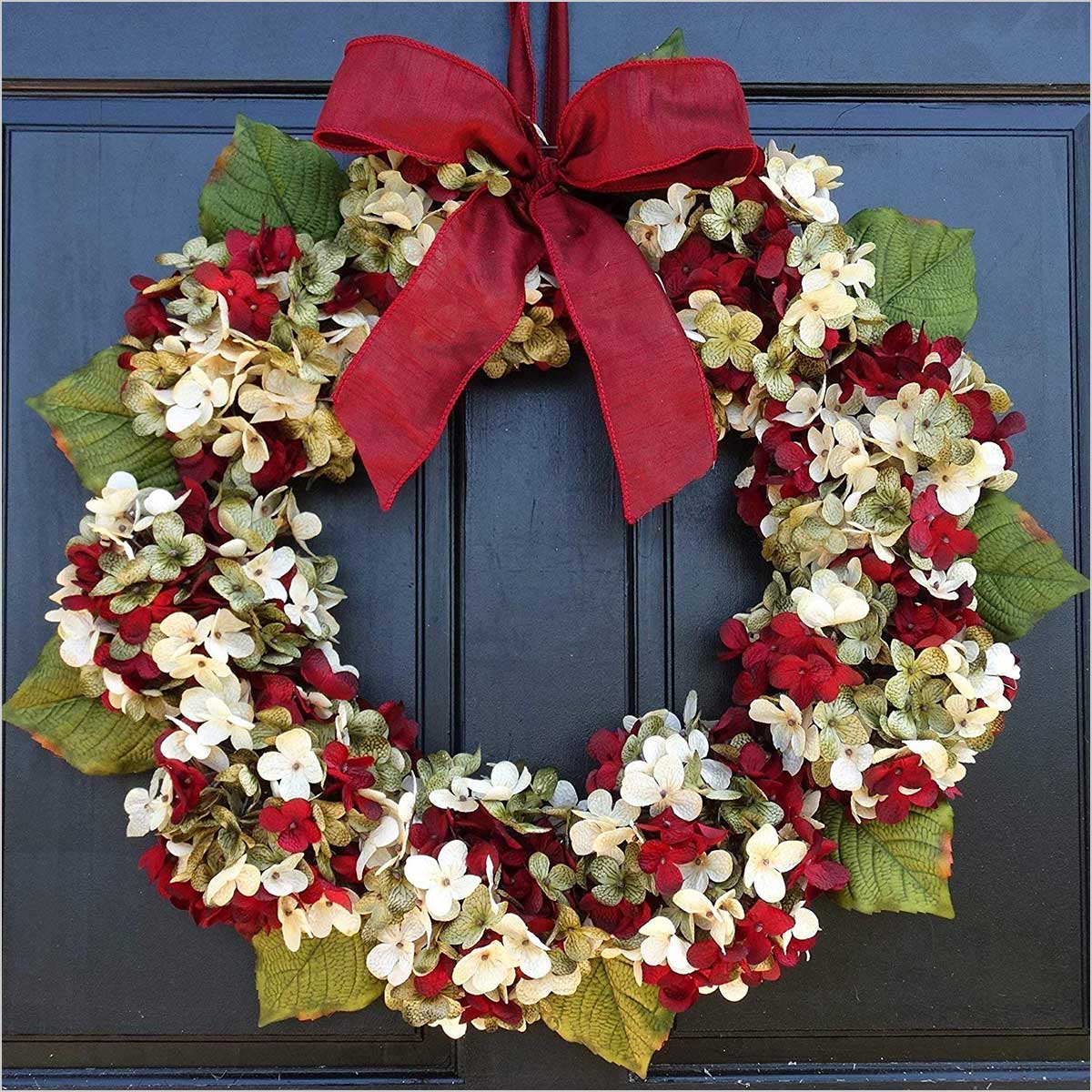 17. BrylaneHome Adjustable Wreath Stand – Bronze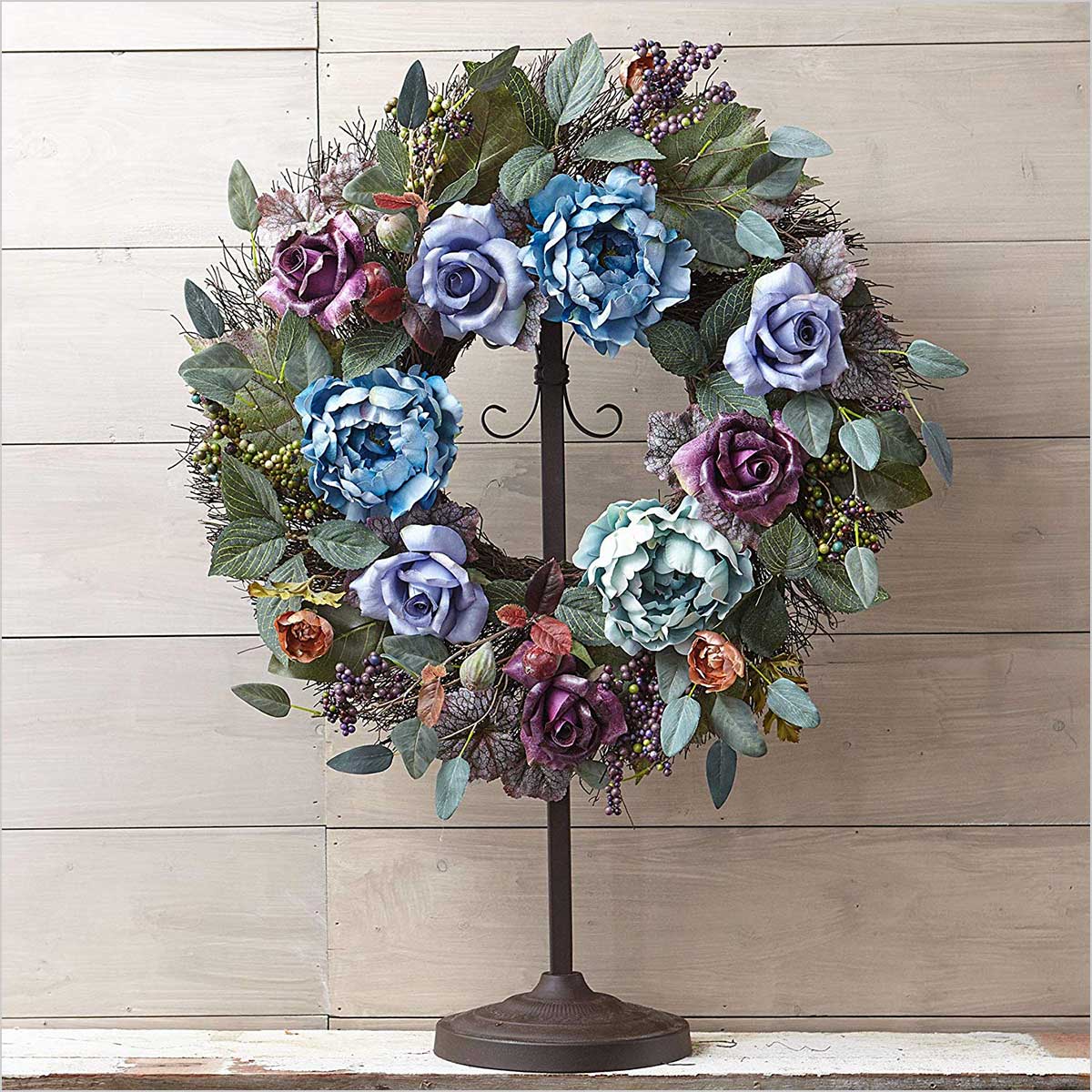 18. Wall Hanging Christmas Wreath Decoration for Xmas Party Door Garland Ornament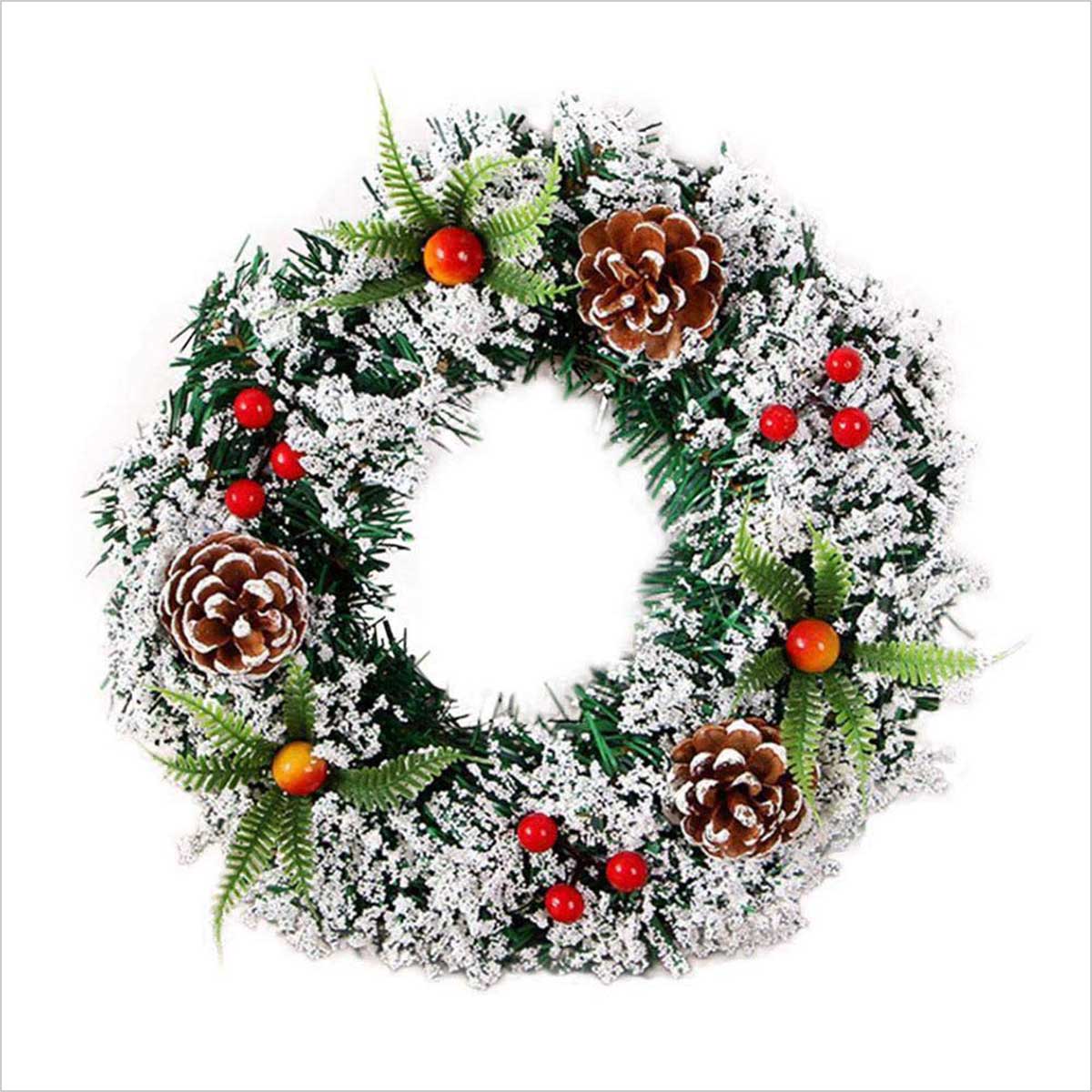 19. Northlight 24 inches Pre-Lit Snow White Artificial Christmas Wreath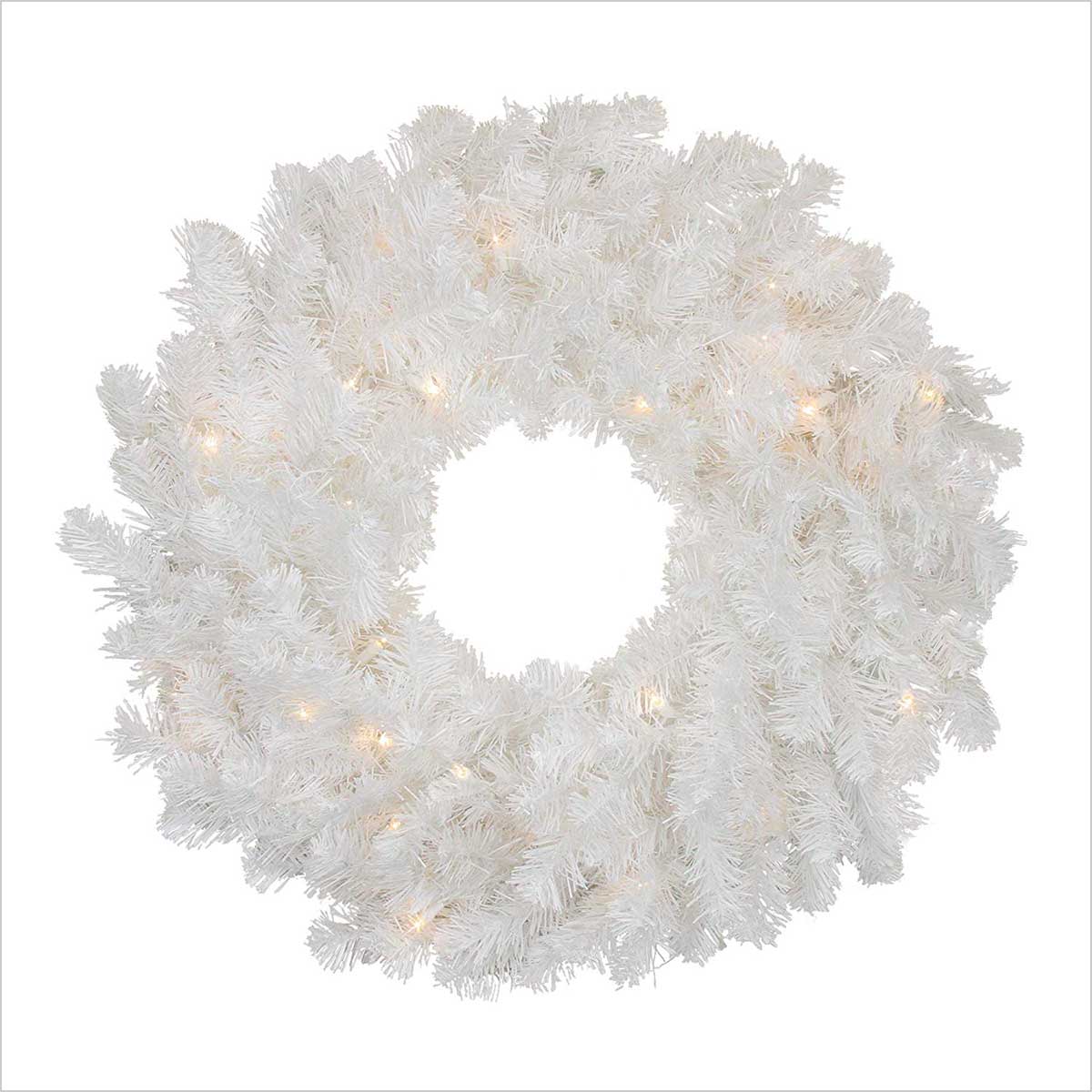 20. Northlight 36 Inches Simple Canadian Pine Artificial Christmas Wreath 2019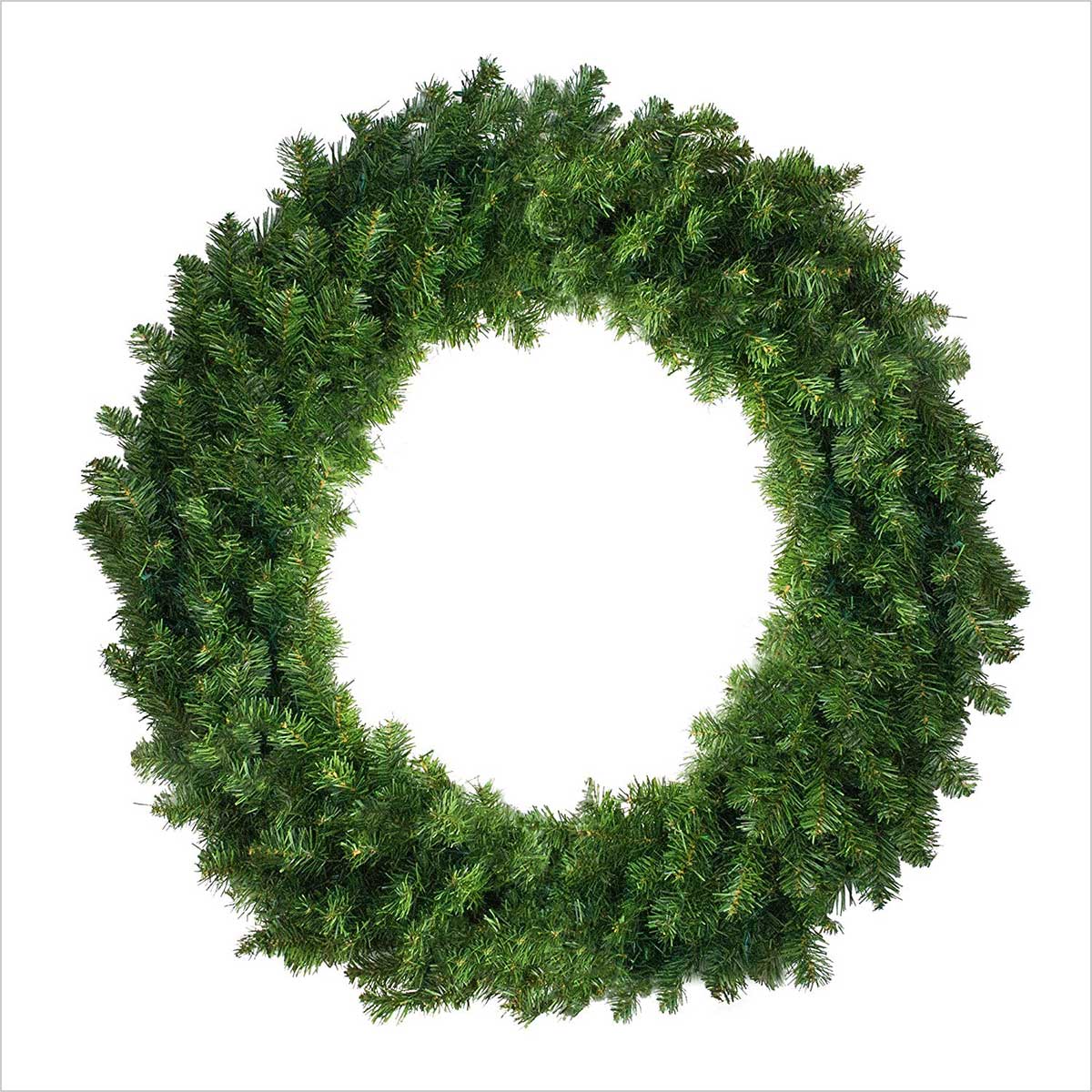 21. Christmas Wreath with LED String Lights Battery Powered Xmas Door Wreath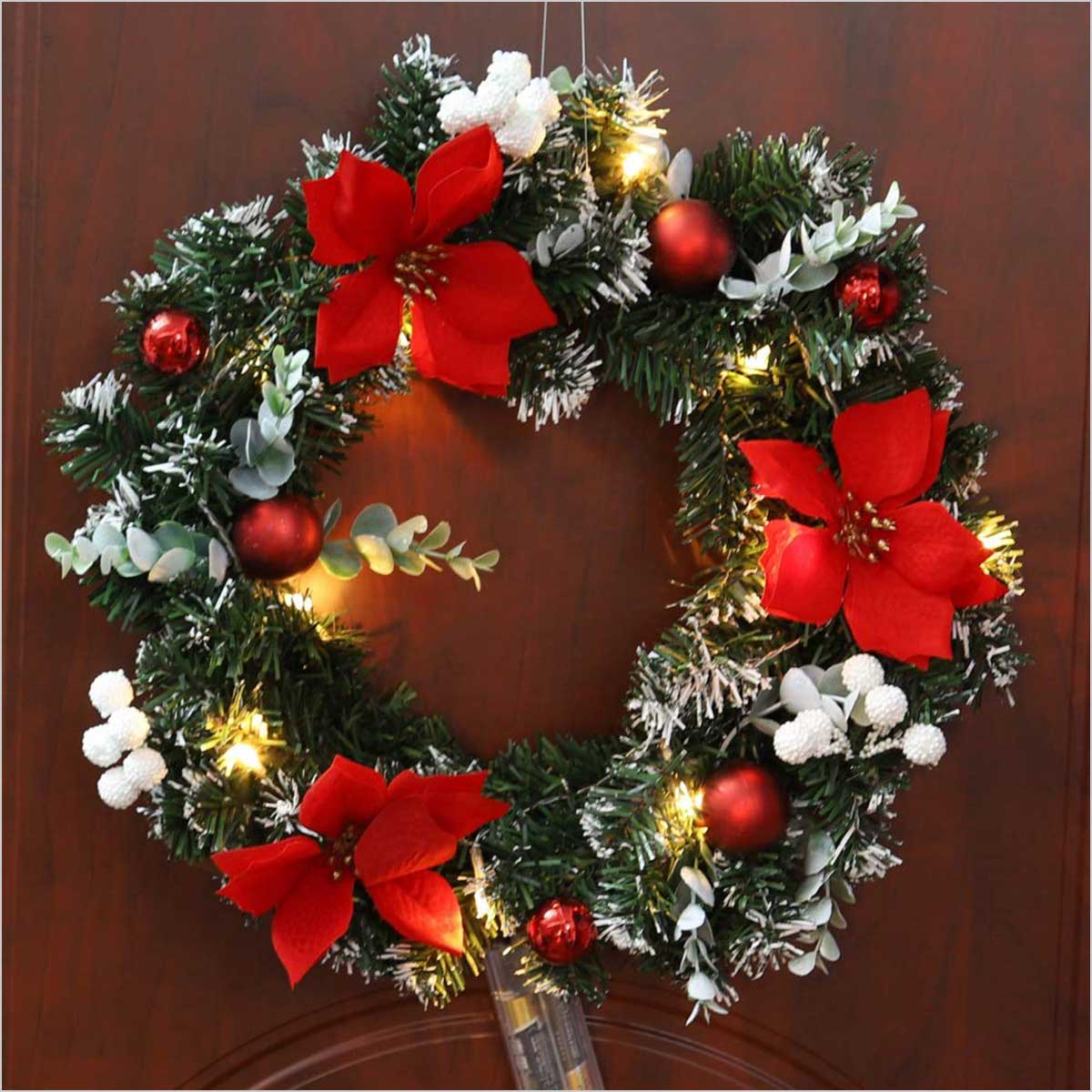 22. Northlight 24 Inches Black Colorado Spruce Artificial Christmas Wreath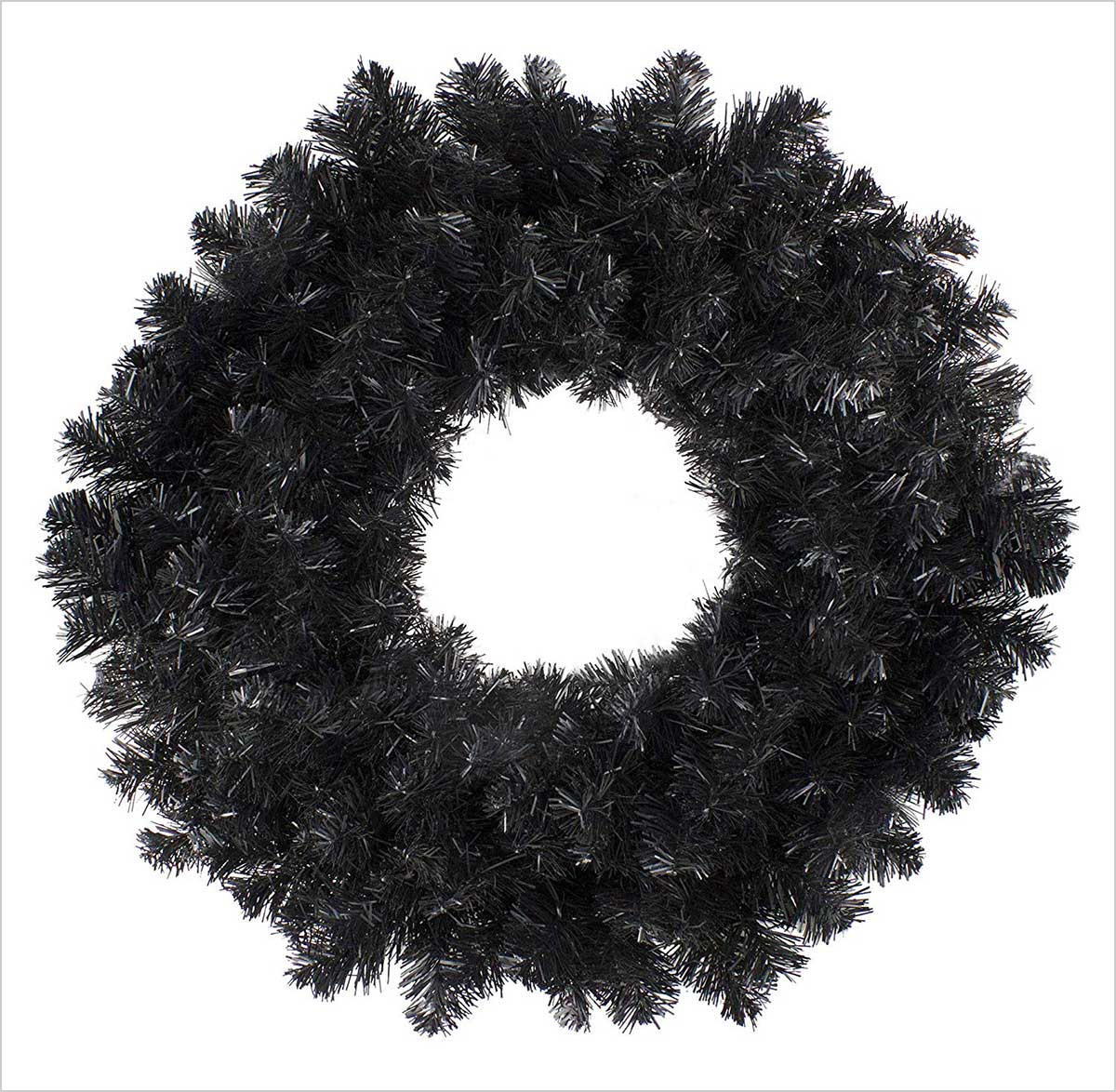 23. Multi Color LED Fiber Optic Christmas Wreath (24in, White + Multi Colore)

24. Christmas Wreath Decor, Cuekondy Christmas Balls Ornaments Garland Front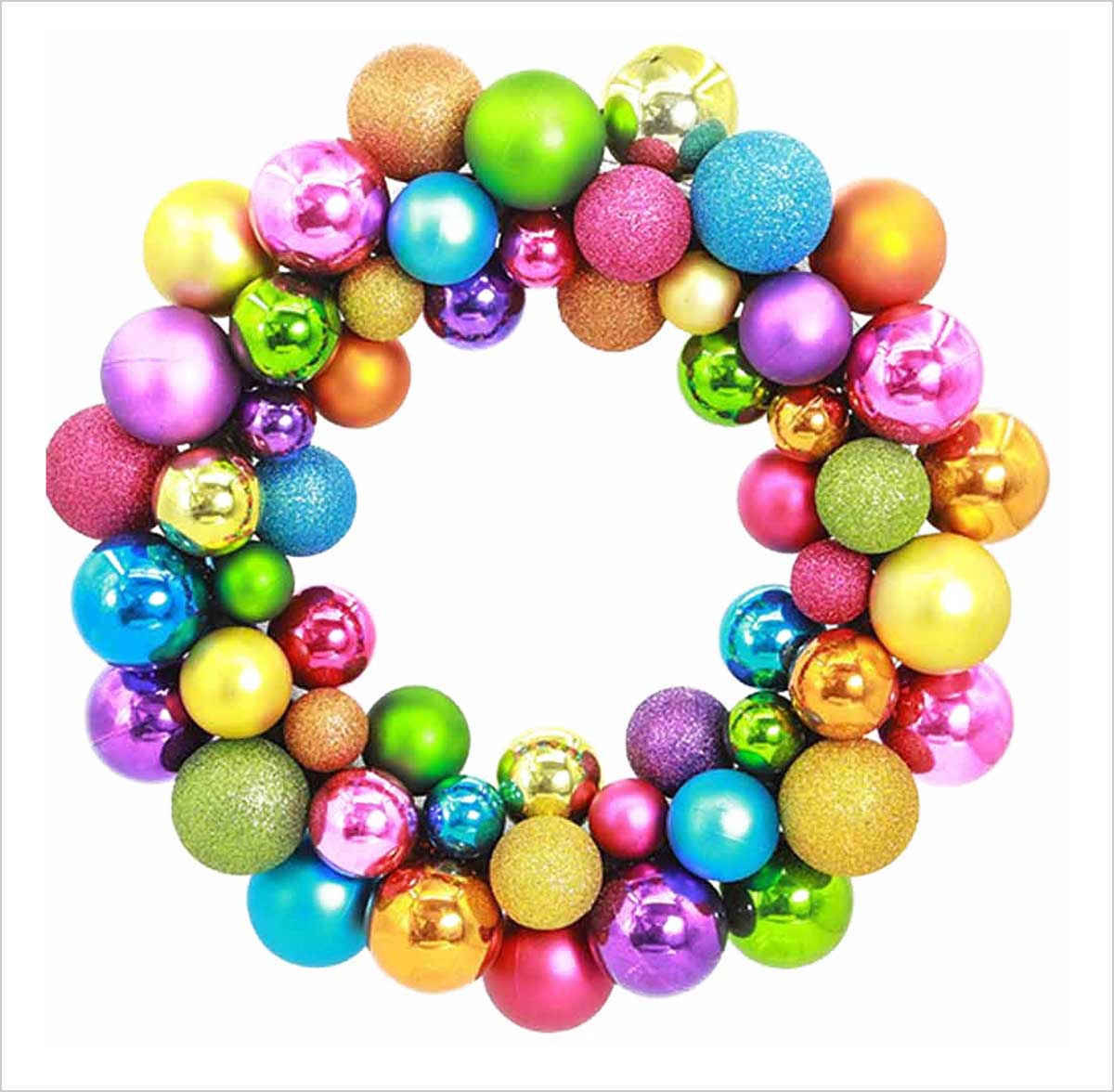 25. Christmas Wreath Decorating Garland for Wall Door Artificial Christmas Wreath with LED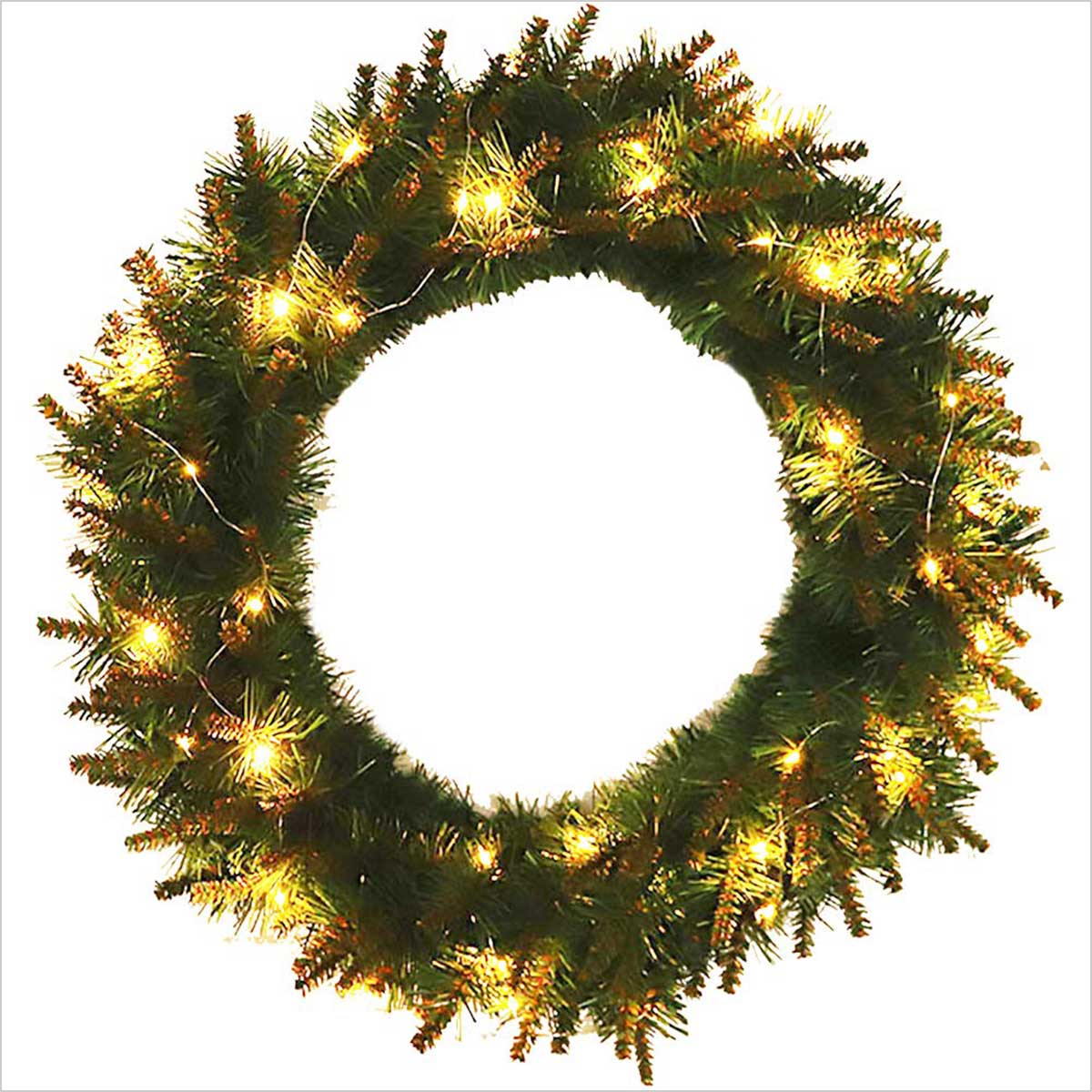 26. Artificial Maple Leaf and Berry Ornaments Wreath for Christmas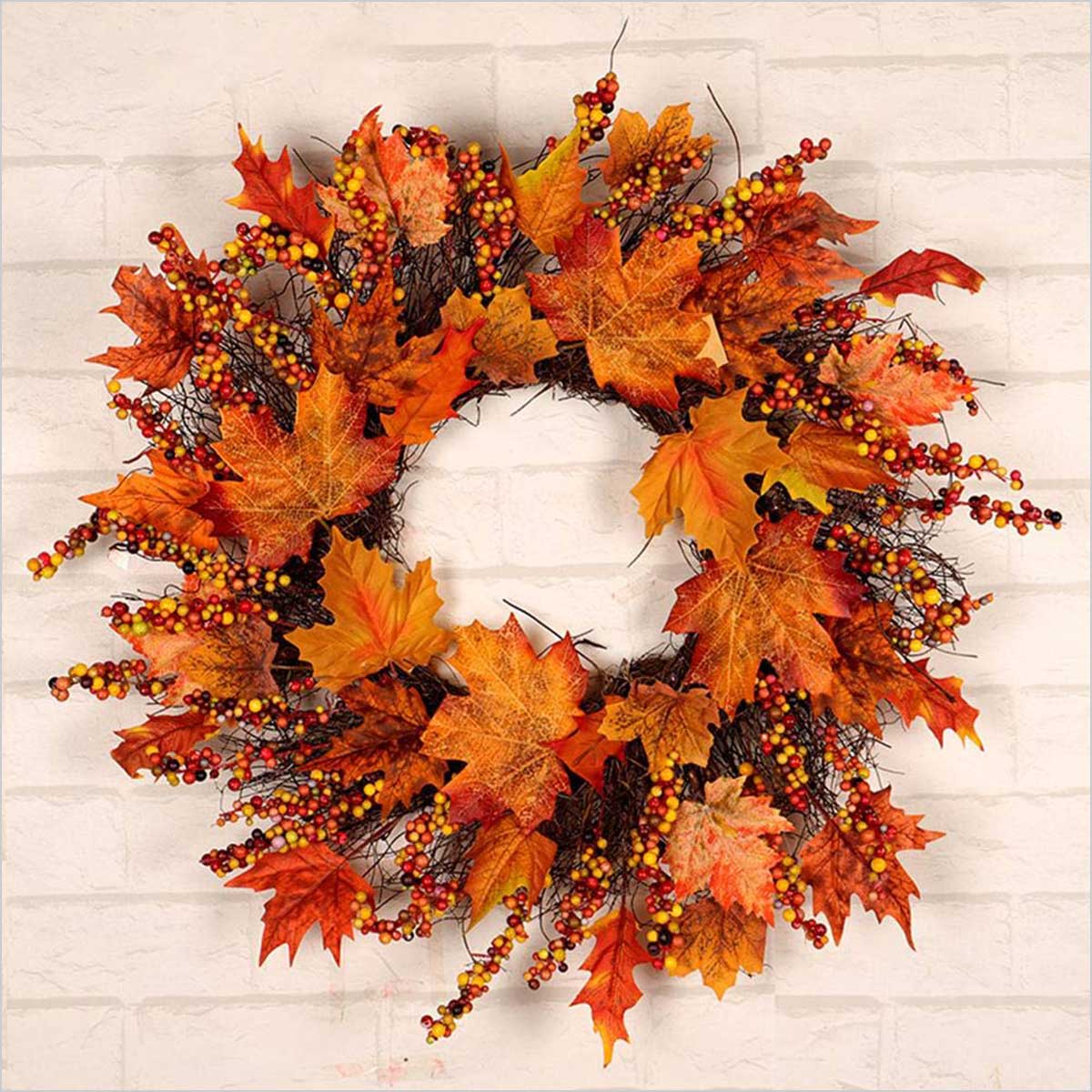 27. Northlight Pre-Lit Flocked Pink Artificial Christmas Wreath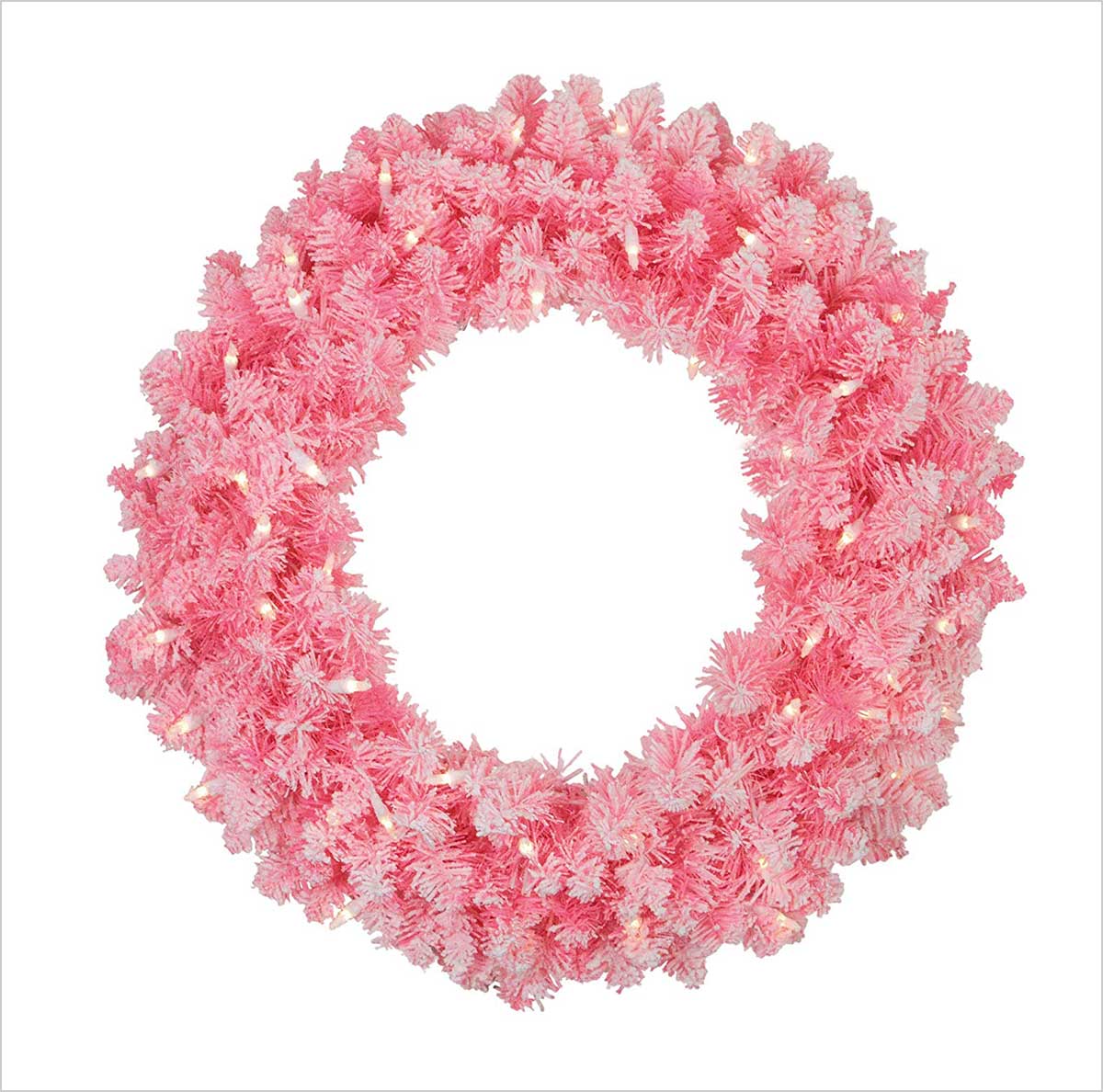 28. Collections Etc Vintage Red Pickup Truck Wreath with Checkered Bow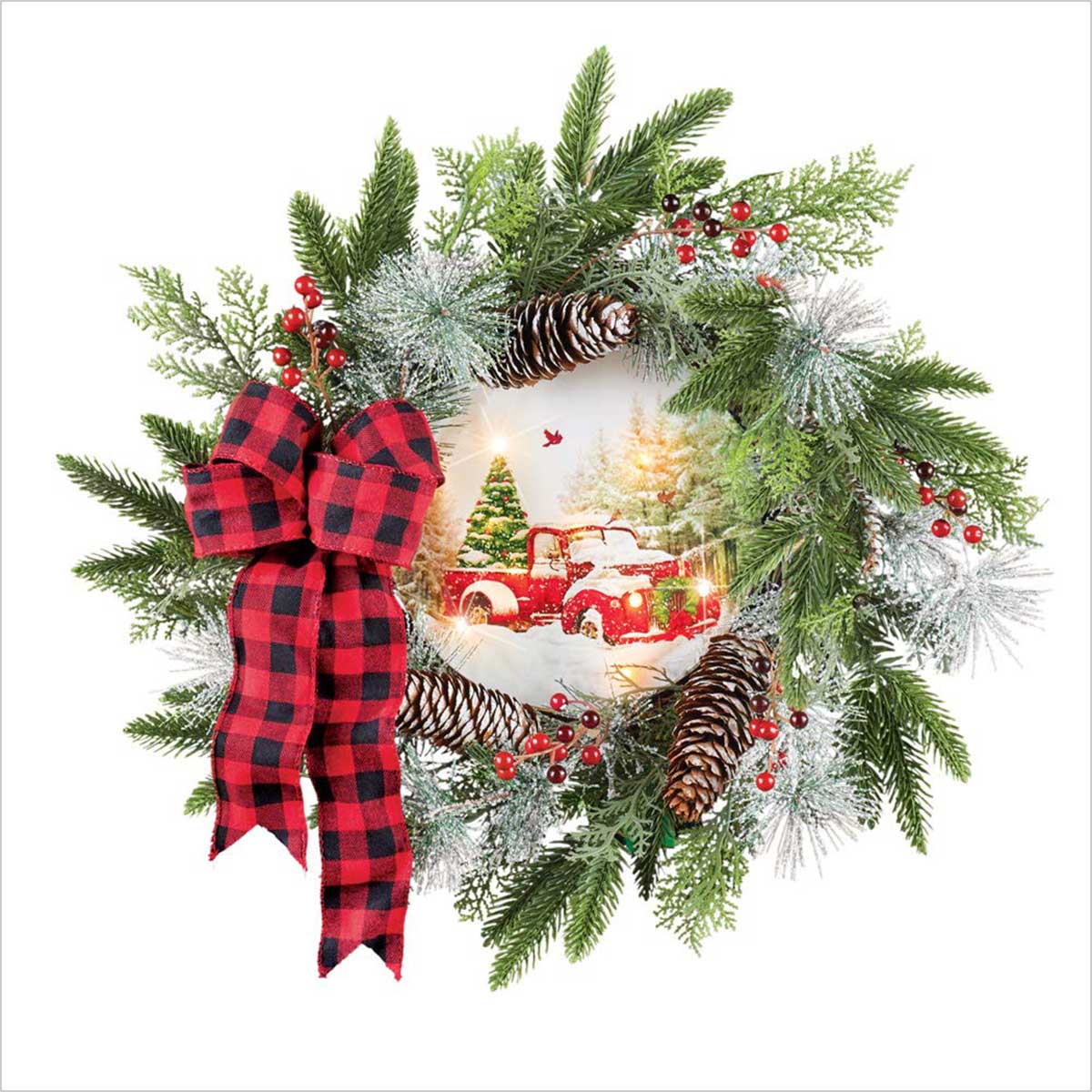 29. Christmas Decoration Wreath Rattan Pendant with Reindeer Snowman Santa Claus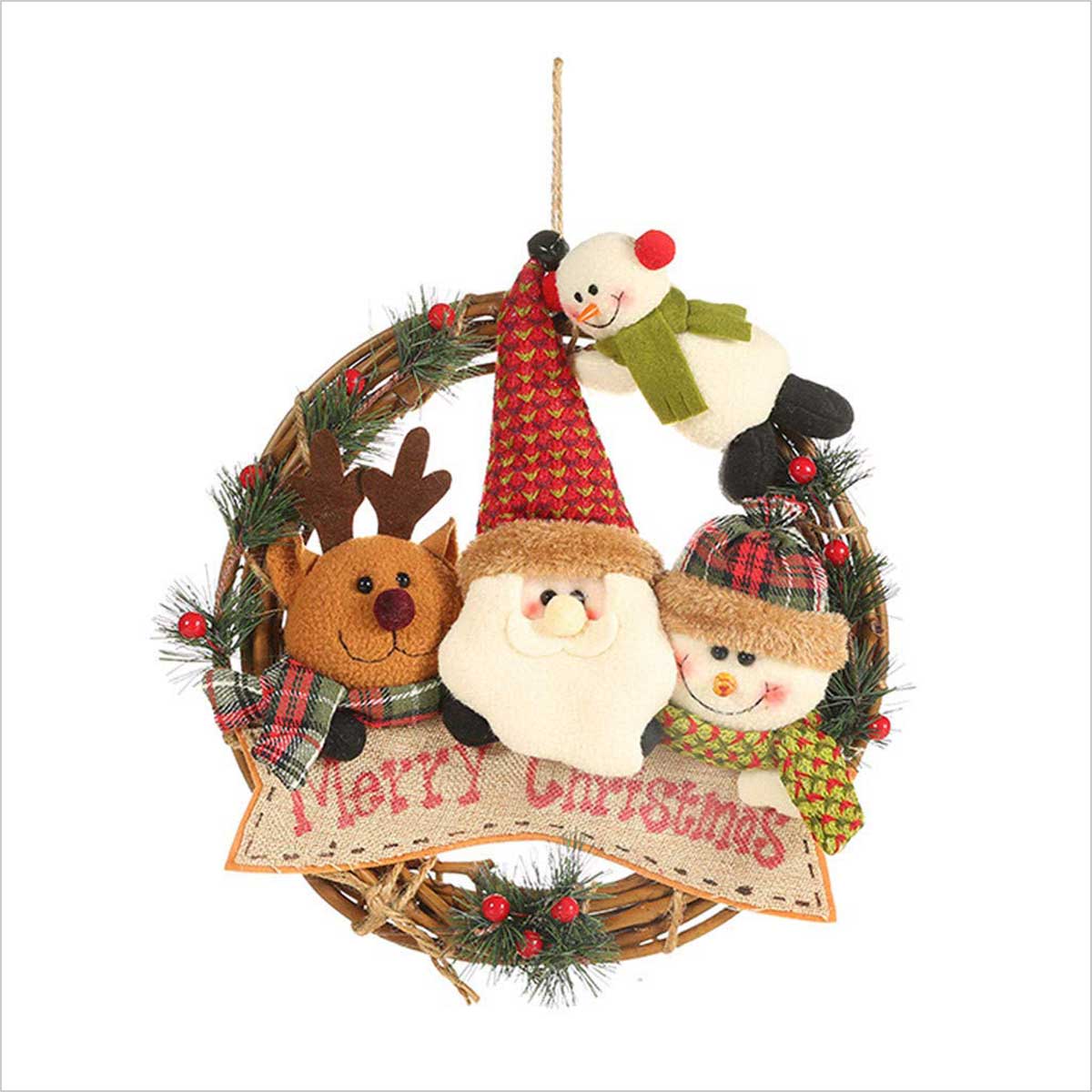 30. Home Accents Holiday Artificial Christmas Wreath 48 Inches Unlit Red Poinsettias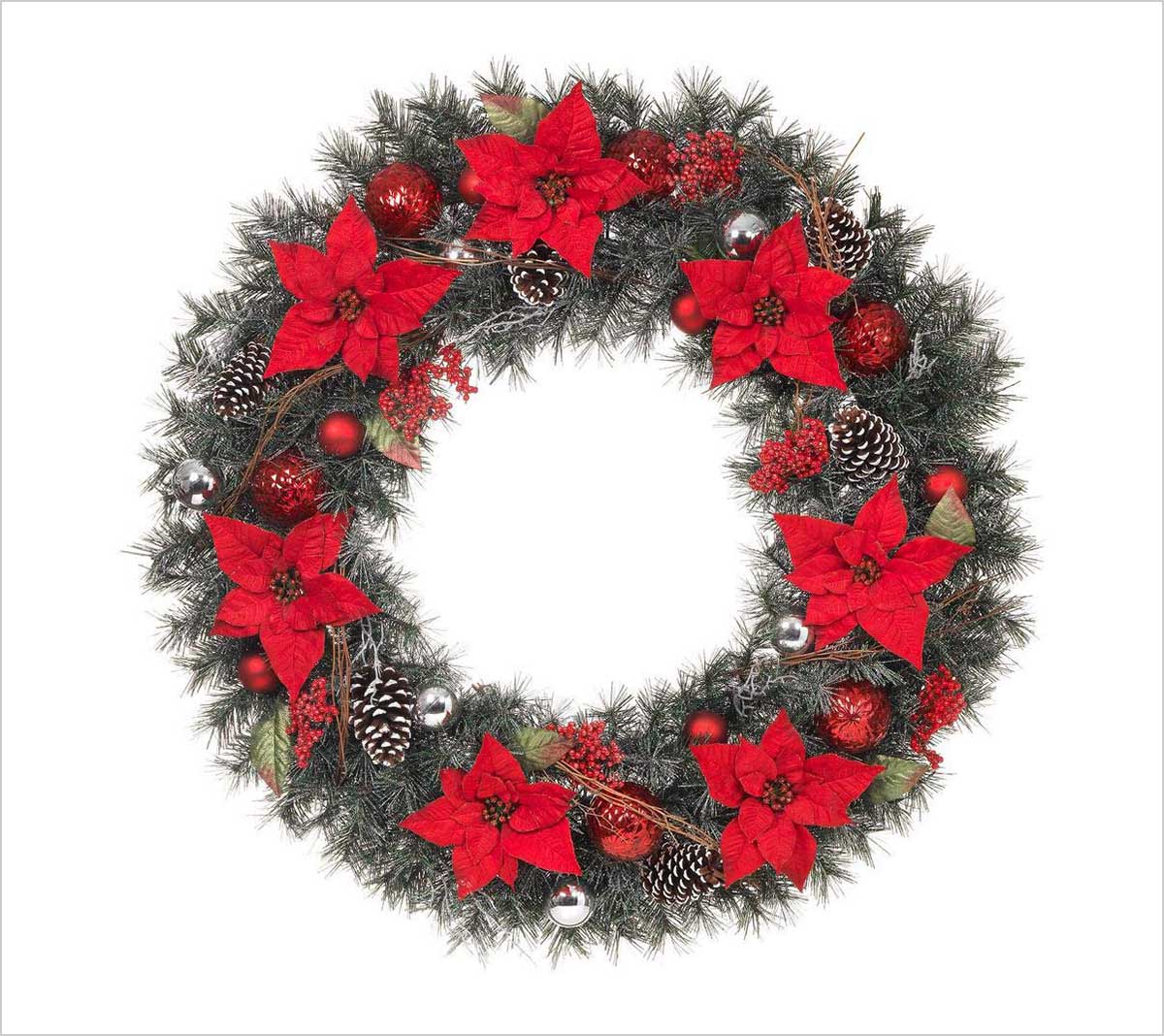 31. Year Round Boxwood and Eucalyptus Wreath for Fall Winter Christmas Front Door Decor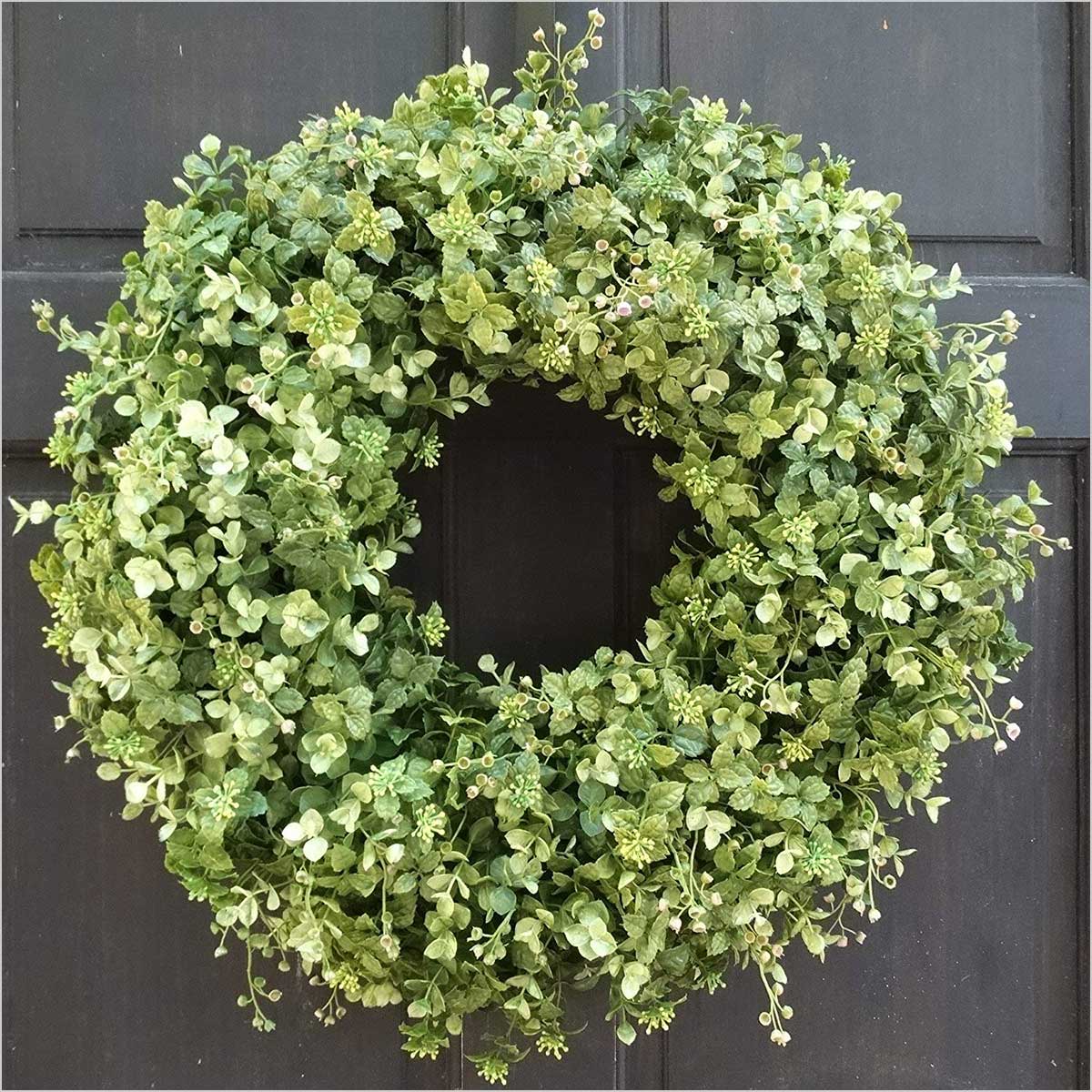 32. Wintry Pine Wreath with Berries Snowflakes Christmas Ornament Wreath for Your Front Door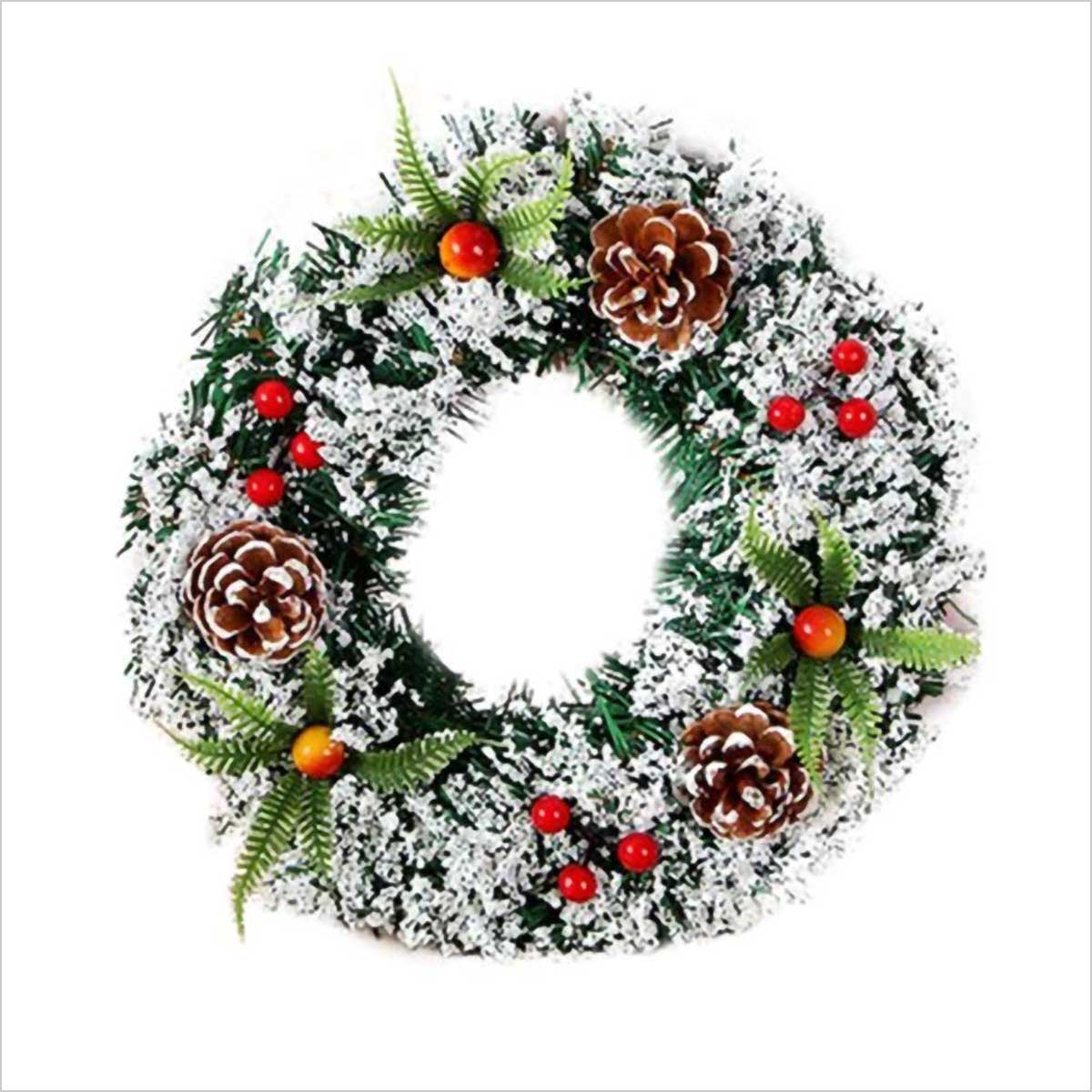 33. Wheat Harvest Fall Door Wreath Christmas Door Window Wall Garland Ornament with Bow-Knot Xmas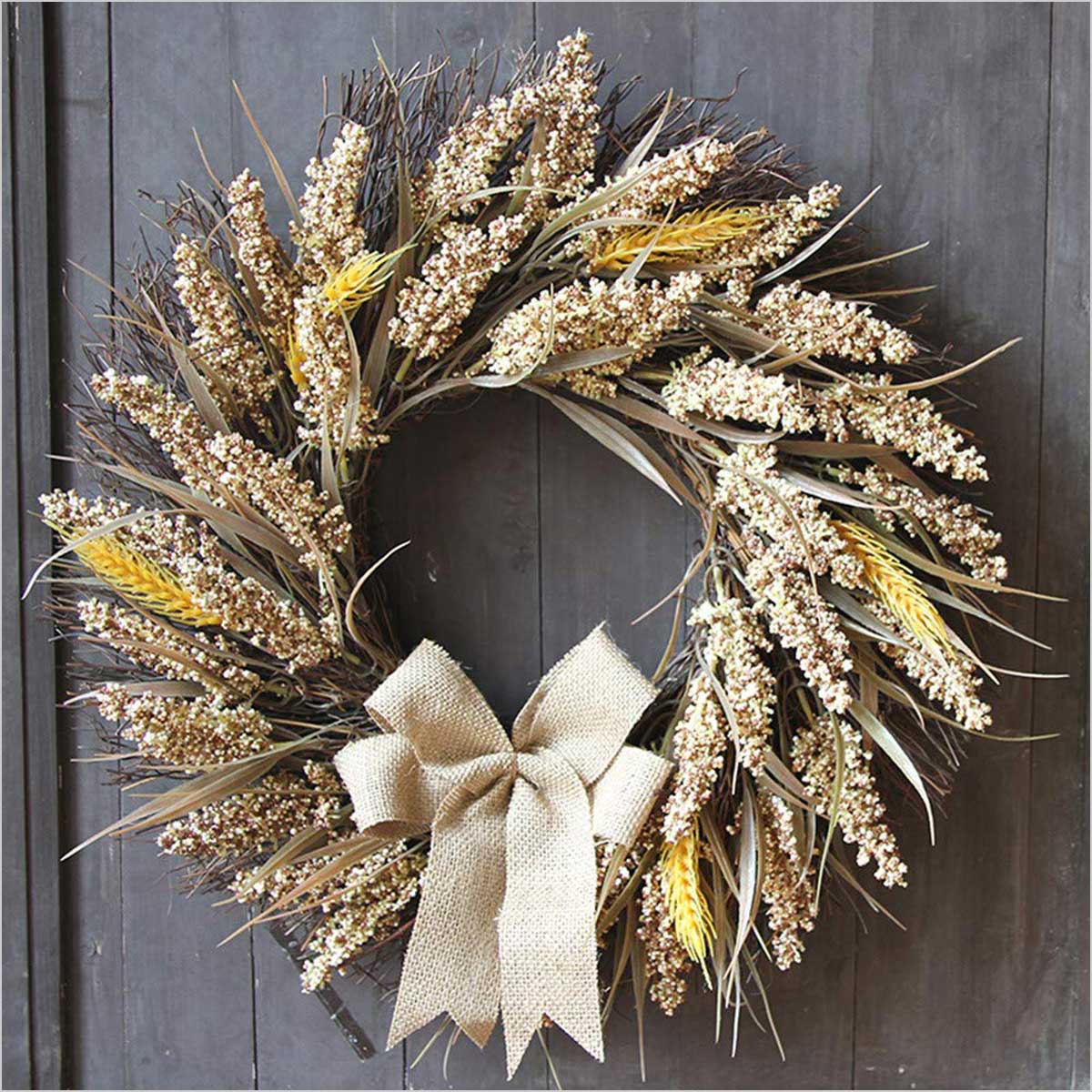 34. Pink & Purple Christmas Wreath, Bow, Window Decoration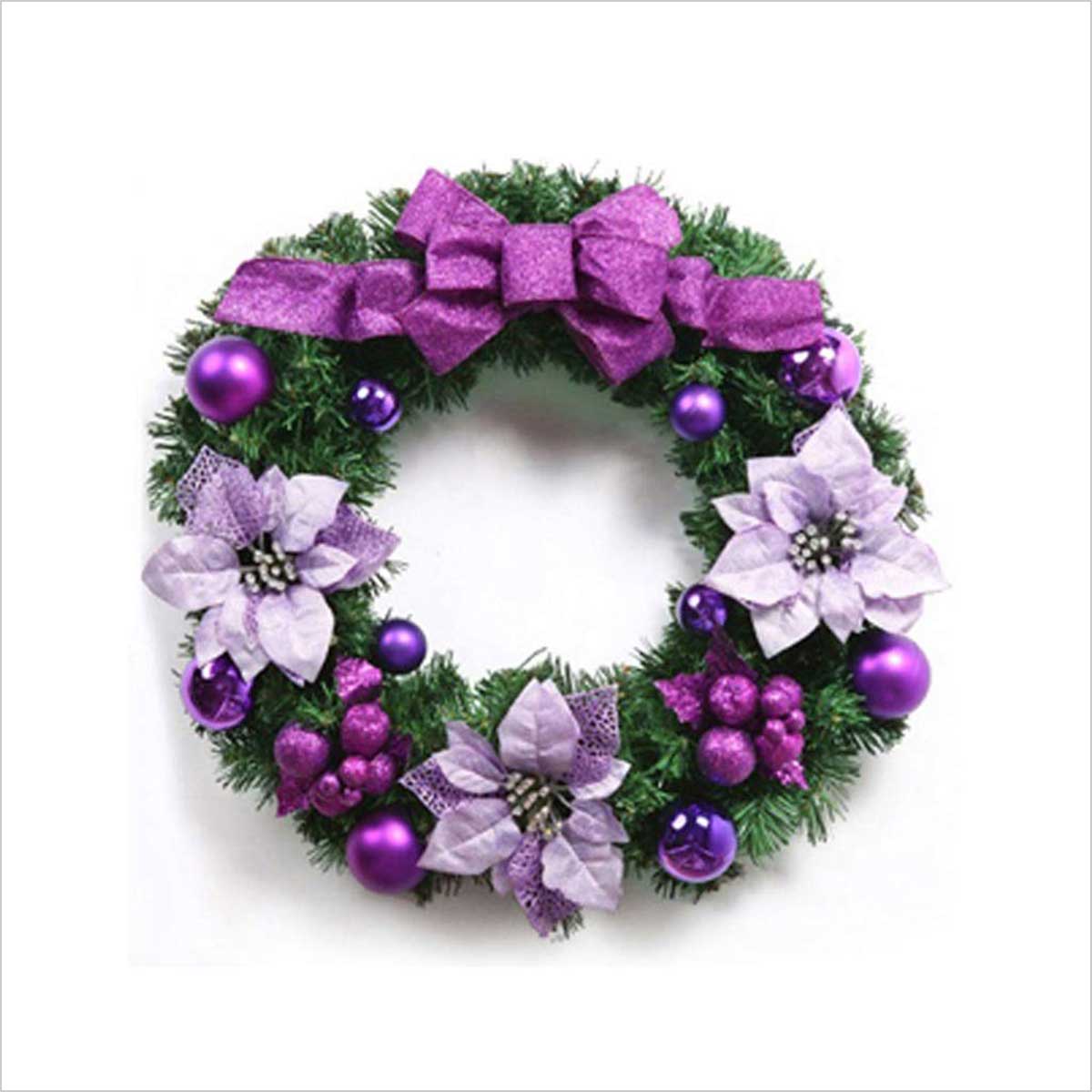 35. US Christmas Wreath, Wintry Pine Wreath, Front Door Wreath with Pine Cone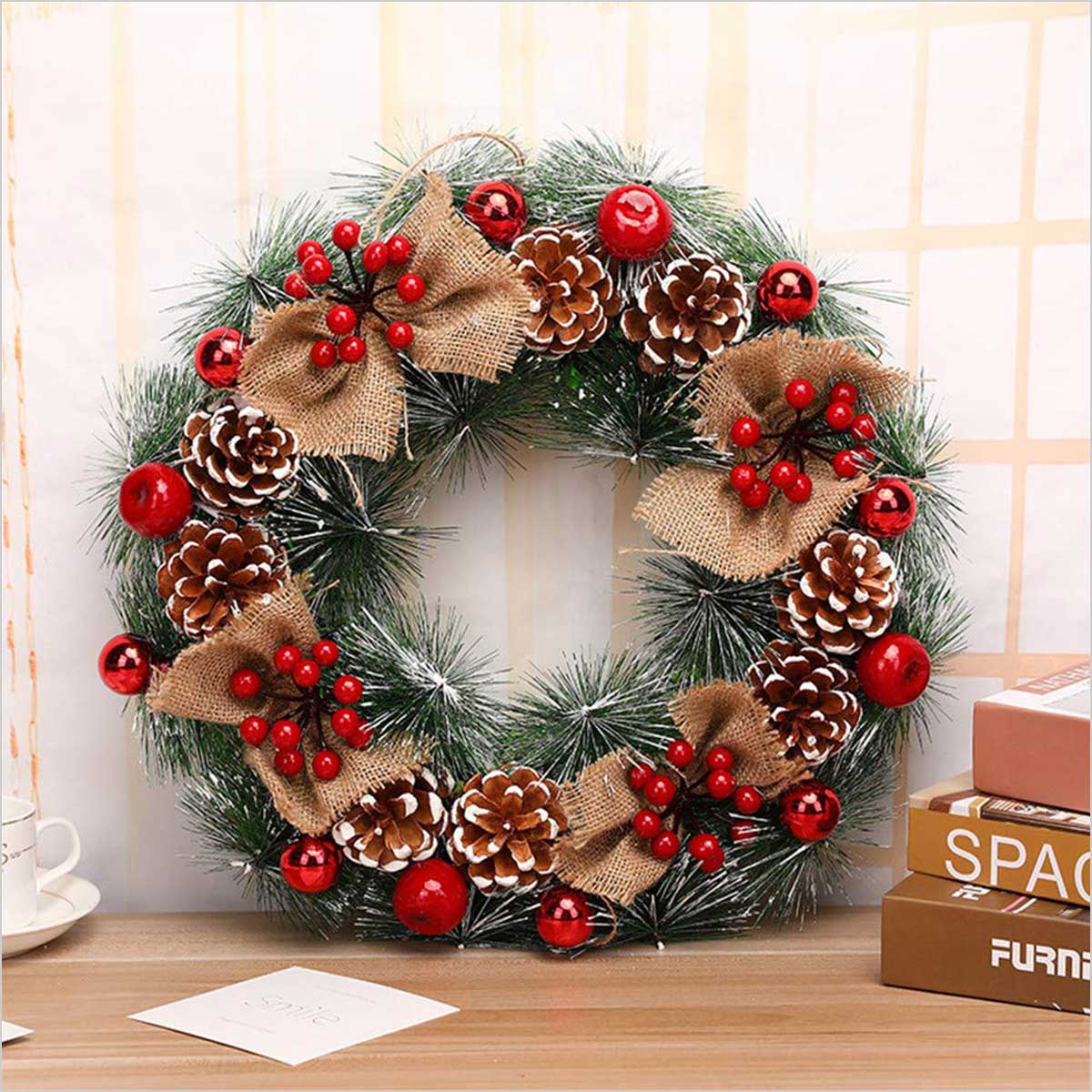 36. Thomas Kinkade A Holiday Homecoming Musical Christmas Village Wreath Lights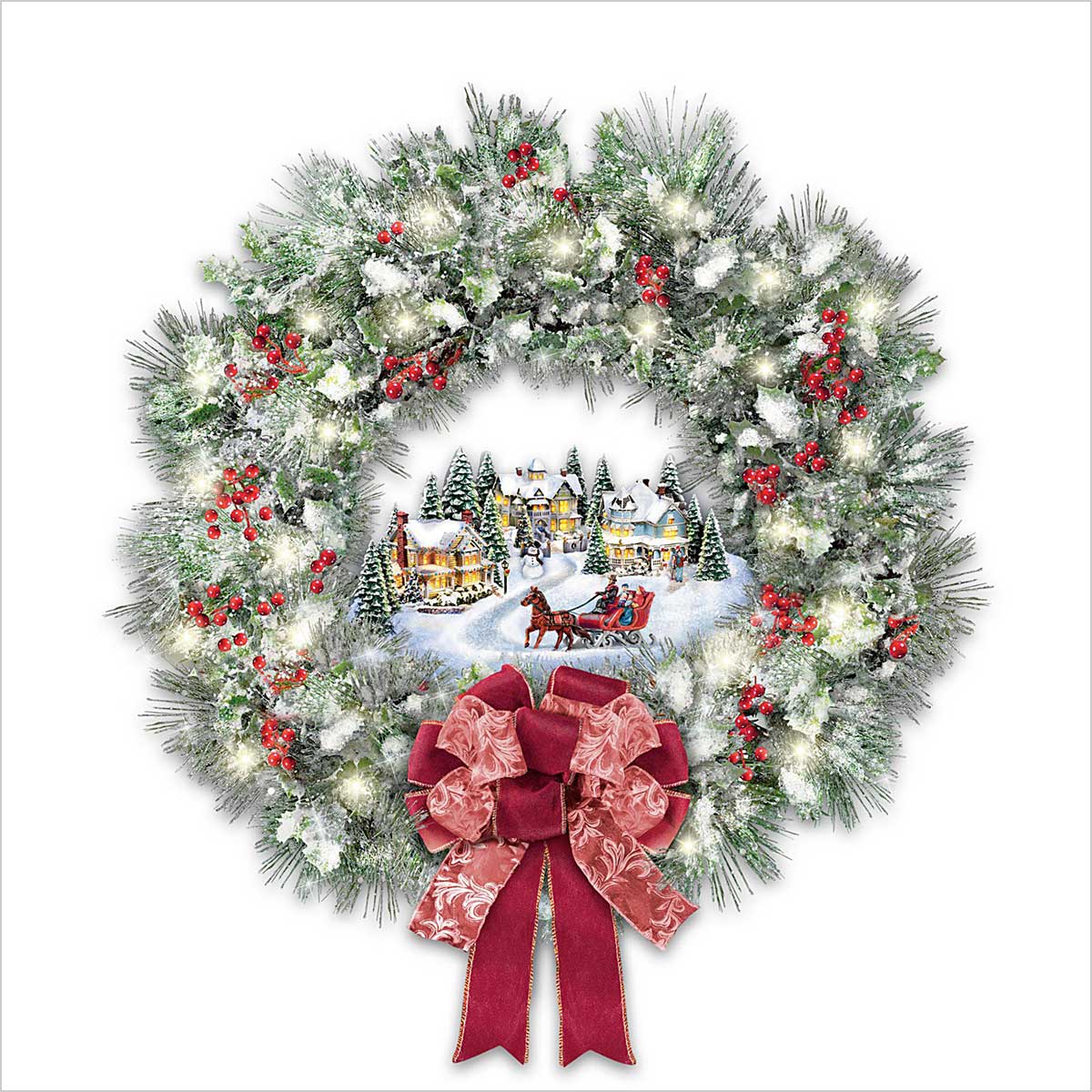 37. Flocked Frosted Pine Christmas Holiday Winter Wreath Red Velvet Bows
38. Christmas Memorial-Wreath Decoration – Holiday Colored Ornaments with Hand-Tied Red Burlap Bow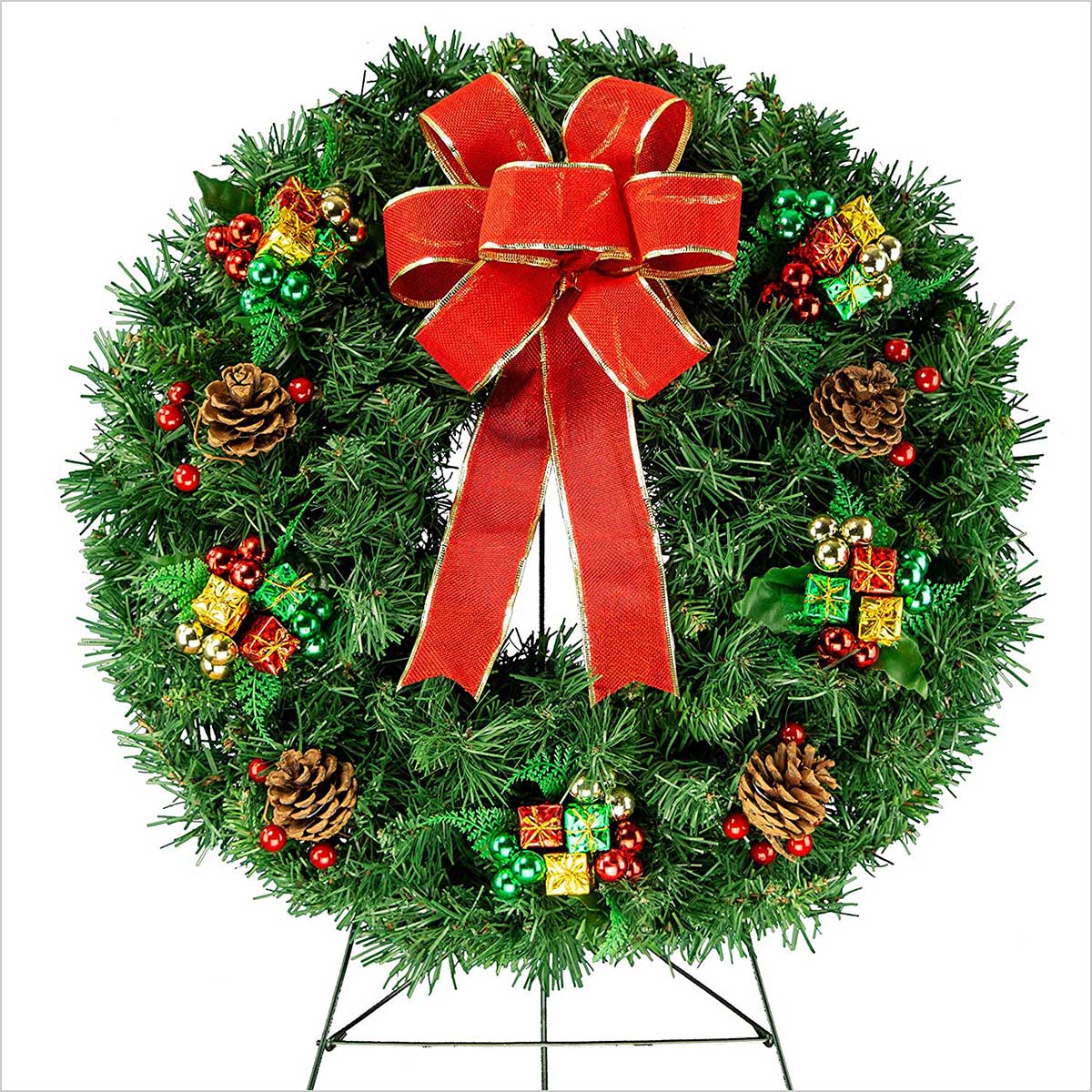 39. Pink Christmas Wreath for Home Decorations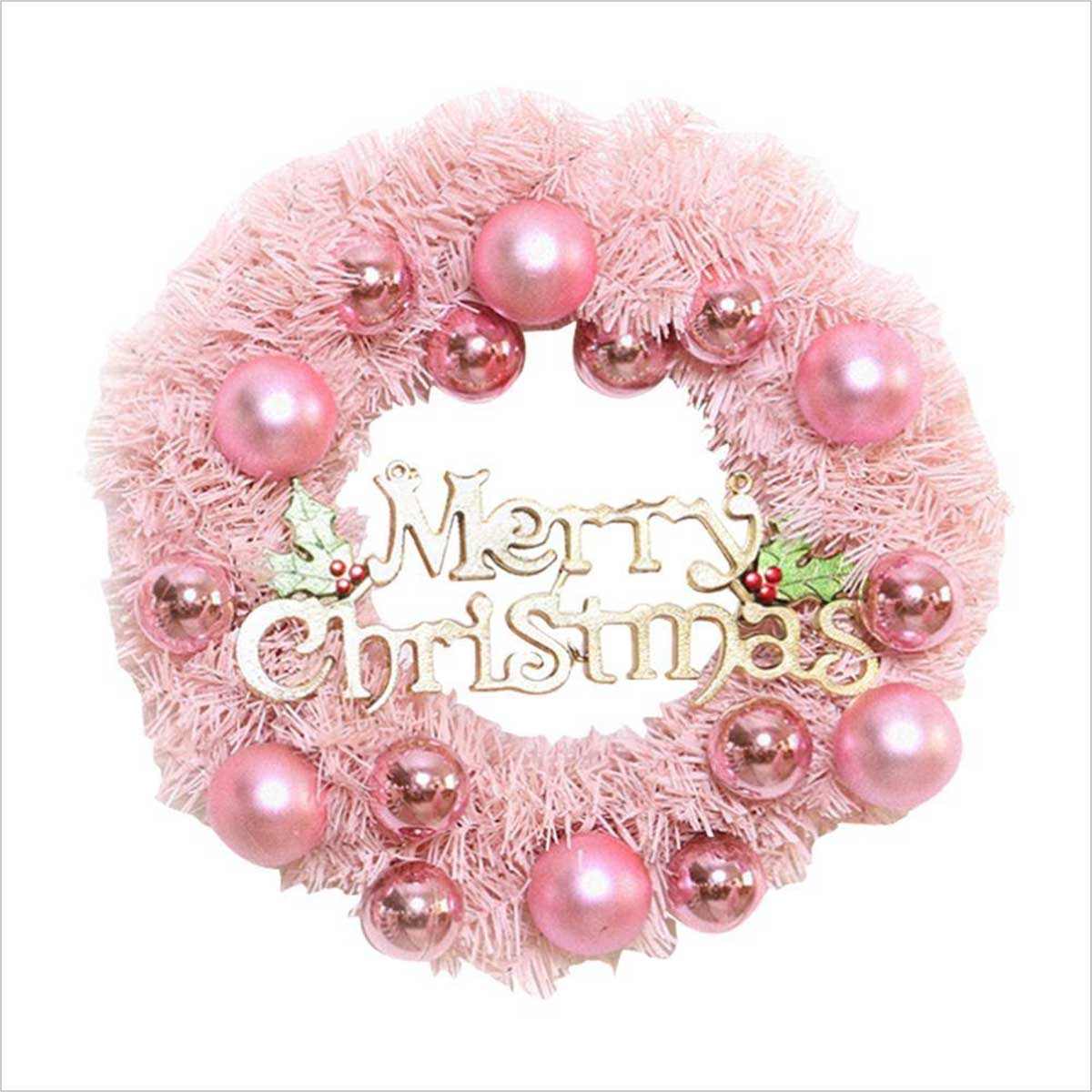 40. Flora Decor Festive Red Berry Wreath 22 Inches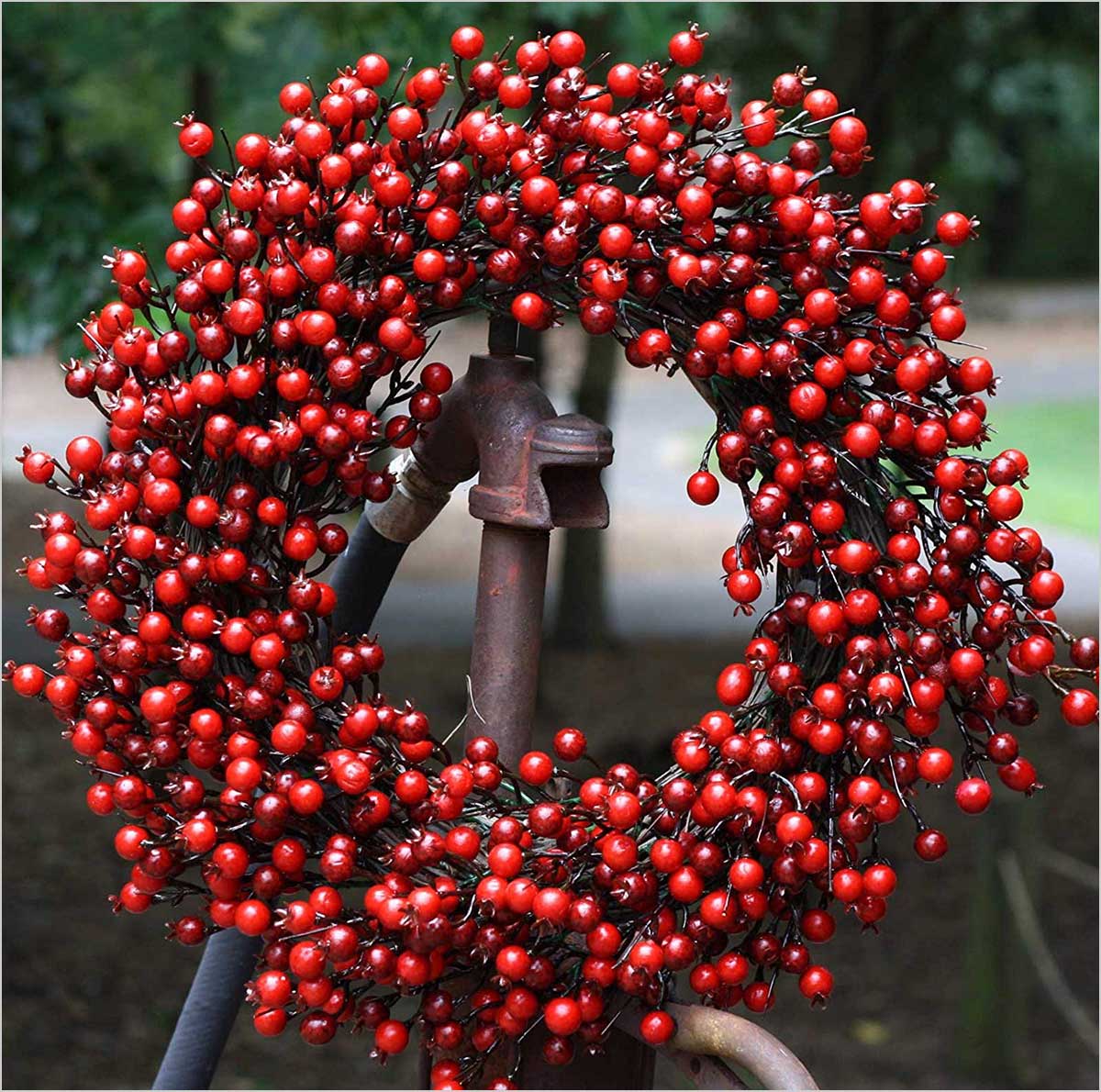 41. 15 Inch Christmas Wreath Decor with Pine Cones and Red Berries for Front Door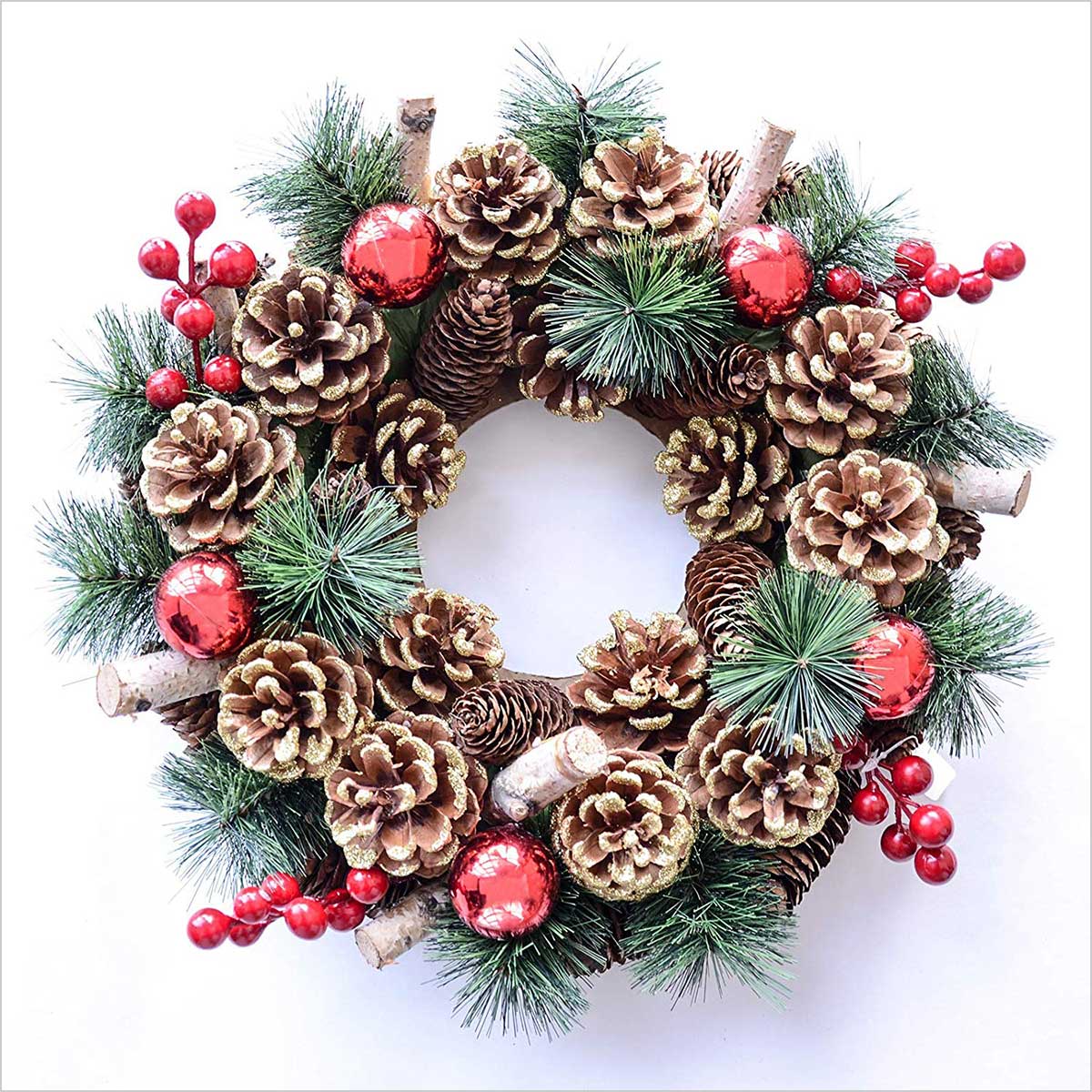 42. Buffalo Check Wreath Christmas Wreath Front Door Wreath Home Decor Wreath Black and White Plaid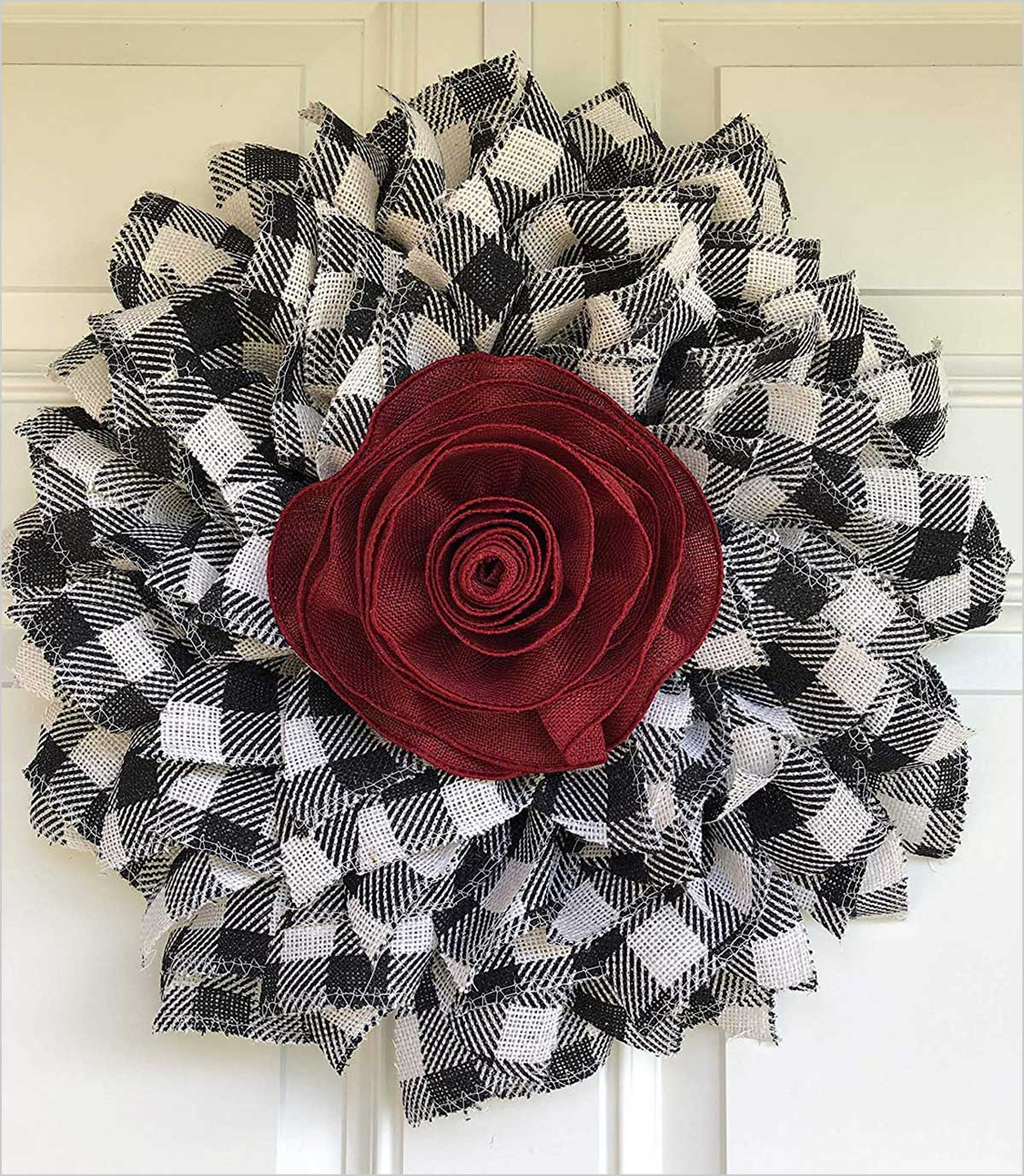 43. Jingle Bells Christmas Wreath Handmade Deco Mesh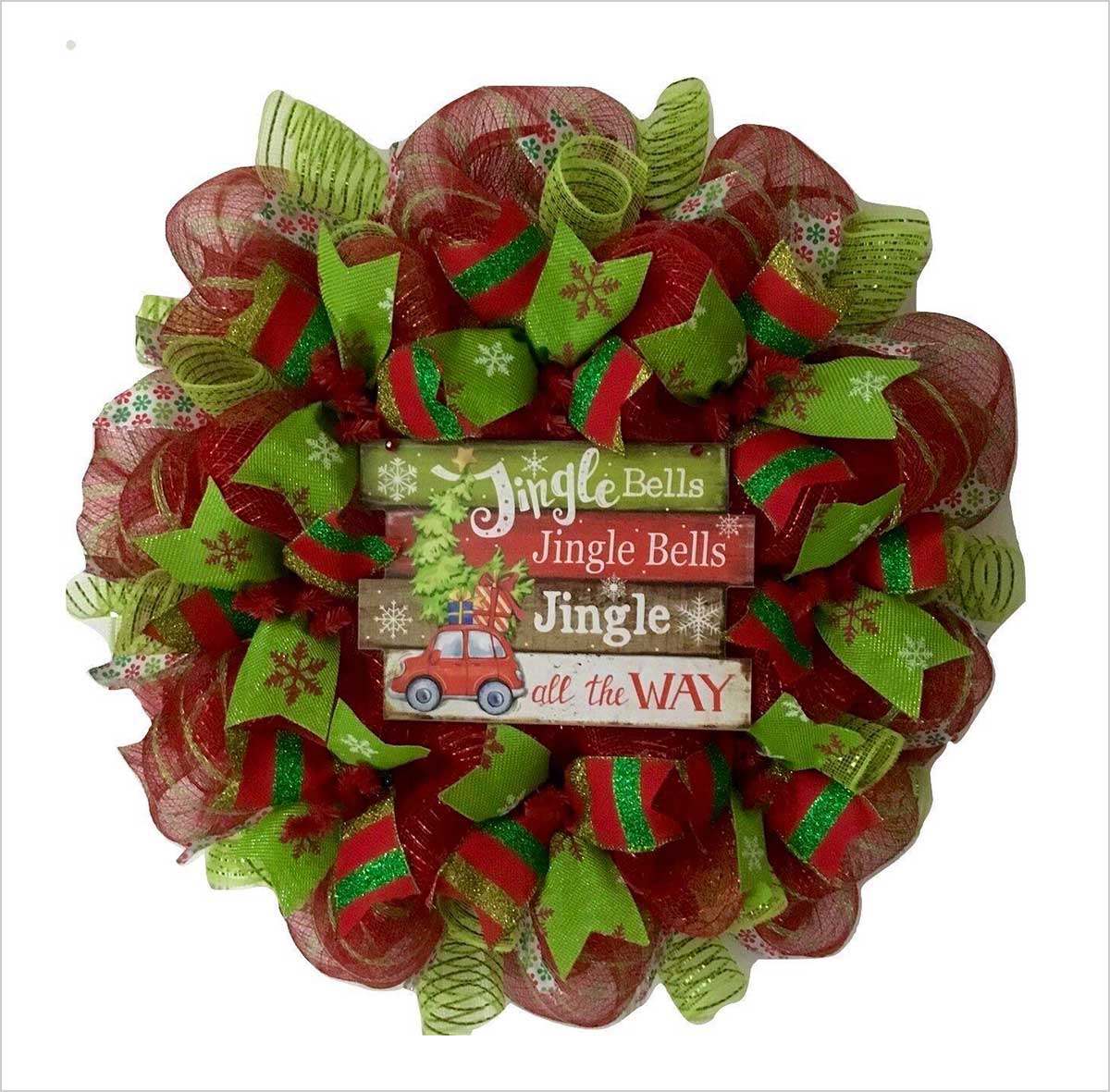 44. Sweet Spring Water Beautiful Battery Operated LED Light Christmas Decorative Wreath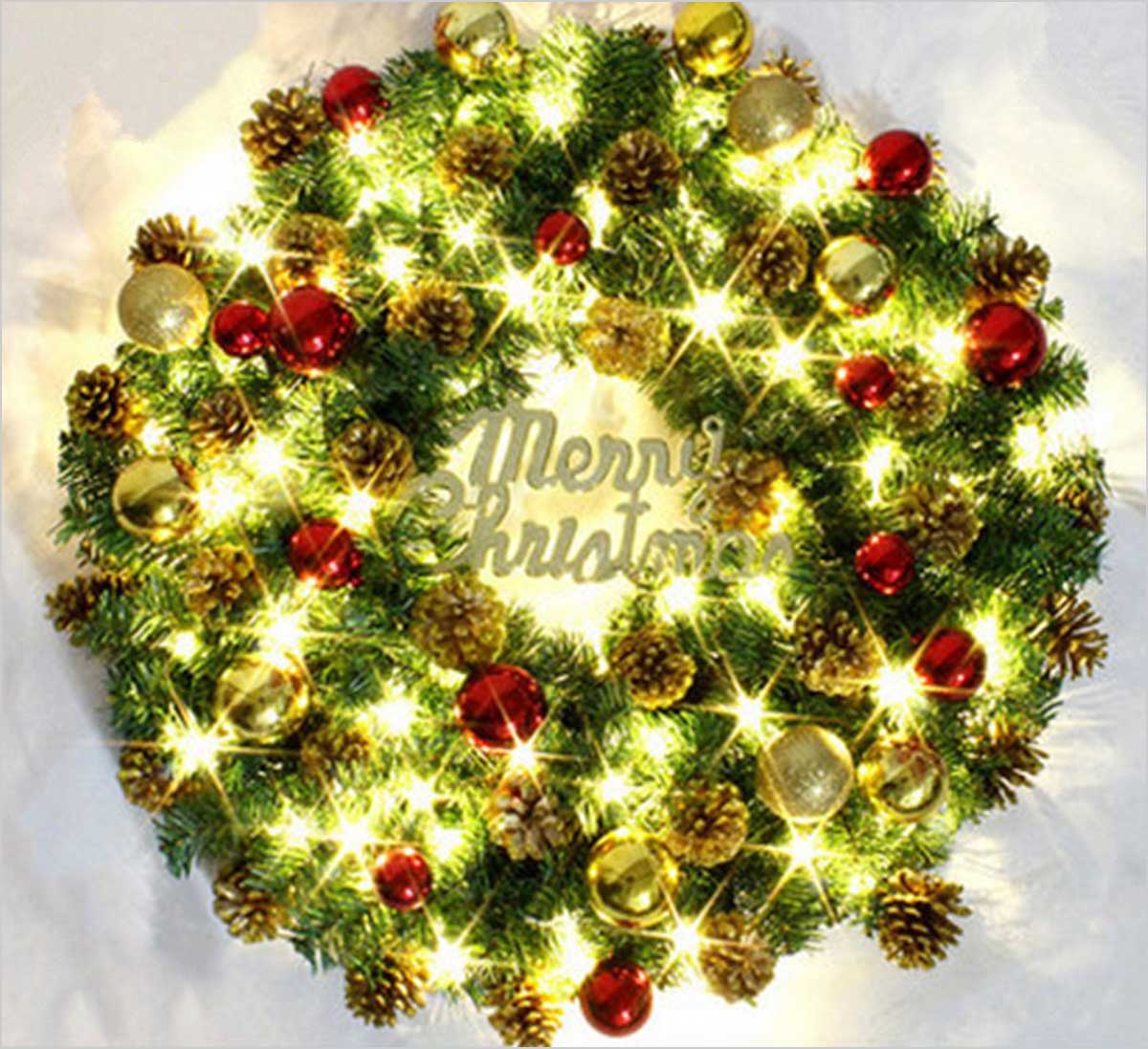 45. 
Front Door Wreaths for Christmas Decoration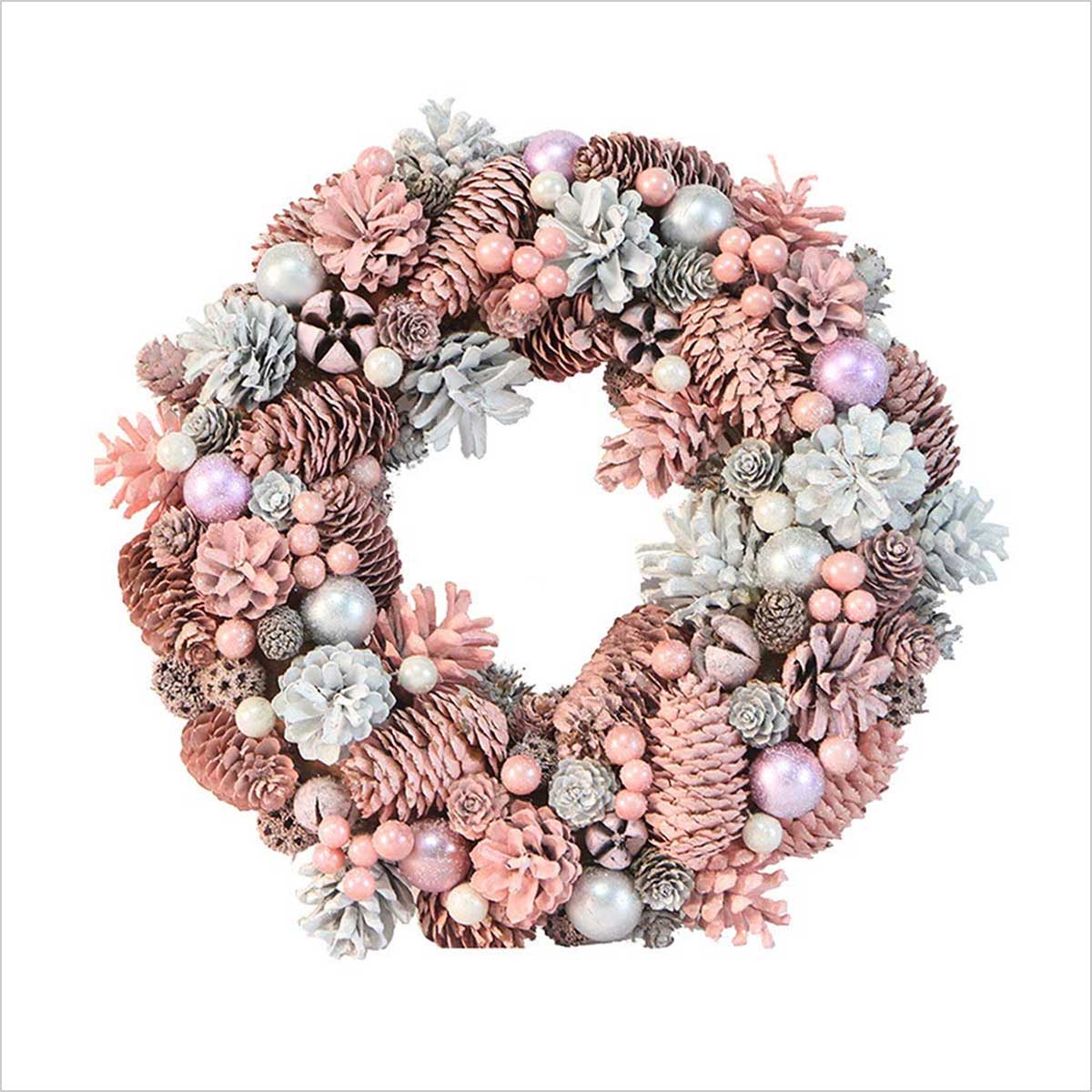 46. Artificial Christmas Wreath Spruce Wintry Pine with Decorative Cones Red Berries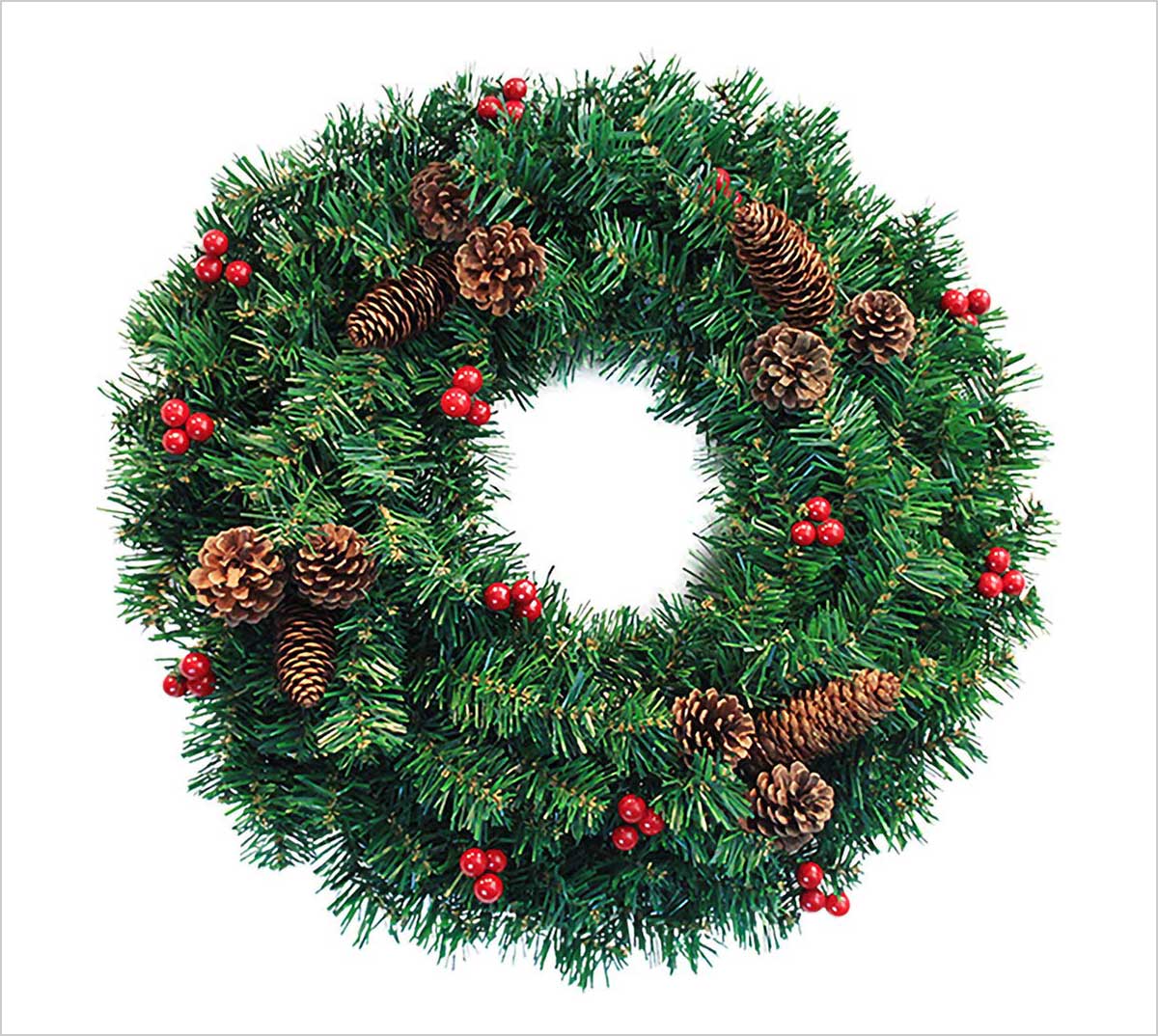 47. Pre-Lit Glittery Bristle Pine Artificial Christmas Wreath – 30-Inch, LED Infinity Lights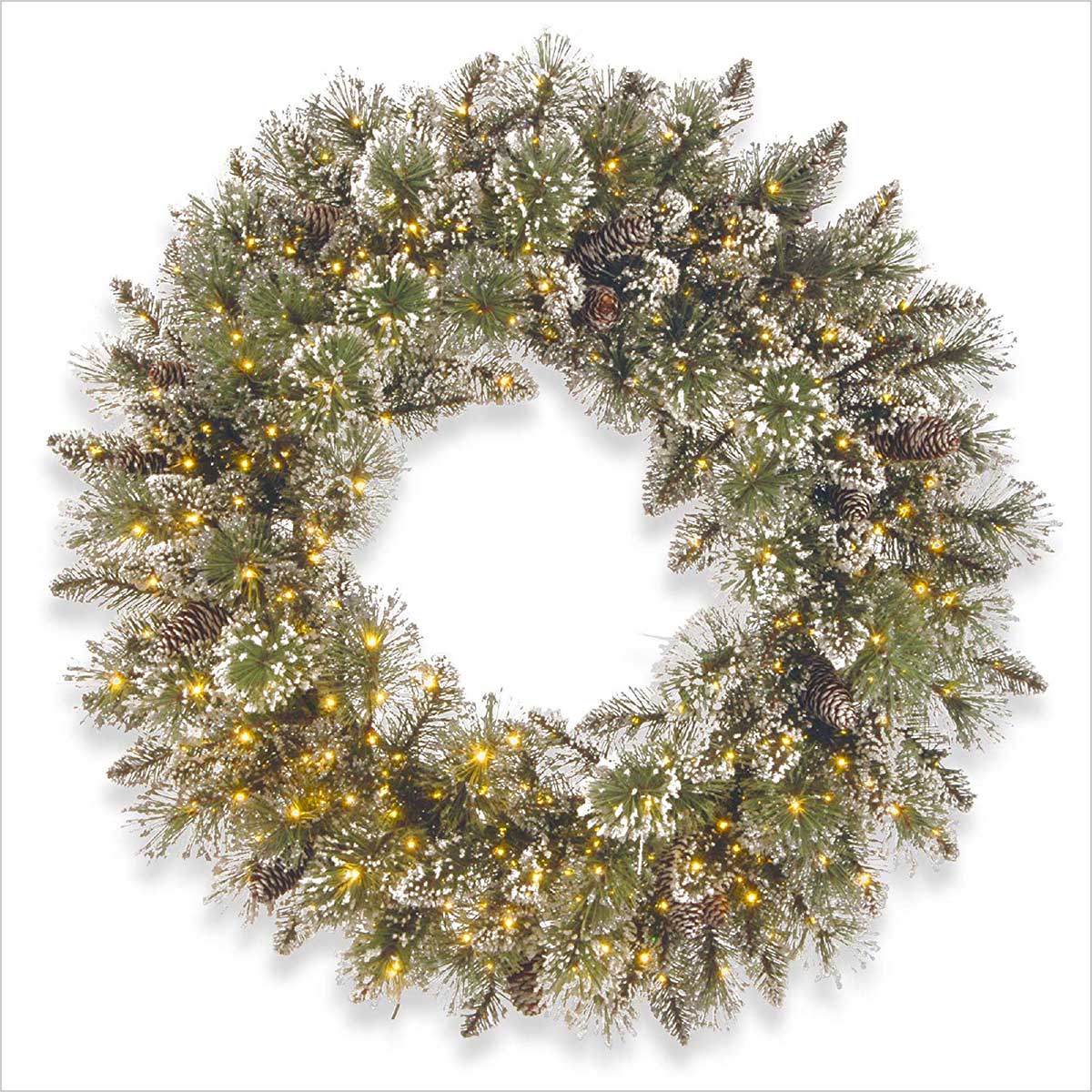 48. Christmas Wreath – Mesh Wreath – Holiday Decor – Burlap – Buffalo Check

49. Christmas Wreath – Burlap Wreath – Holiday Decor – Merry Christmas Y'all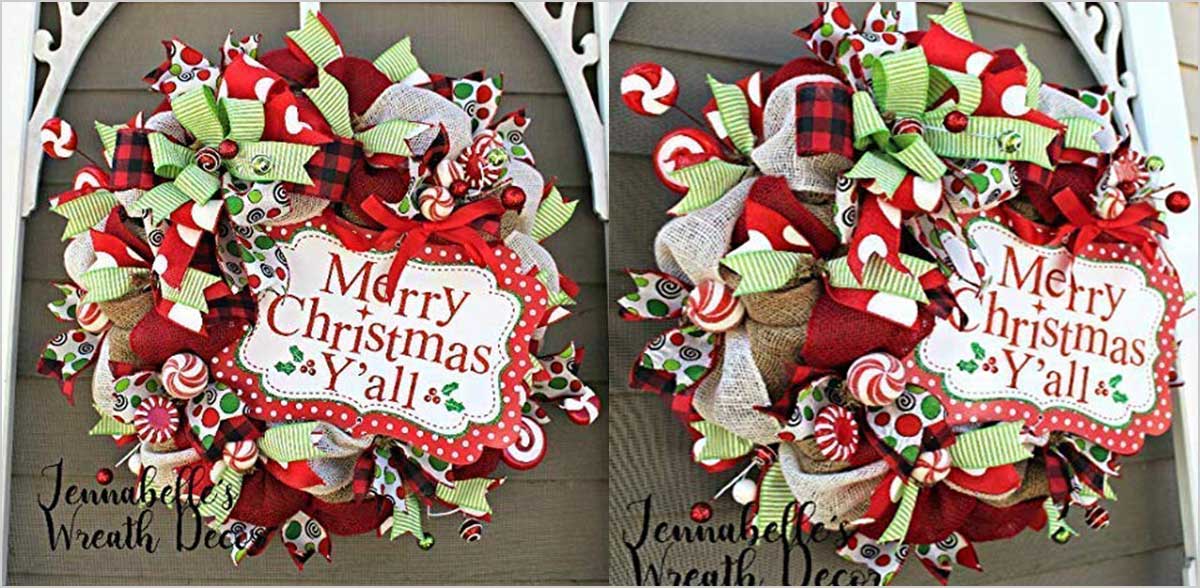 50. Traditional Red White Christmas Wreath for Front Door with Ball Ornaments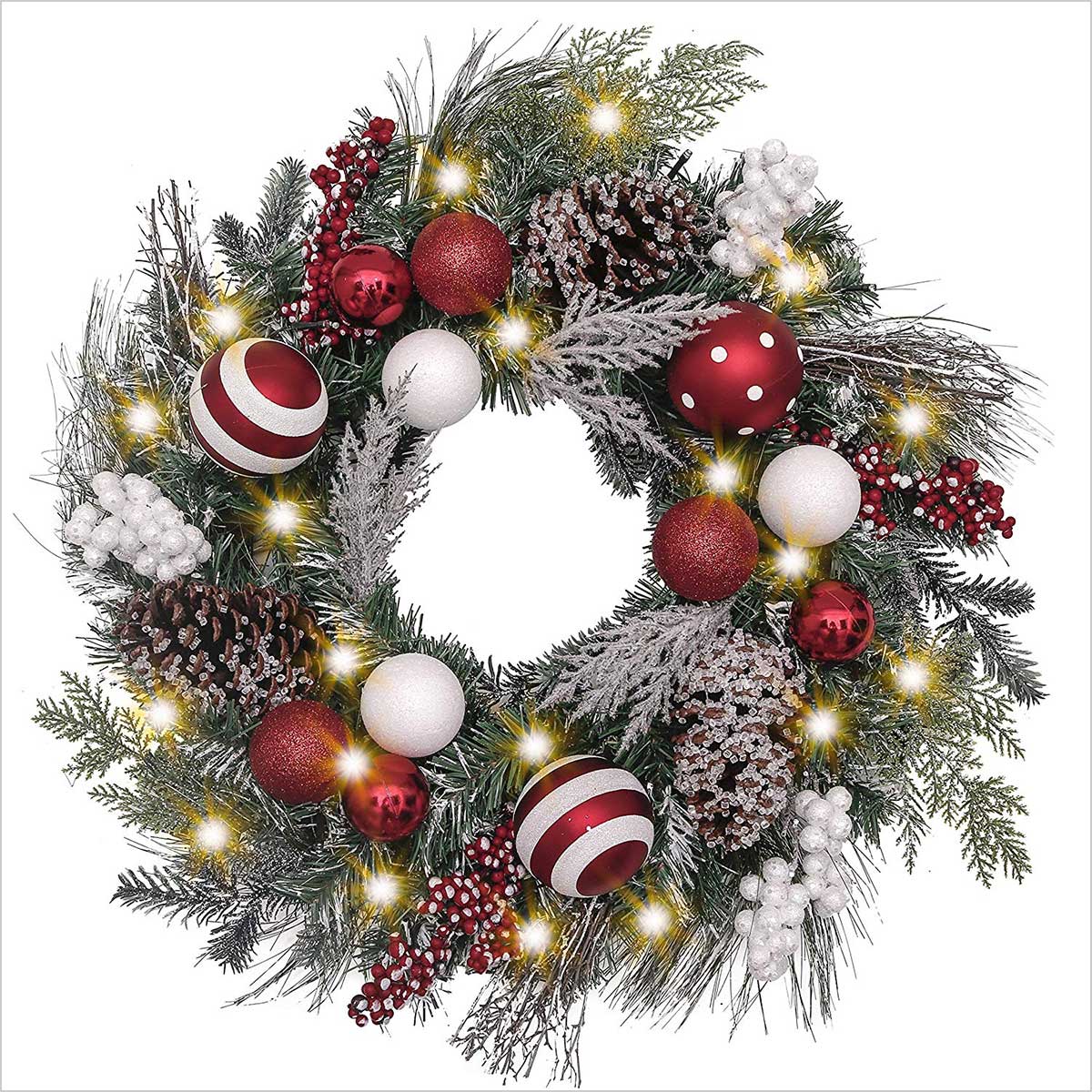 51. Red Berries Pinecone Natural Wood Handcrafted Fall Winter Festival Christmas Wreath for Decorative Front Door

Recommended: