New year, new calendar? Yes, yes and yes, right? That is literally why we are here with a free table desk calendar mock-up PSD file which will let you create pretty table calendars for the next year which you can place on your desk at the office, gift it to someone you care for (and indirectly want them to think of you whenever they look at the calendar) and can also impress your clients with amazing calendar designs for their corporate gifts and for everyday use stationery items.
We know that almost everyone around the globe must have started working on 2020's calendar designs but the best part about our table desk calendar mockup PSD file is that it is absolutely free to download and super easy to edit. In fact, you will love working on the project because of how smooth it will be.
Recommended: 2020 Calendar Design Ideas
But before we share the design tips on how to create the best table desk calendar designs, we want to talk to all of you – one of the main reasons why we chose this topic is to let you all know that we understand anything and everything that goes in the work life of a creative team member or a graphic designer. We know that every person in the team thinks of amazing ideas to work on whenever they are assigned a task but most of the ideas get rejected only because the brand managers are not ready to take a risk – that risk could be about anything for example; about changing the communication to challenge stereotypes or to work on the stuff to please the audience.
Only those companies, brands and people survive who have this in them to take a bold step in order to keep moving forward because if you have decided this (intentionally or unintentionally) that you will stay where you are then you won't get anything out of it after some years – no matter how much you plan to spend on the advertisements and no matter how big you are. If you want to survive and stay ahead in the game then you must do whatever it takes to be there as a brand / organization that has it all.
Recommended: Buy Beautiful 2020 Calendars
Whenever your creative / marketing and advertising agencies sit together and devise a plan, always acknowledge the fact that they are working on the concepts to make your audience love your brand and to take you to that place where you will be seen as the game changer and nothing else as there are millions of brands in the world and everyone is trying to do their best but the ones that are daring enough to set trends are the ones who will be here for a very long period of time.
So, from today onwards promise yourself that you will take the risks and will also challenge your inner selves to do more and better than you are already doing. Allow your team members to explore themselves as well and create things that they think are going to make a noise. That being said, let's now have a look at our table desk calendar mockup PSD and how it will help you in creating pretty and attractive calendars.
Recommended: Desk & Wall Calendar Mockups
One of the main reasons why most people don't like to make notes on the calendars is that they are not beautiful enough to make you grab them and circle a date and also write why you are circling that very day. To make you all move some more in the coming year, we had to come up with something that is not only interesting to be kept on a desk but the boxes will also let you mark a date, put a sticky note on it and write about your important meetings with your friends, colleagues, clients etc.
We have kept the colors very subtle and general so that you can keep it anywhere you want it to be without having to ask yourself if it's so not you but if you want to experiment with some trendy colors then feel free to do that. You can also change the colors of the dates and days in order to meet the requirements of your design brief.
Last but not the least, before you go present your amazing ideas to your client, make sure that you have created a very nice and impressive mockup presentation and all the ideas are placed in it systematically along with the self explanatory concepts and rationale. Trust us, that is going to change the tone of your review meeting and it will be a lot easier for you and your team to discuss the relevant topics.
And don't forget to share our blog and free table desk calendar mockup PSD with your friends and favorite colleagues too!
Free Table Desk Calendar Mockup PSD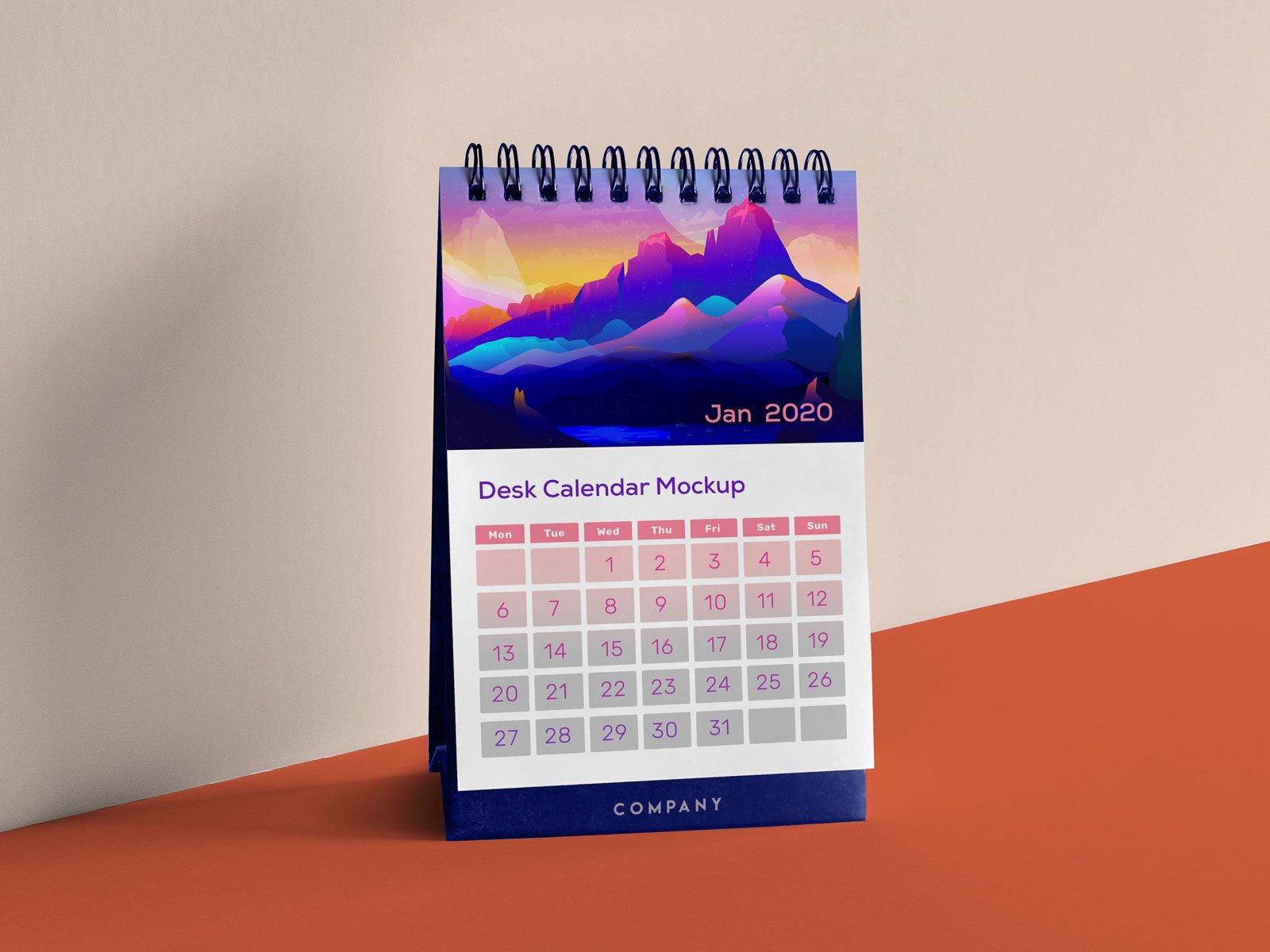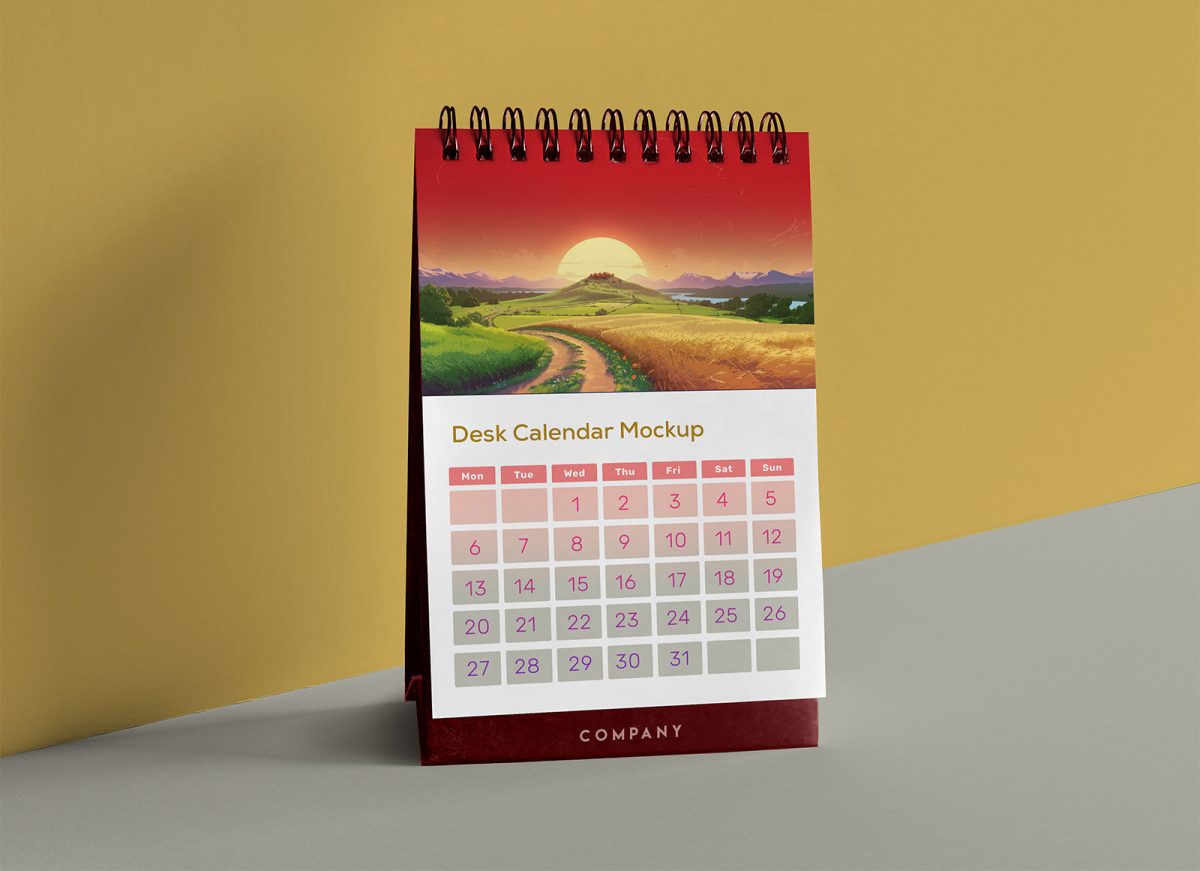 Available Format: Photoshop PSD
License: Free for personal and commercial usage
File Format: WinRAR
Mockup Resolution: 4000 x 3000 px
Artwork Resolution: 1350 x 2000 px
Note:
1. Free Desk Calendar Mockup is allowed to share online (A Must Linkback to this page)
2. Say thanks if you like or share/tweet with your friends. That means a lot to me.
3. And don't forget to follow or subscribe to receive more high quality premium freebies & awesome articles only.
Download Desk Calendar Mockup
Recommended: