Out of all the seasons of the year, which one do you guys like the most? Our favorite season is winter and the warmth and coziness that we get to experience during the cold chilly days & nights are the things we live for. Although, we have some friends who are hit by a sudden wave of gloominess and uneasy feelings but there are so many things that can comfort a soul that's not feeling too great. For example; coffees and hot chocolates, warm apple pies and soups, light on the mood novels and books and of course, warm clothes.
Since we are in love with winters and what they have to offer, we also very carefully design our wardrobes for the season. We make sure that we have our coats and jackets in the colors that are trending for the upcoming season and which are extremely fashionable as well. For shoes, we like to spend a good amount of money on some super comfy and trendy boots, sneakers and of course joggers.
Recommended: 50+ Best T-Shirt Mockups
We absolutely love how there is nothing but warmth and attractive colors are seen and felt too during an entire day of a random wintery day. Those who love winters can relate to whatever we are saying as they must be planning to revamp their own wardrobes as well as cosmetic companies will announce sales on their dark shaded of lipsticks and eye colors for the ones who prefer taking that route especially when it's winters.
Despite the fact that we love winters and everything else that is related to the season, we prefer not leaving our warm bed and couches – which eventually makes us reschedule our meetings and chores are delayed too (we feel a little embarrassed but those who know that it is the air that makes us lazy, they don't really mention that we are late or anything!). But what about you guys? Do you feel 'winter blues' go too heavy on you as well – so much so that you feel like resigning from your job altogether and sleeping for the rest of your life?
Ob, just by the way we would love to share that winter blues are for real and can have an influence on anyone. And there are of course, ways to deal with them so don't feel bad if something in the air keeps you from doing your basic tasks or even if it makes you procrastinate on a higher level. Different people tend to watch out for 'symptoms' and then find a cure or ask a professional to suggest a way forward.
We believe that not being dressed up properly during any season is one of the major reasons why people get affected and start hating the situation they are in. if you are one of those people who would want to be all ready for the winters when it comes to keeping yourself covered and warm, we thought to share an interesting mock-up PSD with you guys. It is different from the design topics that we have covered so far but so relevant that you are going to love us till the end of time.
Bomber jackets can never go out of fashion for so many reasons but the one that tops them all is the fact that they look super cool and trendy that everyone loves them. Also, you cannot have enough bomber jackets so, don't worry if you were already planning to get some more this season.
So, what we have done here is that we have created a highly editable and free bomber jacket mock-up PSD file for you guys which cannot only be used to design your own personal jackets but the ideas can be pitched to brands and clients that are directly related to apparel companies. Or maybe you can pitch your existing clients who would be up for adding a new product that is the bomber jackets to their already existing product line.
Now, come to the point – the bomber jacket mockup PSD. As you can see we have allocated different colors to the jacket as well as the zipper and to make it look pretty, we have added a little bit of red and a lighter shade of blue on the sleeves as well. It is totally up to you to keep the colors as they are or change them as per your likings / client's brief.
We hope that you will be enjoy working on this new project and if you are someone who loves to wear their own designed clothes then we are sure you will be creating some very awesome designs for yourself. So, what are you waiting for? Get your hands on our free bomber jacket mock-up PSD file today and start creating stuff of your choice!
Free Bomber Jacket Mockup PSD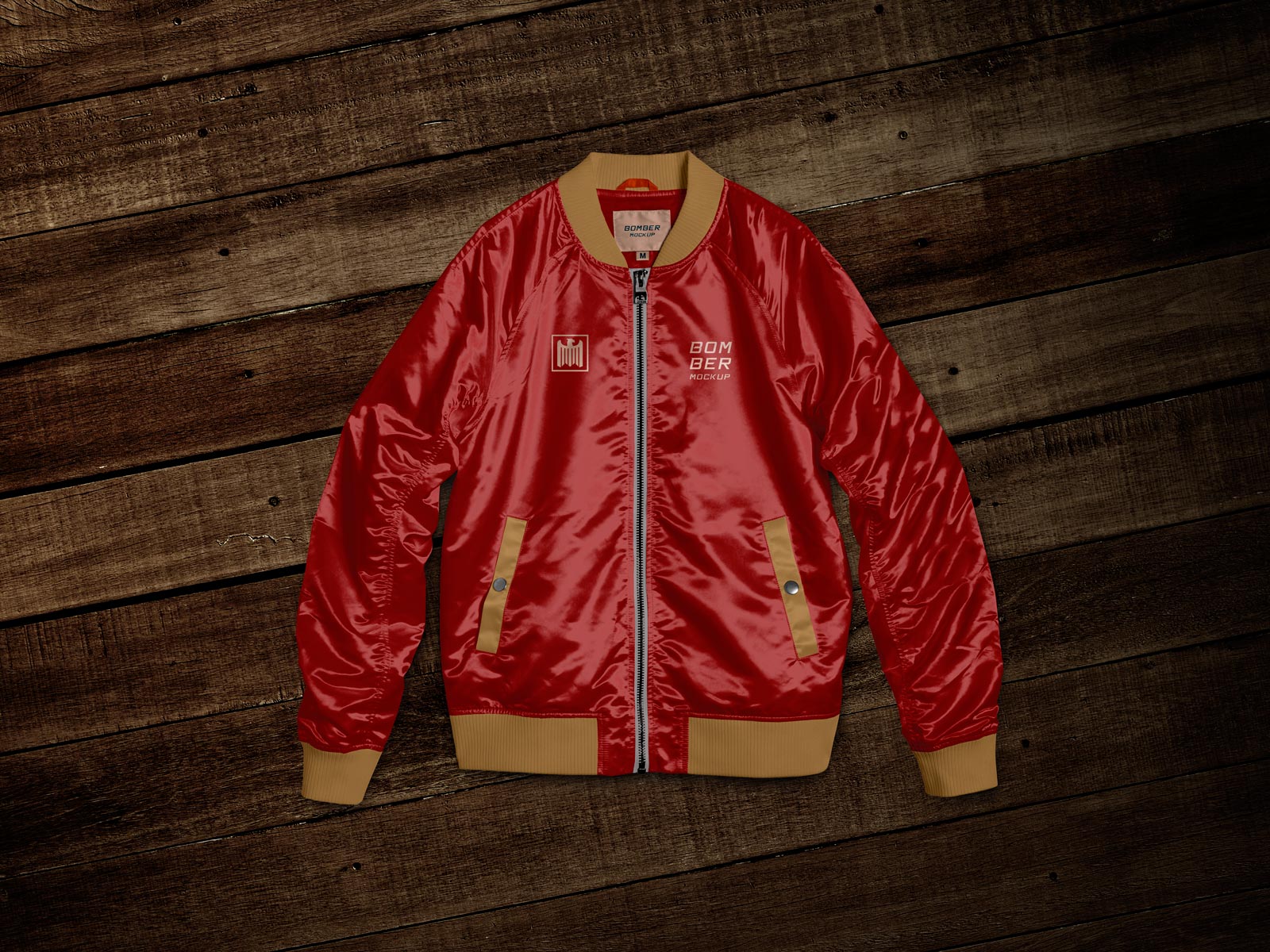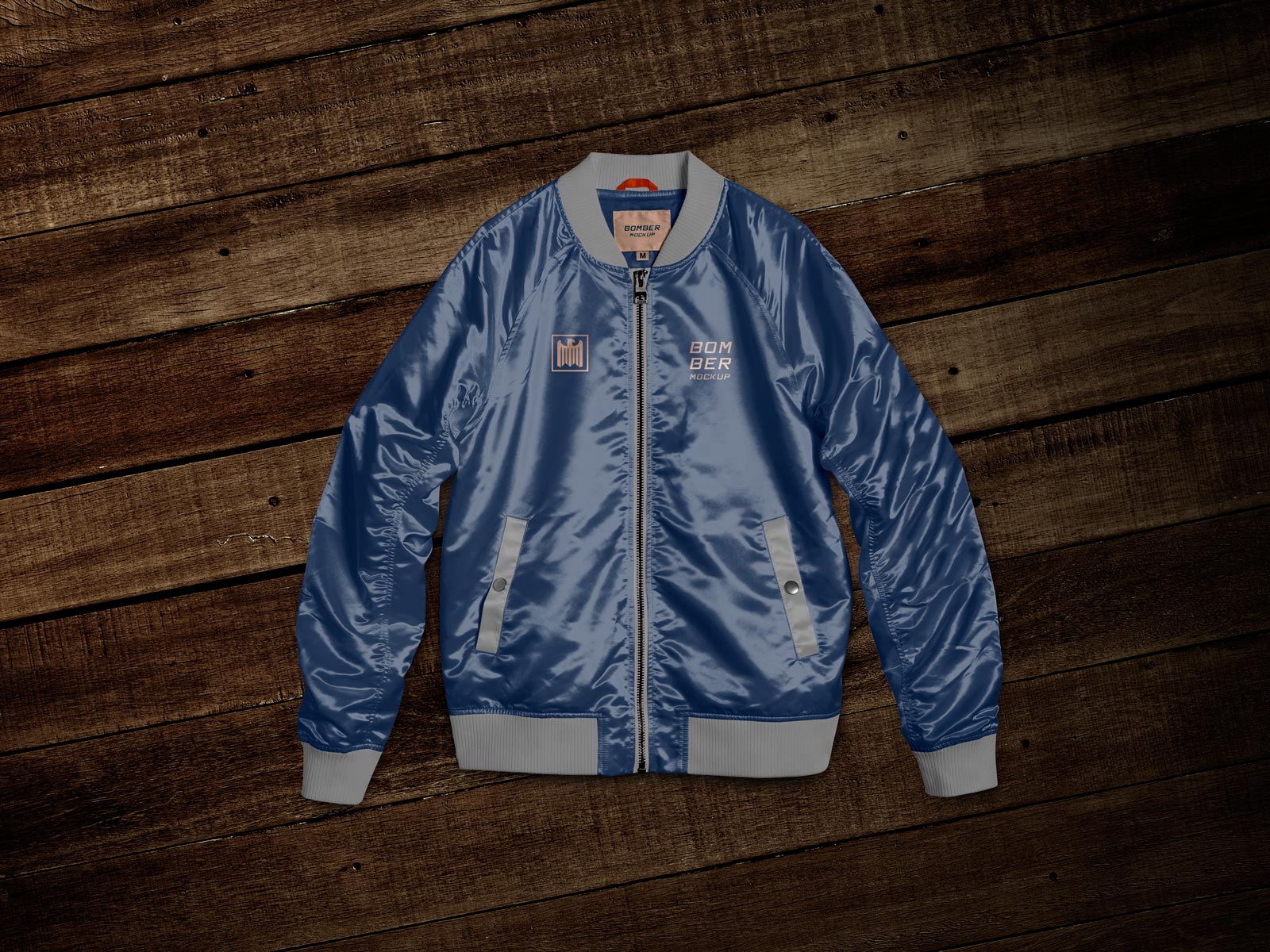 Available Format: Photoshop PSD
License: Free for personal and commercial usage
File Format: WinRAR
Mockup Resolution: 4000 x 3000 px
Note:
1. Free Bomber Jacket Mockup is allowed to share online (A Must Linkback to this page)
2. Say thanks if you like or share/tweet with your friends. That means a lot to me.
3. And don't forget to follow or subscribe to receive more high quality premium freebies & awesome articles only.
Download Bomber Jacket Mockup
Latest High Quality Free Mockup PSD Files: