Sausages are something that can be eaten with anything at any time and if you are a little too exhausted to cook your food after a long day at work, you can sauté them and have them as a proper meal. Interesting, isn't it? We are glad that there are things that can be consumed especially on the days when we cannot move one bit. But wait, is that really what we think it is? Or are the marketers so good at their work that they have trained us into thinking that we need the sausages and the comfort food too.
No matter what happens but it is safe to say that marketers and advertisers are doing their job so well that whenever you are out in a super market, you want to purchase something from the eating aisle. That is literally why eatables and everything else gets packaged and is placed in stores and shops etc. so that customers feel like spending money even on the items they don't really need.
You must be wondering when we will reveal the next mock up PSD with you guys so, here it is: in our today's blog, we will talk about food packaging especially sausage packaging. Oh, and if you are feeling hungry then you are free to grab something to eat because there are chances you might want to eat in the middle of this blog.
Recommended: 30+ Best Packaging Mockups
Anyways, let's get to the point now but before that, we would like to share this with you that we are working on some really cool blog and mock up ideas for you guys and this very mock up PSD is one of them. Okay so, what do you think attracts you when you are in a store? The way items are placed in the shelves of hung in the hangers? Or do you get attracted to see your favorite color combinations just the way you want them to see and you want to instantly purchase that stuff?
Honestly, it could also be the fonts which were used to design the materials or the way packaging companies choose to pack an item or two. There could be multiple reasons a person would want to spend their money on something. There are no hard and fast rules that in marketing bible to suggest how to write the brand name or how to size the package or which placement would attract whom but wise marketers do their research in order to make reports – the reports then help them figuring out a pattern and that data helps everyone in suggesting the way forward.
Recommended: 20+ Best Food Packaging Ideas 2019
And that's exactly why we are here – like the good people we are, to help you with your stuff. So, we have created this free to download but highly editable sausage packaging mockup PSD which will let you create awesome designs for your own food brand or for the creative agency you are associated with. The mock up PSD file is easy layered in such a way that you will love working on it. We have made sure that we follow a standard tray size (for the sausages) to pack and display the item(s).
Now, there are certain things that must be kept in mind while creating food packaging designs and in order to know what they are, all you have to do is to continue reading our blog as we share some easy to follow tips here:
Your food packaging has to have attractive colors, something that's eye friendly but not too dull. You can choose to go very subtle and keep the background colors white same like we have done it but if you want to play with the colors then feel free to be experimental.
Brand name / logo as well as tag line have to be extremely prominent so that your packaged food gets recognized even at a distance – make sure that you give proper importance to the brand logo and its placement.
It is very important to mention details about a food item for example allergens and the ingredients that were used to make that specific item. Stay crystal clear about all the information that a customer would want to know before buying any item.
Always mention the weight as well and use the scales that are commonly used and can be understood too otherwise what happens is that people don't really bother mentioning the exact weight or even the manufacturing and expiry dates which not only creates confusion among the shoppers but it also pauses a smooth shopping process as well.
We will also suggest you to must incorporate a high quality image on the packaging as well to make it look more appealing. You can use vectors or effects and patterns to make it relevant to meat too if you want to be a little more creative.
That's all for today guys! We hope that you'll find this blog super helpful for your upcoming food packaging projects. Don't forget to share it with your favorite colleagues too!
Free Sausage Food Packaging Mockup PSD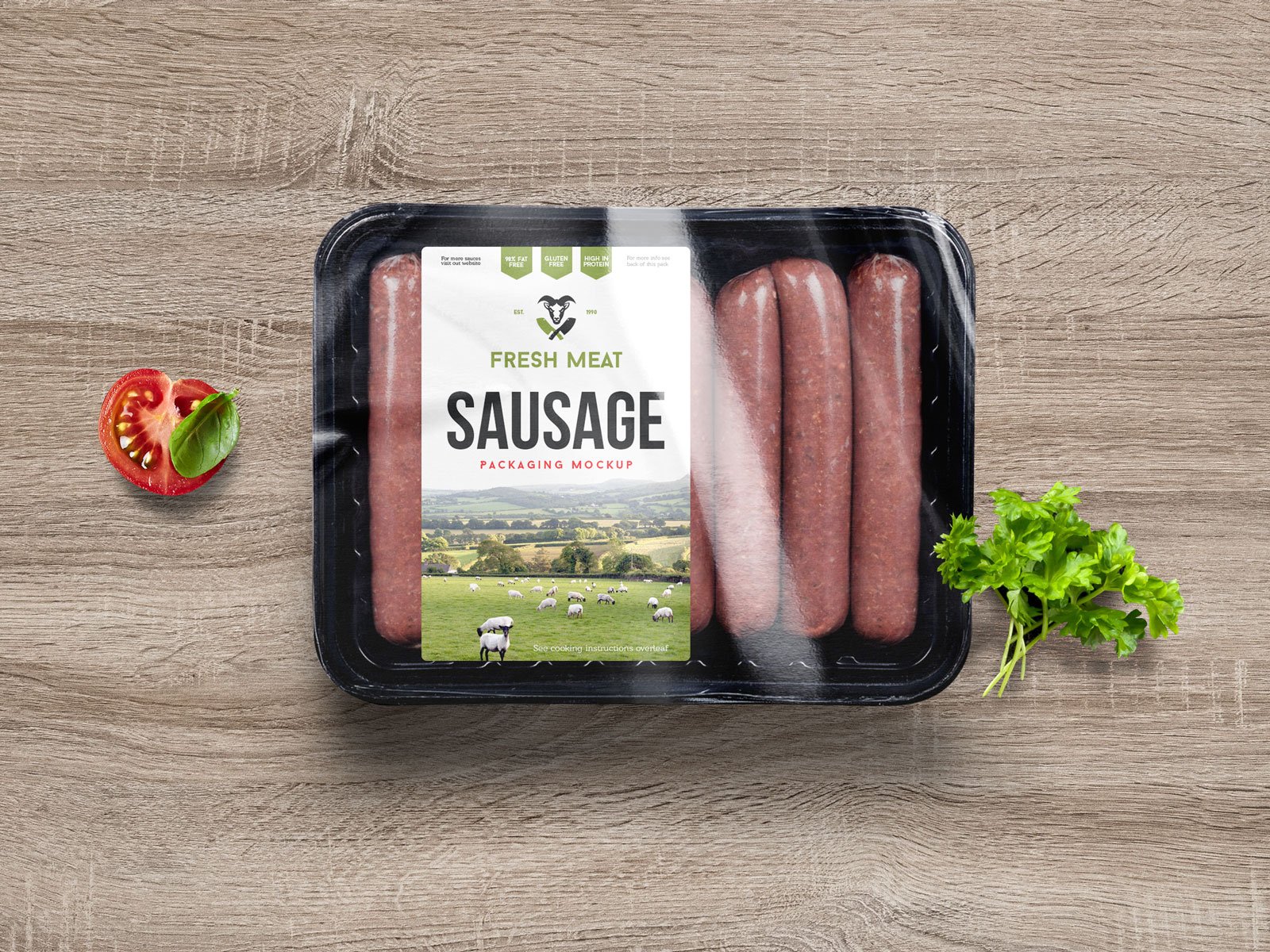 Available Format: Photoshop PSD
License: Free for personal and commercial usage
File Format: WinRAR
Mockup Resolution: 2400 x 1800 px
Note:
1. Free Sausage Packaging Mockup is allowed to share online (A Must Linkback to this page)
2. Say thanks if you like or share/tweet with your friends. That means a lot to me.
3. And don't forget to follow or subscribe to receive more high quality premium freebies & awesome articles only.
Download Sausage Mockup
Latest High Quality Food Packaging Mockup PSD Files: