Hey there guys! First of all, we would like to say thanks for your positive feedback and encouraging words that you leave under our blogs every day which motivates us to keep doing what we are doing that is making brilliant designs and sharing them with you all. Secondly, let's get real! We know that all of you are really excited as the holiday season is approaching and so are we. But what about the party planning and the invites? Have you guys decided the menus and the venues? We are guessing that things have been going a little slow at your end so don't worry because we are here to share some interesting tips and some more so, continue reading!
Since you must be planning to meet your parents, relatives, friends and that's like a lot of people and a you would be expected to see some of them if not everyone and we are aware of the fact that holiday season becomes a little too overwhelming for most of the individuals. In order to remain sane throughout your holidays which come as a blessing, all you need to do is to make proper plans. Set itineraries if there is a need to do so that everything is under control.
Start with the most important things like buying presents for the ones you love and also plan your Christmas party. You can throw the best party if you know how to prioritize your things-to-do. And if you feel that it is something you cannot do given that you are almost always busy with your work life then know that we are here to help you manage your stuff like a pro.
First things first, take out some alone time and during that time decide what you want to do this year on the occasion of Christmas. At least one party is a must so plan things around it. For example; pick and choose a place where you would want to gather your guests, shortlist the people you really want to see and make a list of them for sending out proper invites.
Your next step should be to decide the menu as per the age groups. It is also very important to know if any of your guests is a diabetic patient so that you can plan the sweet dishes accordingly. Then comes the drinks menu – you must include fresh juices or shakes for the kids so that they don't feel left out during your party. You should definitely have a snacks corner set as well so that even if you don't feel like making a grand lunch or dinner, your guests don't leave your house with empty stomachs.
Once you have made lists of the guests, menu and the décor items that you gotta buy for the décor, it will be time to invite your friends and family members and other guests. Well, this is a little easier when it is a house party but what to do when you own a café and want to invite your regular customers? Also, do you want to know the best way to spread the message that you are hosting a party at your eatery? If you still don't know it yet then we would like to reveal that we have created a Christmas party flyer and poster design. Our design template is in Ai format so it will be super easy for you to edit and make changes as per your own party. Or you can also create party posters for your clients as well with your skills and creativity.
That being said, we would now like to share some easy to follow design tips so that it is almost impossible to not come attend your Christmas party:
Our flyer and poster design is very attractive and it welcomes all the people on its own so what you need to do is to incorporate the details of your party like ticket fee, age group that can come to the party etc. You should also mention that name of your club as well so that people can instantly know the hosts and get the tickets from the spot.
We have given all the Christmassy feels to our flyer and poster design and we are sure that you won't have to add in some other design elements. But if you really feel like doing that then make sure that you don't over do the design. Keep it simple and subtle yet full of celebrations!
That's all for today! We know that you will make amazing Christmas party flyers and poster designs this year using our free design template in Ai format so, don't forget to share our blog with your colleagues too.
Free Christmas Party Flyer Design Template 2019 in PSD Format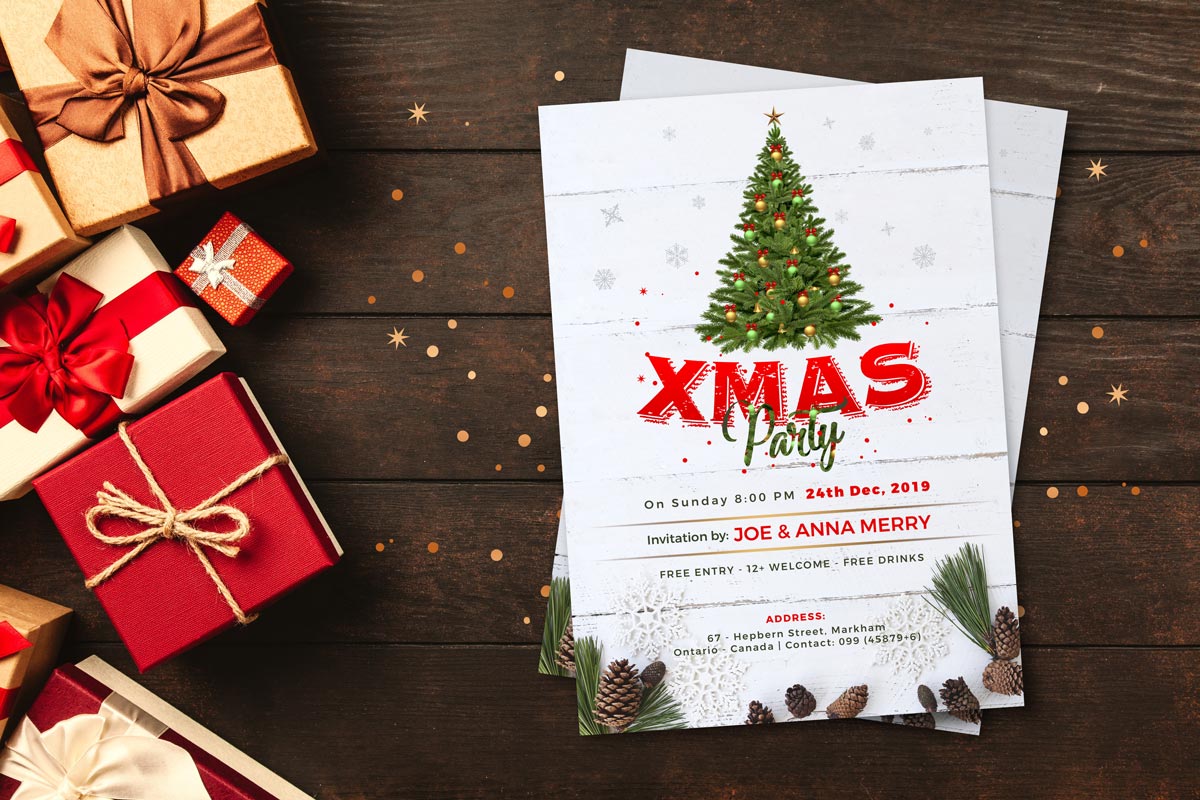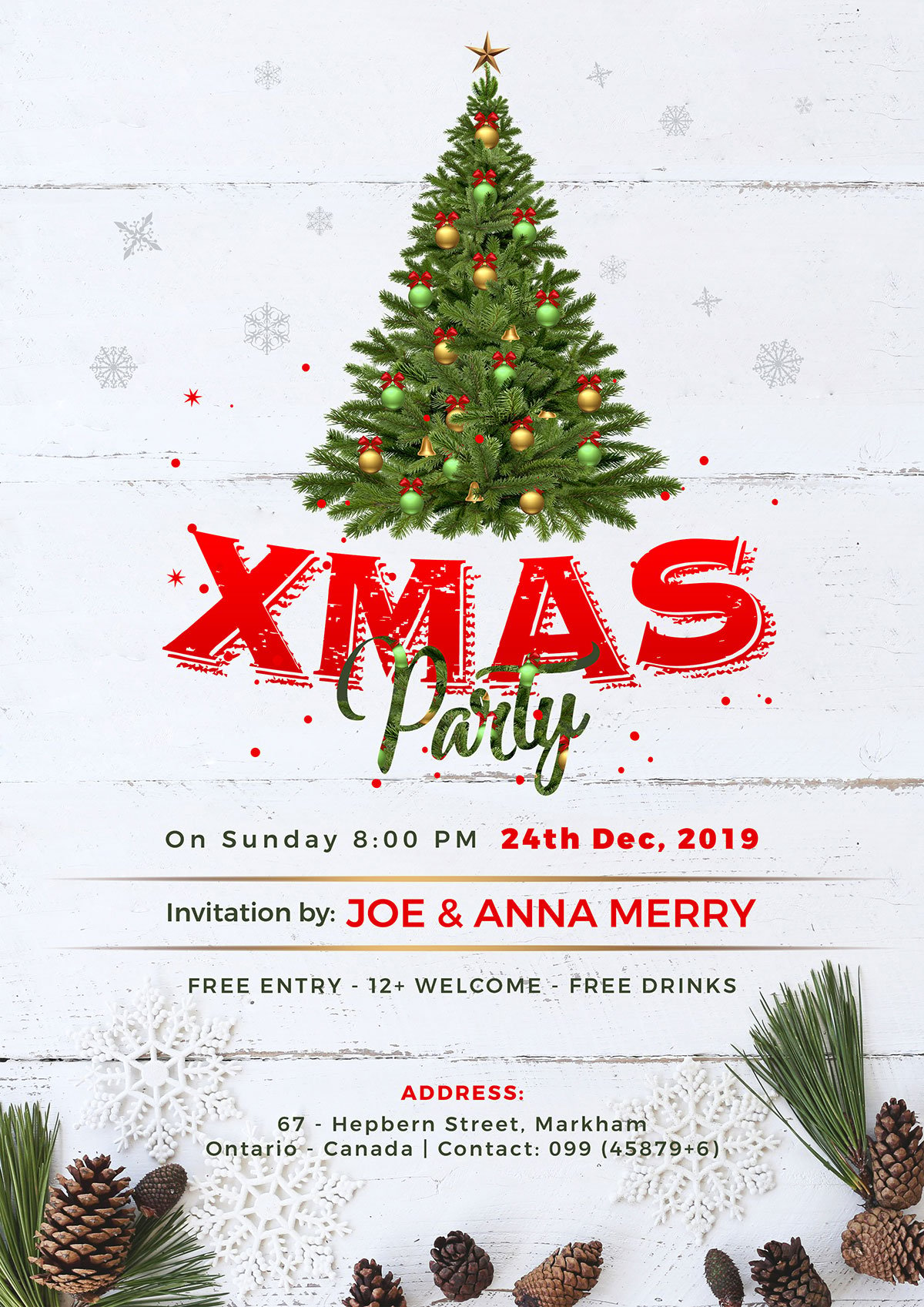 Christmas flyer Designed by Zee Que | Designbolts.com
Free for Personal & commercial use
Must linkback if sharing online
Fonts used: Hooverville & Montserrat & Marguaritas
Free Christmas Flyer Template
Recommended: