Hey there guys! Please tell us that you love French fries the way they should be loved because our today's blog is going to be about the love of our life, our very favorite French fries. Now, we have many friends who think that pouring loads of ketchup on the fries is like disrespecting them as we should only devour them without any condiments. And we think that's wrong because French fries are best paired with absolutely nothing but a lot of tomato ketchup. So yum, right? Well, we would like to suggest you to grab some fries for you before so that you can enjoy our blog even more.
Okay so, all set? Let's get started with our blog that not only contains interesting information but it also comes with a free french fries packaging mockup PSD file for you guys to help you create your very own packaging for your food business. You can use it for a local eatery as well as for your multinational food chain too.
First things first, it is very important to pay attention to your packaging because that is the first thing that gets noticed even before your potential customer(s) check out what you actually sell and a successful business is only that business which has the ability to attract people through their branding and packaging. Of course, the quality and quantity of your eatables have to be perfect too but your first chance of making someone pick one of your products will always be how you brand and place yourself in the market.
The packaging of French fries is also given special attention to because of the fact that this "side order" is something that is preferred to be taken on the go too – without any hindrances. You pick one French fry at a time, indulge in the taste and want to enjoy the entire experience so, it is made sure that your favorite stuff is packed and served in a packing that doesn't halt your experience even for a second.
Recommended: 30+ Best Packaging Mockups
In order to make sure that your customers get to enjoy their French fries the way they deserve to be enjoyed, we have chosen to create something extra convenient and attractive that it becomes almost impossible to ignore them. We have kept the colors vibrant and given enough space to the logo so that it can stand out but you can obviously play around with the colors of your brand to see what works best for you. Also, no matter what – you must ensure that your brand logo is prominent and is placed nicely on the packaging.
Recommended: 20+ Best Food Packaging Ideas 2019
You must have noticed the curves that are incorporated in the design of our French fries packaging – well, that is there to make the French fries appear to be fuller in size then they really are in actual life. But the curves also make the packaging stand too so there is that. And now, that you have the insight, let's get to know what should be kept in mind before designing the packaging for your French fries:
It is totally up to you to pick some patterns or lines for your packaging or choose a solid color that matches your brand colors in the most subtle way.
Don't go all too wordy on the packaging except the tag line (if it is required to have one) but as long as some signs are concerned then it would be a great idea to keep the recycle sign on your French fries packaging.
The curves of the packaging must be extremely neat and that can only happen if you choose high quality hard paper for the printing purpose.
That being said, we would like you all to create multiple versions of the packaging so that you have different options to put on the table and to discuss with your clients. And we are sure that you know that you will have to put together your concepts and versions in one mockup presentation before your go to the review meeting.
Recommended: Sausage Packaging Mockup
Creating mockup presentations not only gives nice and professional vibes about your team but they also give a clear idea of how things will look like in real life and that is that main reason why we have always encouraged you guys to demonstrate your designs through mock-up presentations. In this way, you also help the concerned parties in taking informed decisions especially for the matters in which money is involved.
We hope that you will find this blog extremely helpful for your future design projects so, don't forget to share your feedback with us in the comments section down below. We would absolutely love it if you could also share this blog and our free French fries packaging mockup PSD file with your favorite colleagues too!
Free French Fries Packaging Mockup PSD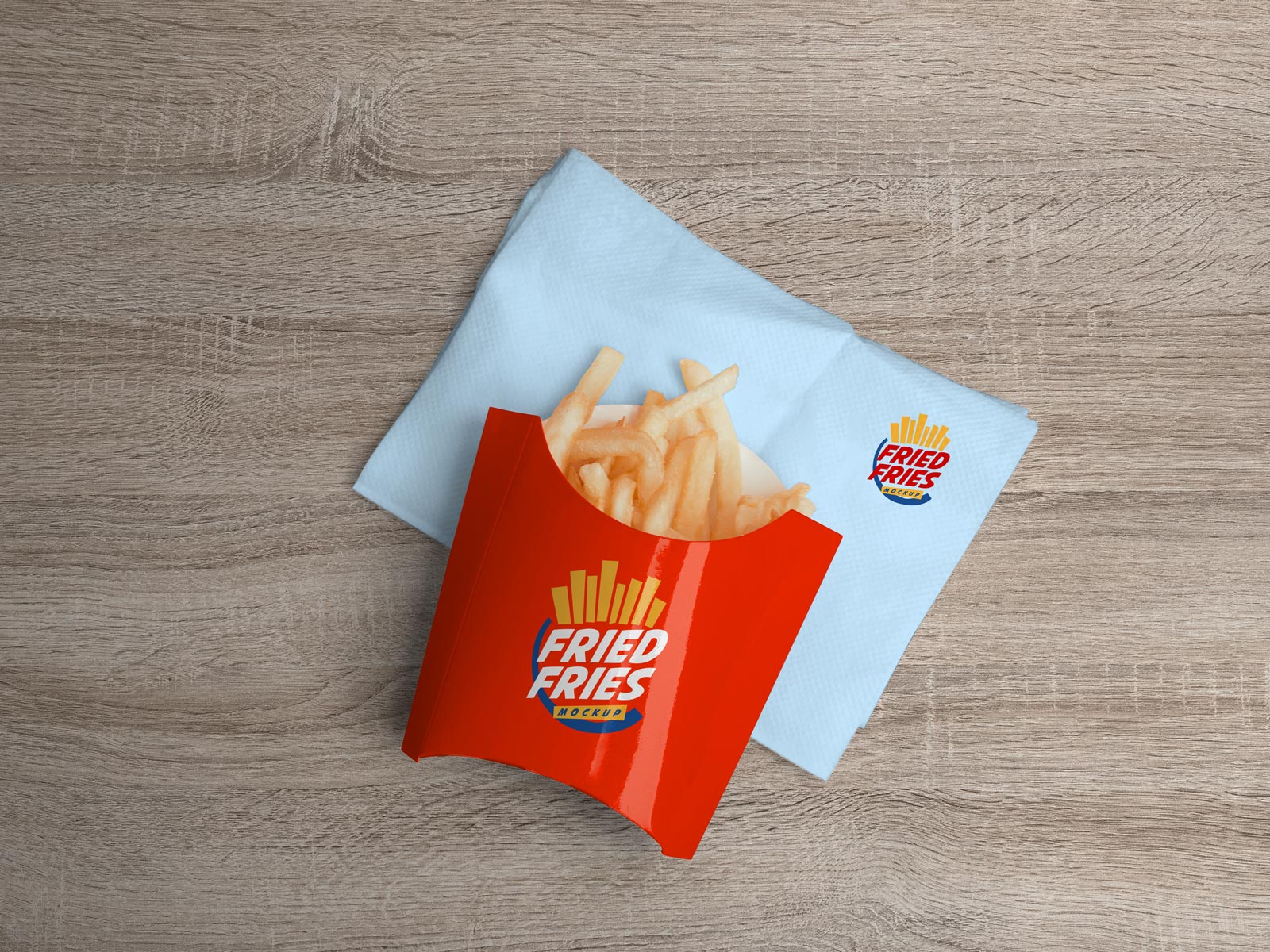 Available Format: Photoshop PSD
License: Free for personal and commercial usage
File Format: WinRAR
Mockup Resolution: 4000 x 3000 px
Note:
1. Free French Fries Packaging Mockup is allowed to share online (A Must Linkback to this page)
2. Say thanks if you like or share/tweet with your friends. That means a lot to me.
3. And don't forget to follow or subscribe to receive more high quality premium freebies & awesome articles only.
Download Fries Mockup
Latest High Quality Food Packaging Mockup PSD Files: