Hey there guys! We hope that our blogs are being super helpful for each one of you and that you are also creating amazing designs and displaying them with our mockup PSD files, designs templates and of course, our unique ideas. Those who have just started to read our blog, we would like to welcome you all here and we would also love to tell you guys that this journey is going to be a great one.
We not only discuss possible design related issues and how to deal with them like a boss but we also try and help you in fighting your creative block and everything else that kinda sorta stops you from being creative or experimental. We feel excited whenever we are working on new topics and designs because we know someone somewhere needs that particular blog and then you guys make our day when you leave positive comments on our blogs.
In our not so long journey of creating brilliant designs and writing informative blogs, we have made that we win hearts while we can and that is the main reason why we never stopped searching for newer things that hit the market or trends that kills the previous trends and become more trendier with the passage of time. We are sure that you would know how important it is to stay up to date with everything these days because well, knowledge hasn't hurt anyone and neither will it – that's like guaranteed!
So today, while we were enjoying a lazy day, we realized that we have got to work on something new for you guys and that was when we came up with the idea of creating a cheerleader award certificate design template. The best things about our design template are that; it is absolutely free for you to download and more importantly, it is of high resolution quality too so all you will have to do is to get your hands on it and then tweak it as per your design requirements.
Recommended: Free Certificate of Marriage
Allow us to share some very easy to follow design tips with you guys so that you can make cheerleader award certificates for your clients or even for yourself:
You must have noticed that we chose a plain background with a solid color to keep the certificate standard so that you don't have to go an extra mile and undo anything for your designs.
We have kept an extremely neat border for our cheerleader award certificate – as that adds more to the aesthetics of the certificate keeping the design on the more sophisticated side.
We have made sure that the name(s), event and date are given enough spaces. In addition to that, we have also ensured that everything is prominent. Oh, and we also allocated proper space to the 'Signature' slot so that the chief guest or the principal etc. can also sign the certificates.
As long as the fonts and their sizes are concerned, we have kept them super classy but easy to read too. But if you want to tweak them then you can – make sure that you don't squeeze the words though!
It is very important to keep at least one visual element especially on a cheerleading award certificate. You can choose from vector images of cheerleaders, badges and even trophies to balance the design equation.
A certificates is an official document which means that we have to follow some color guidelines while creating one. Normally, an award certificate design is created by using the following colors:

Black
White
Blue
Red
Golden
Dark green
But of course, if your certificate is being created for a brand then you must have to follow the brand colors to keep the documents aligned and relevant.
Also, we have made the award certificate by keeping in mind the standard of a certificate because normally the ones who receive appreciation certificates maintain a file in which all the certificates are placed nicely. Since, document files have a standard size too, we would encourage you to keep the size standard so that you and your clients don't have to worry about keeping the certificates somewhere else.
Last but not the least, make sure that the quality of your cheerleader award certificate is of top notch quality so that it feels great to be given and also to be received.
That is all for today guys! We know that you are going to get your hands on our free cheerleader award certificate design template right away so, while you are at it, don't forget to share our blog and design template with your favorite colleagues too.
Recommended: Free Achievement Certificate 
Also, if you guys have any more suggestions or if you want to see something of your choice on our blog, feel free to drop the comments down below and we will make sure that we work on your requests and share them here. Until then, happy reading & good luck!
Free Cheerleader Award Certificate Design Template Ai Editable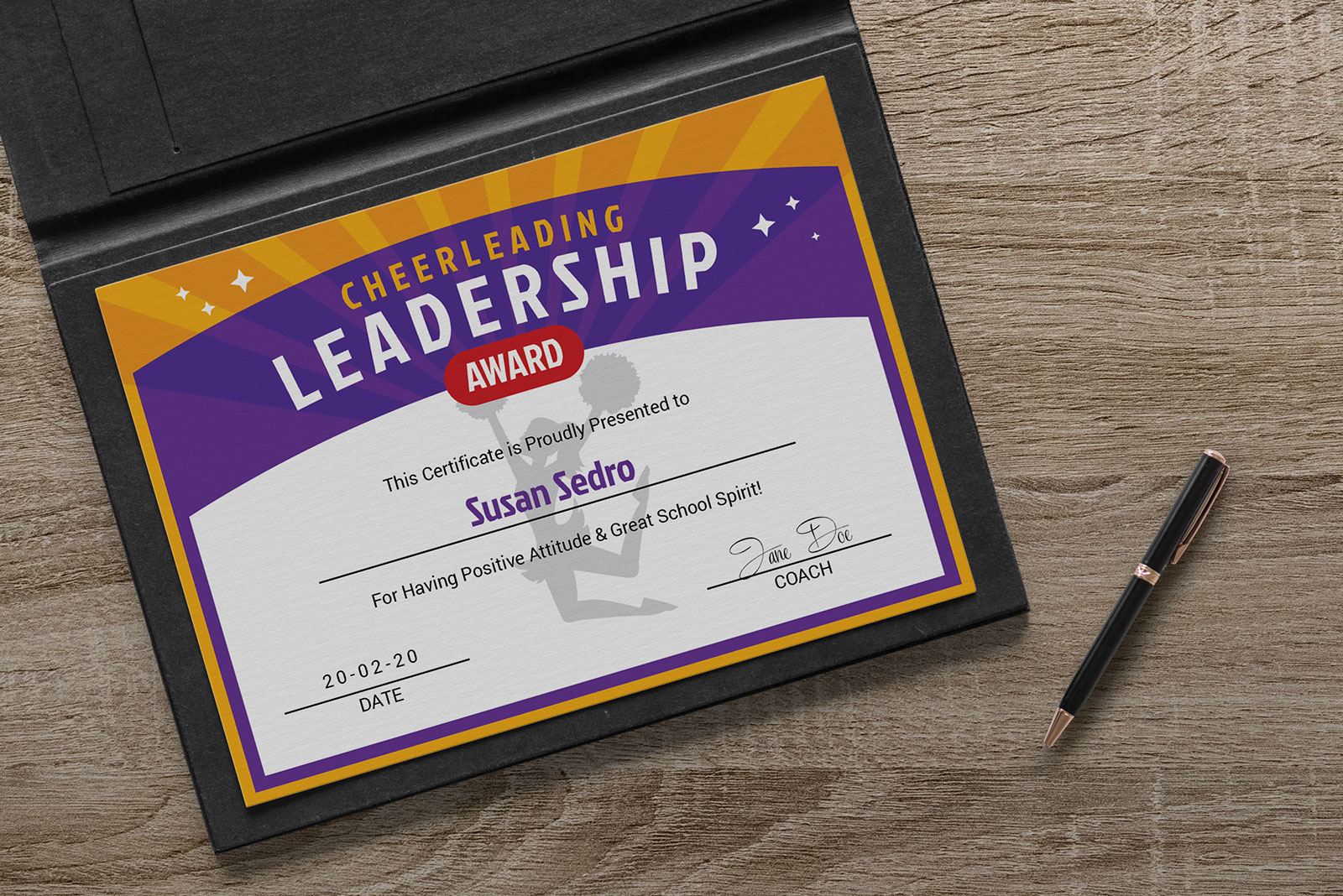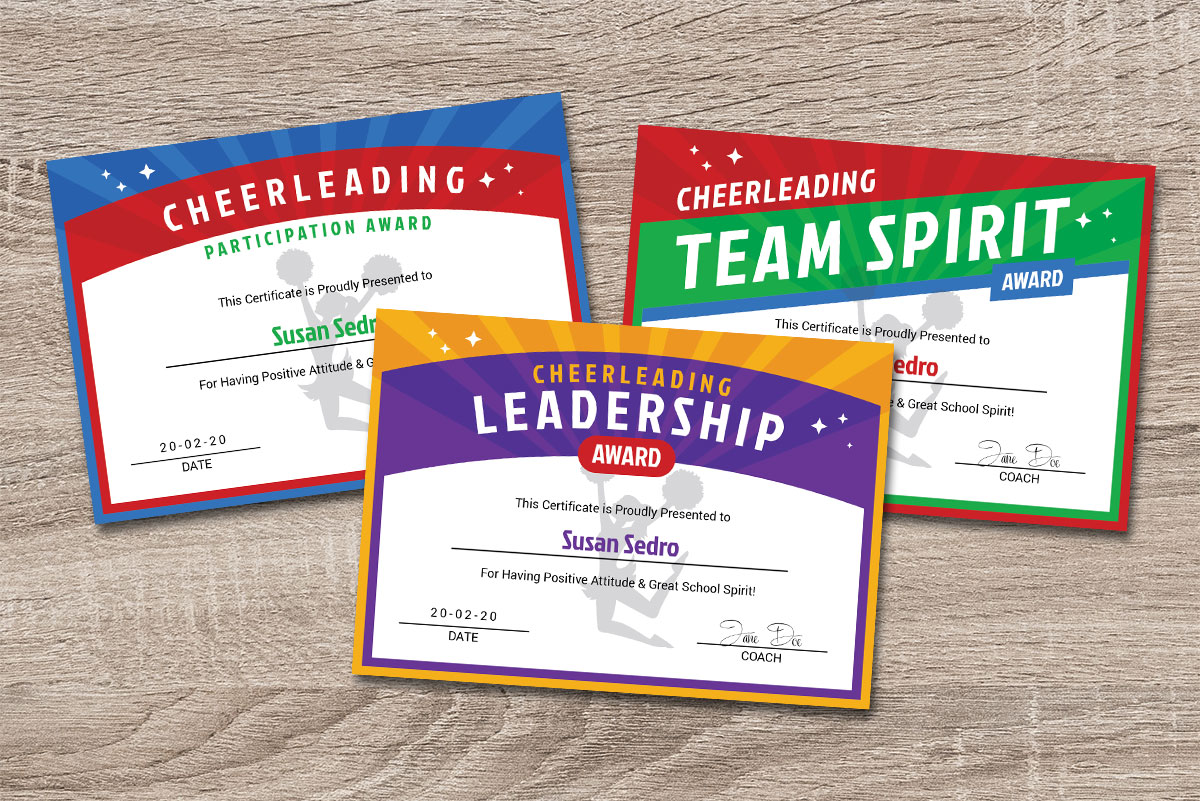 Cheerleading Award Certificate Design Templates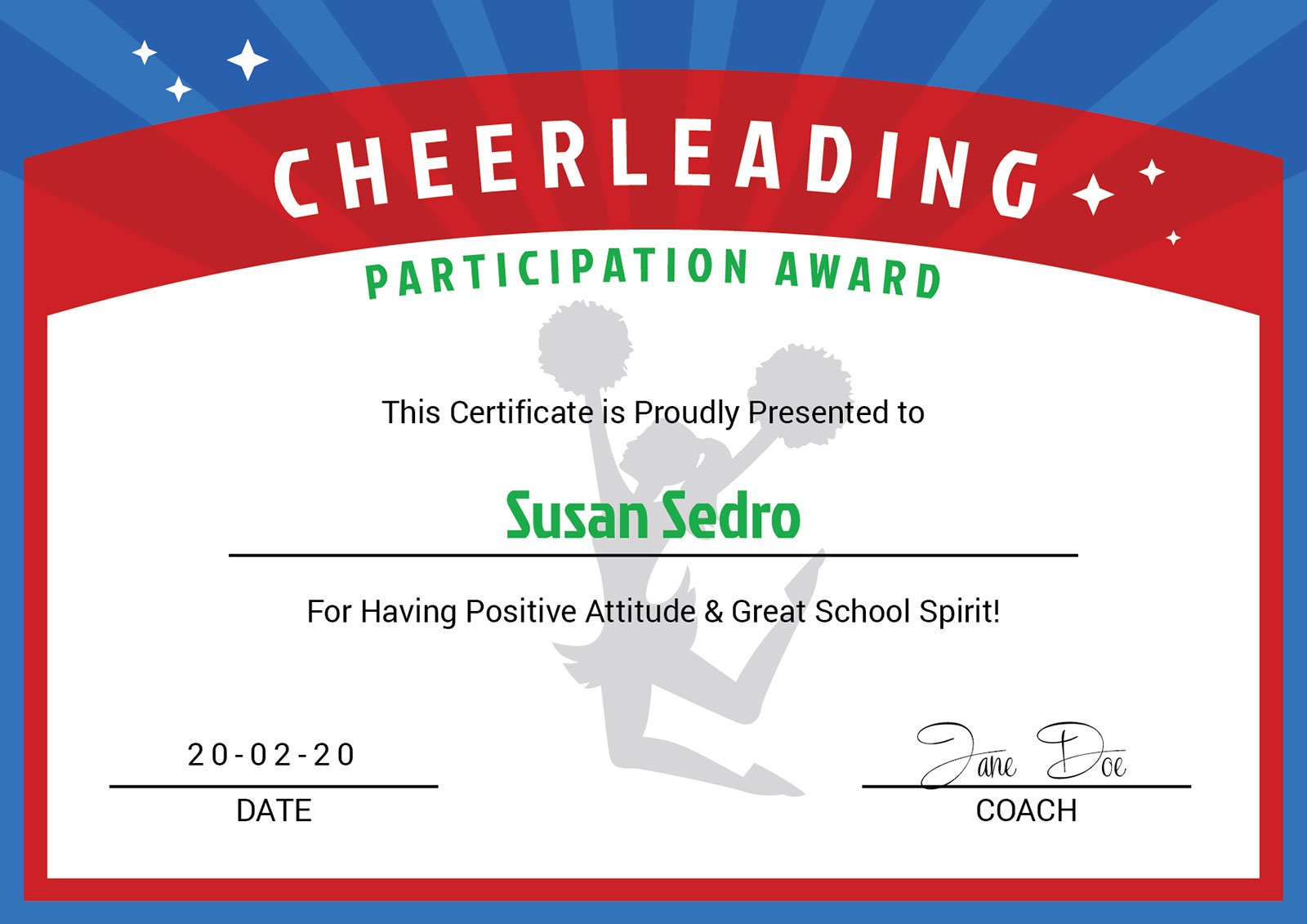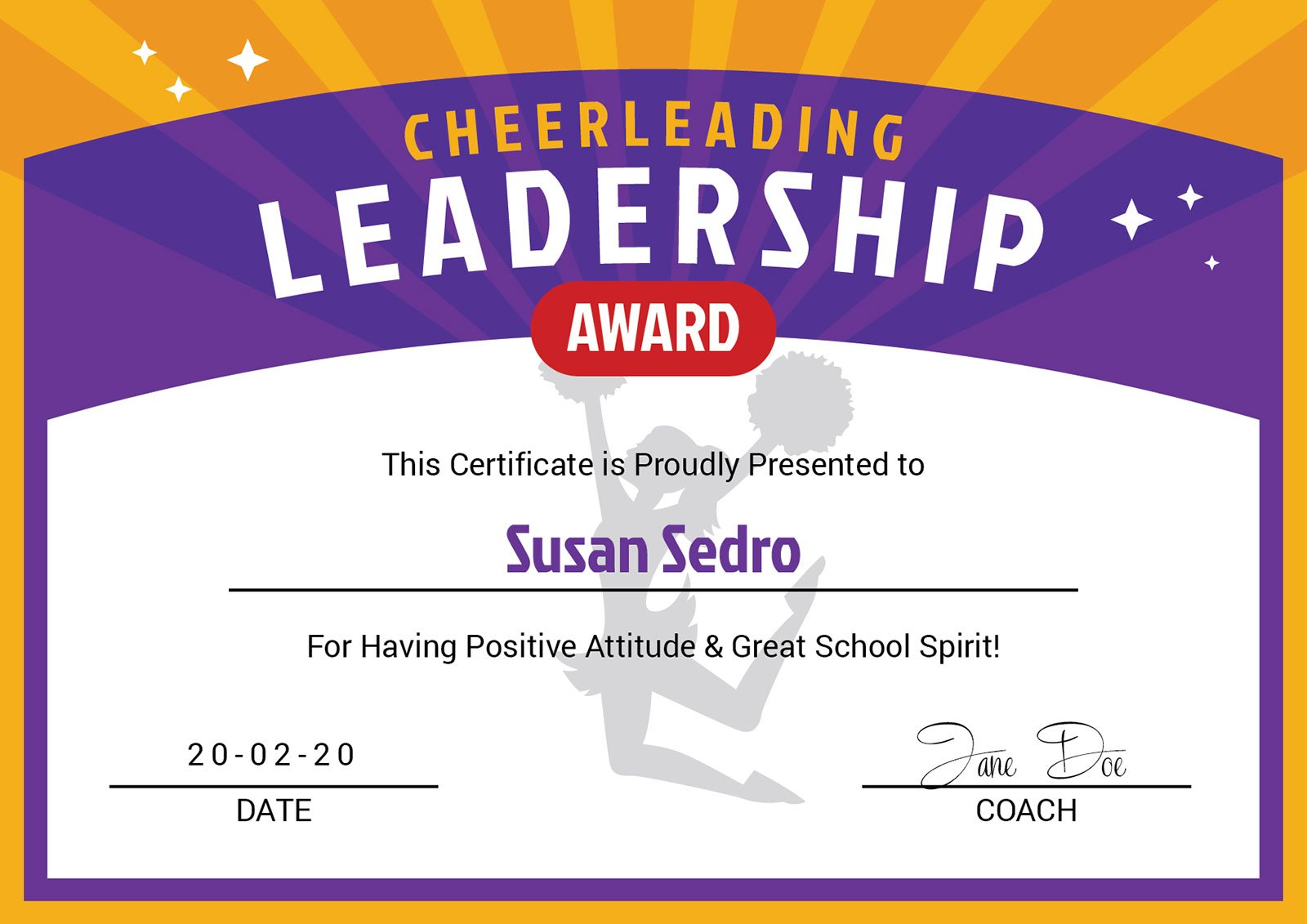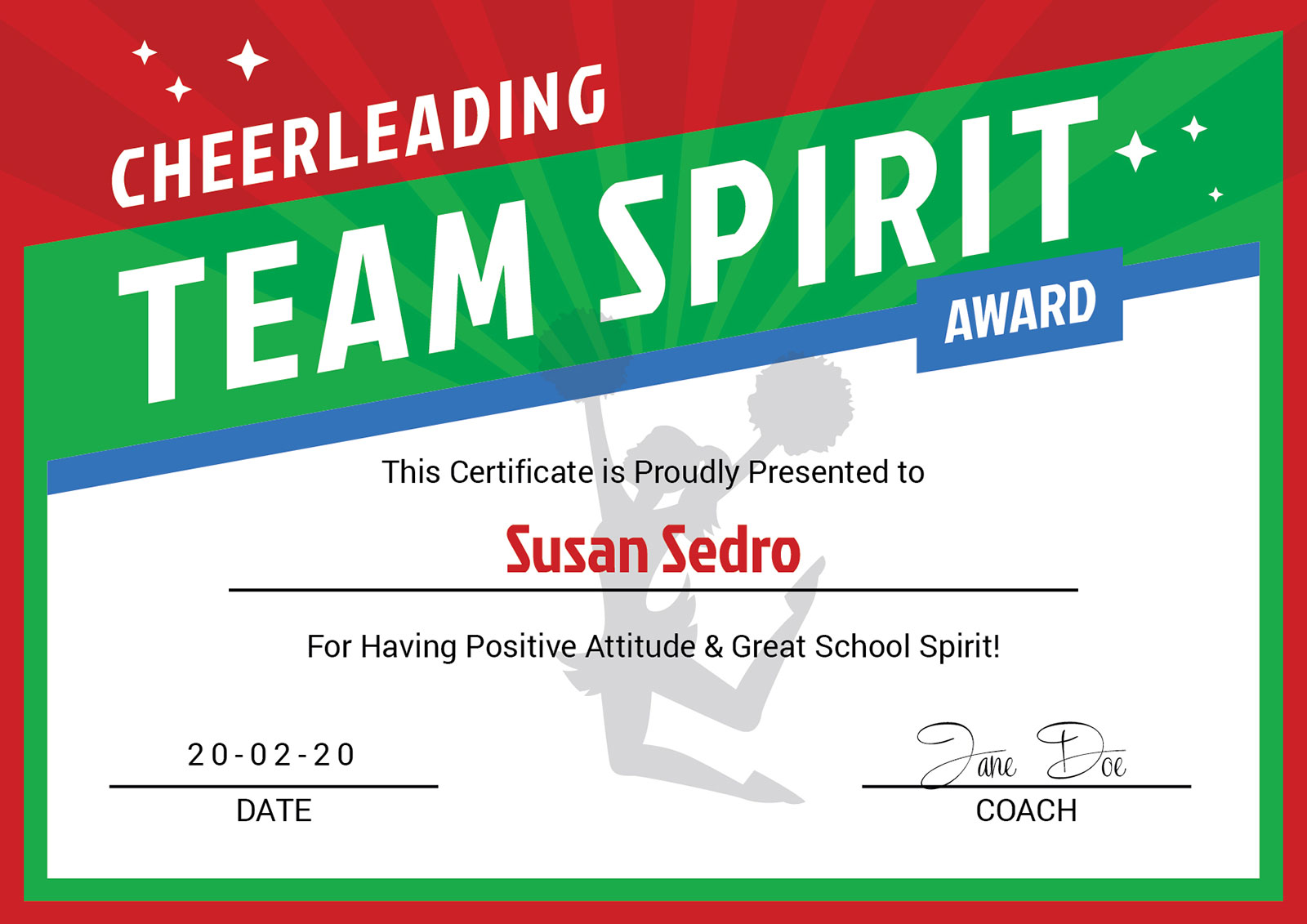 Available Format: Vector Ai & PDF
License: Free for personal and commercial usage
File Format: Zip
Artwork Resolution: A4
Fonts: Roboto & JockeyOne-Regular
Note:
1. Free Cheerleader Award Certificates are allowed to share online (A Must Linkback to this page)
2. Say thanks if you like or share/tweet with your friends. That means a lot to me.
3. And don't forget to follow or subscribe to receive more high quality premium freebies & awesome articles only.
Download Editable Ai
Download Printable PDF
Download Certificate Mockup
More Design Templates You Would Love to Download: