Hey there lovely readers & fans! We want to say thanks to each one of you for not only leaving positive feedback and comments under our blogs but also for sharing it in your circles as well. Your encouraging words and feedback is something that keeps us going and it also motivates us to continue creating awesome designs, think of brilliant concepts and ideas and write insightful blogs.
And as we have mentioned this in our previous blogs as well that we are onto something so good that even talking about that makes us happy – for those who have just joined our creativity club, we would like you all to know that our latest blogs are amazingly awesome and we can bet that you will have fun reading them.
We know that we always mention creating mockup presentations in almost every blog of ours. That's because we know the importance of impactful mock-up designs and we also know how great presentations can lead you to achieve what you have aimed for. Graphic designers are almost always working under pressure as we have to meet certain deadlines on a daily basis and the 'funny' part is that every client wants to have everything in like minutes.
Keeping in mind the work load and tantrums of the team leads and clients, it becomes difficult to take out some extra time for mock-up presentations – we get it. But there are so many things that we can do to face time constraints. Not only that, we will share some secrets with you guys which are guaranteed to make you produce nothing but stunning designs and art works and so much more.
Recommended: 30+ Premium Quality Product Mockups
First things first; whenever you start working on a new project it is important for you to make sure that you have read and understood the brief so that you won't have to ask questions to have a clear perspective. After that, you must align the team members from the Creative Department and your own team members to sit together and dissect the brief in order to create content and design concepts.
Once you have done that, you must assign the tasks in such a way that each department is given a realistic timeline so that they don't feel overwhelmed and also discuss and set a time to review the designs within the internal teams. This will not only allow you to get done and over with the design tasks but it will also let everyone work in harmony. Working as a team not only gives you the confidence that things will turn out to be perfect but you will also realize that you will get ample time to create mockup presentation(s) as well.
Recommended: 80+ Best Packaging Mockups
Like you all know that a mockup presentation must have multiple design options so that the decision makers can have a variety of things to look at. This practice also saves time of going back and forth in case of revisions and changes. Another great thing about submitting your designs through detailed mockup presentations is that you literally allow your clients etc. to know how the designed stuff will look like after getting printed / manufactured / published.
Above mentioned advantages of creating mock-up presentations are some of the reasons why we always encourage you guys to present your thoughts and concepts in a better way. That being said, let's have a look at what we have for you in our today's blog: we have created a free paint bucket mockup PSD file for you guys!
Since you know that all our mock-up PSD files are highly editable, we know that you will have a great time working on this file too. You can not only change the colors and fonts but can also tweak the design itself to make it more relevant to the brief that you have received. Although, we prefer to keep the design in one solid color but here are some of the easy to follow design tips to get you started:
Creating patterns on a paint bucket will bring life to the design and your brand will stand apart from the other available options.
Scenic images help a customer understand the purpose of the product and they also speak for themselves for example; paint that is created using the weather resistant technology must depict this feature on the branding too.
If there are multiple color options available in the same packaging then also mention the color palette on the bucket so that your customer knows that there are more options as well.
As long as the handle is concerned, keep the design user friendly so that it doesn't hurt your customer.
That's all for today guys! We hope that you fill find this blog super helpful and the free paint bucket mock-up PSD file perfect for your future design projects.
Free Paint Bucket Mockup PSD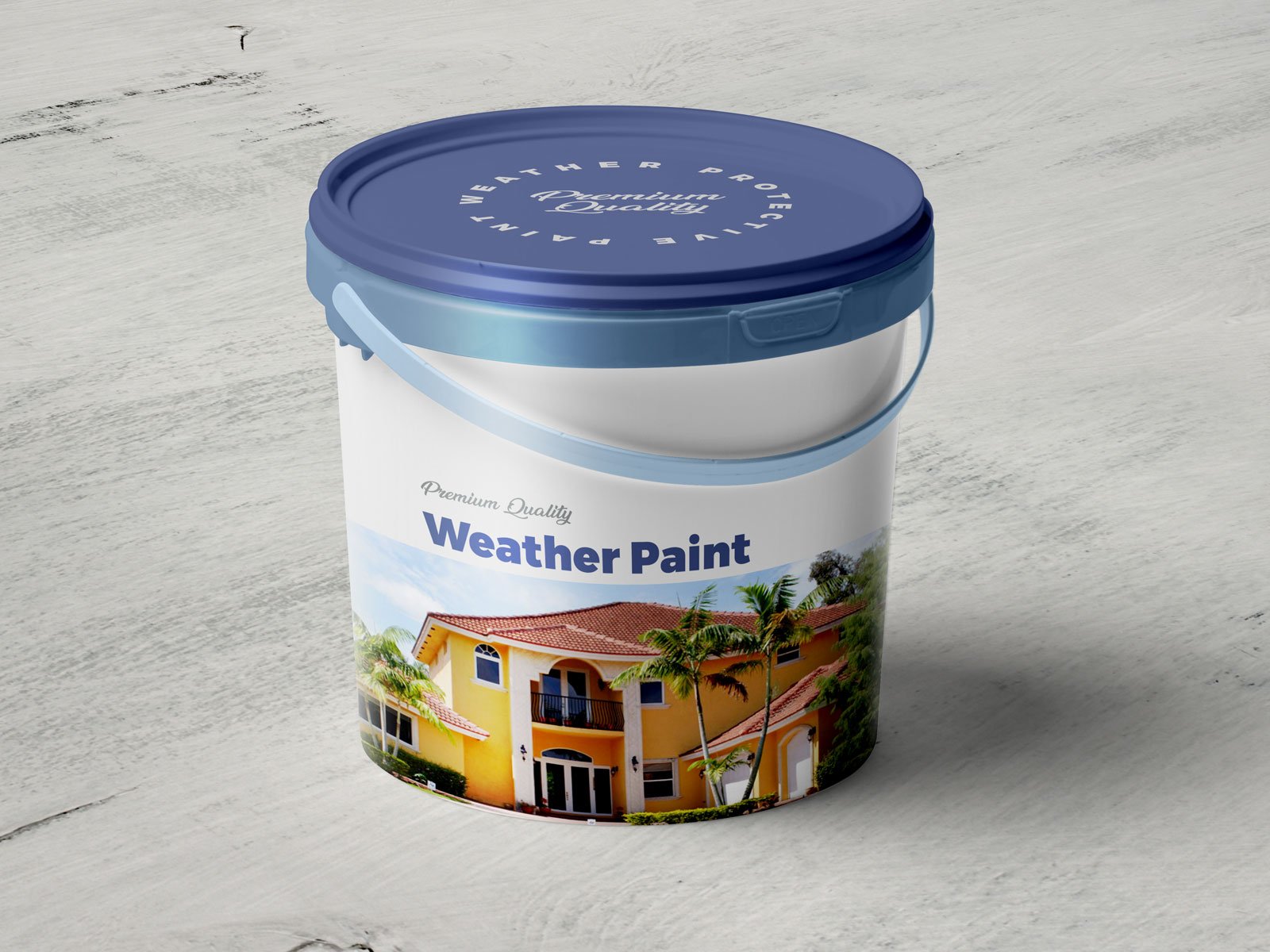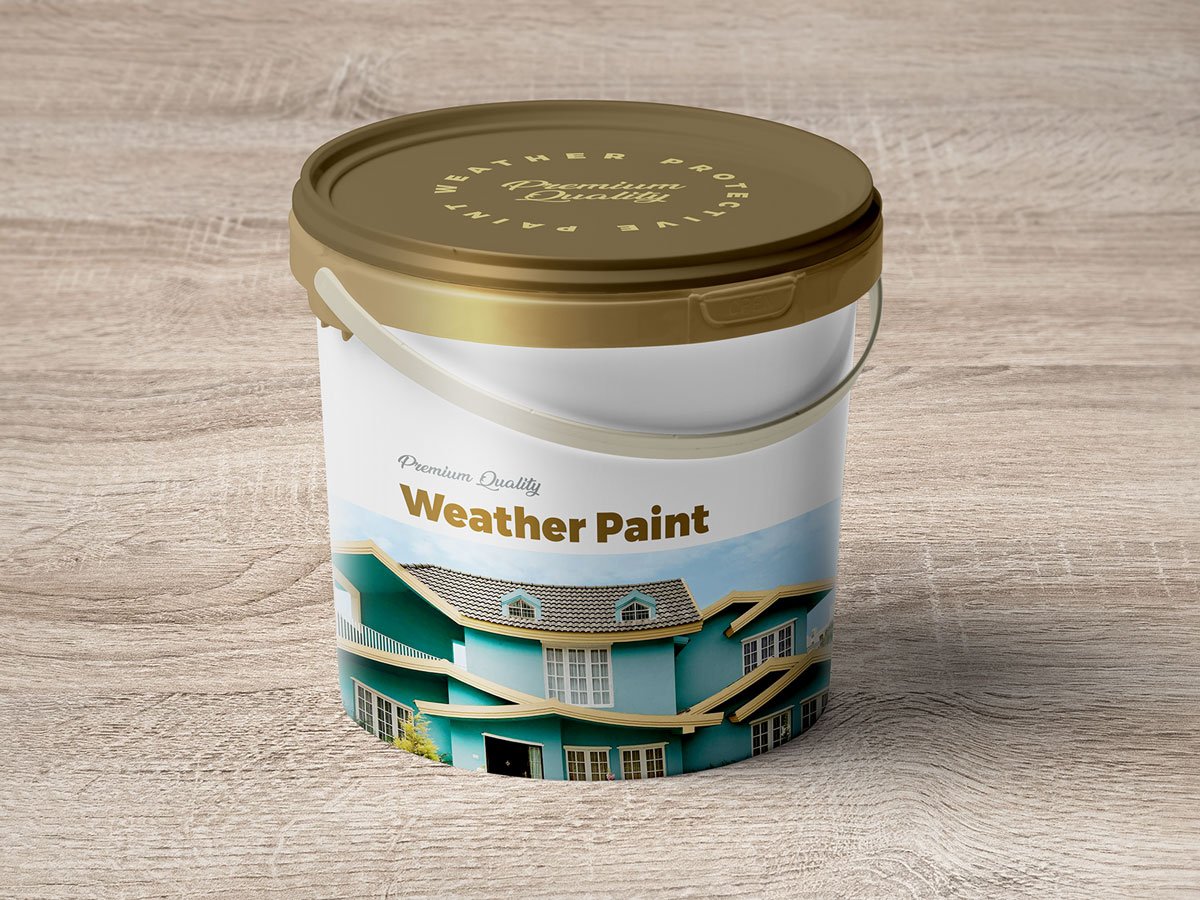 Available Format: Layered PSD with smart object insertion
License: Free for personal and commercial usage
RAR File Includes: Free Paint Bucket Mockup PSD File
Mock-up Resolution: 4000 x 3000 px

Note:
1. Free Paint Bucket Mockup PSD is allowed to share online (A Must Linkback to this post)
2. Say thanks if you like or share/tweet with your friends. That means a lot to us.
3. And don't forget to subscribe to receive for more high quality premium freebies & awesome articles only.
Download Paint Bucket Mockup
More Latest Product Mockup PSD Files: