For those of you that's been living under a rock in 2019, a new legislation by the ADA (Americans with Disabilities Act) called section 508 states that websites act as public places, and must be made fully accessible to people with disabilities.
Having an AI-powered web accessibility platform to protect your business against ADA compliance-related lawsuits is crucial for your business.
If you've been reading the news lately, website owners across the United States are being sued (and are losing the lawsuits) because people with disabilities find it hard (or cannot) use their website.
If you want to protect your business from losing thousands of dollars worth due to penalties and protect your brand image, then you need to make your website easily accessible to people with disabilities.
The good news is, you can easily pull this off with accessiBe, an AI-powered web accessibility platform.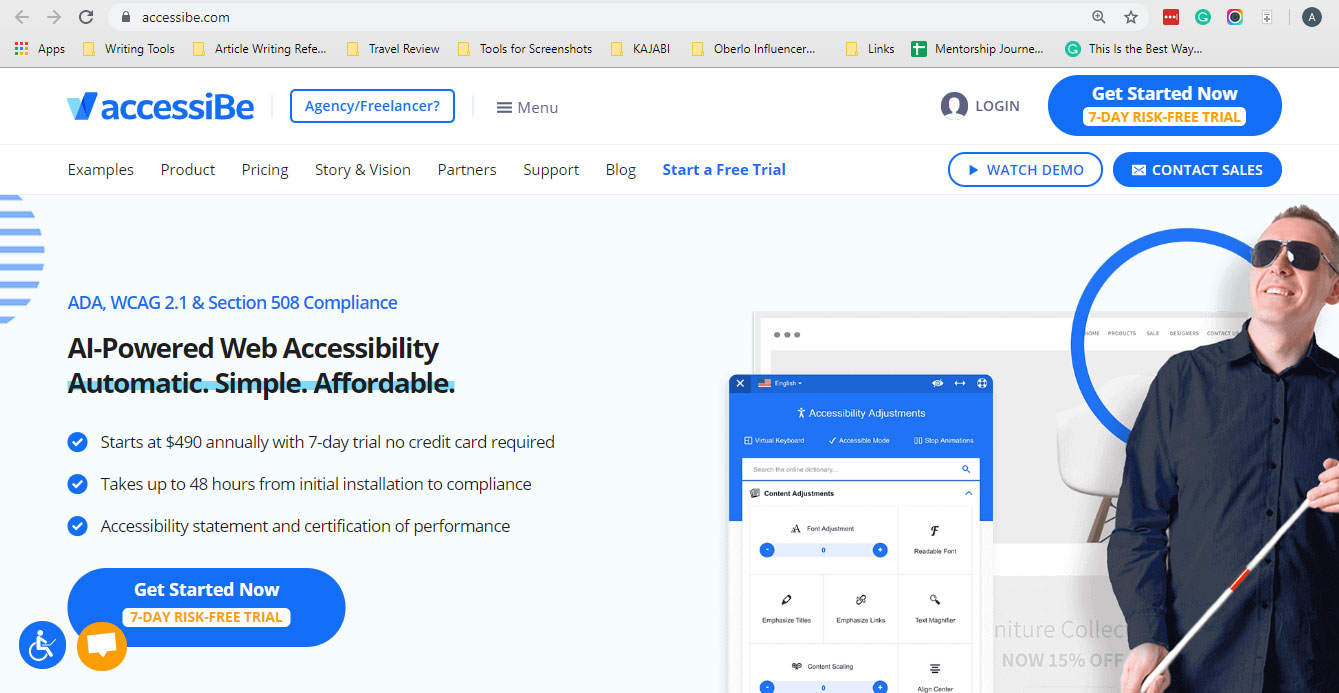 Image Source: accessiBe
Overview of accessiBe
Before diving into the features and functionalities that make accessiBe an excellent solution for your compliance needs, let's take a closer look at what the platform really is.
accessiBe is a fully automated AI-powered web accessibility platform and solution with the technology to help you comply with the Web Content Accessibility Guidelines (WCAG) 2.1 and the ADA. 
The platform keeps your website accessible to persons with disabilities at all times with a range of features – from adopting PWD-friendly user interface functionalities for your site to regular scanning and analyzing to help you maintain WCAG 2.1 and ADA compliance.
Plus, since accessiBe is AI-powered, you can get all of these website accessibility features without needing to code everything manually.
Now that you have a better idea of what accessiBe is let's take a closer look at the platform's features.
1. User interface and foreground apps
For your website to be accessible to persons with disabilities, it has to have the features that comply with the ADA and WCAG 2.1 requirements — which could mean you having to make truckloads of adjustments to your site.
With accessiBe, however, you won't need to manually change your site elements and functionality according to the guidelines.
Instead, using accessibe's tools, users can get a personalized accessibility experience by adapting your website's user interface according to their preferences and disabilities.
Here's how the accessiBe interface works on your website.
Content adjustments
Clicking on the International Symbol of Access icon will show you the accessibility features, and from there, you can make adjustments based on your preferences.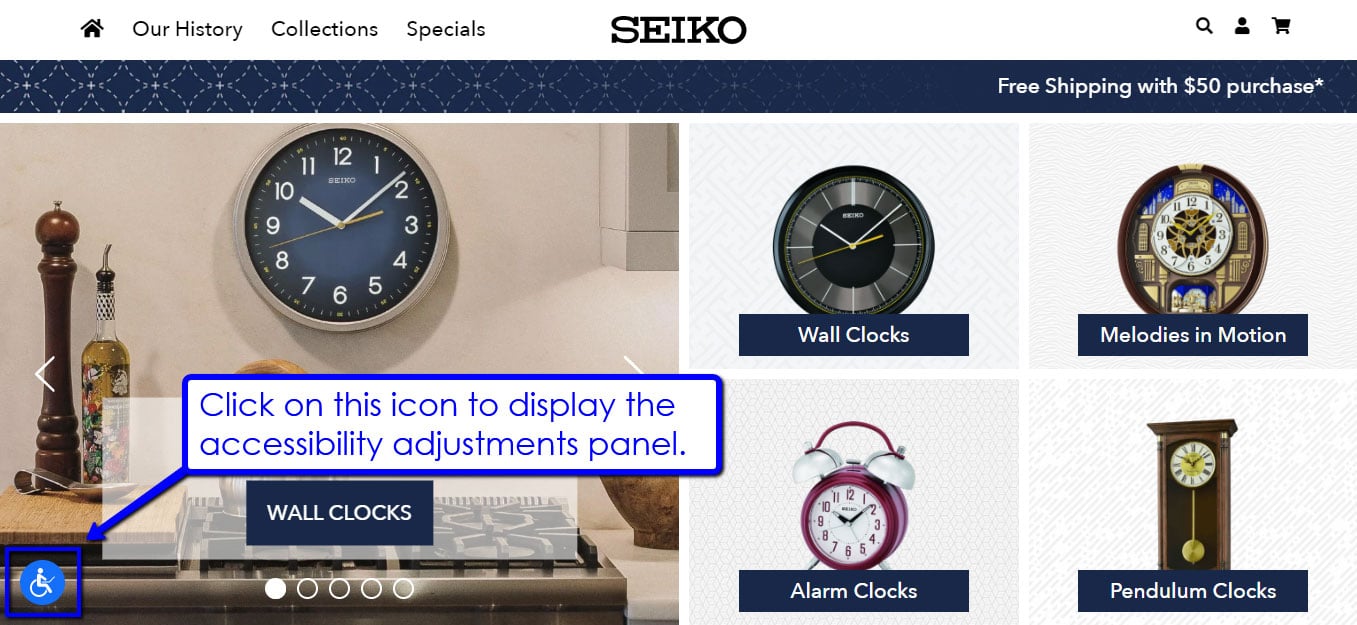 These content adjustments include the font size, emphasizing titles, magnifying texts, word and letter spacing, alignment, and more.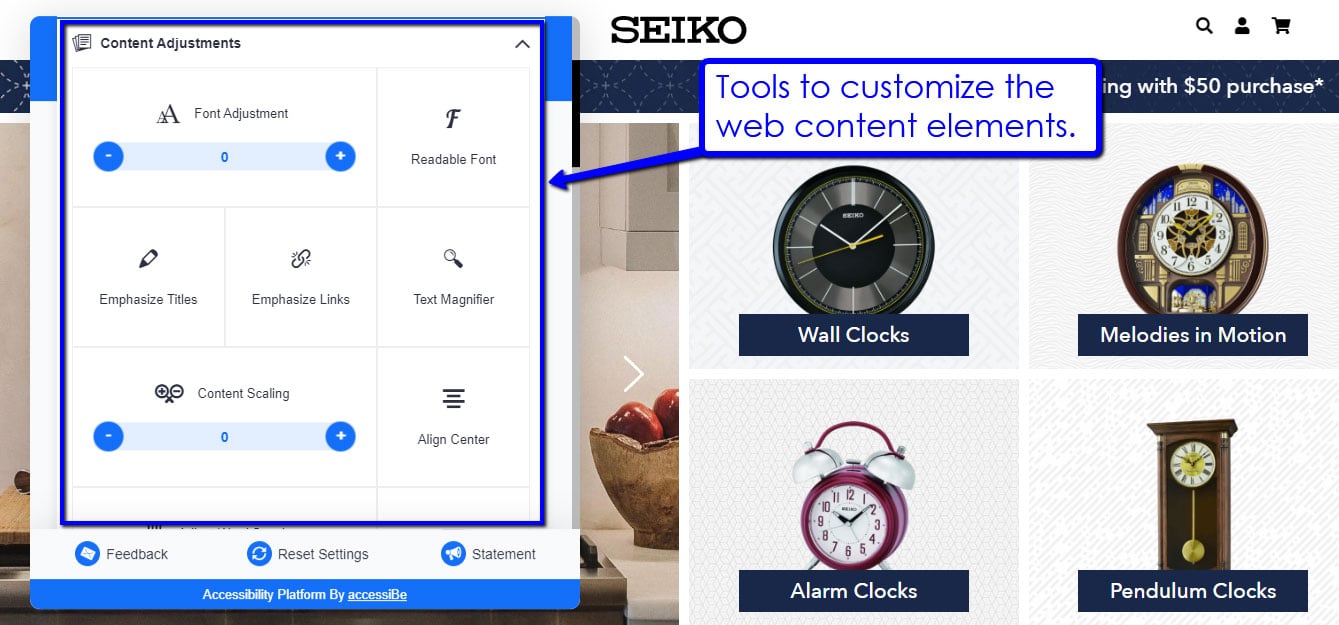 For your visually impaired website users, these features will help make their experience with your site easier and more functional.
Color and display adjustments
You can also customize the colors of the website using the accessiBe adjustment features, which is useful for those who have epilepsy that can be triggered by highly contrasting bright and dark colors or flashing images.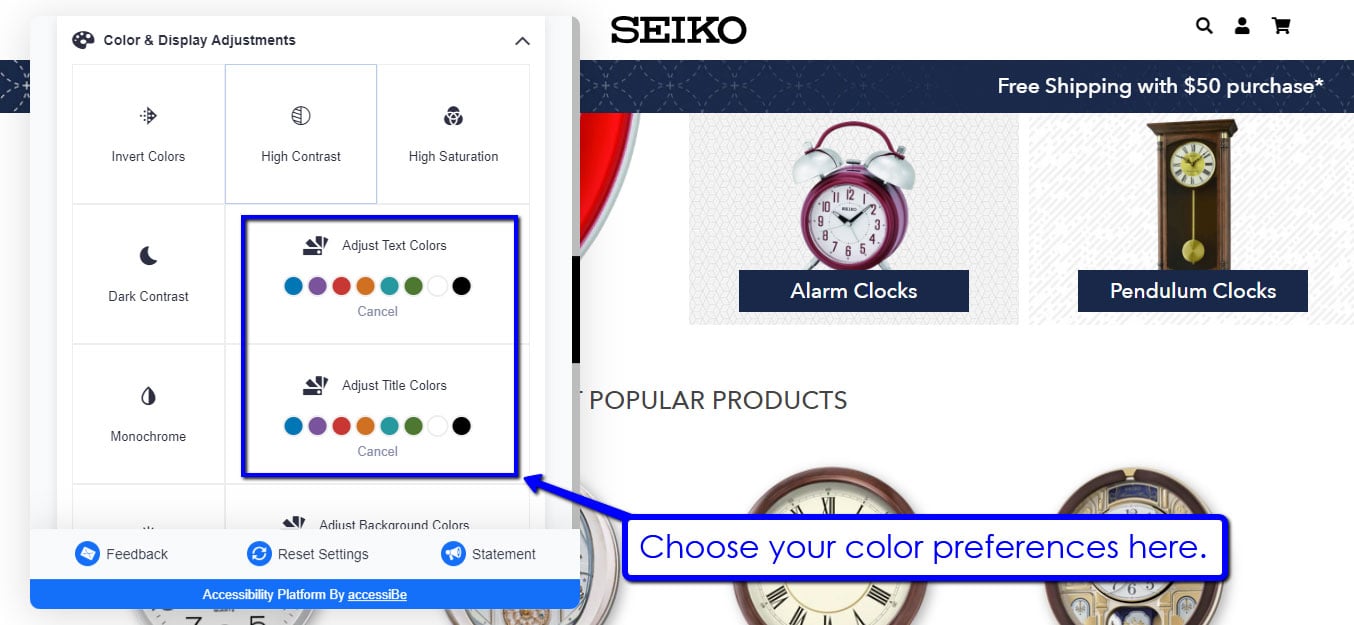 With the accessiBe color adjustments, you can choose from several options such as invert colors, high contrast, monochrome, and more.
You can even adjust the text, title, and background colors to your liking, which allows color-blind users, for example, to view your website in colors that they can detect.
Navigation adjustments
Aside from customizing your website elements and colors, you can also adjust the navigation functions.
For example, if you turn on the "Emphasize Mouse Hover" option, the accessiBe tool will highlight the sections you hover your mouse over by outlining them.

accessiBe's accessibility adjustment features also offer several other language interfaces aside from English, a "Stop Animation" option, and a virtual keyboard.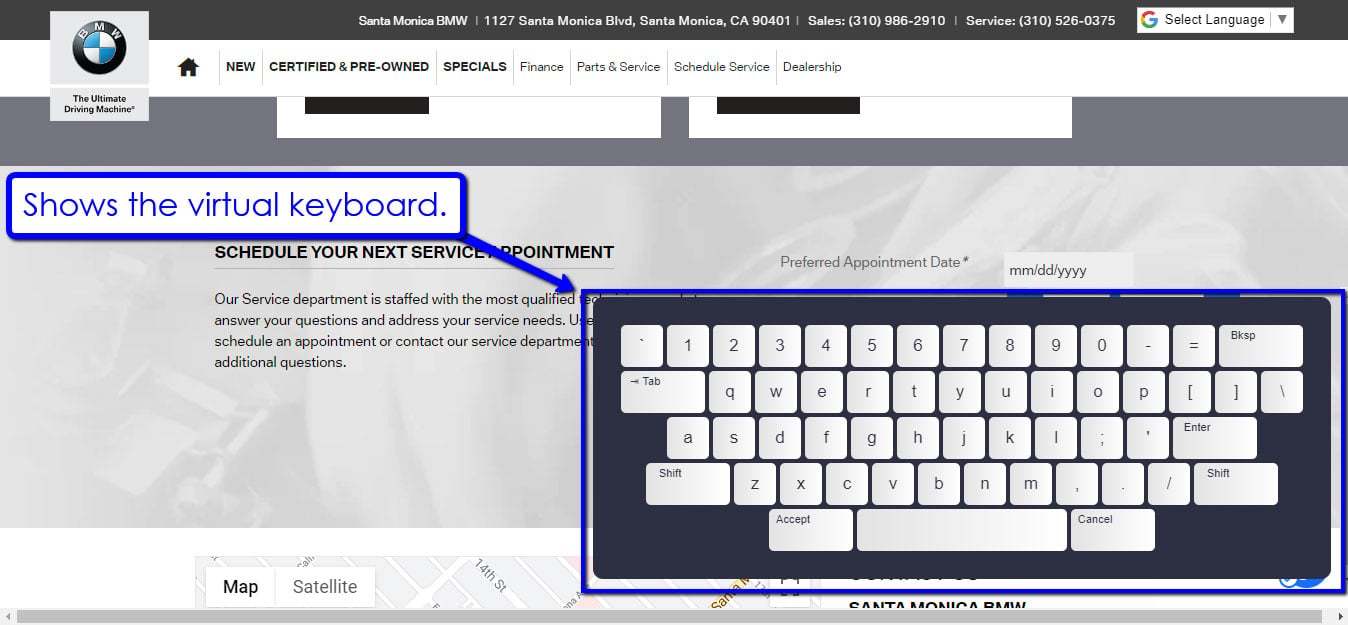 All of these features help make the user experience of your disabled website users convenient and smoother.
Plus, with all of accessiBe's foreground features, your website can already answer the WCAG requirements, keeping your website compliant, and helping you avoid potential lawsuits.
2. AI-powered background apps
Now the question becomes, will you need tons of coding to get all of these web accessibility features up and running?
Not to mention all the never-ending tweaks and adjustments you need to do every time your website goes through an update just to maintain compliance.
With accessiBe, however, you can do away with loads of manual coding to make your website accessible – plus answer the WCAG and ADA requirements and guidelines.
To adapt to the requirements, accessiBe utilizes machine learning strategies to implement functionalities – like keyboard navigation and a screen reader – which are commonly used by blind people and motor-impaired users.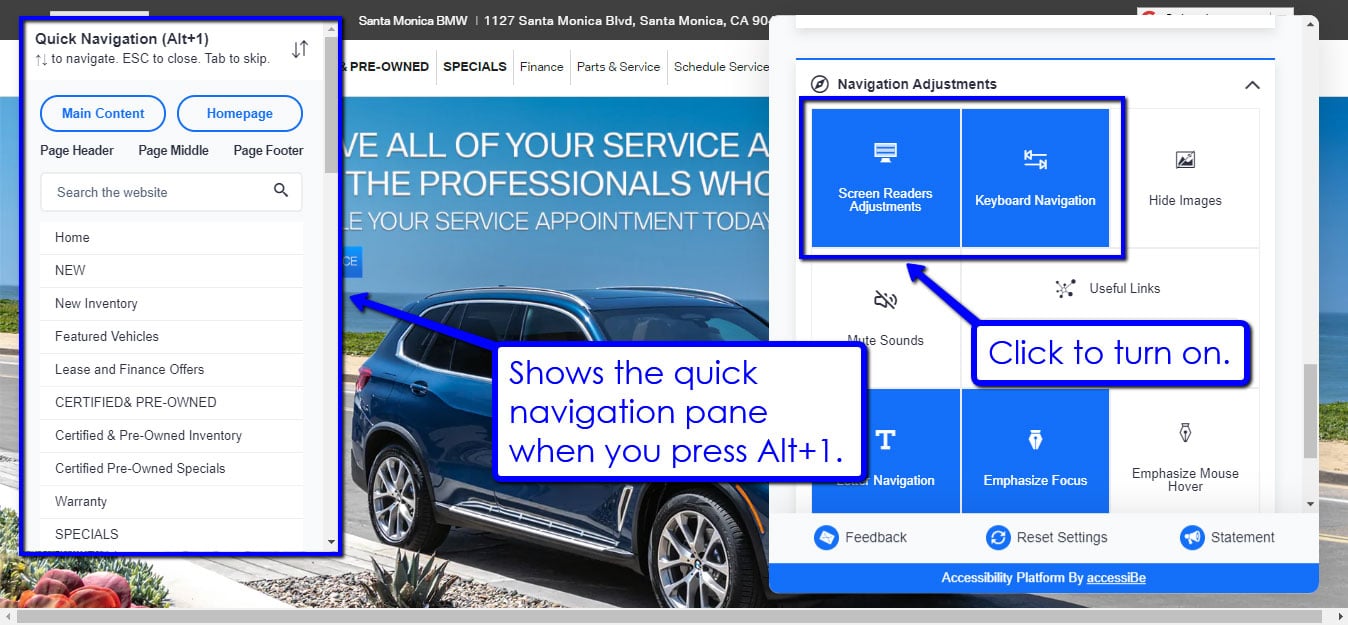 The platform's background apps also use machine learning learn and analyze your website's structure, widgets, and functionalities – including dropdowns, pop-ups, menus, validations, and forms. It then applies different behaviors – including Aria attributes – based on the WCAG and ADA guidelines and best practices.
Plus, accessiBe uses Optical Character Recognition (OCR) and Image Recognition to give accurate text descriptions for your website images.
All of these things are automated and happen within seconds without you needing to code them in – which will not only save you time but also keep your website accessible and compliant at the same time.
3. Quick and simple installation process
There are several installation methods that you can employ, but here, we'll focus on how to embed the accessiBe script to your website.
Here are the quick, simple steps to do it.
First, you'll need to create your account with the platform. Once you're done, you can then link your websites and select an installation method.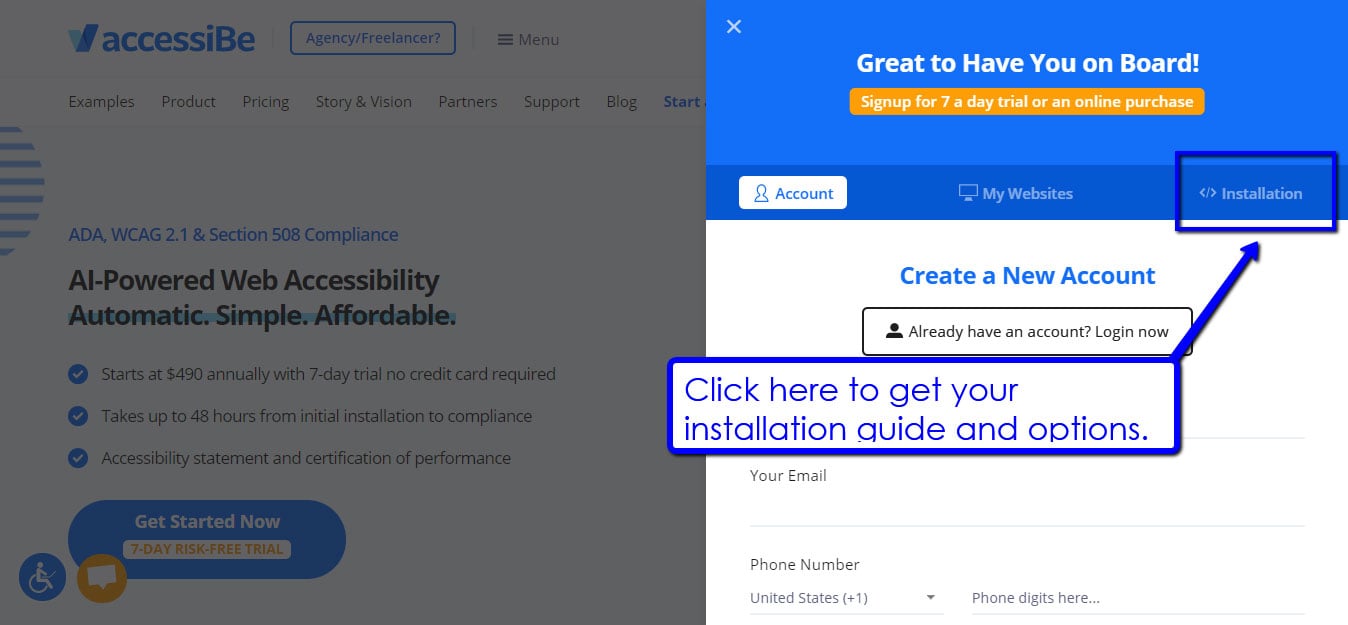 Next, you can click on the "accessiBe Embedding" > "Copy to keyboard."
After copying the script by clicking on "Copy to keyboard," you can then paste it to your website's system.
Keep in mind that upon installation, it will take 48 hours from implementation to a certain point when your website will become accessible and compliant.
After the initial installation process is done, accessiBe will then keep on re-scanning and re-analyzing your website every 24 hours.
This helps ensure that every time your website updates, all new pages, widgets, content, or anything else that you add are also adapted to your site and maintain compliance with the WCAG and ADA standards regularly.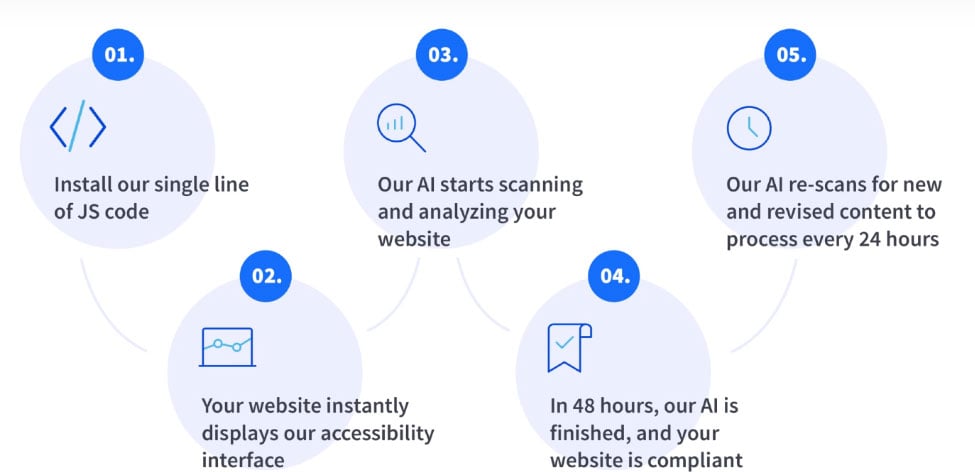 Image Source: accessiBe
You will also get an "Accessibility Statement" or a certification that will give details about your website's browser compatibility, level of accessibility, instructions on how to report issues, any adjustments that have been made, and more.
In just a few clicks, your website will become accessible for persons with disabilities, answer WCAG and ADA requirements using AI techniques, plus, maintain compliance that will keep you from facing possible lawsuits now and in the future.
Final thoughts
Let's face it.
Maintaining WCAG and ADA compliance can come at a cost, but it's nowhere near the amount you will have to pay if you get sued for non-compliance.
accessiBe offers a variety of pricing plans depending on your needs and a free seven-day trial for you to check out whether this web accessibility platform is the solution for you
Plus, it's much cheaper than other solutions today (which are manual and lengthy) so you can use that trial period to explore the benefits and features that accessiBe has to offer and assess its cost-effectiveness for your business.
– – – – –
Article sponsored by accessiBe
Recommended: