Hi guys! We are genuinely happy to know that there is a huge group of people out there that reads our blogs, shares suggestions & feedback with us and also encourages us to keep doing what we are good at. Working on creative ideas and making designs that can help you break a leg during a pitch presentation is something we are passionate about and that is the main reason why we are almost always thinking of things that could be needed somewhere for one of our amazingly talented graphic designers & readers.
Since we know that we can search for and download anything and everything on and from the internet without having to pay for anything or without having to create an account to use that website etc. but there still are some things that you cannot get for free for example; pretty wallpapers for your desktop and mobile phones, design templates as well as mockup PSD files. And if you are determined to create your own unique designs and work on concepts that no one has worked on before then you do need stuff that comes with a 'baggage'.
In order to help you guys with your personal and professional design projects, we make sure that you don't have to go to any other website for anything and we also make sure that everything that we share here has useful information, tips and tricks. So, while we were working on our new blog topics and design mock-ups, we found out a number of readers want us to share a clothing hang tag mockup PSD file – here we are with our free *but* highly editable hang tag mock-up PSD file for you guys!
Before we move on to the actual topic, we would like to share some of the important steps so that you can make sure that your design approach and ideas are going to get approved within minutes. It is simple and doesn't require a lot of time too but you need to put in your heart for this one. We think most of you must have guessed it by now – yes, we are talking about creating a mock-up presentation for the demonstration of your thoughts and ideas.
Recommended: 80+ Best Packaging Mockups
Any advertising, marketing and design agency must make it a rule that concepts of ads, creative processes as well as design mock-ups have to be shared in detailed mood boards and mock-up presentations (otherwise it won't leave a good impression on your clients). While creating a mock-up presentation, it is important to share the rationale of a thought / idea so that it can speak for itself. And your mock-up design will give your team leads or clients an idea of how things will look like in real life. This practice makes the decision making process easier and more efficient.
So, make sure that whatever you design as a freelancer or as a full time graphic designer, you share it through a crisp but interesting mockup presentation. Now, let's talk about the clothing hang tags as know you must be waiting for some easy to follow design tips to create your very own designs for your upcoming project!
Recommended: 30+ Premium Quality Product Mockups
Creating a clothing hang tag only becomes easier when you know the purpose of it and when you know how to grab an individual's attention through it. Basically, clothing hang tags are created so that you can create a connection between your brand and your potential customers. It is also created to build brand recognition and whenever a customer would look at the hang tag, they would be able to associate the product with the brand persona that you have already created and matured over the period of time.
Clothing hang tags can be minimal and they can also have a brief history of your brand on it as well. It is totally up to you to make sure that whatever story it has to tell, it is worthy of attention and that it can also lead to take an action (i.e. considering the brand, buying, spreading word of mouth etc.).
We are sure that all of you would have amazing ideas in your heads or design briefs to create customize clothing hang tags so, we decided to keep the tags clean. There are 2 different designs for you to consider and to use or maybe you can use them in pairs for pricing, brand story, logo & tagline, washing tips etc.  You can also change the colors to the colors and tones of your own brand(s) to make the tags even more relevant.
As long as the copy is concerned, make sure that you use readable fonts and that they also stand out on the hang tag. In addition to that, you can also consider taking the multiple languages route so that more people can read and get to know about the brand.
That's all for today! We hope that you'll like this blog and will create stunning hang tags for your clothing brand.
– – – – – – – – – – – – – – – – – – – – – – – – – – – –
More Awesome Free Mockups:
– – – – – – – – – – – – – – – – – – – – – – – – – – – –
Free Dual Cloth Hanging Tag Mockup PSD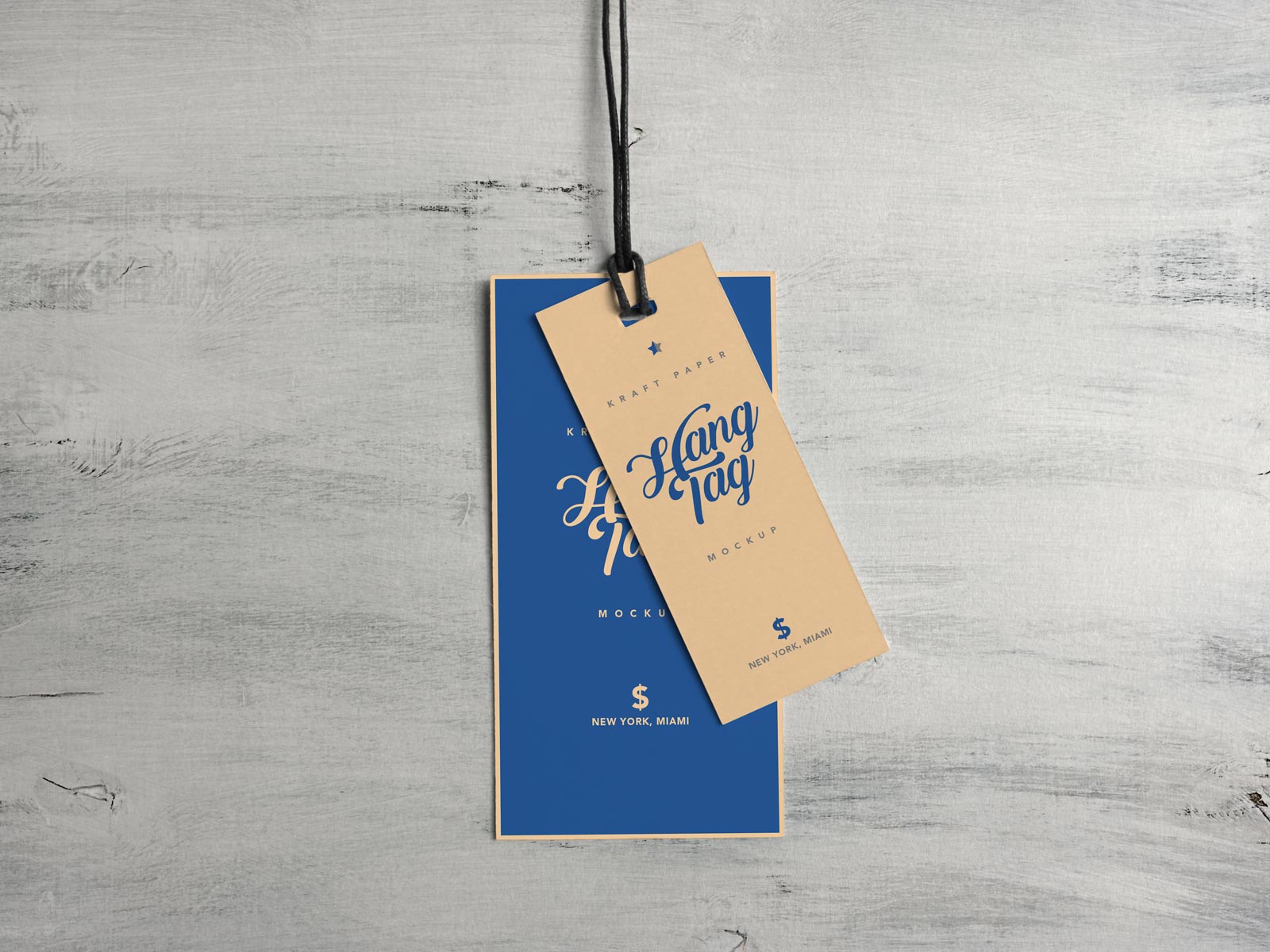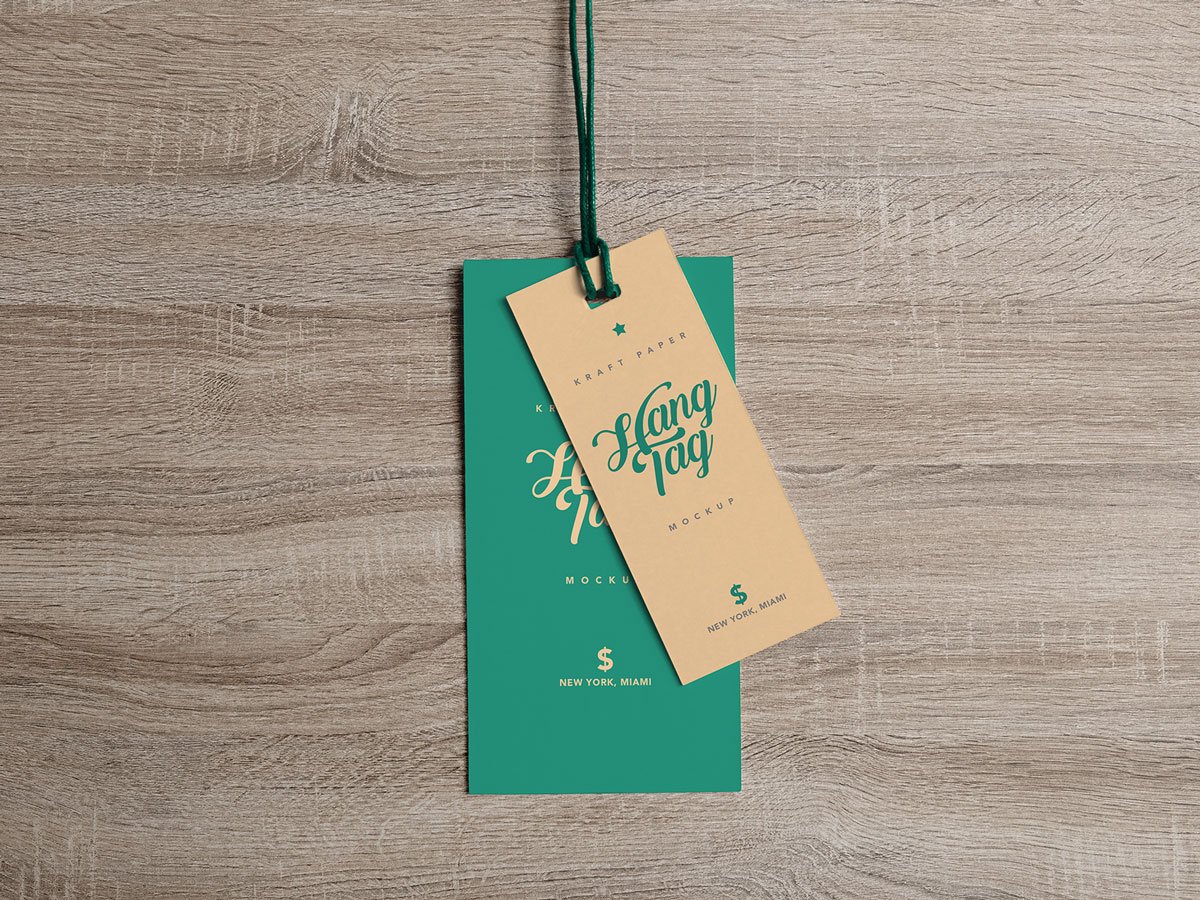 Available Format: Photoshop PSD
License: Free for personal and commercial usage
File Format: WinRAR
Mockup Resolution: 4000 x 3000 px
Note:
1. Free Hang Tag Mockup is allowed to share online (A Must Linkback to this page)
2. Say thanks if you like or share/tweet with your friends. That means a lot to me.
3. And don't forget to follow or subscribe to receive more high quality premium freebies & awesome articles only.
Download Hang Tag Mockup
More High Quality Free Mockup PSD Files