Hey there guys! We knew you all were waiting for us to share yet another amazing blog along with a mock-up PSD so, here we are with the things you asked for but before we start talking about work and all, we would like to talk to you first. We are sure that almost all of you must be working on your projects and would be busy in your long brainstorming sessions with your friends and team members and that's why we want you all to take a break from your all-work-no-fun type work schedules.
There are times when we think that taking a break for ourselves is going to delay our work and we won't be able to meet the deadlines but have you ever noticed that after some time, you are just working for the sake of it, there is less creativity and more stress or as we would like to put it – more drama!?
If we were to answer this question, we would definitely say that sometimes, working under pressures create tension and can also result in lack of creative ideas as well. However, taking a break from work life is still considered as something "not nice" and in some cases it is also frowned upon. But no matter what happens, you need to get a breather for yourself and for your work as only then you would be able to produce what is expected of you.
Taking a break during work assignments and projects does not mean that you can go for a drink or just call it a day and leave work early as there are many different ways to go about it. For example; you can pause your brain for a while and get yourself coffee (which you can literally get it at your workplace as well) or you can have a small chit chat with one of your favorite colleagues on on-going sales, maybe weather and it would be perfectly fine to gossip too because well, you need to distract yourself so that you can go back to your work desk with a fresh mind.
Recommended: 50 Free Stationery Mockups
Not sure if you can Netflix during office hours but watching DIY tutorials on YouTube can be one of your options too or if you have some extra time on your hands then we think it's high time you write a letter to your best friend who has been asking you to make a vacation plan but you were too occupied that you would forget doing that. It is okay as long as you have realized it and you are ready to write something sweet to your buddy. Wait, what? You don't have a letter pad? Well, don't worry because we have the perfect solution for you guys. All you have to do is to keep reading this blog!
So, you guys we have worked on a brilliant U.S letter mockup PSD with letterhead design template and we couldn't think of a better day than today (as you are in dire need of one too). We are still going to take a little more time before we share the design tips with you guys because we want y'all to know that our letter mock-up PSD file is absolutely free to download and it will let you make as many changes as you would want to.
Recommended: 30+ Premium Quality Product Mockups
Fun fact – if you are in the U.S, you would probably know this one that a U.S letter pad / paper is 216 x 279 mm which is 8.5 x 11 inches long but if you are someone who would want to give a personalized touch to your letter heads then you are more than welcome to do so. Remember that the keywords here are 'Be creative!'.
We have kept the letter mockup PSD file all clean and plain (for obvious reasons) so that you can bring in all the design elements and borders etc. if you are in that kind of a mood but of course, if you are working on a professional design for your own organization or one of your clients then you gotta keep it that way.
We have often noticed that graphic designers put in a lot of efforts and take the route of being extra creative but they tend to forget one thing which is the finishing. That might not fall under your jurisdiction but you can have the third part vendor(s) on board to discuss the possibilities as we know there are certain budgets involved for the entire process and you will have to follow that strictly.
Once everything has been finalized from the creative and design department then you will be asked to create a mock-up presentation so that the final go-ahead from the brand team can also be taken before the mock-up PSD is shared with the printer so that they can print the copies for organizational or commercial usage.
That's all for today, guys! We hope that you will find our blog and free U.S letter mock-up PSD file useful. Don't forget to share your feedback with us in the comments section down below!
– – – – – – – – – – – – – – – – – – – – – – – – – – – –
More Awesome Free Mockups:
– – – – – – – – – – – – – – – – – – – – – – – – – – – –
Free U.S Letter Size Letterhead Design & Mockup PSD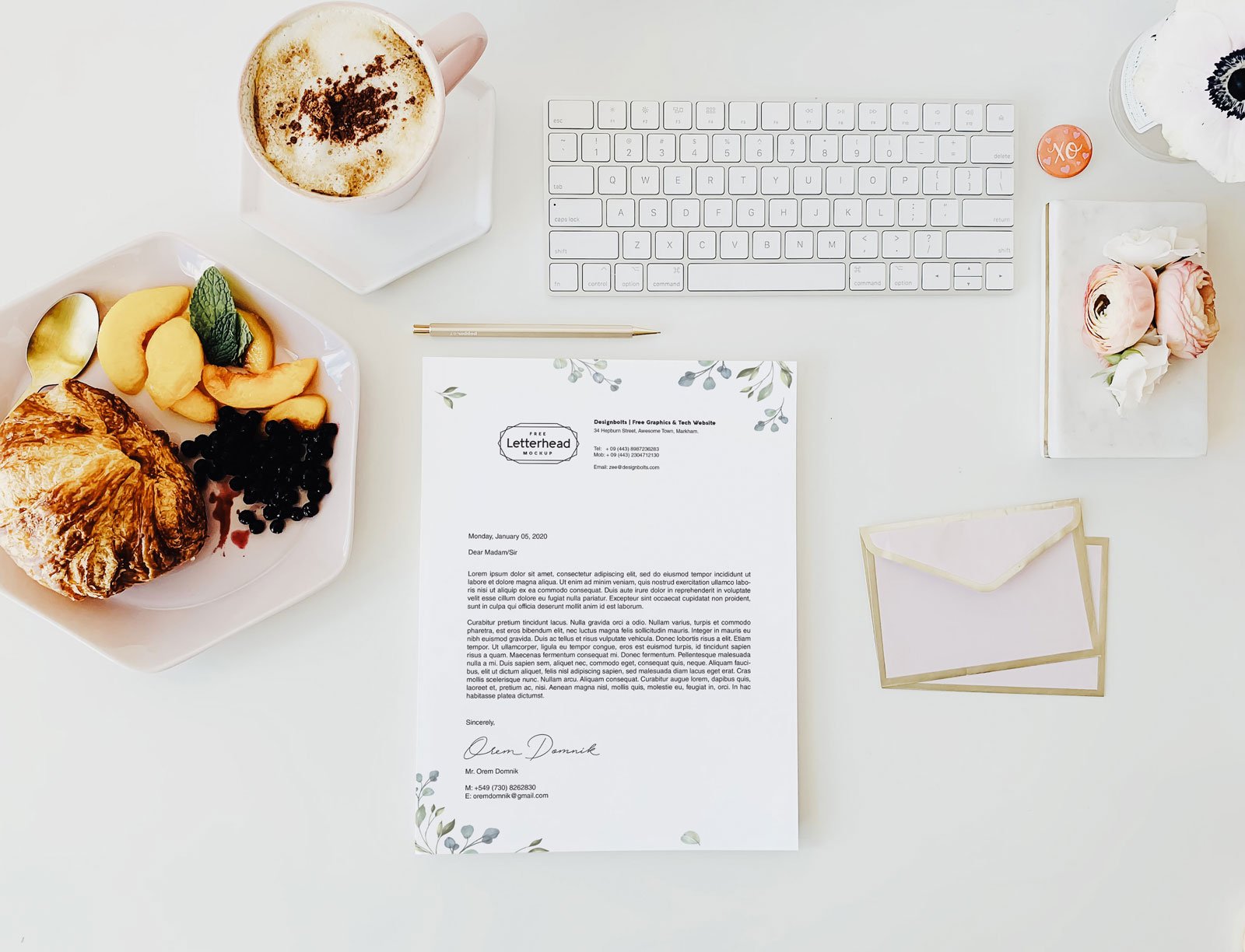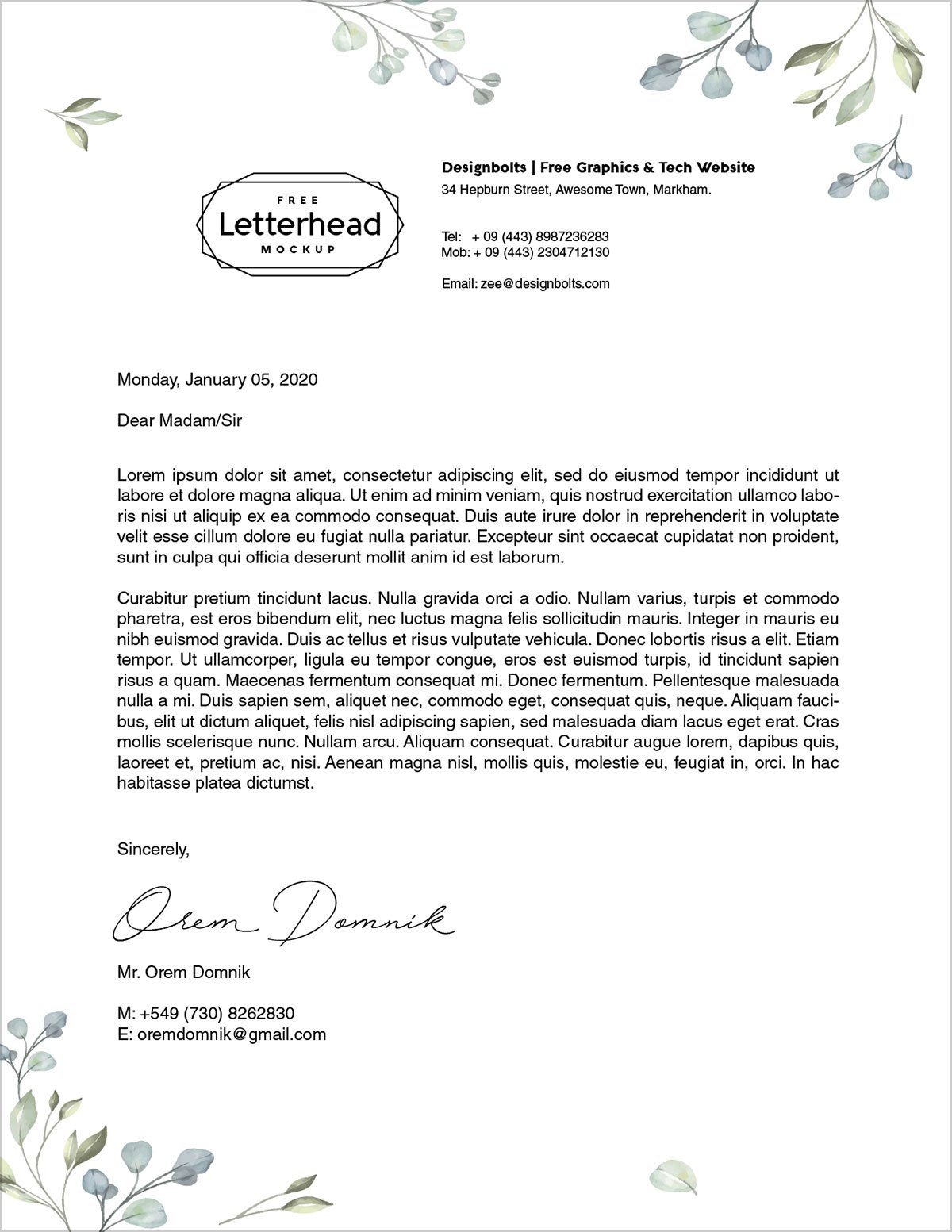 Available Format: Layered PSD with smart object insertion
License: Free for personal and commercial usage
RAR File Includes: Free Letterhead Design & Mockup PSD File
Mock-up Resolution: 3400 x 2500 px + Letter size Letterhead

Note:
1. Free Design Template & Mockup PSD is allowed to share online (A Must Linkback to this post)
2. Say thanks if you like or share/tweet with your friends. That means a lot to us.
3. And don't forget to subscribe to receive for more high quality premium freebies & awesome articles only.
Download Letterhead Mockup
Download Letterhead Design
More Latest Mockup PSD Files: