Another day, another blog – full of interesting information, design tips and everything that you would want to know about creating a scoreboard design. Also, hi guys!
We know that you were waiting for us to share some innovative & unique design ideas so, we decided to check our blog's comment section earlier today. Honestly, we thoroughly enjoy the fact that you guys are almost always asking interesting questions, sharing feedback and are also sending in your requests for mock-up PSD files of the projects you are planning to work on. Not only your feedback & requests help us get to read about the latest trends but we are sure that you also find everything super useful.
Before we jump to the actual topic of our blog, we would like to share some fun facts about the scoreboards. For example; all of you would know that a scoreboard is put up in a ground so that it can publicly display the score of a game that is being played. But did you guys know that the first ever electric scoreboard was developed in 1908 that recorded balls, out as well as strikes – pretty amazing, right?
Mechanical clocks and numerical cards were used to display the score back in the day and normally in old days, scoreboards were updated manually but with the passage of time (and for good), technology took over and now you only have to manage a control panel that lets a neutral person operate the entire game in terms of score etc. However, scoreboards are becoming even more interesting as they not only share the score but they are also programmed to share current weather updates too. And you can also have the scoreboards branded with your smart design elements if your brand is one of the sponsors of the game that is being played.
Although, the scoreboard design template mock-up PSD file that you will get along with this blog is the one that displays team names, time duration, 'Home' and 'Away' tabs and of course the score. We have made sure that everything on the scoreboard is clearly visible even if you are looking at it from a distance but the best part is that our scoreboard mock-up PSD file is absolutely free to download and super easy and fun to edit and use for your upcoming design projects.
Normally, scoreboards are created using colors that are neutral (as in they don't represent one of the teams) and which also are easy on the eyes but like we have said that if you are one of the sponsors (read: big) then you can have the scoreboard created using the brand colors, logos and the tag line. You can pick a prominent spot on the scoreboard to place the design elements that represent your brand to smoothly go about it.
We will suggest you to work on multiple scoreboard ideas and if you don't have a lot of time to play with themes then at least design a mock-up that is does not depict anything related to your brand and another design that has a personalized scoreboard for your brand. And of course, once you have created these designs, you must share them in a detailed mock-up presentation to sell your ideas in an efficient manner. There are chances that you will receive some minor changes as to revise how digits will appear on the board or the colors of the entire thing so you better be prepared to receive the feedback and also have a constructive discussion to know what exactly is expected from you and your design team in the revised mockup presentation.
We know this very well that at times, there is absolutely no time to create multiple design options or compile a mock-up presentation that also has the rationale but if you want to make sure that your ideas are given a thought to and that your team lead / client is actually interested in looking at your work then you must put your best on the table.
So, what are you guys waiting for? Get your hands on our free scoreboard mock-up PSD file right away and start creating brilliant designs of scoreboards. We know that we say this every time but do not forget to share our blog and the PSD file with your friends and favorite colleagues as well so that they can also produce amazing design projects.
And if you have any suggestions, feedbacks and requests then feel free to pour your hearts out in the comments section down below and we will make sure that all your design related wishes are fulfilled. Wait a minute! Don't you think that, that makes us your Design Santa Claus!? Interesting, hmm. Since that is the case so, we will see you guys next time around with another awesome blog of ours.
Free Football Scoreboard Design Template Mockup PSD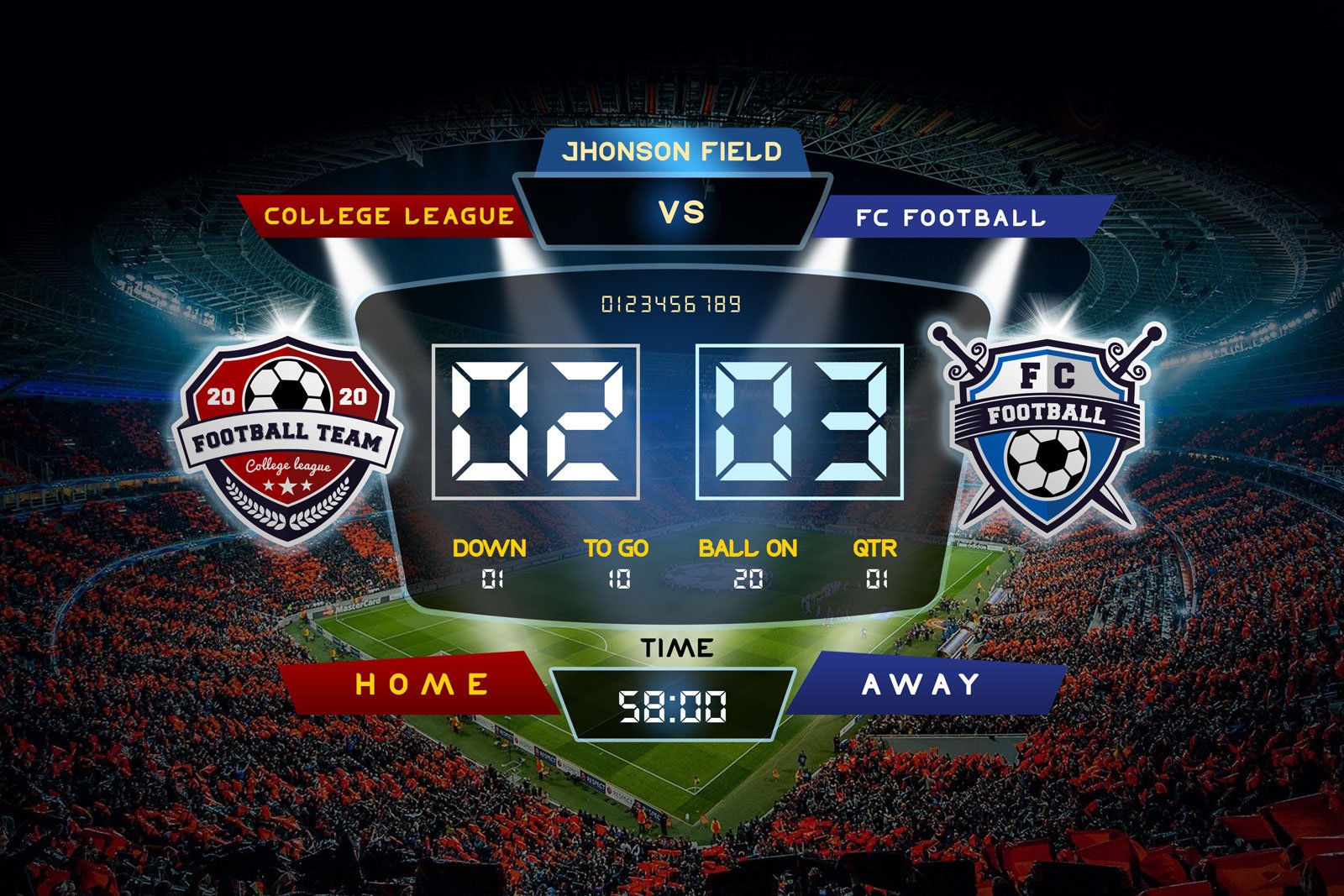 Available Format: Layered PSD with smart object insertion
License: Free for personal and commercial usage
RAR File Includes: Free Scoreboard Design PSD File
Mock-up Resolution: 3000 x 2000 px
Fonts Used: dafont.com/ds-digital.font & ffonts.net/TECHNIQUE1.font
Note:
1. Free Scoreboard Design Template Mockup PSD is allowed to share online (A Must Linkback to this post)
2. Say thanks if you like or share/tweet with your friends. That means a lot to us.
3. And don't forget to subscribe to receive for more high quality premium freebies & awesome articles only.
Download Scoreboard PSD
More Awesome Free Design Templates: