Hey there guys! We are back with yet another amazing blog of ours. Okay so, tell us how many of you love taking pictures? As in love love? For example, you have to click that pose of your father or that you gotta capture that cute moment of your niece?! We are totally like that too! Maybe more than just that (who knows)? And to prove it to you that we are big fans of photography and that we love preserving those memories, we can literally share our camera collection with you guys but let's keep it for some other day because today we are going to talk about something else in our blog. Continue reading to know more!
Recommended: 25 Beautiful > Calendar 2020 Design Ideas
Since holiday season is about to start and many of you must have planned to get together at your family houses or maybe you are going to go somewhere on a vacation too and we are sure that you will also be taking so many pictures too. Ah well, but after the celebrations and being off of work for more than a week is going to make you a little lazier too and then you will forget about the precious pictures you may have clicked.
We have some super amazing and fun ideas that you can follow – and all the ideas will help you cherish your moments for a longer period of time as well. For example; you can create a photo wall by choosing one of your favorite walls in your lounge or bedroom and decorate it with pictures from your childhood to your graduation and then to a picture from your first day at work. This can also be done on one of the walls of your workplace too but for that, we would suggest you to not pick any personal pictures of yourself or of your family members.
Other than decorating a photo wall, you can have picture montages created by a local vendor or you can also create them by yourself – in that way, you will know make sure that your sequence of events does not get messed up. Two of the easiest and cheapest ways of using your pictures to decorate one of the walls could be:
Hanger, strings, pictures
Wooden box, transparent glue, pictures
For the first DIY project, you can paint your hanger in one of your most favorite spray paints to make it look pretty. Then stick your picture on the string and then hang those strings on the hanger in linear order. And for the second DIY project, you will have to get an empty wooden box having transparent glass on one of its side. Stick your pictures on the glass using the transparent glue (your pictures should be facing you) and let the glue dry. You can also use your picture box to keep money too.
Recommended: 30+ Best Calendar Mockups
And if all of that sounds a little too much then we have something even more creative for you guys. The idea is unique and we know that you are going to love it so much. As you all know that our blogs are almost always accompanied with free mockup PSD files which are highly editable and let you create brilliant designs, today is no different. Want to know why? Well, that's because we are about to share our free family pictures 2020 calendar template here in this blog.
Our template is all fun to work on and you are going to enjoy working on the designs. Allow us to give you all a run through so that you can get familiar with the template. So, what we have done creating the template is that we have given a fair and prominent space to the pictures that are precious for you and we have separated them in an attractive design template using a plain white line.
On the other half the calendar will be the calendar itself with all the dates, days and months mentioned on it along with the title and year. The title can be anything from your family's name to a New Year wish to maybe one of your family member's / friend's / colleague's favorite movie dialogue or anything that they like to say – if you want to plan a unique gift idea for them.
That's all for today, guys! We hope that you will get your hands on our free family pictures 2020 calendar template today and will also use it to preserve your memories for the next year to come. Feel free to share our blog and design template with your friends and colleagues as well so that they can surprise their loved ones with their creativity as well.
Oh, and don't forget to share your feedback with us in the comments section down below!
Free Family Pictures 2020 Calendar Design Template in Ai & PSD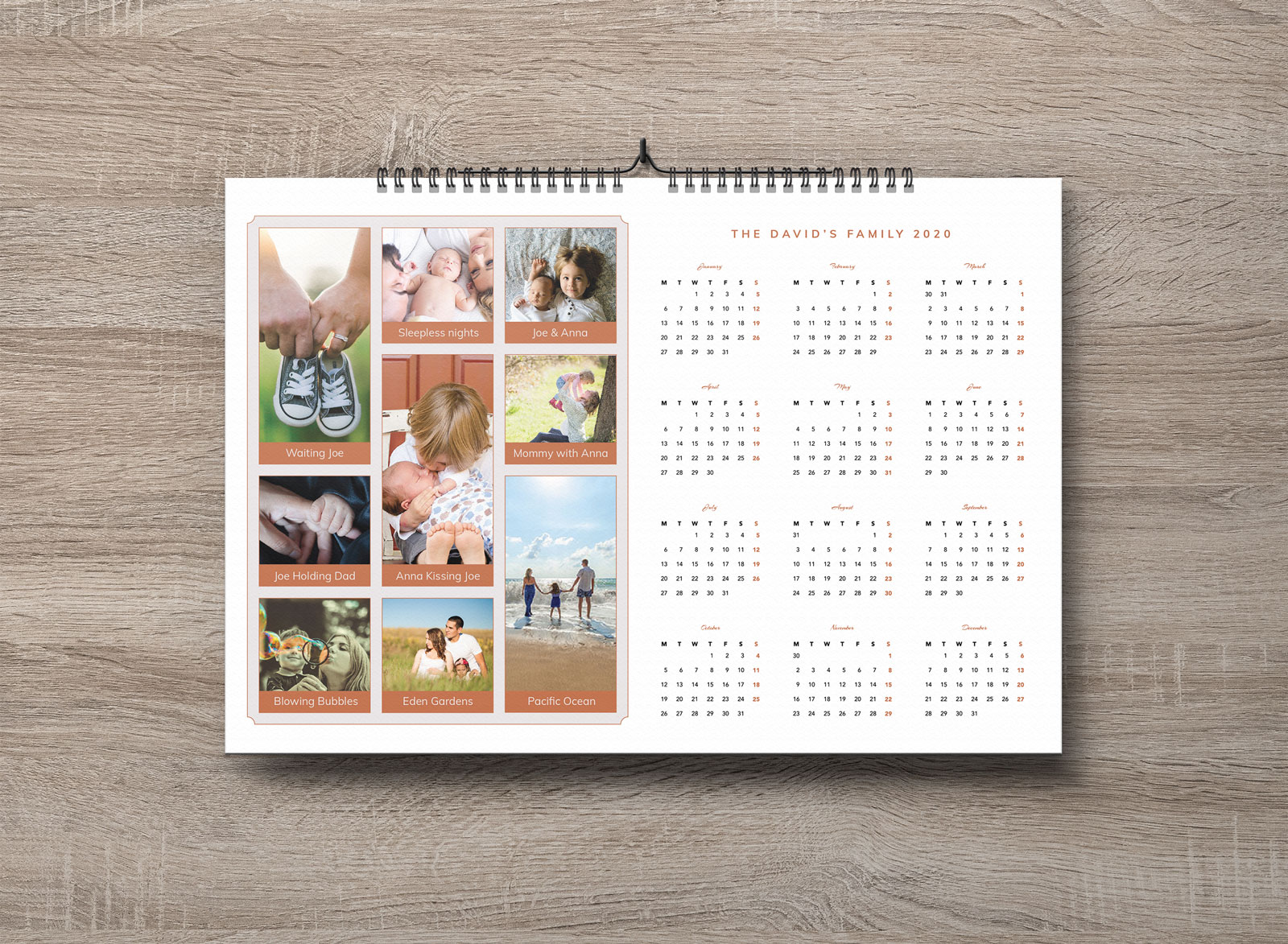 Available Format: Layered PSD with smart object insertion
License: Free for personal and commercial usage
RAR File Includes: Free Calendar 2020 Design PSD & Ai File
Design Template Resolution: 18 x 12 inches  (300dpi)
Fonts Used: Muli from Google fonts
Note:
1. Free Calendar Design PSD & Ai are allowed to share online (A Must Linkback to this post)
2. Say thanks if you like or share/tweet with your friends. That means a lot to us.
3. And don't forget to subscribe to receive for more high quality premium freebies & awesome articles only.
Download Calendar PSD
Download Calendar Ai
More Awesome Free Design Templates: