Ah, we knew you'd be having that huge smile on your face after reading the title of our today's blog and now that you cannot stop feeling great already, half our work is done here but wait, we have a lot more to offer along with our blog and a free fitness flyer template (AI Format). So, how about you guys continue reading!?
As we watch every comment that is shared on our blogs and through your feedback and requests, we know that a number of you are professionals, both full-time and part time and you all are doing great in your fields but there still is one thing that you don't seem to get a hold of and that is staying fit. Taking care of one's health is something that we tend to ignore and that is one of the reasons why we are normally under the weather.
We will totally understand if you have started to think that this is what you have been hearing since years now and you are still fit so, probably none of this is actually true. But allow us to be honest with you guys, health and well being is not something that you should ignore because your body is what keeps you moving from one place to another, which helps you in thinking of brilliant ideas and it's your body that deserves all the attention in the world.
We also know that it is almost impossible to take out time from a busy day at work. In addition to that, fitness training centers are either far away from your work place or the trainers are so expensive that you would never think of signing up with them. Honestly, all of that makes sense because now there are a number of gyms and trainers in business that you really want to take some time to take a final decision.
Recommended: Free A4 & Letter mockup PSD files
And at times, even consultations are quite expensive too but you know what, there is always a solution for any sort of problem. For example; you can discuss 'you not being able to stay fit or healthy' issue with one of your close friends or a colleague at work so that they can help you in finding a great fitness center or trainer for you. Or you can conduct your own mini research in the area where you live in. Another option is to go through the flyers that are handed over to you at your favorite mall so that you can get in touch with one of the best fitness trainers.
You can thank us later for that we have shared various options for you to consider if you want to stay fit. But we are still not done as we you are about to know some really cool design tips to follow so that you can create your own fitness flyers. We have kept the flyer template in AI format so that the graphic details can be maintained even when you zoom it at the maximum level. And we are sure that you are going to love working on our template as well so, let's have a look at the tips now!
First things first, you need to design the theme of your fitness flyer. For example; there are multiple trainings that are conducted at gyms and personal training centers like zumba, aerobic, circuit trainings, full body exercises etc. so make sure your flyer is not a hotchpotch of multiple exercises and training services.
In order to make an impact, you must incorporate visual aid into your design as well for example; have real people photographed for the services that you or your client is offering and then create a collage or use single images for your fitness flyer.
Your copy has to be crisp yet full of meaning. Talk about the pain points you could gather after doing surveys and then provide solutions to them in easy to understand and professional language. Know that your flyer is a flyer and not a novel so, you would want to keep the copy to the point.
It is extremely important to have a Call to Action (CTA) on your flyer. For example; 'Register Yourself Today', 'Let's Stay Fit Together' are some of the CTAs that can work for your flyer.
In addition to that, you can also offer an exciting discount on first 10 customers or for referrals too so, that the word is being spread nicely.
Another important thing is to direct your potential customers to your website, WhatsApp number, Facebook or any other digital media platform where they can check out the details and also get themselves registered online.
And last but not the least, make sure that you are using design elements to keep your audience interested in looking at the flyer.
That's all for today, guys! Make sure that you not only use our free fitness flyer template in AI format but you also share it with your favorite colleagues as well. Stay creative and stay fit!
Free Gym Body Training / Fitness Flyer Template in Ai Format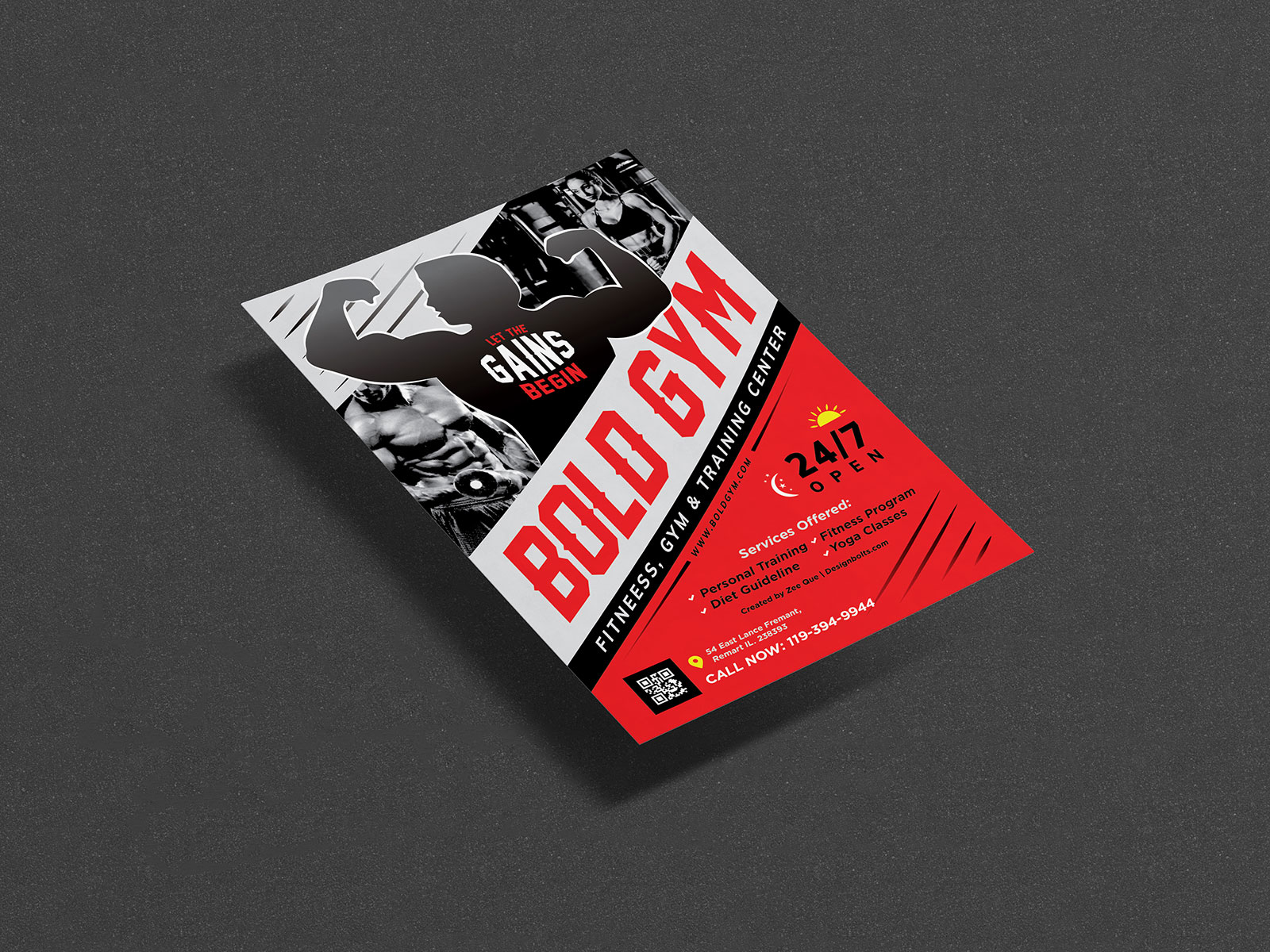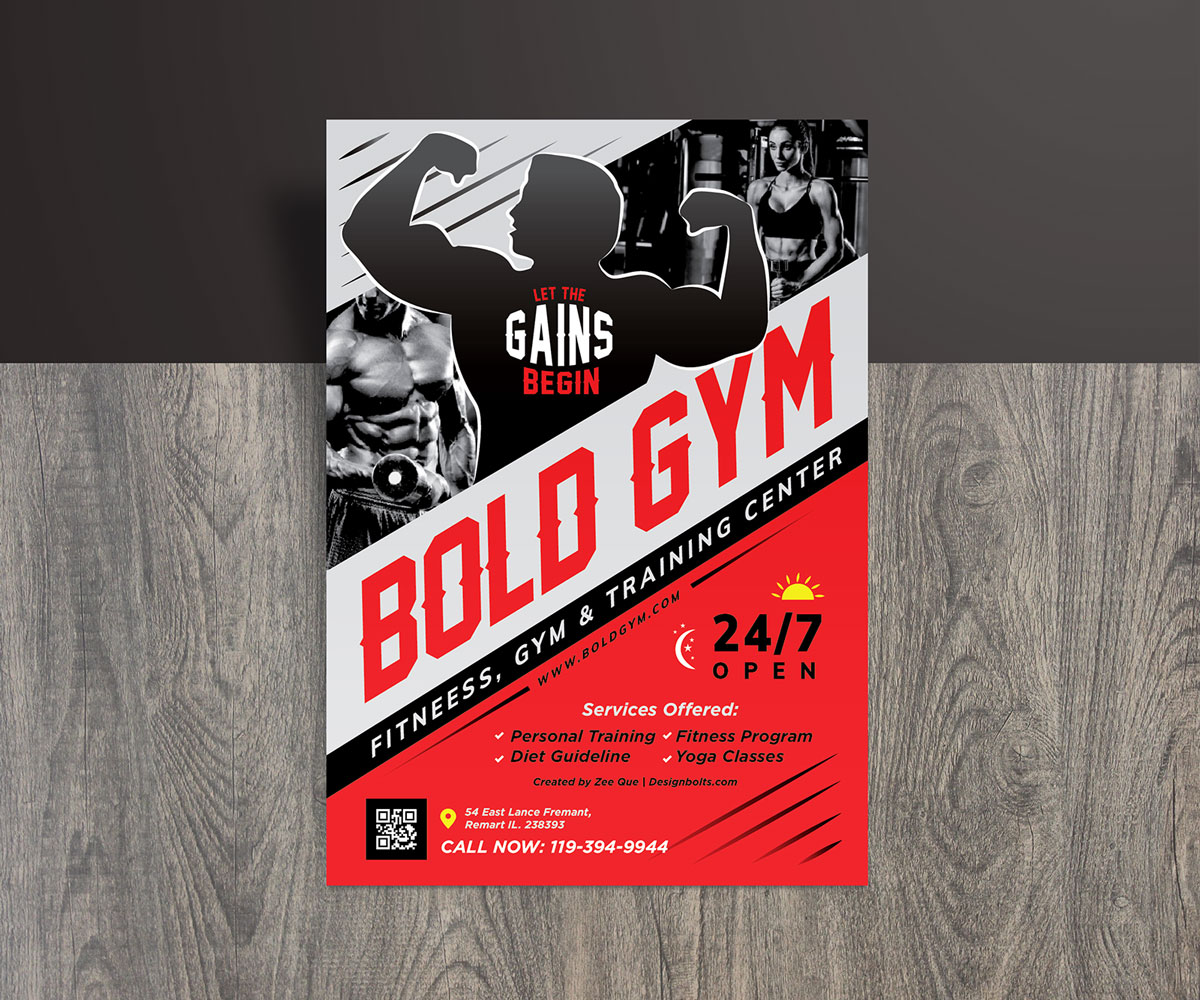 Available Format: Illustrator Ai File
License: Free for personal and commercial usage
RAR File Includes: Free Gym Training Center Flyer Design Template
Design Template Resolution: A4  (300dpi)
Fonts Used: Legend M54 | Muli
Note:
1. Free Flyer Design Ai are allowed to share online (A Must Linkback to this post)
2. Say thanks if you like or share/tweet with your friends. That means a lot to us.
3. And don't forget to subscribe to receive for more high quality premium freebies & awesome articles only.
Download Flyer Ai
More Awesome Free Design Templates & Flyer Mockups: