Hey there lovely readers and design enthusiasts! How is the world of graphic designing treating you? Is it all fun and games or does it become challenging – so much so that you increase your coffee intake and then eventually call it a day? Well, we can completely understand how things can be when you are working as a graphic designer but your work environment also 'decides' the fate of your creativity and imagination. And if you are interested to know how that happens then we would like to encourage you all to keep reading our blog because it has more to offer!
Work places can be a walk in the garden for you and in some cases, there are chances that the flowers are made of steel and you have to just walk over them in order to get things done. Well, we are not here to scare you guys but that is the reality. Not every work place gives you a chance to grow as a professional and if that happens then that means that you have to create an opportunity for yourself – which by the way, could be either moving to a better place or talking to your team lead to sort things out.
At times, the issues are very basic ones like you not having access to shutterstock for whatever reasons or late sittings and sometimes, you are expected to meet unrealistic timelines on a daily basis which leaves a bad influence on your performance and it also messes up your personal life routine as well.
Since we know how most agencies and organizations work, we are aware with the fact that getting in touch with someone to make things right doesn't always work, even if you talk to your immediate line manager or someone at a higher position. This might feel like it has become a tradition but we are sure that many professionals are trying their best to make amends so that they and their coworkers can work at peaceful work places.
Recommended: 30+ Premium Quality Product Mockups
We believe that professionals working at healthy work places are not only high achievers but they are also great mentally and physically. And you can literally judge your own work place by considering all the factors that we have mentioned above.
Now, we know that you all must be waiting for '…it has more to offer!' so, here it is! With our blog today, you will also be able to get your hands on our free traditional mockup PSD file. As traditional things take a lot of time to be replaced with a modern version or something, we know that there are still many people who like to use wireless mouse. Not only it is convenient to work with but it also gives more control over your work as well.
So, if you are someone who works with and for a computer accessories brand then this blog is for you. It is also for those graphic designers who are asked to customize a bulk order of wireless mouse from one of their clients and if you are someone who customizes stuff for themselves and for their customers then keep on reading as we are about to share some really cool and easy to follow design tips with you guys!
To create your own wireless mouse design, make sure that you have made yourself familiar with the space on which you are about to work like the buttons, main body and even the back of your mouse as well.
You must have noticed that we have kept the color white so that you can choose any color of your choice or the colors that will best define your brand but no matter whatever color family you pick, make sure that you don't use light colors as they will fade away with sweat and frequent use.
If the design of your wireless mouse is being created for an organization then you will have to choose a prominent place to put the logo at. Make sure it doesn't cover the entire body (of the mouse) and is easily recognizable if it's not too big in size.
If you are creating customized designs for your customers then make sure that you offer multiple themes so that they have a variety to choose from.
And we are sure that you know what the best way to go about it is. Yes, it definitely is by creating mock-ups. Instead of having the design printed on the actual product, you can literally put up an entire collection of what you can create by making multiple design options. So, what are you waiting for guys? Get your hands on our free traditional wireless mouse mock-up PSD file right away and start creating awesome mouse designs for yourself and for your clients.
– – – – – – – – – – – – – – – – – – – – – – – – – – – –
More Awesome Free Mockups:
– – – – – – – – – – – – – – – – – – – – – – – – – – – –
Free Traditional Wireless Mouse Mockup PSD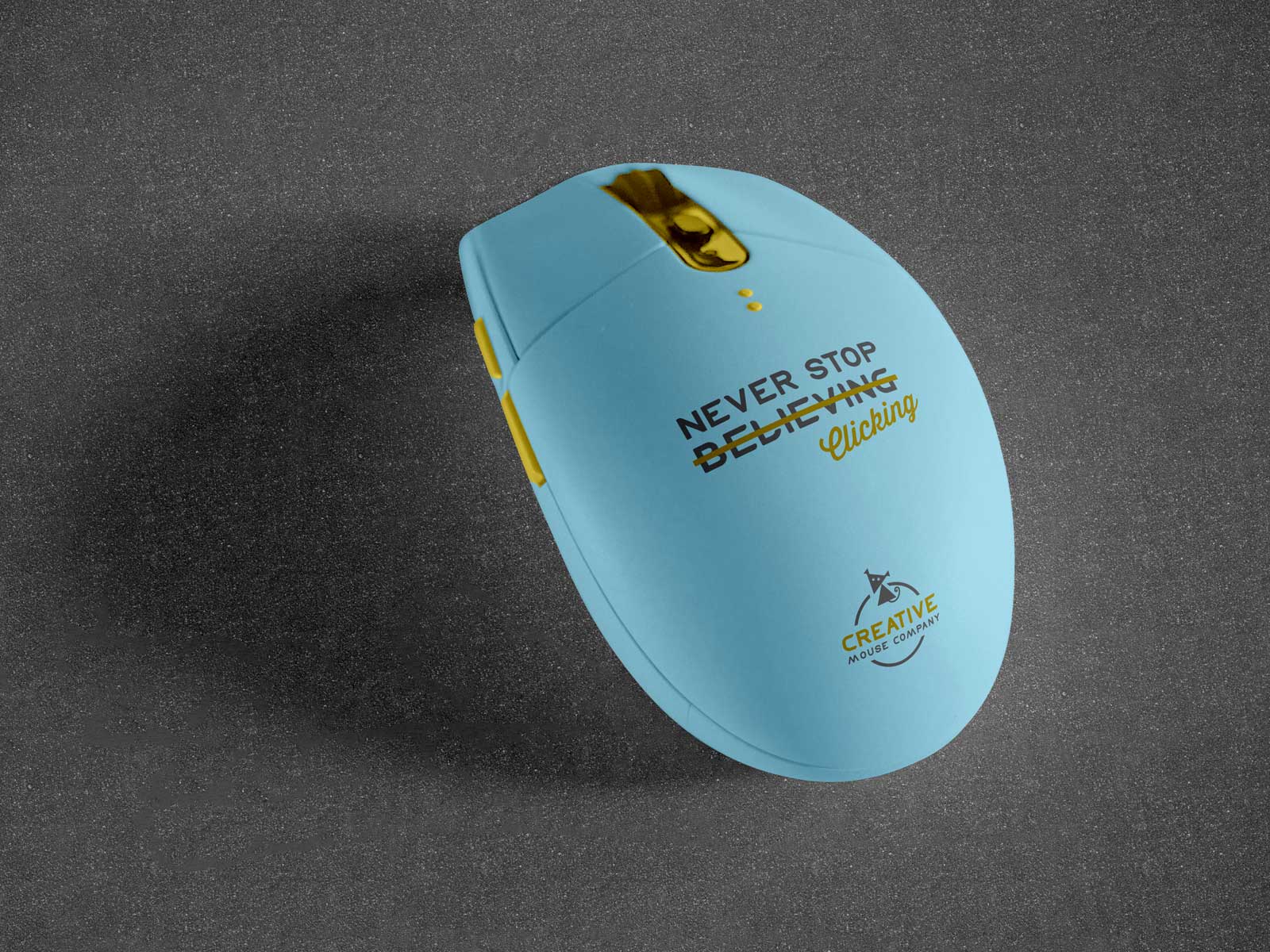 Available Format: Layered PSD with smart object insertion
License: Free for personal and commercial usage
RAR File Includes: Free Mouse Mockup PSD File
Mock-up Resolution: 4000 x 3000

Note:
1. Free Mouse Mockup PSD is allowed to share online (A Must Linkback to this post)
2. Say thanks if you like or share/tweet with your friends. That means a lot to us.
3. And don't forget to subscribe to receive for more high quality premium freebies & awesome articles only.
Download Mouse Mockup
More Latest Mockup PSD Files: