Hi there lovely readers! First things first; thank you for being such an awesome support group for us and for sharing your positive feedback & cool suggestions with us. We also really appreciate that you all are always sharing our blogs with your friends and colleagues to help them with their design projects as well – and that's why we are back here with yet another amazing blog of ours. But before we start talking about business, we would want to know some stuff about you guys (you know, to know you better!).
So, tell us – are you a milkshake person or any easy person who doesn't really have any preferences? We are asking this question because our today's blog is going to be all about milkshakes and their cup designs in general. As per our research, we found out that the first ever milkshake was made somewhere in the duration of 1880 to 1930s and then of course, more people came up with their own versions of making milkshakes and now we have like so many different flavors and well, you don't need to know of a recipe to make one anyways. However, you do need a pretty packaging to pour the milkshake into it, right?
Milkshakes are one of those food items which are sold not by the taste (at first) but through their packaging and that means the container or cup has to be extremely attractive so that a person would grab it from the counter and would love to sip it through the straw. And we are sure that you must have seen and drank from multiple milkshakes cups but if you were to try a new place, what do you think would catch your attention? The advertising, ambiance, packaging of the brand and place are some of the things that attract a potential customer to stop by and order something they have never tried (at that new place).
To help you and your clients sell the best milkshake recipes in the town, we have worked on this disposable milkshake cup mockup PSD – which is of course, absolutely free to download and super fun to work on. So, all you would need to do is to get your hands on our mock-up PSD file and follow our easy design tips (which are about to be shared down below) to create your own disposable milkshake cups, let's get started without any further delays!
Creating a milkshake cup is no different than designing branding of anything – it has to be attractive, it has to be smart and it must depict nothing but creativity. In our disposable milkshake cup mock-up PSD file, you guys must have noticed that we have used different colors to create the aura and that is actually making the cup stand out as well. But here are a few things that you can try:
Pick at least 2 to 3 colors from your brand identity and create a combo of colors or may be a mix & match to see how things will work for the milkshake cup design. As far as the straw matters, keep the color transparent as it increases the believability factor as well.
Then for the lid, choose a neutral color that should be different from the colors that you have already chosen for your cup because you wouldn't want to keep all things similar like it is a uniform or something.
Even though the cup is going to be used for one time only but you must clearly mention all the information that must be mentioned on a milkshake cup for example; the ingredients and if they can cause any allergies. Then you must also mention the nutritional facts of the drink as well. We would also suggest you to have the business contact information included in the design as well so that it is easier to reach you directly over a phone call or may be through any of the social media platforms. And last but not the least, your logo and tagline must be given proper attention to as well.
It will also be a great idea to try new themes every other month to stay relevant and connected with the occasions, special days and latest trends as it attracts more people to come right to your café, shop etc. and get something from there. Some of the ideas that we could think of are: winters & the holiday season especially Christmas, famous movies and TV seasons and their top trending characters and you can totally go with the idea of incorporating super heroes and their stories into your milkshake cup designs.
And of course, once you have done creating your disposable milkshake cup designs, we would encourage you all to put them all in a nice and detailed mock-up presentation so that you can demonstrate your thoughts and ideas in front of your team members or clients to receive feedback or go ahead for the printing process.
– – – – – – – – – – – – – – – – – – – – – – – – – – – –
More Awesome Free Mockups:
– – – – – – – – – – – – – – – – – – – – – – – – – – – –
Free Disposable Milkshake Cup Mockup PSD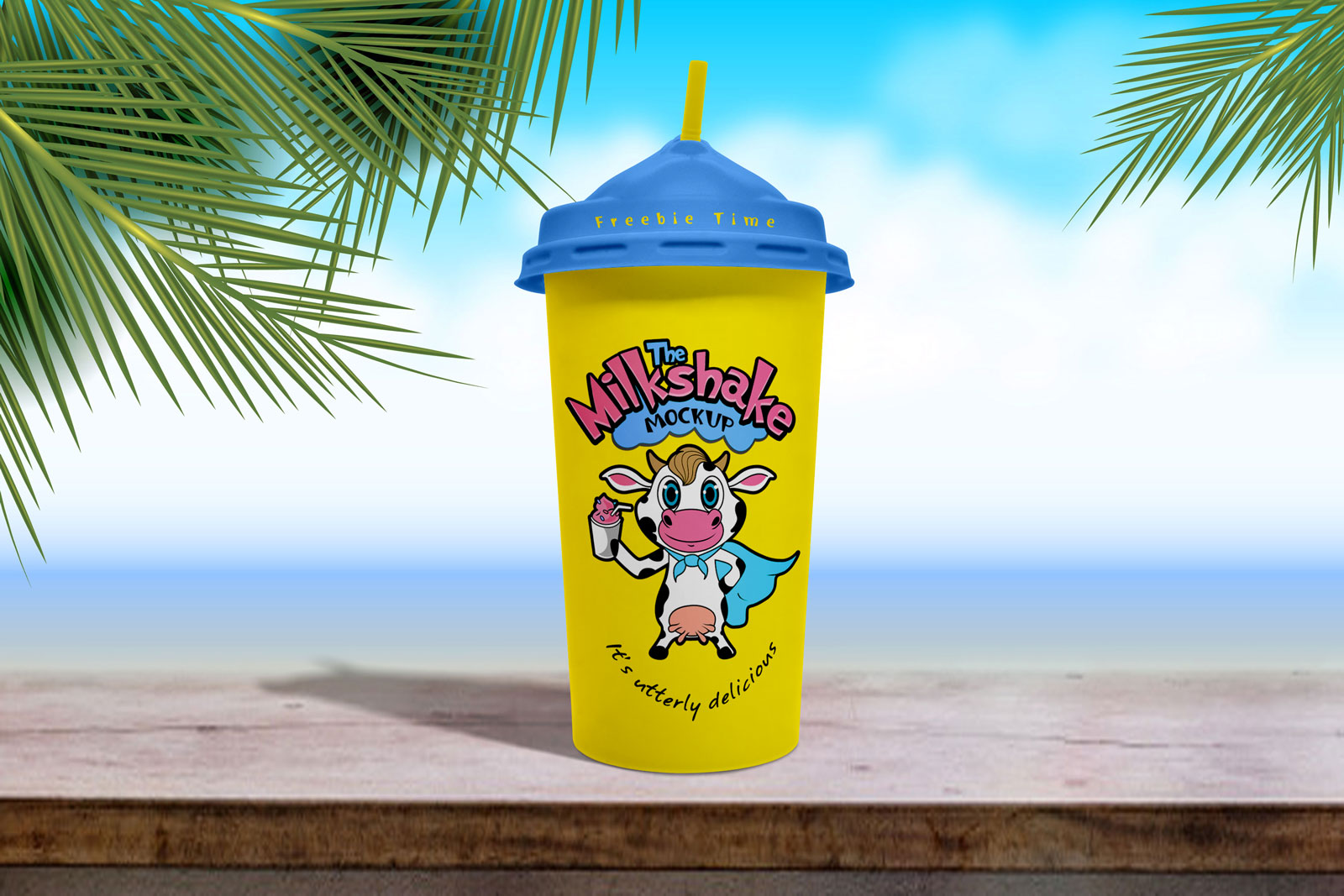 Available Format: Layered PSD with smart object insertion
License: Free for personal and commercial usage
RAR File Includes: Free Milkshake Cup Mockup PSD File
Mock-up Resolution: 3000 x 2000

Note:
1. Free Milkshake Cup Mockup PSD is allowed to share online (A Must Linkback to this post)
2. Say thanks if you like or share/tweet with your friends. That means a lot to us.
3. And don't forget to subscribe to receive for more high quality premium freebies & awesome articles only.
Download Milkshake cup Mockup
More Latest Mockup PSD Files: