Hey there guys! We hope that our awesome blogs are helping you work on some amazing designs and that you are also achieving your goals through your marketing campaigns. In order to keep this thing going, we are about to share a brand new and free mock-up PSD file with you guys along with our very own tried and tested design tips and tricks so that you have total control on your concepts and design pitches. So without any further delays, let's get started!
We use paper daily in one way or the other but it is never a never kinda situation as paper is one of those items that are always around us for example; mail post that we get in the form of letters and our favorite reading magazines or the small paper bills that are brought in by the delivery guy, invoices that we have to physically mark approved and sign on so that our dealings can move forward or a paper bag in which comes our favorite muffins – paper does serve so many purposes that we don't think that one blog will be enough if we were to list down all the uses.
So, what we have done here instead is that we have created a free white US Letter paper mock-up PSD file which can be used for anything and everything that includes letters and appointment documents to bill receipts and documentation for banks to writing down new recipes to try and to make notes as well. And to give you all a fair idea about the size of the paper, we have involved the human hands in our mock-up PSD file as well.
Now, let's jump to the actual topic which is going to be all about using our free hand holding white US Letter paper mock-up PSD for your personal and professional design projects! As you all know that we can use paper for almost everything, there are also (small & big) businesses that still struggle with selling their products let alone market them in such a way that their clientele can be increased. The worst thing is that most of them have amazingly unique stuff but because of no or mismanaged marketing plans, they fail miserably.
Recommended: 50+ Best Stationery Mockups
Paper products are worth every penny and so is the regular US Letter paper. So, if you yourself own a shop of stationery items then you can either work on creating a paper brand or sell the ones that are already on you through proper marketing strategies. We are sure that all of us have seen those boring packages that carry the paper bundles and the moment one of those packages is bought, the first instinct is to discard that packaging, right? Well yes, we know that very well but you can be a game changer. Allow us to tell you how!
Not only can you make the US Letter papers interesting by incorporating a design element or two (super relevant to the brand) but you can also create attractive packaging as well which will carry all the sheets nicely. It is just reaching out to your existing and potential customers in better way or say, in a more aesthetically pleasing way and well, who wouldn't want that for their business, stationery shop or online store, right?
Another way to make the white US Letter paper sheets more fun is to bring life to them. Yes, you can do it by literally putting in some efforts and making sure that you are not hurting the brand guidelines. For example; you must pick up a colors that your brand uses in the communication online and offline and use them to create borders on the papers that are used within the organization and outside of it for official purposes.
You can also use the brand logo in one corner of the US Letter paper to make it more 'alive' because honestly, no one said that official documents have to be all white, dull and boring or dare we say 'lifeless'. Also, whenever you design anything, make sure that you have the receiver in your mind too like the person who is going to get the letter that was sent by you or the bill that was issued from your organization or a manual that explains how to use a gadget because otherwise, no one is going to give attention to what you have sent them if there are absolutely no colors, design elements on the document.
We know that with all the tips that we have shared with you guys above will help you in creating pretty designs for your US Letter paper sheets and without wasting any more minutes, all you have to do is to get your hands on our free hand holding white US Letter paper mock-up PSD file and start creating awesomeness!
– – – – – – – – – – – – – – – – – – – – – – – – – – – –
More Awesome Free Mockups:
– – – – – – – – – – – – – – – – – – – – – – – – – – – –
Free Hand Holding White US Letter Paper Mockup PSD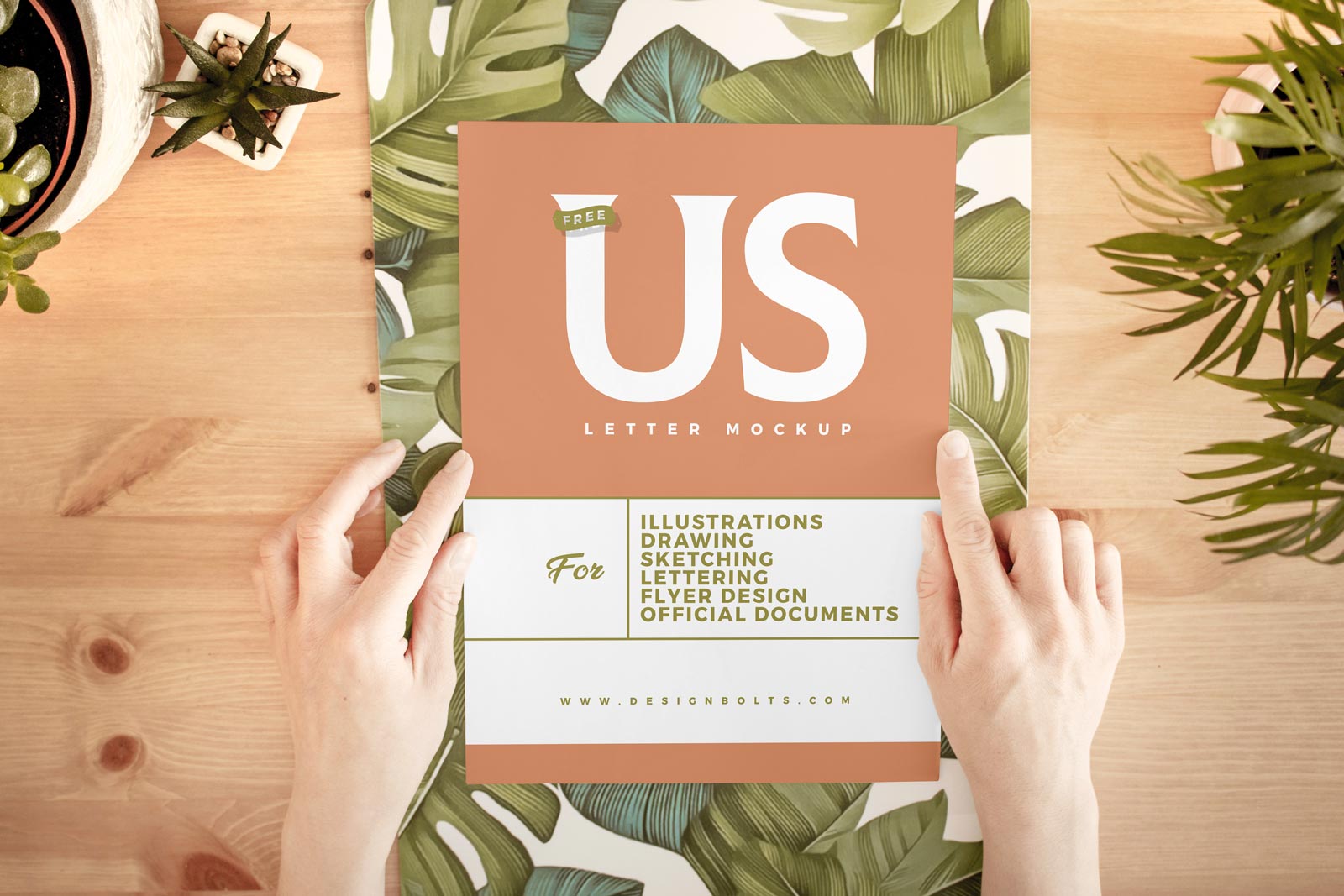 Available Format: Layered PSD with smart object insertion
License: Free for personal and commercial usage
RAR File Includes: Free US Letter Mockup PSD File
Mock-up Resolution: 4500 x 3000

Note:
1. Free US Letter Mockup PSD is allowed to share online (A Must Linkback to this post)
2. Say thanks if you like or share/tweet with your friends. That means a lot to us.
3. And don't forget to subscribe to receive for more high quality premium freebies & awesome articles only.
Download US Letter Paper Mockup
More A4 Mockup PSD Files: