Hey there guys! Thank you so much for sharing your positive feedback with us on our previous blog and since we are talking about planners, here is another one with a different sort of planning and something to keep you on the right track when it comes to your health and fitness in general. So, let's dive right into meal planning with a little bit of creativity as we are going to share our free weekly meal planner template design in AI format along with its PDF file and word document. But before we do that, you need to continue reading the blog to know more and plan better!
We are sure that you must have seen the recent trends of all kinds of diets and their plans in which you are basically asked to sell one of your kidneys so that you can follow that regime, right? Well, we know that because some of our friends love to follow whatever trends they can follow and then they have to stop doing everything at once in order to get back to their original life style.
Know that we are not saying that planning meals or following a diet is something that should not become a trend or that we don't have to shut our eyes so that we can ignore the hashtags on Instagram and filter out the videos that appear on our timelines but what we are saying is that it is important to understand that not every diet plan that goes viral on the internet is going to benefit us – there are chances that things will take a drastic turn resulting in some serious health issues and honestly, no one would want that to happen.
If you are so eager to follow a diet plan and if you want to stay fit (for yourself and for your Instagram feed) then be kind to yourselves and get in touch with a certified nutritionist or dietician and visit them frequently to discuss your health issues, concerns and health in general.
You know what will that do? Well, it will not only give you more confidence to speak about and share your concerns with someone one on one but you will also be able to contact them immediately (if need be) as in there will exist a person off of the internet who you can reach out – unlike one of your super famous Instagram or YouTube bloggers and vloggers who take weeks and at times, months to respond.
Another major advantage of personally speaking to a dietician etc. is that you can tell them about your body and the changes that might occur and they will be able to examine you as well and will then share a proper diet plan customized especially for you.
Now, that we have shared the benefits of getting in touch with a professional (in real life), we would love it if you guys could just have a look at our amazing weekly meal planner that gives you control over your diet and everything that you will consume over a week so that you can literally keep a track of your weight. Meal planners can also help in changing the way we (normally) eat which just by the way is not so healthy and we can tell that even without going to a doctor.
Weekly meal planners are also great because they reduce the number of trips to the grocery store as our entire week is planned and we know what to buy, where to buy from and in how much quantity. We are also talking about money being saved here so that's definitely a plus and we won't give it away to "fitness trainers" who know their things around the camera and happen to have a huge following too.
Getting organized is another advantage which you can get as planning your meals will ultimately convince you to plan your days in terms of personal chores and professional tasks as well. And we are glad that we came up with this interesting idea of creating the weekly meal planner template.
As you all must have noticed that we were generous while giving space to the days so that you can plan and write your meal plans freely and to plan the entire week's food for yourself and for your family members, you will also need to make a list of grocery items as well, right? So, don't worry as you can create detailed grocery lists by using our weekly meal planner.
Get your hands on our free weekly meal planner template in AI format, its PDF file and word document today and start making your days more healthy and fun! Don't forget to share our blog with your loved ones too and we'll see you guys next time with another interesting blog of ours. Stay organized and stay healthy!
Free Weekly Meal Planner Template in Ai & PDF Format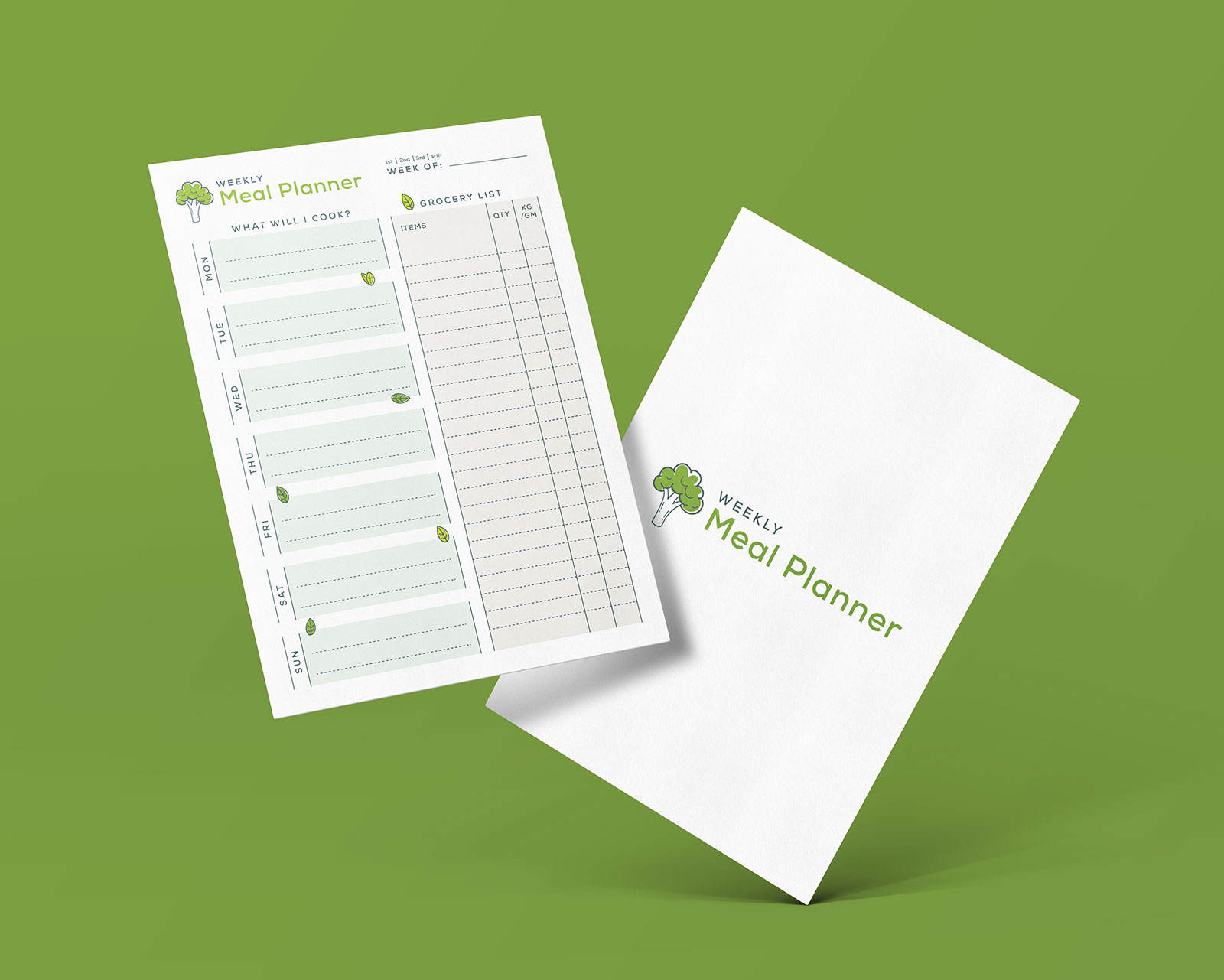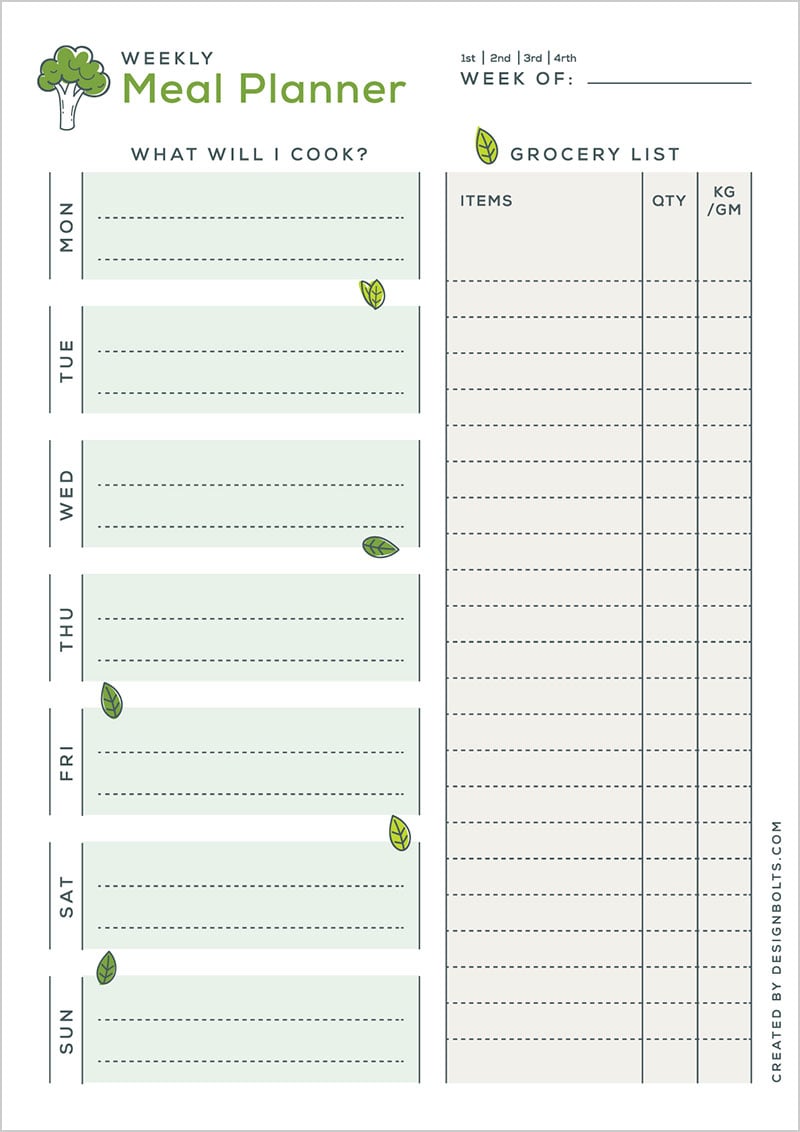 Available Format: Ai
License: Free for personal usage
Zip File Includes: Free Weekly Planner Design Template Printable
Design Template Resolution: A4
Font Used: Nexa
Note:
1. Free Weekly Planner Template is allowed to share online (A Must Linkback to this post)
2. Say thanks if you like or share/tweet with your friends. That means a lot to us.
3. And don't forget to subscribe to receive for more high quality premium freebies & awesome articles only.
Download Weekly Planner Editable Ai
Download Weekly Planner PDF
More Awesome Free Design Templates: