Hey there guys! We are back with yet another awesome blog of ours and we would love to dive right in without any further delays. So, it seems like a number of people have decided to get married or throw a small bridal shower and what other time could be better than the holiday season, right? And since the demand of almost everything related to decorations and presents and invitation cards has been recorded pretty high, we thought to jump in too. We have created a beautiful bridal shower invitation flyer design template for all the brides to be and we just cannot wait to share it with you guys.
As we all know that events are arranged and fun parties are thrown so that people can take out some time out of their personal lives and make themselves available for their loved ones with nothing but best wishes, presents and love – and we know that we have always been here to share cute little designs and creative ideas with you so that you can make sure that everything about your parties is just perfect.
We know that our free bridal shower invitation design template is going to be the best thing you could have asked for so, allow us to give you a run through the design and after that we will share some easy to follow and (of course) super effective tips to get you going! Okay so, before you guys even get started with the design of the invitation itself, you need to make sure that you have made a guest list because that will give you a clear idea about the number of printed copies.
Once you have the list with you, you need to sit down and discuss the main theme of the invitation with the bride (do keep her in the loop so that everything goes according to the plan or there are chances that she might flip out, you know we cannot blame the pre wedding jitters!). The invitation must complement the theme as it will also give your guests a chance to know what colors are selected as part of the event because if you ask us, we normally color coordinate after we have received the invitation cards and frankly, that is the best way to go about it.
Recommended: Creative Wedding Invitation Ideas
You must have noticed the bubbly theme that we chose for the design template as it looks nice and depicts that a fun party is waiting for you but the golden color on the subtle pink background is something we are living for here. And of course, you can change them and bring them in accordance with the colors of your event and put in the design elements which you think will complement the entire look.
Now, comes the most important part of the invite – the copy. You know, it could be anything and everything if it is spreading across the message. So, make sure you do that! We have several ideas for the main heading and we would love to share them here as well for example; 'From Miss to Mrs.', 'The bride to be invites you to…', 'Brunch with the Bride' etc. to set the mood. Then of course, you need to mention the first name of the bride and give it all the attention that it deserves.
Date, time and venue must be mentioned separately and also make sure that you have proofread the invitation card so that there are no typos in order to avoid any sort of confusions. Another thing to be kept in mind is that you must mention at least one person who can be RSVP-ed to – trust us when we say this: it makes so many things easier. And this is for all the people who are invited as guests to events like bridal and baby showers that it is nice to get in touch with the person whose contact information is on the invite instead of the bride or the mother.
Although, guests normally get in touch with the concerned persons in order to know about the theme but if you want to be more specific about the dress code then you can also add in a sentence so that everything and everyone is on the same page. Do not forget to throw in some pretty design elements to bring life to invitation and make it fun to read.
Most importantly, you need to make sure that the invitation is printed on a real nice paper so that it speaks of great artistic sense and good quality.
That is all for today! We know that with our creative design tips and free bridal shower invitation design template you will create brilliant invites for yourself as well as for your clients so what are you waiting for? Get your hands on the design template right now and start designing!
Free Bridal Shower Invitation Flyer Printable Design Template Ai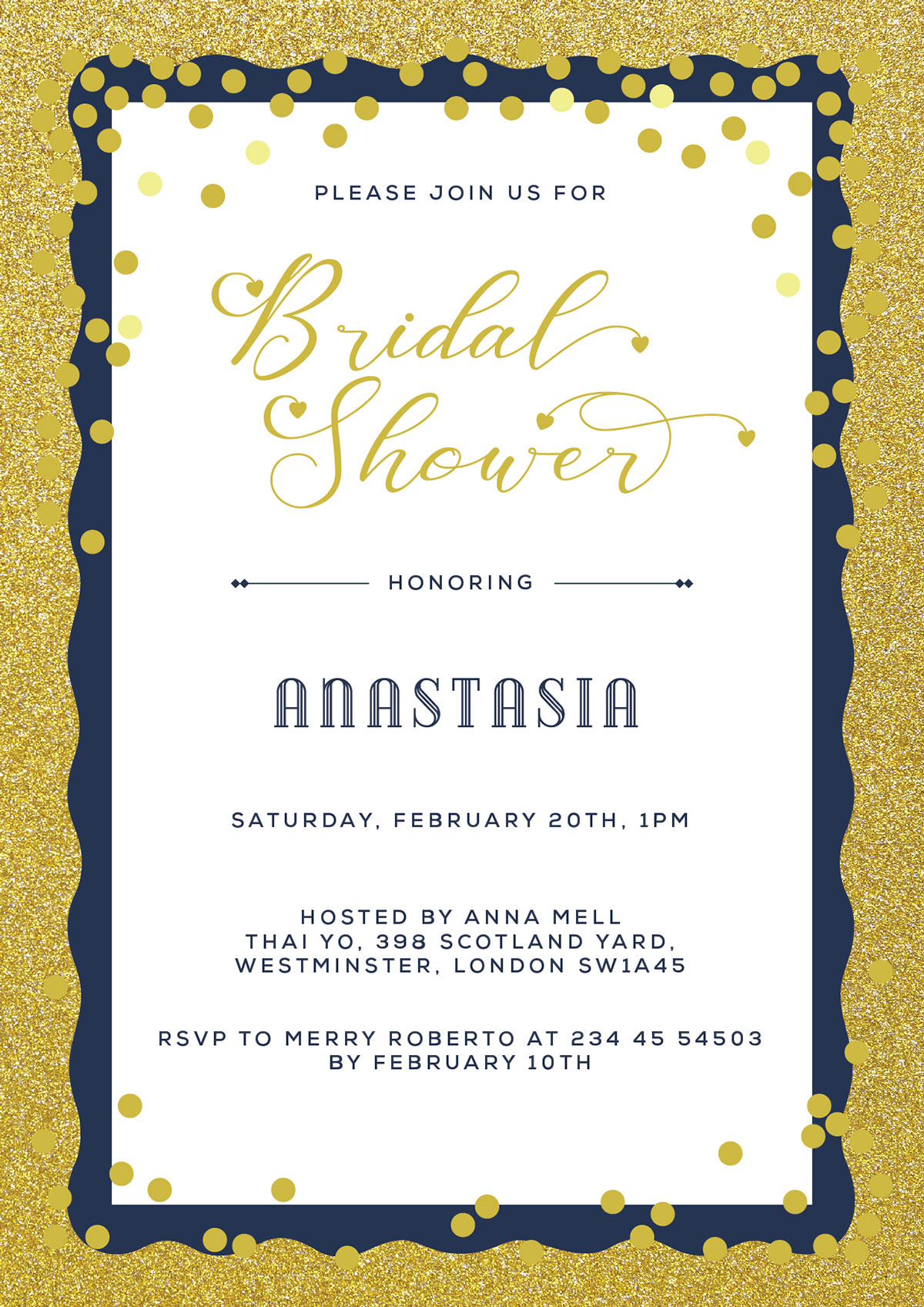 Available Format: Ai
License: Free for personal usage
Zip File Includes: Free Bridal Shower Design Template Printable
Design Template Resolution: A4
Font Used: Nexa, Debonair Inline
Note:
1. Free Bridal Shower Invitation Template is allowed to share online (A Must Linkback to this post)
2. Say thanks if you like or share/tweet with your friends. That means a lot to us.
3. And don't forget to subscribe to receive for more high quality premium freebies & awesome articles only.
Download Invitation Template
More Awesome Free Design Templates: