Hey there guys! We knew that you all were waiting for us to share a new blog so, we are here with an informative blog as well as a free design template too. But before we get to the main point, here are a few things we would like to know about you guys. So, let's get started with our brief Q and A session! Do you like animals? And more specifically dogs? If your answer is yes then we are sure most of you would also be dog owners as well, right? That's a great thing, really.
If you want to know a little something about us then know that although, we do not have a pet dog but we have volunteered at various animal shelters and have also taken care of the dogs because of the fact that we really get along quite well.
We also know that you would be aware that keeping a dog or animal as a pet is a huge responsibility and you cannot ignore anything about that friend of yours. From their food to them living comfortably at your house and to making sure that they are trained both for eating and drinking as well as for potty are some 24/7 kind of jobs and you need to be alert for anything and everything so that nothing goes wrong.
Then there are some expenses that must be met like their packaged food, the vet and medications & treatments, their own proper place where they can sleep and have toys to play with too – that is like raising a child (or may be more than that) and we know that all the learning comes from personal experiences.
In order to make sure that your pets are doing great, you have to take them to their designated doctor(s) as well and we would also encourage you to keep a record of the activities, food and everything else for that matter so that you can quickly have a look at them in case of any symptoms or behavioral changes so that you can also get in touch with the vet and have them run through the record as well.
But no matter how important your pet is for you, there will still be times where you will have to leave them and get your work done for example; your official meetings or international tours to which you cannot take your pets or hang outs with friends or relatives which are planned for all the catching up and stuff. And your best bet is a pet sitter who can take full responsibility of not just looking after the pet but to also make sure that the pet is well fed, well slept and is doing absolutely fine in every sense of the word.
So, whenever you know that you have a meeting to attend, you can simply get in touch with your personal dog sitter or an organization that caters to such needs but there is more than just dropping the pet at their place. Want to know what that is? Well, you also need to inform your sitter every tiny detail that might be required and is also helpful for that person. Now, there are voice notes that can be shared, notes that can be created or you can also meet the sitter in person to guide them too but we think that, that is not enough.
And you know what will be enough or more than just that? A well written detailed document about your favorite dog in the entire world and to help you draft that thing, we came up with the idea of dog sitter instruction/information sheet design template. Allow us to give you a quick run through so that you know what we have to offer and then you will be free to create your very own pet or dog instruction and information sheet template. So, you have got the space to write the contact information on the sheet that includes the phone numbers as well as the addresses.
You will also need to mention the date and time when your dog has to be returned to your house etc. so, we have created a separate section for that and then we have designed the sheet in such a way that it mentions all the crucial information about the dog like the name, its breed, age, weight, gender and if it is vaccinated or not. You must also mention the exercise routine as well.
Another important thing is to clearly mention the food brand of the dog food and the quantity that has to be fed to the animal and of course the information of the vet has to be there too so that if anything bad happens, the sitter knows how to get in touch with the vet for complete guidance.
That is all for today! Now, all you have to do is to get your hands on our free dog sitter instruction/information sheet design and start creating your own designs for yourself as well as for your clients.
Free Dog Sitter Instruction / Information Sheet Design Template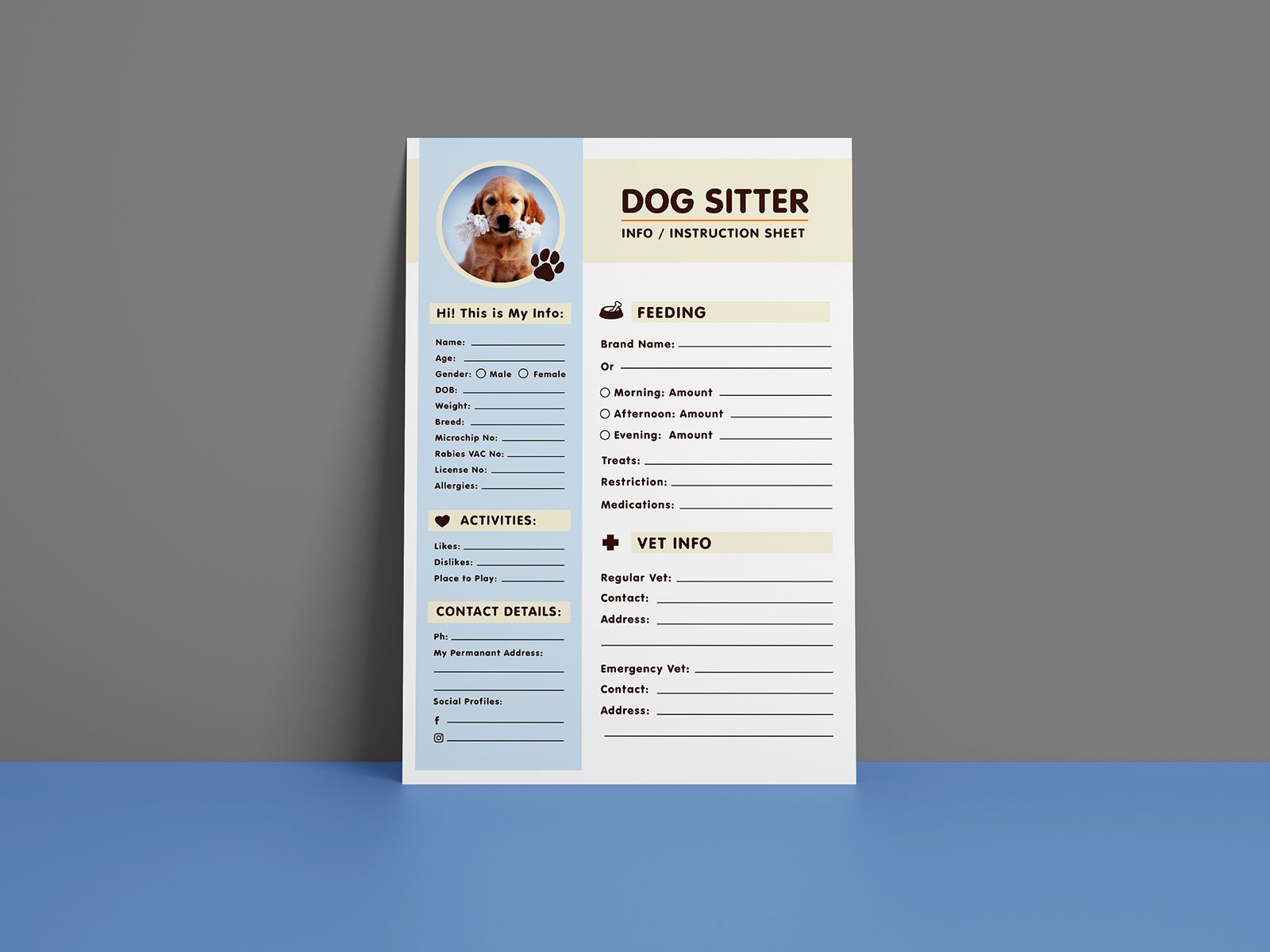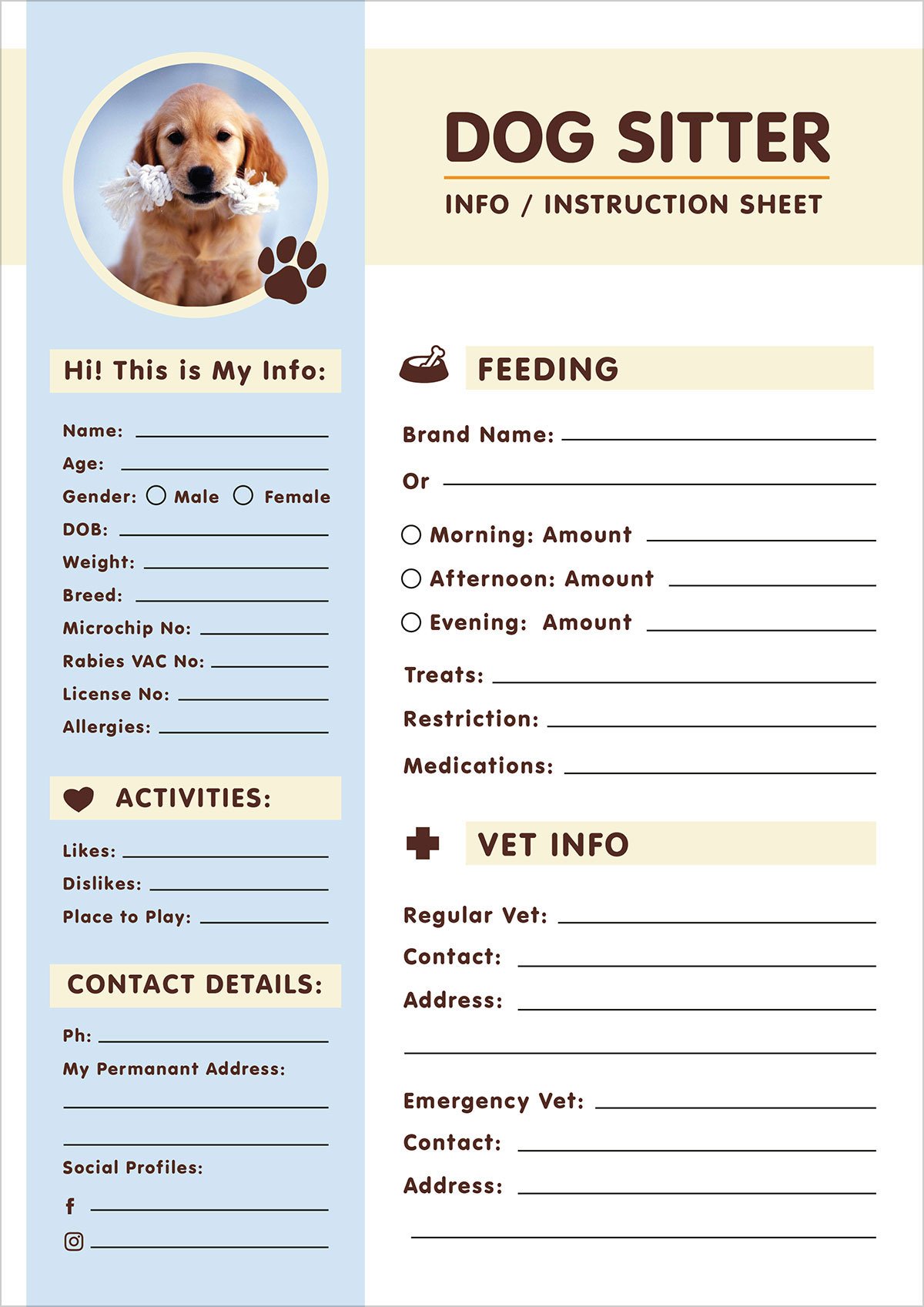 Available Format: Ai
License: Free for personal usage
Zip File Includes: Free Dog Sitter Design Template Printable
Design Template Resolution: A4
Font Used: Brix Slab Medium
Note:
1. Free Dog Sitter Template is allowed to share online (A Must Linkback to this post)
2. Say thanks if you like or share/tweet with your friends. That means a lot to us.
3. And don't forget to subscribe to receive for more high quality premium freebies & awesome articles only.
Download Dog Sitter Editable Ai
Download Dog Sitter Printable PDF
More Awesome Free Design Templates: