Hey there guys! We hope that our amazing blogs and mockup PSD files as well as our super creative ideas are helping you in making great stuff for your personal businesses and for your professional tasks too. And know that we go through the comment section daily to check out your positive and encouraging feedback so, keep that coming because that's what keeps us working on more and more ideas and content for you all.
As you all know that we sit down every week to work on new ideas and topics, we are so sure that you are going to love the new blogs and their mockup PSDs. For our today's blog, we will be talking about a clipboard in general and how you can make one for yourself if you own a stationery shop or if you run an online business or if you have clients who sell and use clipboards at their work places for example; doctors, order takers, police officers, market researchers etc.
Here's what we would like to share with you about a clipboard. You must have seen various types of clipboards that are available in the market; the wooden ones, the plastic ones then you have got the ones that come up with your favorite super heroes themes and how can we forget cute Barbie themed clipboards!? But did you guys know that the first ever clipboard was made in somewhere in the 1870 or 1871 and they were referred to as board clips.
And well, we all know the basic purpose of using a clipboard which is to write comfortably on a clipped paper with one hand while the other hand holds the clipboard. It provides support to the writer and of course, a smooth writing surface to the writer. In most countries around the world, clipboards are also given to children so that they can clip their exam paper onto the clipboard as they are almost always playing with stuff even when they are sitting in a class and it is important for them and for their work sheets / exam papers to stay at one position.
To help you guys in creating a wooden clipboard (ideal for an A4 size paper), we have designed the mock-up PSD file for that so that you can come up with your own creative designs and can create things as per your design briefs too. For example (and like we have said above); it will be a really great idea to incorporate relevant themes for the audience that can be used for the clipboard designs.
Like for kids, it is simple; come up with some nice information as in the names of animals or birds, basic colors, shapes or may be numbers too (in this way, children will also be able to learn a thing or two because the information will be so handy for them, you know!). Similarly, for professionals; you can check out what organizations they are associated with and then put up the logo somewhere in the corner or in the middle to keep things sophisticated but you will also be branding the stationery for them as well in that way.
And for restaurants or cafés, you can work along the lines of the eatery itself and think of as many relevant ideas as you can to create some pretty clipboards for the order takers. Or you can always create plain clipboard designs having the logo and the tag line of the eatery to keep things simple yet aesthetically attractive. We are sure that you guys must have seen small cafés using clipboards for displaying their menus around the eatery as well so, may be you would want to pitch in that idea to your clients too.
Now, all you need to do is to get your hands on our free clipboard A4 size paper flyer mock-up PSD file and start creating your very own designs for the clipboard as well as for the flyers. And we know that you know the next step of the process once you are done creating multiple design options that is to create a detailed mockup presentation that can be shared internally with your own team members and with your clients for review meetings.
Also, make sure that your mock-up presentation has the rationales mentioned with the design options as well so that your team lead / brand managers know what is being talked about. It will help them all in taking an informed decision about the manufacturing and printing of the clipboards.
That's what we have got for today, guys! Don't forget to share your feedback with us on this very blog and don't also forget to share it with your friends and colleagues too and we will see you all next time with another exciting and creative blog, until then – happy designing!
– – – – – – – – – – – – – – – – – – – – – – – – – – – –
More Awesome Free Mockups:
– – – – – – – – – – – – – – – – – – – – – – – – – – – –
Free Clipboard A4 Size Paper Flyer Mockup PSD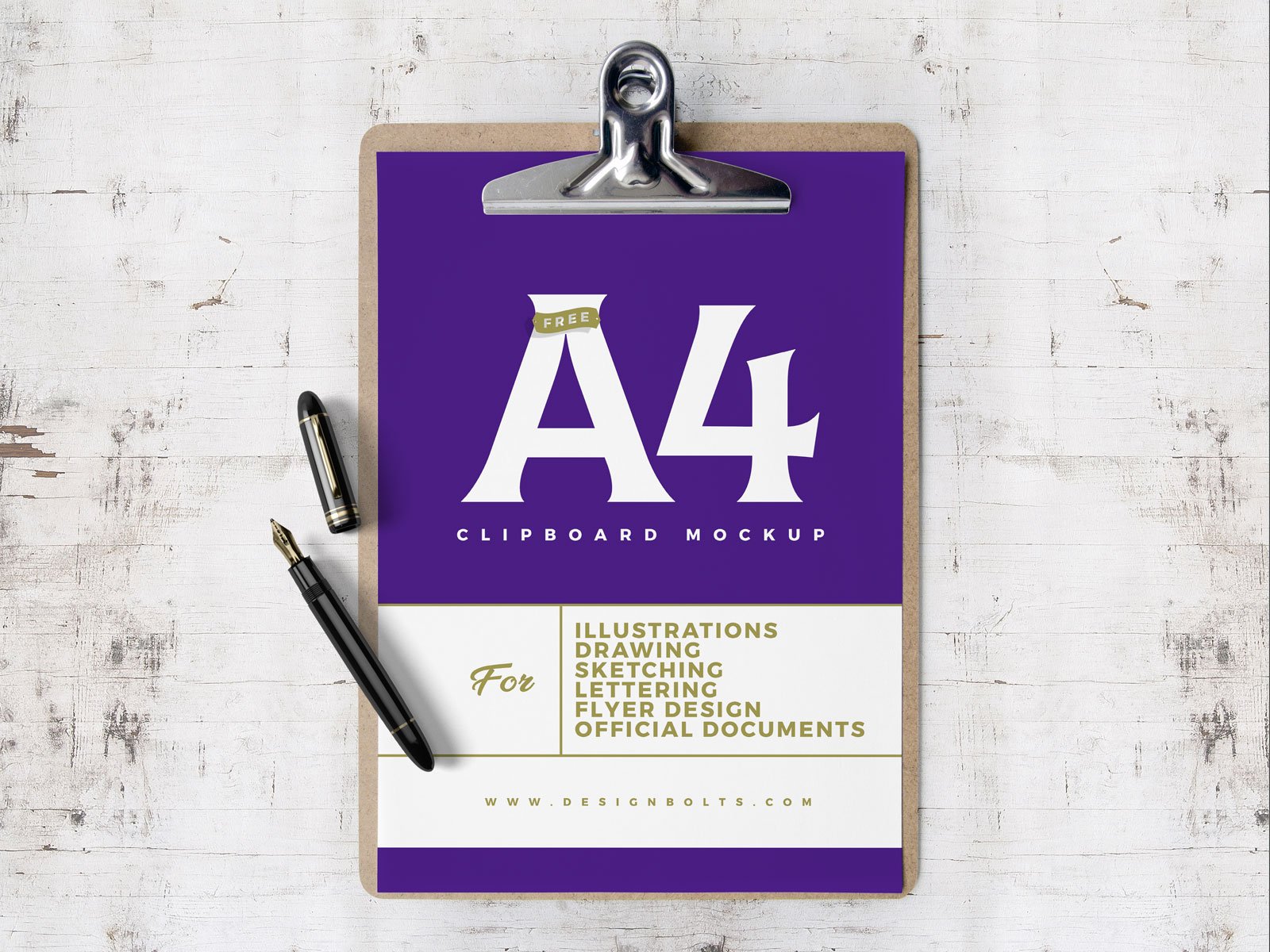 Available Format: Layered PSD with smart object insertion
License: Free for personal and commercial usage
RAR File Includes: Free Clipboard Mockup PSD
Design Template Resolution: A4 (300dpi)
Note:
1. Free PSD Mockup is allowed to share online (A Must Linkback to this post)
2. Say thanks if you like or share/tweet with your friends. That means a lot to us.
3. And don't forget to subscribe to receive for more high quality premium freebies & awesome articles only.
Download Clipboard Mockup
Free Latest Mockup PSD Files You Would Love to Download: