Hey there lovely readers! We know that you guys were waiting for us to share an interesting new blog today so, here we are with a super informative piece for you to read along with a free professional business flyer design template in AI format. And without any further delays, we would like to dive right in!
Who doesn't want their business to be talked about, right? It is like you have to start talking about it first in order to have the message spread. Now, we would like to mention it here that there were times when a number of brand managers took a wrong turn for their businesses and thought that even negative publicity is good publicity as long as it is keeping the brand name relevant.
Well, we are here to discard that theory because negative publicity is not a nice strategy to associate your brand with and you don't have to deliver a wrong message or be on the other side of creativity when you can share good features about your products and the great services that you can provide to your clientele. In short, there are multiple ways to promote a business and its services but the best way is to take the route of originality, uniqueness and creativity.
We are sure that you must have seen various brands going out of business due to their poor marketing or when their brand teams decided to joke about sensitive issues. Death of a brand can also be caused by not standing up to the promises that you have made or when you as a team are not ready to own the mistakes (product related as well as marketing mistakes).
Since we are living in a digital age where word of mouth spreads faster than the speed of light (figuratively speaking), it is important for all the brands – big and small to be extremely careful regarding how they want to go about their products and them being authentic, their marketing strategies and their tonality when they are told to make things straight otherwise it can become really difficult to undo the damages and you will lose all your followers and customers in a matter of seconds.
So if you have a business or if you are working for a brand or two who are concerned about their reputation in the market, then you have come to the right place. We are sure that you know how to take things forward and in the right direction as our blog is all about creative and effective tips and of course, our free professional business flyer design template will help you take care of the rest.
To create a design for your business flyer template, your first step is to get your hands on our flyer design template (like right now!) and relax for a little while because after that it will be required from you to go through the brand details – the good and the bad and the ones that should go on the business flyer. Read them all from start till the end and re-read them if need be to better understand what your business holds and what can be delivered.
Once you have gone through the business details, you must know that you have to have at least one high res. photograph of the work place or the members of your team. You can literally take a photo of the building and have it displayed on the flyer as well – because it will bring a more corporate-ish look to the flyer.
Now, comes the actual design part where you will be putting up the information along with the design elements and photography to complete the business flyer. For the copy, you must mention the following information:
Business contact details (website address, social media handles, postal address and the phone numbers)
Your brand logo and the tag line must have prominent positions on the business flyer.
You would also want to dedicate a section for the brief history of your brand, organization etc. so that people can get a clear picture of what they are looking at.
If your business provides services then list them down using bullet points and write them in a way that your 'reader' pays attention to every word of it. Make sure that the vocabulary is not only easy to read but it is also easy to understand.
Lastly, make sure that the main photograph that you have picked to be depict the culture of the work place or the business itself is original and is placed nicely on the flyer.
Well, that is all for today! We hope that with our design tips and creative ideas, you will be able to create brilliant designs for your business templates and will also be able to promote your businesses the right way.
Free Professional Business Flyer Design Template Ai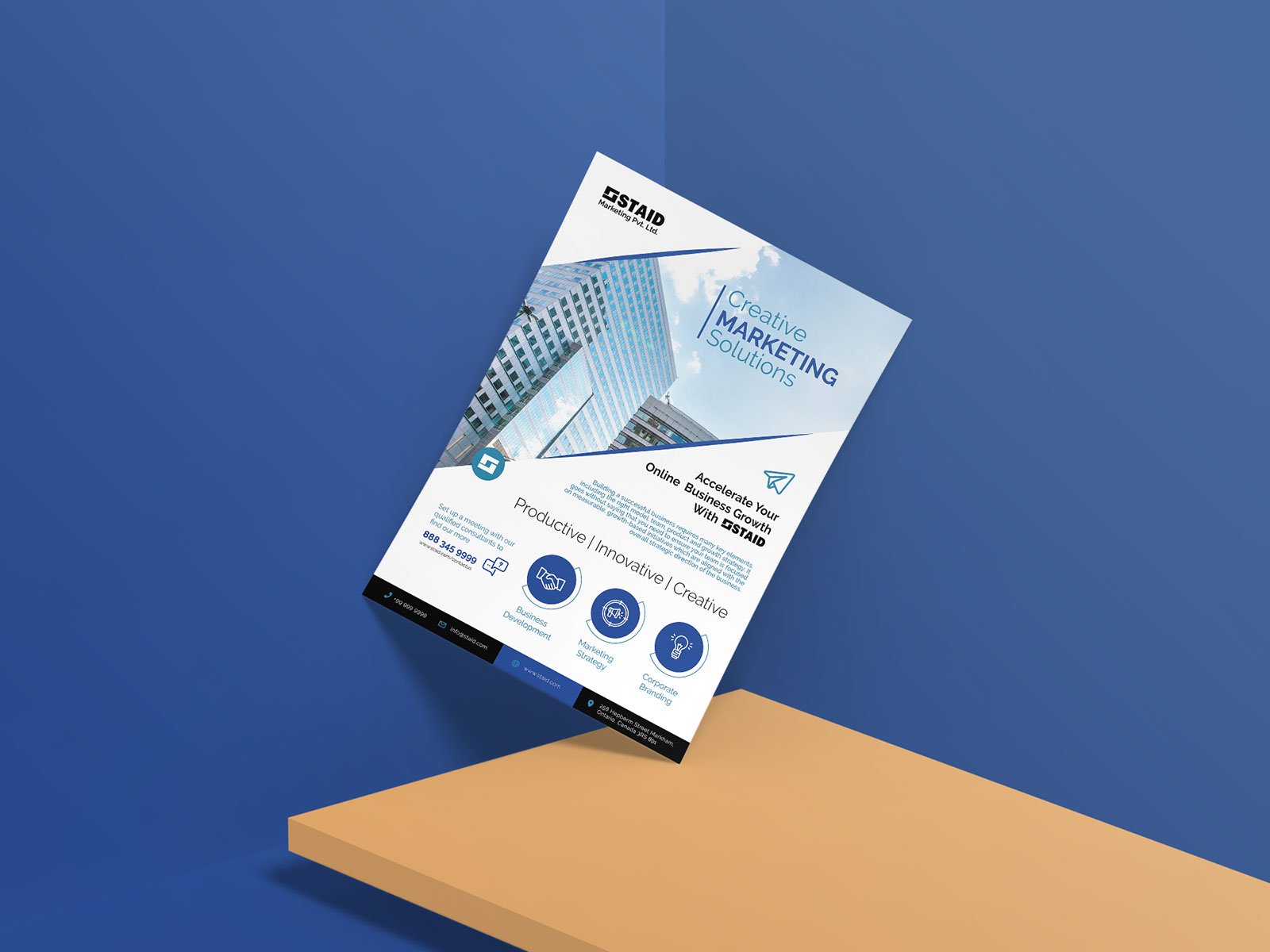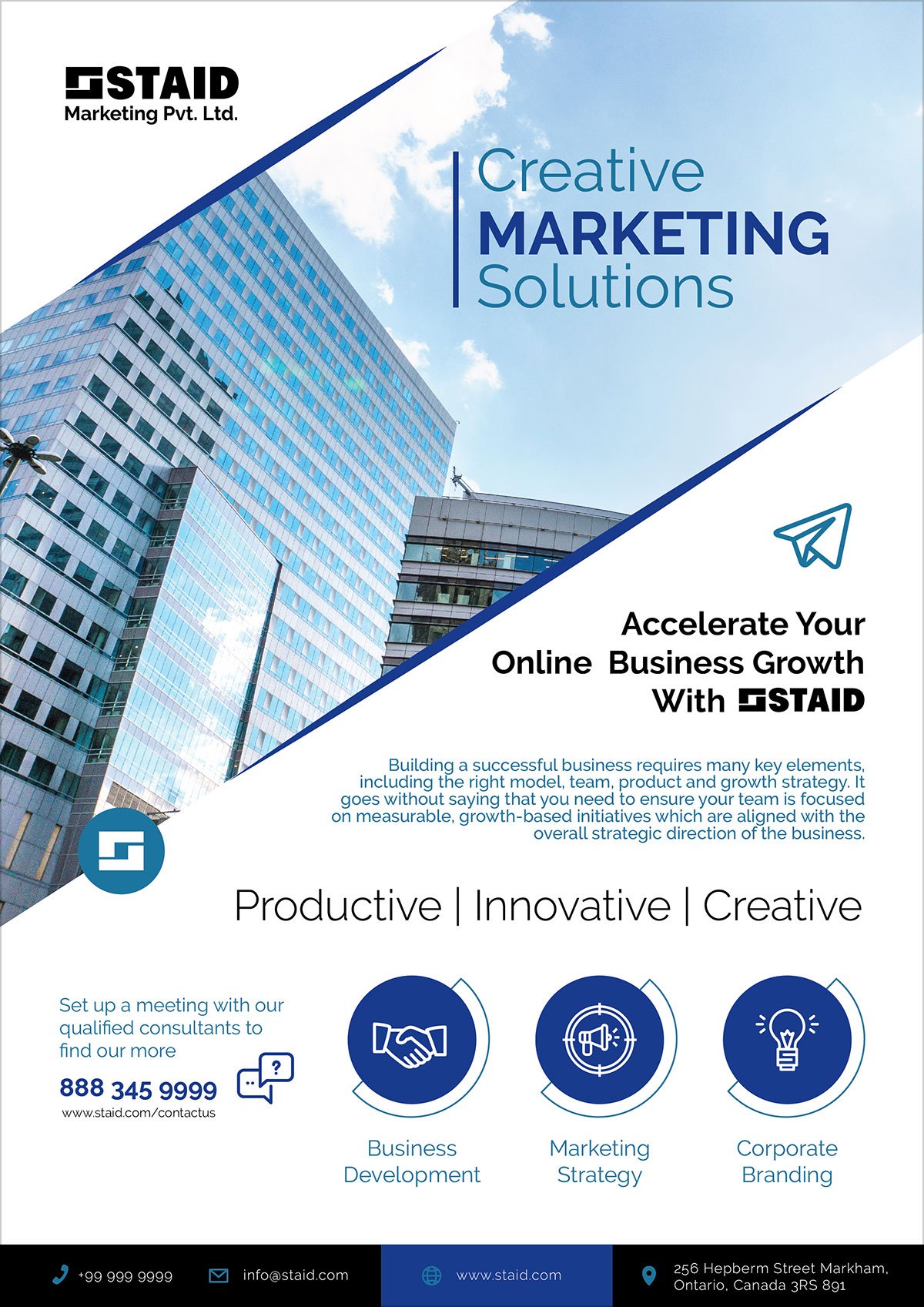 Available Format: Ai
License: Free for personal and commercial usage
Zip File Includes: Free Business Flyer Design Template Printable
Design Template Resolution: A4
Font Used: Raleway
Note:
1. Free Business Flyer Template is allowed to share online (A Must Linkback to this post)
2. Say thanks if you like or share/tweet with your friends. That means a lot to us.
3. And don't forget to subscribe to receive for more high quality premium freebies & awesome articles only.
Download Template
More Awesome Free Design Templates: