Hey there guys! So, we have been receiving many requests from all of you in which you wanted us to create designs that are related to medicines and doctors and the treatments that they diagnose their patients with and to start it off, we decided to work on and share a doctor's prescription pad design template here with you all. It is easy to work on and absolutely free to download too but before we share the design template itself as well as the tips to create your own designs, we would love to ask you some questions so, let's get started with that!
Know that this is more of a fun chat with you guys because well, we all talk about work when we are at work and when we are not at work and we all deserve a short break every once in a while. So, how does an entire doctor's visit feel like? As in does it get a little overwhelming for you guys or do you keep yourself right on the track and make sure that you also see the doctor and have them examine you? Because well know that not every visit at a doctor can be a great experience.
Of course, reasons could vary from one individual to another but there are some things which remain the same and we thought to discuss them with you – totally as the people who are always on the other side of the desk and if you happen to be friends with people who are doctors or if you are a doctor yourself then you can also have a look at the feelings that we feel during our medical examinations or visits at a hospital / clinic etc.
Now, that we know that it is one of your professional requirements to be super reserved with your patients and to maintain a serious tone with them is another pointer that must be kept in mind at all times but we think that it is extremely okay to smile a little more so that the person who is already under the weather or who has come to you while being sick for whatever reasons can relax.
Recommended: 30+ Beautiful Medicine Packaging
For most people, it can become difficult to discuss health issues if they feel that the person who will examine them might judge them, you know? And you cannot do a lot about what thoughts and insecurities do to a person so, it is always a great idea to crack a silly joke to lighten up the mood and also to indirectly tell the patient that they can chill and share their problems with you.
In addition to that, we have notices that a number of doctors are always in a hurry and that doubles the anxiety of an already anxious person. Also, know that we are not exaggerating one bit and everything that will go up on this blog is a result of our very own personal experiences. If you are a doctor then that means that you have to be there for your patients as they put in their trust in you, they come see you and want you to pay attention to them and they also want you to listen to them so that they can share all the relevant information with you.
Another important thing to be kept in mind is that you need to make your visitor comfortable and trust us when we say this that it won't hurt to ask a question or two about their favorite food item or you can (may be) ask them if they like it when it rains. What we mean to say here is that it is you who can make a person's visit to your hospital etc. a pleasant one so never let go of that opportunity.
Now that we have talked (a lot) about the non-work related things, we would love to come to the actual point which is our free doctor's prescription pad design template. We have kept the entire design template simple yet easy to write on so that every piece of information that goes up on it stays in focus for example; the title says 'Medical Prescription' to draw the attention of a viewer and below it you can see different boxes that require the doctor to mention the name, date of birth, age, contact details of the patient and in addition to that the date of the prescription being written has to be mentioned on the document.
Moreover; other really important information gets separate boxes like the diagnosis, the blood pressure level and the pulse rate then the name of the drugs, their units and dosage boxes are there to be filled by a professional. And lastly; as it is required from the doctor to write the examination and precautionary measures to be taken by the patient, we have created separate boxes for that information followed by a spot for the doctor's signatures along with the date.
That's all guys! We hope that you will be able to create prescription pad design templates for your clients through our free design template. Feel free to share the blog with your favorite colleagues so that they can create great designs too!
Free Doctor's Medical Prescription Pad Design Template Ai & Printable PDF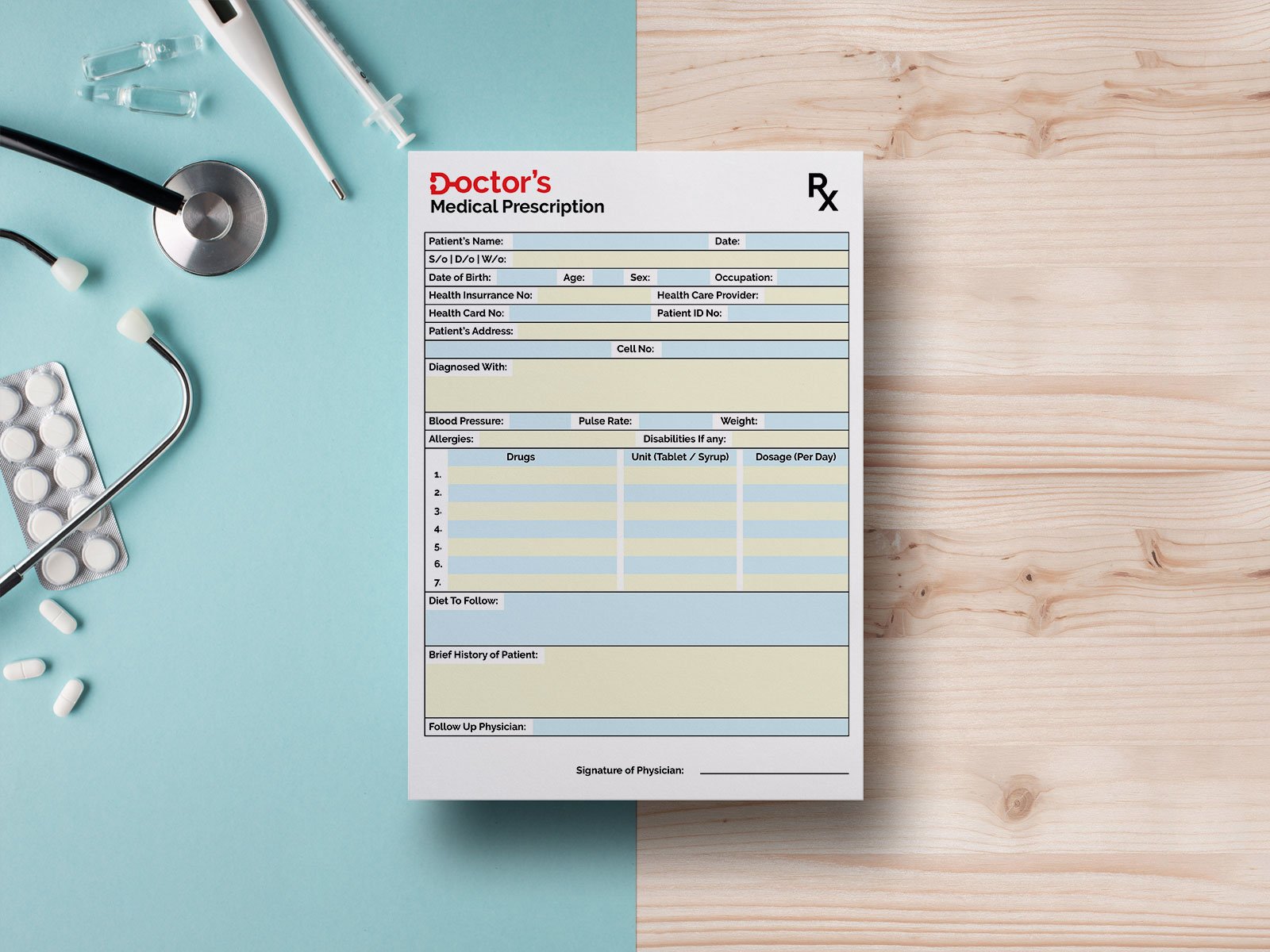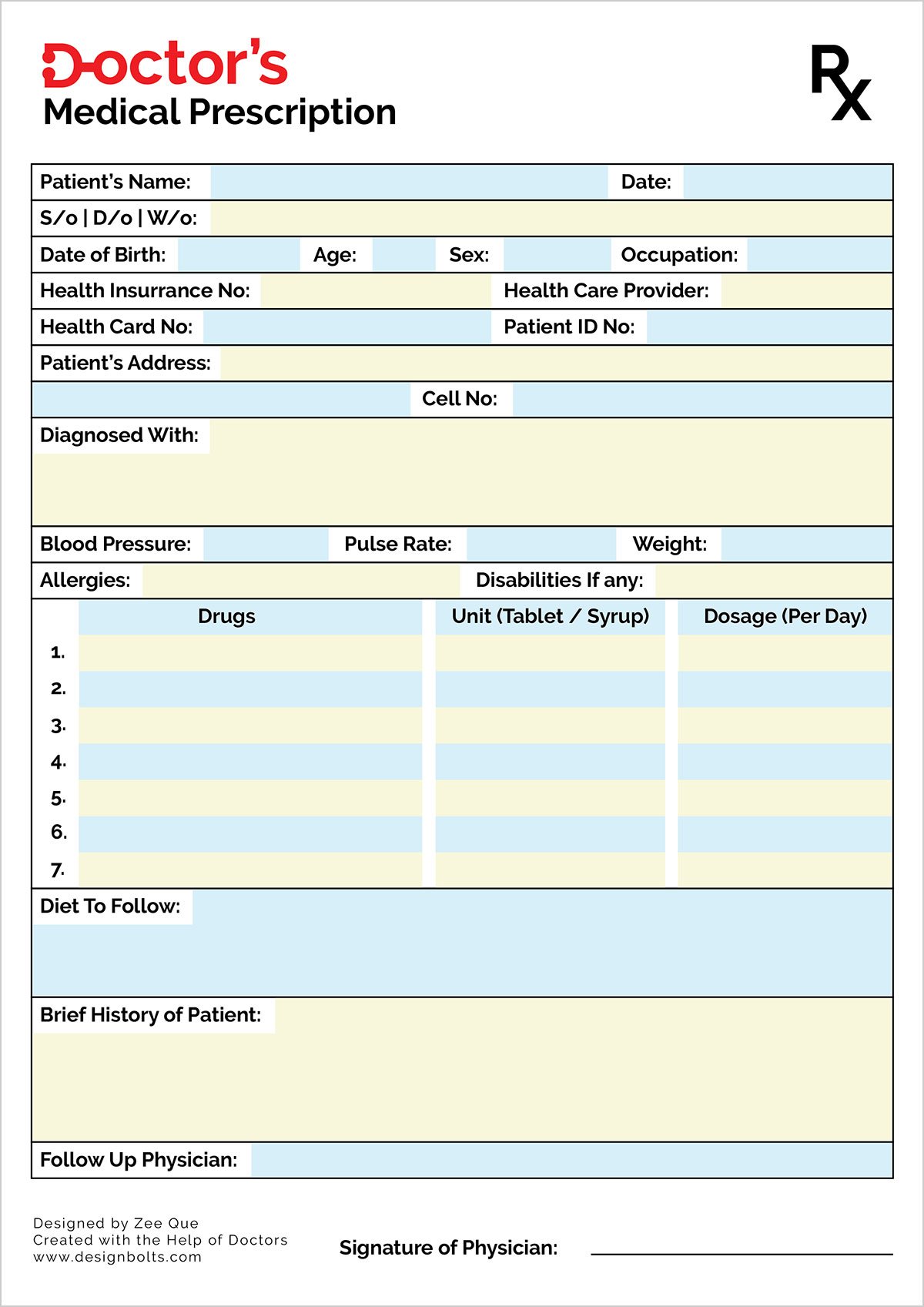 Available Format: Ai & PDF
License: Free for personal usage
Zip File Includes: Free Doctor's Medical Prescription Design Template
Design Template Resolution: A4
Font Used: Raleway
Note:
1. Free Prescription Template is allowed to share online (A Must Linkback to this post)
2. Say thanks if you like or share/tweet with your friends. That means a lot to us.
3. And don't forget to subscribe to receive for more high quality premium freebies & awesome articles only.
Download Editable Ai
Download PDF
More Awesome Free Design Templates: