Hey there guys! We are back with yet another amazing articles of ours but before we start talking about that, we would like to thank each one of you for dropping in your feedback and suggestions in our comments section and know that you sharing our articles and design ideas makes us really happy too so, keep sharing our original posts and unique ideas.
Today's blog post is being written by on the request of one of our oldest readers and while we were working on the content ideas and the mockup PSD itself, we literally had flashbacks of all those times when we would participate in elections activities for our school's and college's bodies. There were times when we would cheer for our best friends during their election campaigns and there were also times when we were the ones, the crowds would cheer and, in both situations, we would enjoy every bit of whatever was happening.
But there was one thing that always fascinated us – the ballot box and we can't be the only ones who would feel that way, right? Although, there were some kids (rather some super jealous ones) who would want to sabotage the election situation by casting fake votes but ballot box itself was and still is one of the most important components of any electoral campaign.
We are sure that you have an idea what this blog is going to be about but before we really start sharing some easy to follow design tips to create your own ballot boxes and share our free mock-up PSD file, we would love to share some history here. First things first; the first ever ballot box was made in 1872 for a secret ballot which was held in the Great Britain.
Times changed and things also changed which had a great impact on how we cast our votes now like the Electronic Voting Machine (EVM) but there are still some countries and local institutions which still use ballot boxes for their political and organizational level campaigns. So, what is a ballot box and how do we use it? Allow us to share all the details with you!
Well, a ballot box is a container (somewhat big in size) which is created using materials which can hide the contents as in the names of the voters or the parties they have voted for. On top of the box there is a narrow slot which allows the voters to drop in their votes (by folding the paper etc.) and the 'narrowness' of the slot prevents anyone to grab the votes from the ballot box that have already been casted and then there is a lock for sealing the box temporarily.
Like we have mentioned above that the ballot box can be made using any material, it is important to also mention that the manufacturing of these sensitive boxes depends on the budget. As you can see that the mockup PSD of our ballot box is kept plain and simple with two colors.
Now, it is totally up to you to incorporate variations in the final looks of the box by using wooden patterns or may be keeping the box all wooden too. You can also create the vinyl sticker design as it is water resistant material. In this way, you will also be making sure that you care about the contents of the ballot box as much as you care about the box itself.
There are different and important points to keep in mind while working on a ballot box design and we would like to share them with you here:
Keep your ballot box free of logos and design elements which can give an impression that you support a certain political party or figure. A ballot box has to be a-political and non controversial and you are the one who has to take care of that.
Keep the colors of the box generic. For example; you can play with the lid of the ballot box by choosing a color of the national flag of your country for it. Or you can pick colors for the categories of the votes (if there are any) to avoid any confusions especially when there are multiple categories to vote for.
As far as the copy of the ballot box is concerned, it is advised to not write anything in order to keep the box neutral but you can however, add the instructions for casting the vote – if need be or if the design brief allows you to do so other than that you can write "Every Vote Counts" or simply VOTE on it.
So, that's all for today guys! We hope that you will enjoy reading our blog and will also be able to create ballot boxes for yourself or for your clients. Don't forget to share how did your project go in the comments section down below and we will see you all next time. Until then, happy designing!
Free Ballot Box Mockup PSD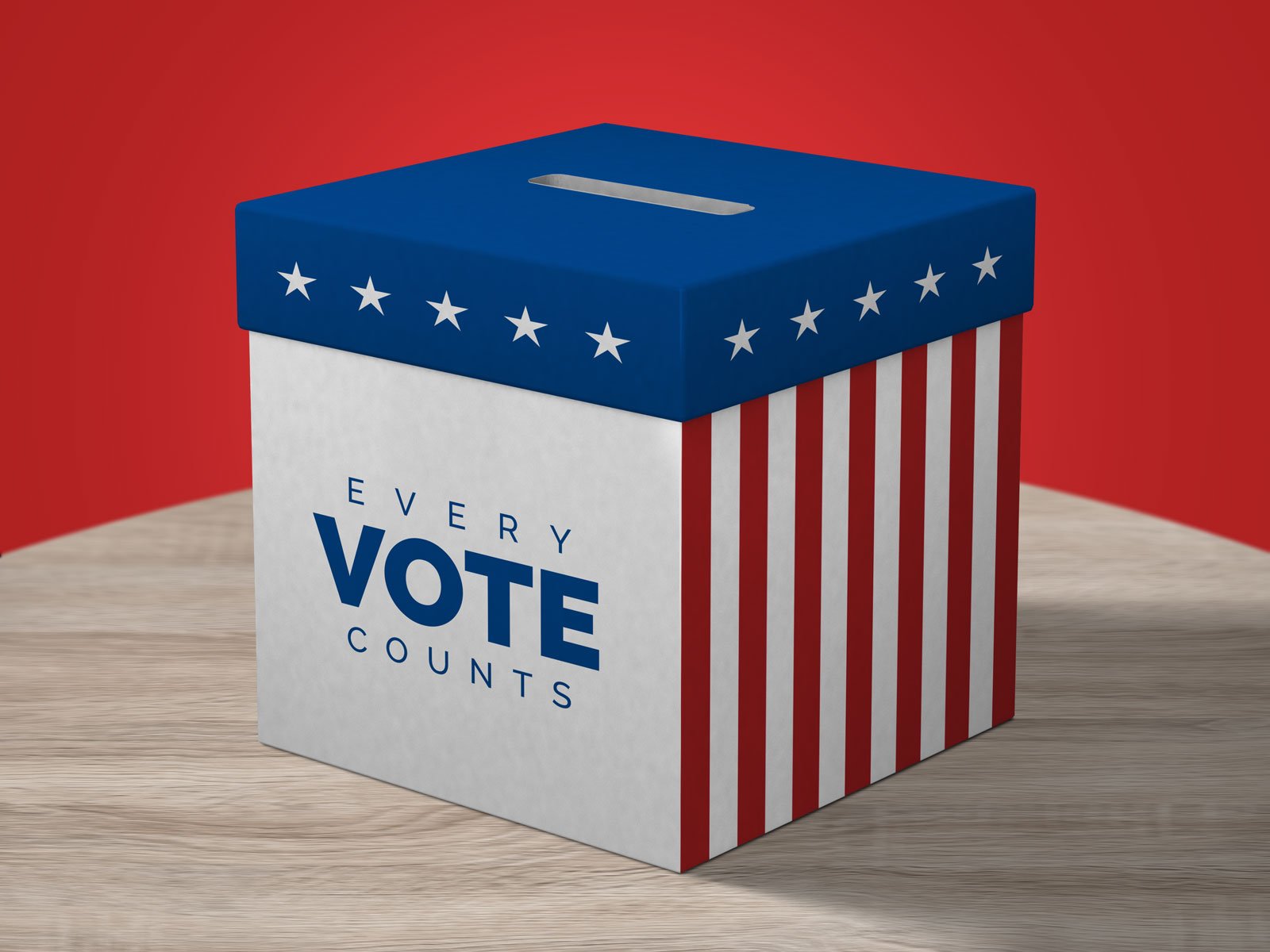 Available Format: Photoshop PSD
License: Free for personal and commercial usage
File Format: WinRAR
Mockup Resolution: 4000 x 3000 px
Note:
1. Free Ballot Box Mockup is allowed to share online (A Must Linkback to this page)
2. Say thanks if you like or share/tweet with your friends. That means a lot to me.
3. And don't forget to follow or subscribe to receive more high quality premium freebies & awesome articles only.
Download Ballot Box Mockup
More Unique Mockup PSD Files You Would Love To Download: