Hey there guys! First things first; we would love to thank you all for sending in requests and for sharing your feedback with us. Whenever we receive a new comment from one of our readers, we make sure that we fulfill the design requests as soon as we can and we are back with yet another amazing blog of ours and of course an absolutely free design template so, let's get started!
No matter what industry you work in and how big your organization is, you have to advertise your business in such a way that it not only reaches the target audience but it also brings you customers – which will ultimately help you in increasing your revenue. Most brands around the globe have (finally) realized that in order to survive within their competitors as well as to be always one step ahead in the game, it is important to market the business / services. Everywhere! Not just on social media platforms or not just conventionally (billboards, TV commercials, radio spots etc.) but you have to exist everywhere so that you can be contacted.
We have been sharing a number of blogs and creative ideas with you so that you can design your own promotional material and are also able to market your brand(s) well but we have received some new queries which require answers for making flyer designs and how to effectively distribute the flyers to promote one's business so, we would like to answer everything one by one.
It does not really matter which business is going to be promoted through a flyer but what's important is that, that the designed flyer is capable of grabbing attention – at times within seconds. "How can that be done?" is one of the frequently asked questions and the answer is simple; you put in thoughts and efforts to create a design that is worthy of all the attention. Your first step should be to get your hands on our free flyer templates.
Next step deserves proper attention, team work and efforts so make sure that you have all of that to get done with this step: get to know and understand the business you are assigned to create designs for. If you know the business inside and out, you will be able to deliver the message in an effective manner. Arrange sessions with the brand teams and ask as many questions as you want to ask for clarity.
After the meetings, go to your working place where you brainstorm ideas and work on the designs and think of all the possibilities which can work for the brand and their marketing material. You might want to highlight everything that cannot or won't work for the brand so that you and your team members are on the same page. Now, it is time to sketch the ideas – anything and everything that comes to your mind has to go on a piece of paper. Know that it doesn't have to be a neat diagram or anything, alright? Because we are here for the raw ideas and ideas that just light a bulb over our heads. You can always keep coming back to your ideas deck and polish the thoughts if need be.
Meanwhile, you are free to assign the copywriter to write the copy for the design. Like for this blog, we have worked on a professional construction flyer and it would be our pleasure to give you a run down about the copy of this very flyer design. Your copy should be crisp but it must also deliver the entire message in such a way that every point gets covered.
For example; you can talk about the services that you are currently providing to your valuable customers as well as about the skillset of your labor team. Briefly explain the number of team members who are assigned a task and you can also share how long it will take for the team to get done with construction projects. It is okay to brag too but do not oversell because that can backfire, and we wouldn't want that to happen.
You must also explain why your potential customers should choose you over other construction companies – this part is important friends and you need to make sure that it is written to convince anyone who would read it. Pay proper attention to the contact details as well; mention all the working phone numbers, social media handles and addresses of your office and website so that you can be easily reached out.
As far as the imagery is concerned, it is important for you to use images that are real. Have your team photographed nicely and put their photos up on the design to make it a more realistic flyer and to make it stand out too.
That's all for today! We hope that you will find our blog and free professional construction flyer templates useful and will also share it with your colleagues as well and while you are at it, don't forget to share your feedback in the comments section down below.
2 Free Road Construction / Home Repair Services Flyer Design Templates in Ai Format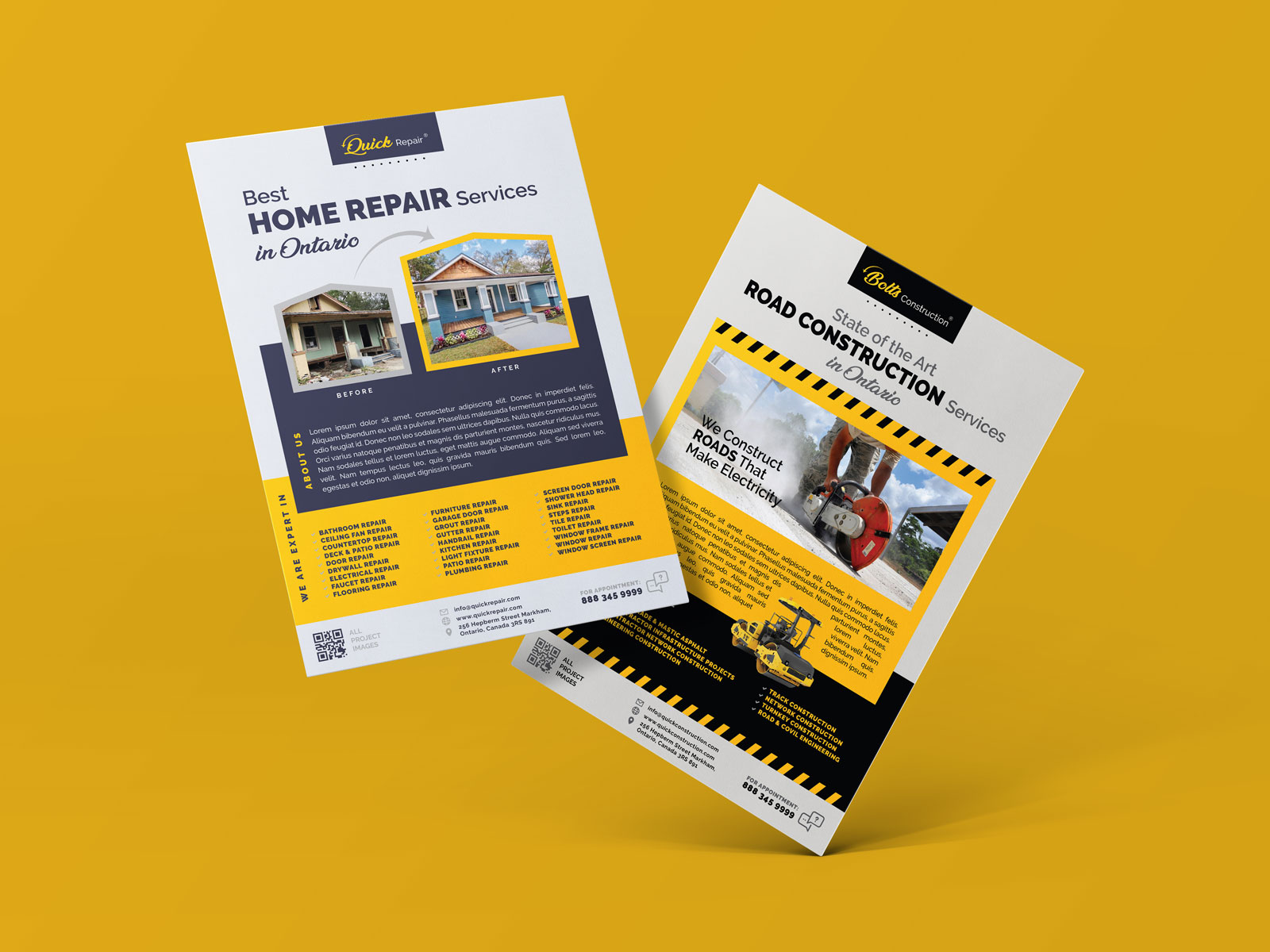 1. Free Home Repair Services Flyer Design Template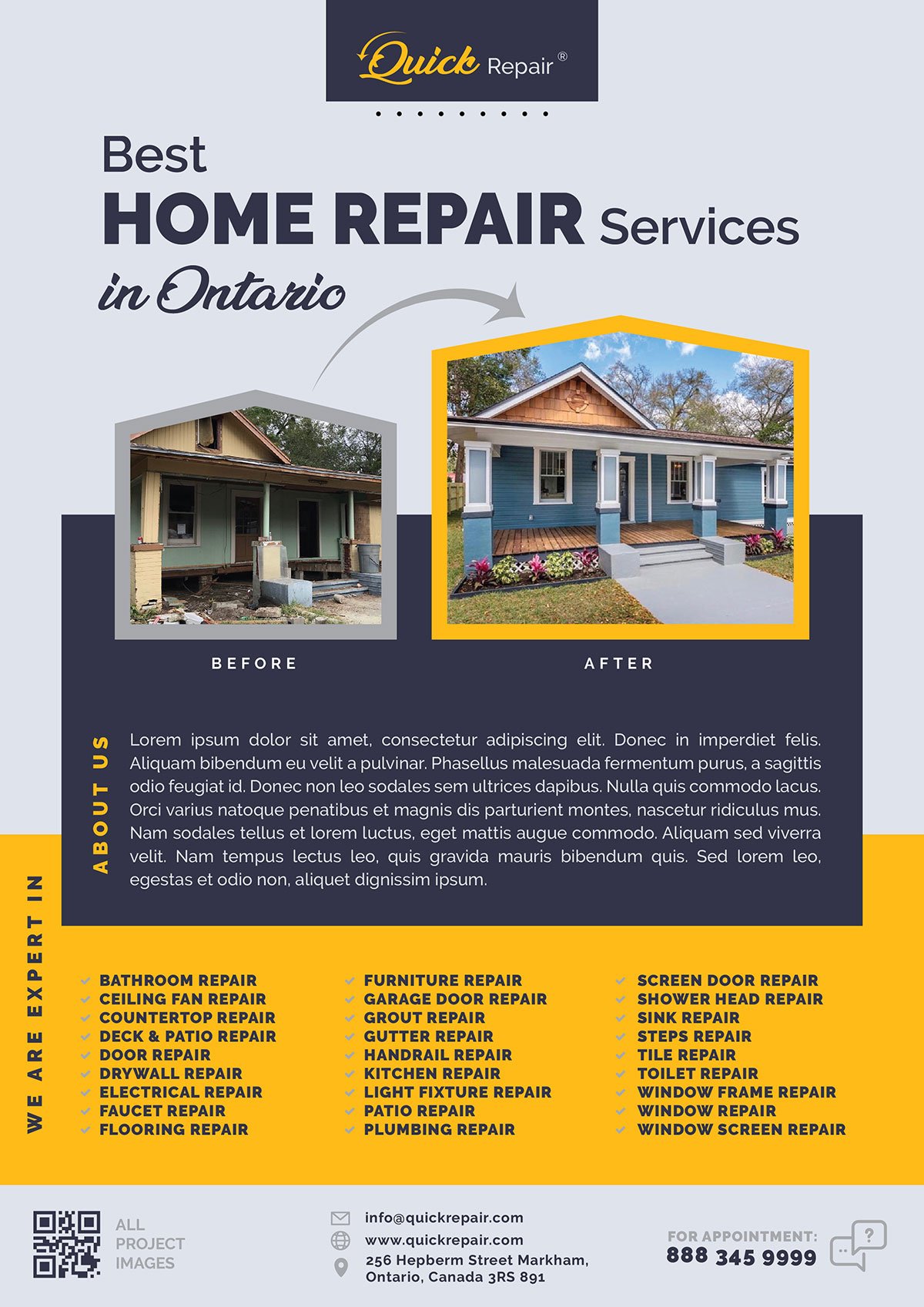 2. Free Road Construction Services Flyer Design Template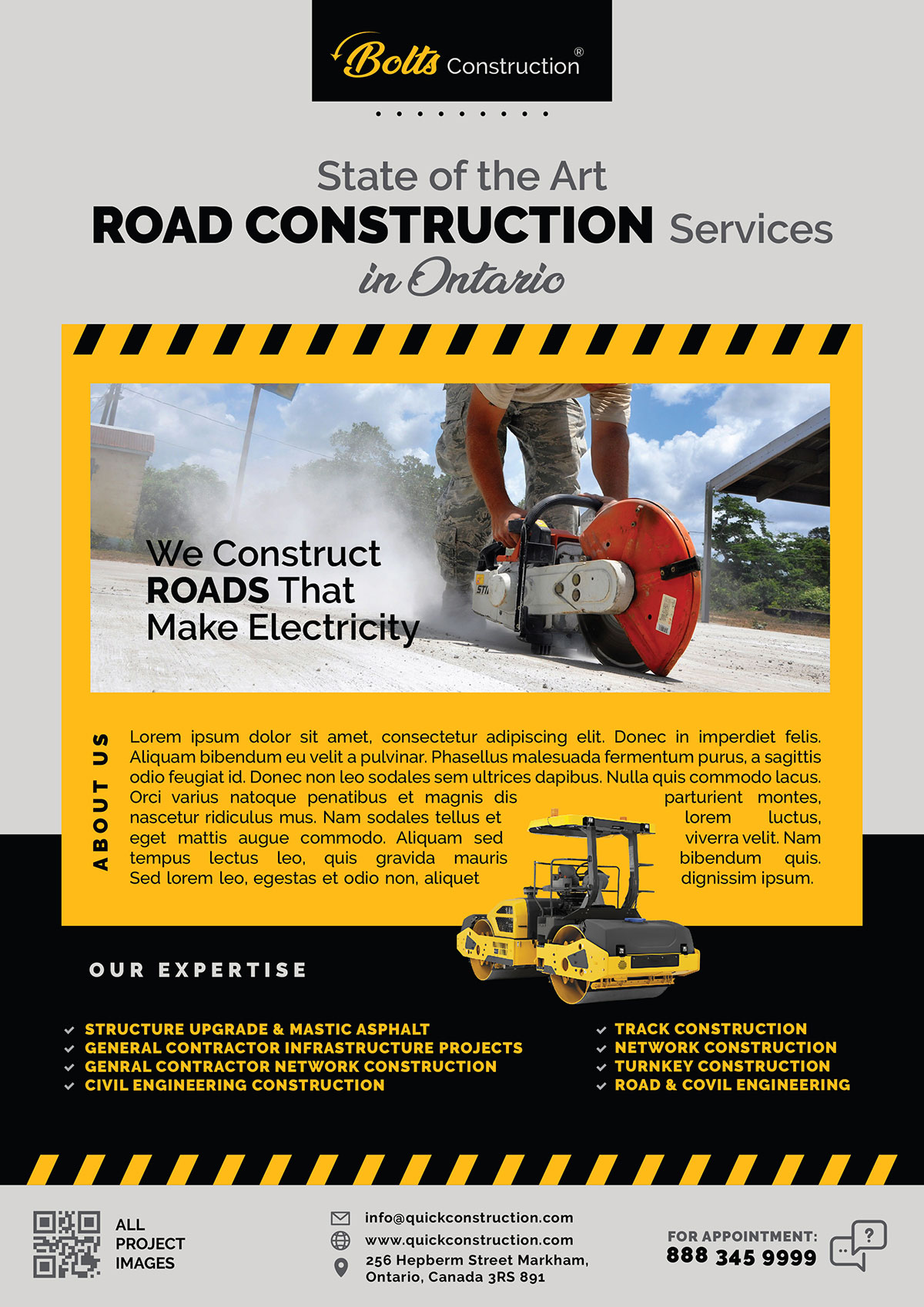 Available Format: Layered Ai
License: Free for personal and commercial usage
RAR File Includes: Free Home Repair & Road Construction Flyer Design Templates Ai Files
Artwork Resolution: A4
Fonts Used: Raleway & Millenia Personal Use
Note:
1. Free Design Templates are allowed to share online (A Must Linkback to this post)
2. Say thanks if you like or share/tweet with your friends. That means a lot to us.
3. And don't forget to subscribe to receive for more high quality premium freebies & awesome articles only.
Download Home Repair Design
Download Road Construction Design
More Awesome Free Flyer Design Templates: